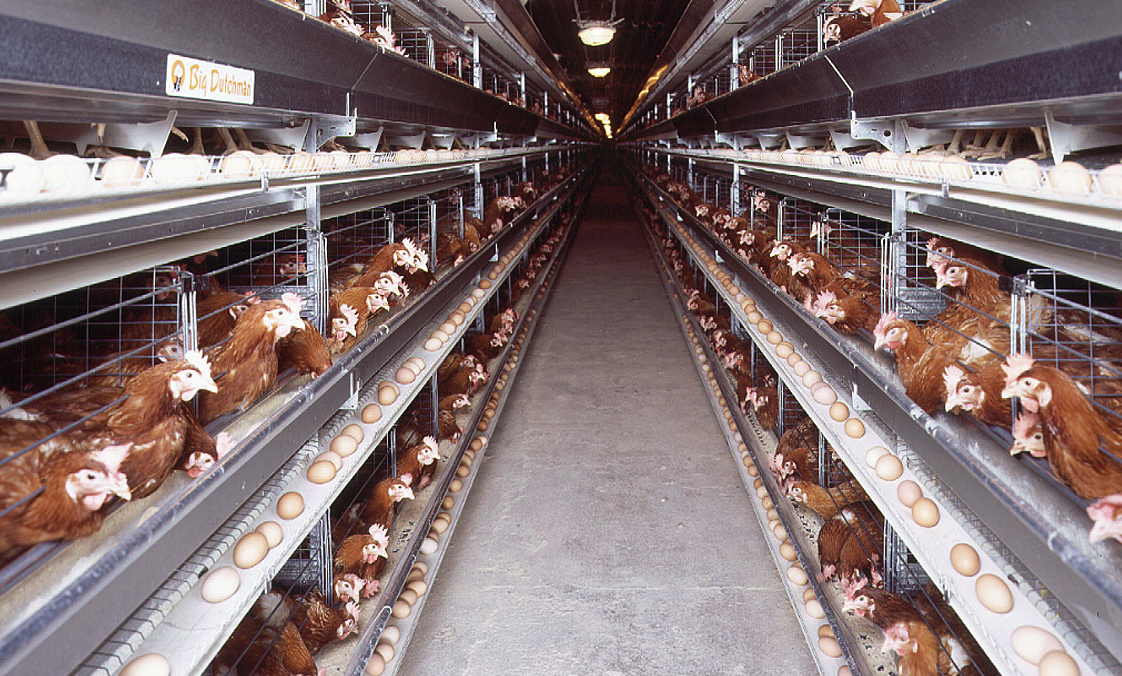 The New Zealand Government has announced plans to phase out the use of conventional battery cages over the next 10 years.
Under a proposal that looks similar to the regulation that came into force in the European Union last year, conventional battery cages are to be completely banned.
Egg producers will have to use new enriched colony cages, barn systems or switch to free range production.
The decision is a response to a report recommending the ban by the New Zealand National Animal Welfare Committee, an independent committee set up to provide the Government with expert animal welfare advice.
However, animal welfare campaigners say that the ban does not go far enough. "A cage, is a cage, is a cage," said Robyn Kippenberger, the national chief executive of the Royal New Zealand Society for the Prevention of Cruelty to Animals (SPCA).
She said, "These layer hens still cannot express their natural behaviour. Hens have to vie for restricted space in inadequate nest boxes and the scratch pad for 60 birds is so small it is just pathetic. The perches are just centimetres off the cage floor and the birds cannot dust bathe for the entirety of their lives."
She said that the SPCA believed New Zealanders would not be happy with the Government's decision.
"We pride ourselves on being a humane farming nation and the New Zealand free range egg industry is steadily growing by one per cent each year, proving that consumers will pay more to free birds living in cages."
At the moment some 80 per cent of New Zealand's laying flock is housed in conventional cage systems.
The Government decision has imposed an immediate ban on new battery cages and a complete ban on all battery cages by 2022. The Government's Primary Industries Minister, David Carter, said, "Scientific evidence and strong public opinion have made it clear that change is necessary. We need alternatives to battery cages."
He said the Animal Welfare (Layer Hens) Code of Welfare 2012 would allow layer hens to be kept in colony cages - a larger cage system that met the requirements of the Animal Welfare Act, or in barn or free range systems.
"An immediate prohibition of battery cages would have an unacceptable impact on egg prices, industry structure and the stability of egg supply. The phased approach balances the welfare of layer hens with the time needed for producers to transition to other systems."
The Minister said, "Over 80 per cent of New Zealand eggs are currently laid in battery cages so this is a major shift for the egg industry and it needs to be handled appropriately. Under the new Code, about 45 percent of battery cages will be gone by 2018."
New Zealand's Egg Producers Federation (EPF) says that the time the Government is allowing for the transition away from conventional cages is too short for the country's egg producers. "Our argument is not with the code per se but the extremely short phase-out period for cages imposed by the code," said EPF chairman Michael Guthrie.
"The proposed phase-out period, which we assess in practical terms to be more like four to six years, and not the 10 suggested by the Minister and Ministry for Primary Industries, is impossible to achieve in practical and financial terms. This will have an enormous, possibly even crippling, impact on many in the industry."
He said that the scale of change planned by the Government was huge. All farmers currently using conventional cages would have to rebuild their operations from scratch - most on a different site.
"This is not just tinkering. It will involve a complete renewal. There is very little of most current operations that can be salvaged in the move to colony, barn or free range farming. Current cages and sheds would be largely worthless and existing land will more often than not be unconsentable for changed operations."
He said that, assuming most cage farmers moved to the new colonies, the federation estimated the cost to farmers of the transition at more than $150 million. "This would be spread across just 42 farmers, all of whom are owner/operator farms and many are family owned." If they were to move to free range the cost would be more than $250 million.
"Our farmers have had to come to terms with the scale of the change and have accepted it. The shock involved in the announcement is the brutal phase-out time. Nearly 40 per cent of cages will have to be phased out in four years, moving to 50 per cent in six years. Any single farmer is likely to have cages of different ages and we predict that 70 to 80 per cent of all farmers will be affected in six years. Many operators are also affected by a regulation which takes effect in 2014 that requires them to remove one bird from each cage, impacting financial viability."
He said, "The combined effect of these factors is not a 10 year transition, as suggested in the Code, but a four to six year transition."
"This formula is, quite frankly, harsh and punitive for an industry that has been actively working with Government, has invested significant money and effort in research into modern farming systems and has actively sought to modernise its welfare practice. This punitive phase-out period will apply huge pressure on our farmers. A significant number of farmers will quit the industry, having been left with a farming operation with little intrinsic value. This is precious little reward for, in some cases, a lifetime of farming."
He said, "This industry has always been committed to producing the affordable egg. With over a billion eggs eaten annually in New Zealand, eggs are a vital part of the national diet. They are especially important to budget conscious consumers and families and we want to be able to keep serving this market.
"We have formally notified the Minister that we believe the phase-out programme outlined in the code simply cannot be achieved, whether farmers transition to colonies, barn or free range, and the result will be major disruption to the egg supply."
He said the egg industry was unable to assess how many producers would move to colony production and how many would switch to barn or free range.
Comments
No comments posted yet. Be the first to post a comment