New varieties on parade at Cereals 2014
New varieties on parade at Cereals 2014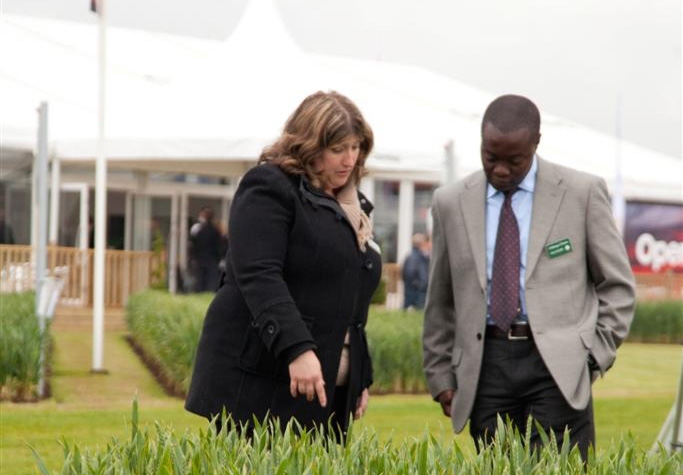 Newly introduced varieties will be on show at Cereals along with advice to help visitors choose the ones most likely to maximise returns.
Whether they are seeking better marketability or improved agronomic traits, there's no better place for growers to assess next season's potential winners than the crops plots at Cereals 2014.
KWS UK will be showing two very high yielding potential breadmaking wheats, KWS Trinity has attracted interest from millers and has an National List (NL) trial yield of 102%, on a par with JB Diego. KWS Lili is a potential Group 2 variety with yields of 104% of controls.
KWS Tempo, a stiff-strawed hard feed variety, combines high yields with one of the best disease resistance packages, says the company.
2014 newcomer winter barley KWS Tower, the joint highest yielding recommended two-row, and KWS Irina, which sets new standards for malting yields from a spring barley, can also be seen.
Candidate OSR varieties Picto – which currently tops NL trials for yield – Campus and Dragster are shown for the first time. Charger, the highest gross output conventional variety on the 2014/15 East/West region Recommended List (RL), is also on show.
Amalie, Limagrain UK's oilseed rape, is the only OSR variety that has single gene resistance to Turnip Yellows Virus (TuYV). It has will be considered for RL trials in 2014-15.
Three wheats are up for recommendation in 2014. Jorvik has a high yield potential, similar to KWS Santiago plus good specific weight and Hagberg. Energise offers high yield potential, particularly in the north, while Britannia is another high yielding Group 3 offering a very good disease resistance profile.
Four new candidate 'non-GN' spring barley varieties in RL trials – Deveron, Olympus, Octavia and Sienna – are also on show, as well as recently recommended wheat varieties, the highest yielding hard Group 4 Evolution, soft Group 4 Panacea and Group 3 Zulu.
Skyfall, RAGT's new milling wheat, combines feed what yields with potential breadmaking quality and promises top gross margins. It is attracting keen miller interest and seed sales show it will be very popular with growers this autumn.
RAGT Seeds will also be demonstrating two high-yielding Group 3 candidates. RGT Conversion has very high alcohol yields, and an early ripening score of -2, representing an ideal opportunity for OSR entry. RGT Scrummage is likely to be of great interest in Scotland and the north; at 111% it is the highest yielding soft wheat in northern trials.
RGT Planet is the highest yielding spring barley variety in the UK, France, Germany and Denmark, and has delivered "consistently excellent" results, says RAGT. It is under test for malting approval. Stablemate RGT Conquest is suited to quality and feed markets. RGT Lineout, the first variety from RAGT's winter oat breeding programme, is a very early variety scoring yields of 104.
Two new high-output double-low hybrids with advanced yield-protecting traits will be launched to extend Dekalb's winter oilseed rape range.
DK Exentiel and DK Exalte both carry the vigorous establishment, double phoma resistance and pod shatter resistance traits. DK Exentiel, one of two top Recommended List candidates for the HGCA's North region, also exhibits strong multi-gene
light
leaf spot resistance, Excalibur-like stem stiffness ratings and relatively rapid autumn leaf development. Currently in National List trials, DK Exalte combines very vigorous spring growth, relatively early maturity, very good
light
leaf spot resistance and is shorter than most current varieties.
Syngenta plots will compare Hyvido against conventional winter barley and examine its role as an alternative to growing second wheat. Several new cereal varieties also feature, including 2014 RL addition Group 2 winter wheat Cubanita, the new high-yielding candidate winter wheat variety, Reflection; and two new candidate spring barley varieties, Piper and Vault.
Harper, Bayer CropScience's first RL winter oilseed rape variety, listed in 2014, will be the centre point of the firm's stand. This high-yielding hybrid variety has the highest possible rating for phoma stem canker resistance.
A new RL candidate hybrid variety, Fencer, will also be on show. It has similar characteristics to Harper, along with a slightly higher yield.
Visitors to Elsoms Seeds can see its newly recommended Trinity Oilseed Rape, the product of a partnership with Florimond Desprez and SW Lantmannen. It has excellent all-round disease and agronomic characters and a consistent year on year high yield, says the company.
The company is also developing wheat varieties for the UK market through Elsoms Wheat Ltd, a partnership with German breeder, Noordsat and French hybrid wheat breeding specialists, Saaten Union Recherché.
Elsoms will also have a plot of Barents biogas beet, one of the leading biogas varieties in Denmark and recently launched by Strube UK.
Industry consortium Just Oats is showing several RL newcomers. Rhapsody has a breakthrough yield of 109, 11% ahead of the market leader, Mascani, plus good straw characters and disease resistance. Monaco is the highest yielding spring oat, at 104, while Conway has outstanding
grain
quality and high untreated yields, also suitable for organic farming systems. Naked oat Beacon, brings improved specific weight, very good disease resistance and early maturity.
Two candidate wheats will join Senova's existing wheat line-up in the firm's plots. Ruskin, a potential breadmaker, has a treated yield of 97 and has excellent
grain
quality, stiff straw and very good disease resistance and lodging resistance.
Costello (SE WC118) is a high yielding hard feed wheat with good
grain
quality.
DuPont Pioneer is demonstrating its high gross output winter oilseed rape hybrids. Proven varieties feature as do new hybrids for 2014, including the normal height hybrid PT234, a candidate hybrid for the North region, the Maximus semi-dwarf hybrid PX113 as well as Clearfield hybrids PT200CL and PX111CL, offering growers a range of genetics to suit location and agronomic approach.
Among the 17 variety plots on the Openfield stand is soft feed wheat Belepi from Ebbage Seeds. It has been bred specifically to help manage problem blackgrass situations being a fast developing late driller that matures early to provide entry for oilseed rape.
British-bred winter oilseed rape Advance, a short conventional with good disease resistance, will take centre stage on the DLF Trifolium stand. As one of the top candidate East/West varieties it combines high seed yields with the highest oil content at 46.7%, giving it the best overall output of all the new varieties, says the company.
HGCA will have about 150 varieties of wheat, barley, oilseed rape and oats on display, including spring crops and candidates. Growers can discover how varieties are faring this season by visiting the RL plots and joining a guided tour of the wheat and barley plots.
NIAB TAG's demonstration plots include 15 winter oilseed rape varieties and 30 established and new winter wheat varieties. Specialist advice for these crops as well as linseed, peas and beans is available.
Download

No comments posted yet. Be the first to post a comment
Display name

Please enter your name

Email (optional)
Comment

Please enter your comment

Post Comment


Your comment submitted successfully.Please wait for admin approval.

Some error on your process.Please try one more time.