Number of wind farms increases but many farmers are unaware of insurance risks
Number of wind farms increases but many farmers are unaware of insurance risks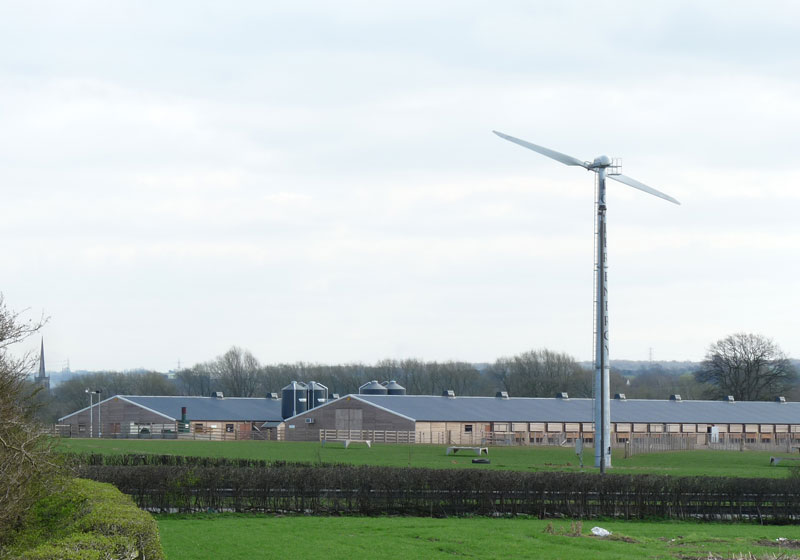 With rapid growth in the renewable energy industry prompting a surge in the number of farmers and growers setting up
wind
farms, a national broker is warning of the need to get the right insurance cover or risk expensive losses.
The number of
wind
farms across Europe rose by 11 percent last year*, with an estimated 5000 applications for
wind
farms currently being processed in the UK alone according to Bluefin Insurance.
With the capital cost of
wind
turbines falling and the government's 'feed-in' tariff, which offers financial incentives for generating renewable energy, coming up for review in September, the industry has experienced a spike in applications, particularly from the agricultural sector who are branching out into the renewable energy industry as a means of supplementing their traditional income.
However Bluefin, which has set up a specialist team to deal with insurance for renewable energy and has seen the number of enquiries increase tenfold, says there are still a worrying number of farmers who are failing to take out the right insurance cover.
David Wilson, who leads Bluefin's team of renewable energy insurance specialists, said: "A lot of farmers are not fully aware of the insurance risks involved in setting up a
wind
farm. Usually the manufacturer and contractor will provide a basic level of cover, however this often only provides cover against damage to the
wind
turbine
itself and does not provide any cover in respect of delayed start up or advanced loss of profits, or the dozens of other potential risks associated with setting up a
wind
farm which can cost hundreds of thousands of pounds in lost revenue or profit.
"The risks start from the moment the
wind
turbine
or ancillary equipment is in transit from the manufacturers to the site. If something gets damaged, it could easily take six months to replace the damaged item as the equipment is so specialised, potentially leading to significant loss of earnings," Wilson added.
Although the initial start-up costs are high, at approximately £1.2million for a 500mw turbine, in the right conditions there is potential to generate between £350,000 and £400,000 income a year for the life of the turbine, making
wind
farms an attractive business prospect particularly to farmers or growers who already have the land available.
Setting up a
wind
farm requires several types of insurance at different stages of the process including 'Marine Transit' insurance which covers damage to or loss of the equipment while in transit and the subsequent delayed start up and 'Erection All Risks' which applies to the construction phase and covers buildings, access roads, sub stations, cabling and the advanced loss of profits. Finally when the
wind
turbine
is in place, the operator will require 'Operational All Risks' insurance to cover breakdown, damage to the machinery, loss of earnings and environmental pollution. The delayed start up and advanced loss of profits cover provides the funders with some comfort that if an incident does occur, there is some financial protection in place.
The other insurance cover to have is Public Liability which can be taken out to cover the entire project, and provide cover in respect of everyone involved in the project from the operator, to the funders and the sub-contractors. Once the site is operational, a separate operational public liability is required.
Wilson said: "Farmers and growers, who are increasingly expanding into the renewable energy market, are particularly vulnerable as they have less specialist technical knowledge than the large energy companies so are often not fully aware of the insurance cover required."
Download
26-06-2012 00:30 AM | Posted by: Karen Roden
Let's hope the UK adopts the sensible compensation system that exists in Denmark whereby the erector of the wind turbine/s has to pay out to the owner of any nearby property that has suffered a loss in value due to the presence of the turbine/s. Seems only fair that greedy landowners who don't give a toss about their neighbours or local communities should have to pay something for the misery they have created!
26-06-2012 18:10 PM | Posted by: BillG
There is also the issue of decommissioning. Wind farm operators set up small limited liability companies to operate the scheme. Unless the planning authority has required a Section 106 condition, requiring an adequate decommissioning bond, then the operators could fold or walk away leaving the landowner with responsibility for decommissioning the installation.

We have also seen a very large settlement of a noise nuisance claim in the High Court last year against the landowner and operators of the Deeping St Nicholas WF in Lincs.

There are numerous cases of turbine noise nuisance around the country and lawyers foresee increasing numbers heading for the courts.

If you have a wind farm/turbine, you can expect a consequent escalation in your insurance costs.

Farmers should also be aware of the number of agents who are over-selling in terms of risks of not getting planning permission and also in terms of likely returns.

I know of several cases where landowners have been dunned for nearly £50K in fees on large farm turbines which stood little chance of being approved.

There are also growing number of banktruptcies in the small turbine sector - Proven and Hannevind, to mention but two, with others in prospect. These have left owners very exposed, with faulty turbines and nobody willing to pick up the bill.

Caveat emptor (and you'll get little sympathy from your neighbours if you get it wrong!).
29-06-2012 20:13 PM | Posted by: Katie Styles
In our area all the farmers are raking in the subsidies and couldn't give a damn about the noise and visual effects their turbines have on their neighbours. In most cases the turbine is away from their property and a nuisance to their neighbours. Many of us hope it all goes belly up for them. It is nothing short of greed and they will be held to account with other landowners for the destruction of our nation.
30-06-2012 00:06 AM | Posted by: Peter M
The elephant in the room are the potentially staggering costs for cleaning up the after effects of a turbine fire. Developers are silent, salesmen are silent, insurers are silent, H&SE currently holds no pertinent data ... (and therefore no cohesive plan) and nor does Defra.
Fires are unfightable because of height and whirling blades. Total burn-out releases clouds of mutagenic and carcinogenic particles attached to miniscule but deadly glass strands. Deadly dioxins and partially burnt hydrocarbons get released. All this can end up distributed over a very large area of neighbour's land and requires very specialised clean-up operations to negate the passage of these toxins into the animal - and thus the human food chain. Protective slaughter of affected grazing animals will be on the cards as Joe Public will certainly react to knowing contaminated food may be sold into their food suppliers.
On full realisation of this serious issue then 'Operational All Risks' insurance will rocket in price because of the potential for major environmental pollution and huge consequential claims.
08-07-2012 18:19 PM | Posted by: Patricia
Farmers who allow turbines on their land will find it nearly impossible to get insurance to cover the risk of accidents on high voltage power lines used to connect the turbines to the grid. Neighbours will be suing not alone for loss of peace and quiet, wind turbine syndrome and property devaluation but also for the risk of getting cancer from the high voltage power lines. The profit margin will deminish greatly if they can get insurance to cover them at all.
10-07-2012 00:00 AM | Posted by: no nant y moch windfarm co uk
All very well being compensated for loss of property value but who'll compensate our children and grandchildren for the loss of our quiet, beautiful places that are solace to the soul? Or the sullying of our desolate wildernesses that show few marks of man? All to meet some grossly foolish EU promise that was the result of reckless political largesse - or self-interest and greed.
02-08-2012 07:24 AM | Posted by: Davie @Braco
So many ridiculous comments. Turbines are almost silent, we run past them frequently. With many powerstations at the end of their lives there is a very real risk of blackouts in the UK. Nuclear power has huge risks and massive downstream costs for hundreds of years.Turbines are beautiful,reasonably economical and provide farmers with a fair return on their investmet.
Display name

Please enter your name

Email
(optional)
Comment

Please enter your comment

Post Comment


Your comment submitted successfully.Please wait for admin approval.

Some error on your process.Please try one more time.