Paterson backs UK GM crops
Paterson backs UK GM crops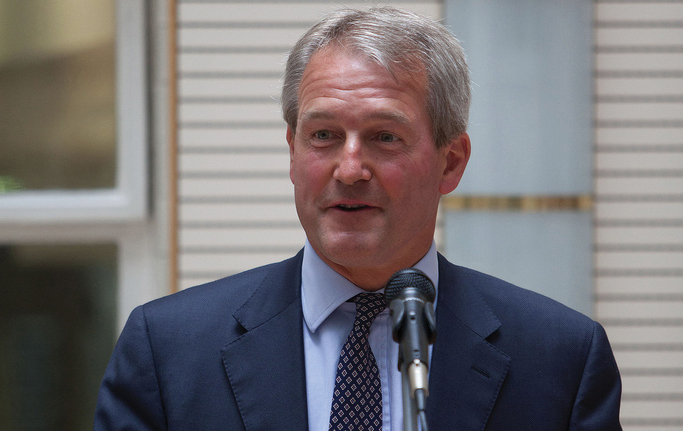 Environment Secretary Owen Paterson has given his support to genetically modified (GM) food production in the UK.
Paterson said GM crops, which are currently only produced small-scale and not available commercially, would have 'real environmental benefits' and dismissed criticism as 'nonsense'.
Supporters argue GM would increase yields and reduce pesticide usage.
"The trouble is all this stuff about Frankenstein foods and putting poisons in foods. There are real benefits, and what you've got to do is sell the real environmental benefits" the Environment secretary said in an interview with The Daily Telegraph.
The comments follow a meeting held in June by the GM industry's Agricultural Biotechnology Council (ABC) which was attended by ministers and government officials.
Critics of GM have said Paterson's statements were 'factually inaccurate and ignores the UK Government's own data from feed trials that showed GM crops harm wildlife'.
"Mr Paterson seems to be formulating policy from an evidence base provided by the agri-biotech industry and ignoring the Government's own data showing GM harms wildlife" said Pete Riley of GM Freeze.
"He needs to consult more widely with people who understand the evidence."
Critics have highlighted the problems of herbicide intolerance, superbugs and wildlife threats. Those against the introduction of GM production say pesticide use in the US is higher than before GM.
But Paterson dismissed the criticisms. He said GM crops were already being used worldwide on a large scale and people were already eating GM food unwittingly.
"I'm very clear it would be a good thing," he said.
"So you'd discuss it within government, you'd discuss it at a European level and you'd need to persuade the public."
Currently, the government is looking into new measures to push farming technologies forward in the UK and that David Cameron would support GM at the "appropriate moment".
"What we farmers need is a food production system that provides safe healthy food that our customers want to buy, provides the farmer with a decent return on time and investment and delivers genuine environmental and social benefits in the countryside" said Lincolnshire farmer Pete Lundgren.
But Professor Anne Glover said Europe could only achieve sustainable intensification if we become more 'open-minded.'
"What we do now will shape what happens in 2050," said Professor Glover.
"We do need to improve crop yields and we need to improve wastage before harvest. Farming needs to have less chemical and
water
input. This has to be achievable and we will achieve it, but we need to be more open minded about how we achieve it."
Professor Glover referred specifically to European attitudes towards GM technology.
"If we just looked at the evidence base, we would have GM in the EU without a doubt. GM crops are subject to more scrutiny than any other type of agriculture," she said, adding: "There is no substantiated evidence that I have ever seen that GM crops are harmful to the environment, animals or people".
But Pete Riley commented: "Millions of people go hungry because they cannot afford to buy food while millions of others are sick and obese because they are not able to afford a healthy diet. GM crops do nothing to address these fundamental problems."
Download
10-12-2012 17:37 PM | Posted by: Oliver Dowding
It strikes me that the only thing that Paterson has backed is to back himself into a corner.

Does anyone else notice the way in which the message is being repeated, repeated, repeated in the hope that we all believe it? It doesn't change the truth of the matter. This very good short film featuring American farmers who've come the wrong side of the so-called GM wonder crops is well worth watching. You won't see this quoted in the corporate handouts! http://vimeo.com/18994807

Look at Prof Glover urging on sustainable intensification, a snazzy buzzword that so many, including the NFU, have become addicted to.


What chance that Paterson and his ilk will actually look at what consumers want? Will he offer them all the information they need to make an informed choice? When he says "GM crops were already being used worldwide on a large scale and people were already eating GM food unwittingly", surely he sees therefore the consumers have been conned? Surely he ought by his own inference to therefore be insisting that food be labelled correctly to give consumers a proper and informed choice? No doubt he'll fall for the American line, that they think that there's no discernible difference between the genetically manipulated and the plant that nature provides. At least, that's what the GM companies have led the American government to believe, and persuaded them to accept. Thus, virtually nothing has ever been tested independently, for any length of time, or properly. Are we really ready to swallow that?
10-12-2012 21:28 PM | Posted by: Kev C
Thank you Oliver for posting the link. Unfortunately there will be those out there who insist that 20 years of consumption by Americans is proof that it is safe. Yet what they fail to point out is that there has been a disproportionate increase in serious ill health among Americans for which no specific cause can be attributed. No surprise then that they will say its not GMO's. Sadly they are deluding everyone, including themselves. You cannot prove something is safe when there is no baseline from which to work. That baseline is traceability. They do not know which food contains GMO's in the US so how can they follow the causes of these diseases? They can't. As a plausible source of evidence it wouldn't even get out of the classroom let alone a full scientific peer review process.
So the claim that GMO's are safe to eat is deeply flawed. There is no proof of safety regarding human consumption of GMO's. Its all corporate propaganda designed to secure total control over the entire global food supply through patents and the WTO.
The only safe and reliable way of feeding a growing population at a time when the climate is rapidly changing and land fertility is falling is to revert to permaculture techniques. Follow this link:
http://permaculturenews.org/
Check out the 'How to survive the coming crisis' video linked to on the right hand side of the page.
We don't need GMO's to feed the world. We need locally grown open pollinating crops and less chemical toxins not mono culture/chemical warfare both on the land and in our kitchens.
Owen Paterson is barking up the wrong tree.
17-12-2012 16:47 PM | Posted by: Martin K
The thing that really worries me is the lack of balanced evidence on which this is based. The last "cunning plan" we had from a Conservative minister was to feed bits of dead cow to living cows. Apparently perfectly safe until we get BSE...

We do not want to be part of an experiment by multinational giants telling us there is no alternative and feeding the line very convincintgly to government ministers.

Conventional breeding of crops is showing inreasing yields year after year. That technology is safe and has stood the test of time. Put some money into that instead of falling for the beguiling words of a smart salesman.
Display name

Please enter your name

Email
(optional)
Comment

Please enter your comment

Post Comment


Your comment submitted successfully.Please wait for admin approval.

Some error on your process.Please try one more time.