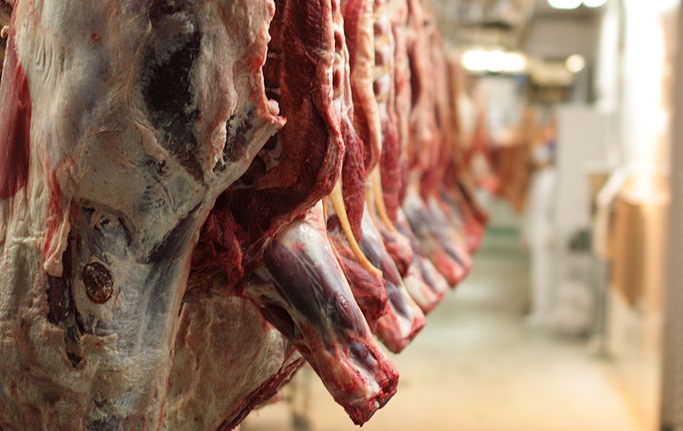 Police and food standards officials have raided premises in West Yorkshire and Wales on the eve of an EU emergency meeting.
Property has been detained and work suspended at Peter Boddy Licensed Slaughterhouse in West Yorkshire and Farmbox Meats Ltd in Wales.
Environment Secretary Owen Paterson said the situation is 'absolutely shocking'.
"It's totally unacceptable if any business in the UK is defrauding the public by passing off horsemeat as beef" the minister said.
The Agency and the police are looking into the circumstances through which meat products, purporting to be beef for kebabs and burgers, were sold when they were in fact horse.
"West Yorkshire and Dyfed-Powys police entered the premises with the FSA."
"The FSA has suspended operations at both these plants while their investigations continue. The FSA has detained all meat found and seized paperwork, including customer lists from the two companies."
"The FSA are in the process of establishing the customers of the Welsh business so that the necessary action can be taken to recall and recover products sold that may be contaminated."
The FSA has suspended operations at both these plants. Both West Yorkshire and Dyfed-Powys police have entered the premises with the FSA. The FSA has detained all meat found and seized paperwork, including customer lists from the two companies.
"I ordered an audit of all horse producing abattoirs in the UK after this issue first arose last month and I was shocked to uncover what appears to be a blatant misleading of consumers" said Andrew Rhodes, FSA Director of Operations.
"I have suspended both plants immediately while our investigations continue."
Alun Davies, Welsh Government Minister for Agriculture, said: "Integrity and trust are essential in the food chain. I would be appalled if these allegations are proven. The Welsh Government is working closely with Defra and the FSA to ensure this matter is dealt with swiftly and decisively."
EU ministers will hold a meeting in Brussels tomorrow to deal with the fallout from the horsemeat scandal as investigations in France and the UK continued yesterday.
Keith Taylor MEP is calling on the for a change in EU law to allow consumers to see where their meat comes from.
"The Horsemeat scandal exposes major questions over EU rules on food safety and quality, transparency and food labelling, and as regards cross-border fraud and crime" he said.
"Concerns about the regulatory system, product labelling and how this alleged fraud could have been allowed to happen in the EU's internal market, must be addressed without delay."
"The time has come to see mandatory country-of-origin labelling for all meat, including meat used as an ingredient in processed food. This should include place of birth, rearing and slaughter. Current EU rules only require country labelling for unprocessed beef. The Greens had called for full origin labelling on meat products in 2010 but this was foolishly refused by EU governments."
The National Sheep Association has said the horsemeat scandal is the latest evidence against government cuts in infrastructure and regulatory enforcement.
Chairman of the association John Geldard has called for an alliance between farming groups to support food producers.
"It is clear the farmer's voice is not being heard well enough by the Government and Farming Ministers, yet we are the foundation of the food supply chain, without whom the consumer would be hungry" he said.
"The horsemeat scandal and lack of farming consultation in finding solutions and future-proofing secure food supplies shows existing communication between farmers and Government is inadequate. I see this as the catalyst to create a new alliance of farmer organisations that can support Government in meeting our future food challenges."
The fear of eating contaminated beef has caused many shoppers to be wary of all meat sold in supermarkets.
Current impacts on farmers have been minimal. The average farm gate deadweight beef price has moved by less than 3p/kg between last week and the week prior to the issue breaking. Slaughtering volumes have increased over this period.
NFU Cumbrian County Adviser, Mike Sanderson, said: "When the issue broke, the NFU immediately contacted major retailers to express our anger and disappointment that their actions and the actions of their suppliers had undermined the hard work of farmers in producing quality, traceable produce."
"This whole system of quality is being completely undermined by failures within the supply chain and reinforces my organisation's call for clearer labelling and a commitment from retailers to British produce."
"In the meantime, please buy from your local farmer, butcher or look for the Red Tractor logo on all the fresh meat you buy. Trust me, this is the only way you can be sure that the products you're feeding your family have been produced to world-class standards which are independently inspected."
The National Sheep Association has blamed retailers who 'habitually drive down meat prices' below the cost of production causing a lapse in quality or an adulterated content of the product.
"Where on earth do they think this cheap euromeat is coming from?" demanded Richard Longthorp, chairman of the NPA.
"If you consistently buy something below the price at which it can be produced, you must know that corners have been cut in quality, or safety, or legality, or all three."
Farming groups are also blaming the government, in particular their 'failure to listen' to food security warnings made by the UK's chief scientific advisor.
"It is a shameful disgrace that on 1st January 2012 they failed to support UK egg producers when they were ready for the ban on battery cages and the rest of Europe wasn't" Geldard said.
"And that on 1st January 2013 our Government and Brussels failed to implement the law and protect the UK pig producers who were working within it. And that for the last two to three months sheep farmers, already struggling with the impact of the weather on lamb prices, were unknowingly competing with high volumes of horsemeat distorting the market."
Supermarkets had 'only themselves to blame for the current lack of customer trust' in the meat products.
"Even though cheap imported europork hasn't been implicated in the Horsegate scandal, the price that British pig farmers get for their safe, high-quality product plummeted by an unprecedented 3p a kilo on Friday," said NPA general manager Dr Zoe Davies.
"Our pig farmers are already making a loss as supermarkets import increasing quantities of cheap pork from the continent and for some this latest blow may well be the straw that breaks the camel's back."
"But that's not good enough for some of our largest retailers. They have to buy cheap-cheap-cheap, and that is what has landed the High Street in its current fear and confusion."
Farmers and consumers have also been urged to work together to prevent further cheating by cross-border meat suppliers who have substituted beef with cheap, unregulated horse meat.
"This can be done if consumers insist that the fresh beef and manufactured beef they buy is taken exclusively from cattle born, reared, and processed in the UK," explained NBA national director Chris Mallon.
"The integrity of their product contrasts hugely with the horsemeat which that has infiltrated the domestic food chain as a result of careless, or unscrupulous, actions undertaken by participants in a supply chain which is understood to cover companies in Poland, Luxembourg, Romania, France and the Republic of Ireland."
Retailers have been criticised over their scrutiny of the product as well as the price they pay for the meat.
They are 'in danger of losing their reputations' if more meat products have to be withdrawn according to Mallon.
"This disappoints us because some retailers, as well as some of their suppliers, have quite obviously been too relaxed about the origin, even the species, of some of the meat in their processed products and beef farmers believe the multiples can help restore consumer faith in their judgement if they make more effort to highlight the origin, and superior integrity, of domestic beef, and domestically manufactured beef products."
CLA Midlands Rural Advisor Donna Tavernor said: "The revelations that some processed beef contained up to 100 percent horse meat came as a shock, and it underlines what we have been saying for years – that shopping locally brings not just better tasting, fresher food, but is also traceable."
"Buying local ensure that the meat you have brought is of high welfare standards and supports our British farmers. Of course, some farms even sell meat direct through their own farm shops."
Comments