Producers unlikely to see cost cuts in 2013
Producers unlikely to see cost cuts in 2013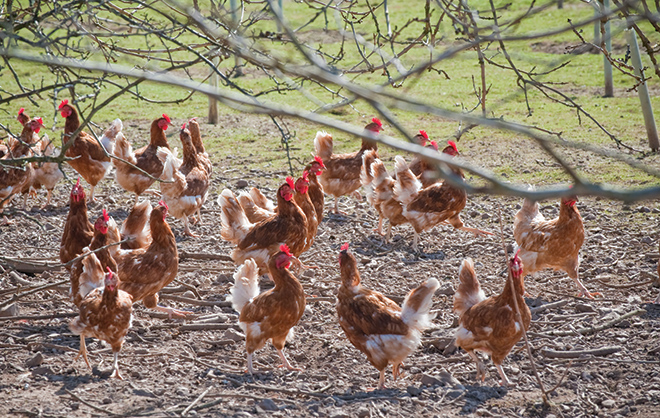 Egg producers are unlikely to enjoy any respite from rising input costs in the year ahead, with feed prices, in particular, expected to put the squeeze on farmers' finances.
Andrew Power, director of Crediton Milling, told the Ranger that feed prices were likely to remain comparatively high against historical prices for the next 12 months, with wheat still strong.
"Hypro soya looks set to offer some respite. However, that might not be the case with non-GMO soya," he said.
Many retailers are still insisting that egg producers use only non-GM feed, and this issue may come to a head this year.
Andrew said that high global prices had encouraged Brazilian farmers to increase the planted acreage of soya to 27.1 million hectares - up 2.2 million hectares from the previous year.
Production would be higher and should hit 81 million tonnes this coming season, resulting in cheaper soya this summer than in 2012. But he warned that the percentage of soya produced as non-GM would decrease.
"Given the significant global market for non-GMO soya and the declining amount available, it remains to be seen, but the premium for this season could actually increase."
Steve Carlyle of Country Fresh Pullets said he expected to see a push for retailers to drop the non-GM requirement this year.
"We are not sure we are going to be able to get it and, if we can, we are going to have to pay a very big price for it," said Steve who said the rising price of feed was a great concern for the egg sector. Steve said that the rising feed price was not only a direct cost for egg producers, but it also pushed up other costs for farmers.
He said that chick prices had been increasing because the feed bill had gone up at the hatcheries. "Pullet prices will also continue to rise because of the increased cost of the chicks and because of our own increased feed costs. There is also the cost of the vaccines, so I am afraid it is inevitable that pullet prices will be going up."
In addition to rising input costs, there is also concern that egg production could start to outstrip demand once again in the coming year.
Recent statistics released by the Department for Environment, Food and Rural Affairs (Defra) have revealed a series of increases in the number of layer chick placings in the United Kingdom.
In July placings were up 19 per cent to 3.5 million from three million in the same month last year.
The year-on-year increase in August was seven per cent and in September it was four per cent. In October a 13 per cent increase resulted in placings rising from three million last year to 3.3 million this year. October's moving total stood at 34.2 million - up three per cent against the figure in October last year.
There have also been a number of year-on-year increases in the number of layer
eggs
set by hatcheries in the United Kingdom.
The figures were up by 20 per cent in July, 26 per cent in August and by nine per cent in September, although there was a small decrease of one per cent in October. The moving total in October stood at 98.3 million - up by four per cent against the same point last year.
Steve Carlyle said he thought the main expansion had been in enriched cages. He expected to see about a million extra birds in place in the first six months of the year.
"That will satisfy the shortfall in colony production at the moment and that shortfall is currently being satisfied by free range being cascaded into it," he said. "It could have the effect of putting free range into surplus."
Steve said he was a little concerned that a number of egg price rises announced by packers shortly before Christmas may encourage some producers to expand production, and he hoped that this did not happen. "I would encourage people to batten down and not expand," he said.
"Feed is likely to go up but I am not sure we will see an increase in the egg price going forward. There may be something in March or April, but I am not convinced it will happen. Producers need to be very careful about increasing their flocks."
Andrew Power said that the increasing scarcity of non-GM soya and uncertainty over whether retailers would drop the non-GM requirement would need to be handled very carefully by feed companies.
"With such scarcity of supply and competition for the product, we need to book early to ensure we can supply our customers' requirements.
"That does mean that, if it was dropped as a requirement, we would hope for a notice period to enable us to finish our commitment. The alternative is to buy all of our requirement on a month to month basis, but this would mean that not only could we not always guarantee supply but we could also be exposed to significantly higher premiums each time," he said.
One thing he could guarantee, he said, was that feed commodities would remain volatile for the next 12 months. With other input costs also increasing and uncertainty about further rises in egg prices, it could be another difficult year for free range egg producers.
Download

No comments posted yet. Be the first to post a comment
Display name

Please enter your name

Email
(optional)
Comment

Please enter your comment

Post Comment


Your comment submitted successfully.Please wait for admin approval.

Some error on your process.Please try one more time.