Pullet rearers look to payment terms as egg market turns
Pullet rearers look to payment terms as egg market turns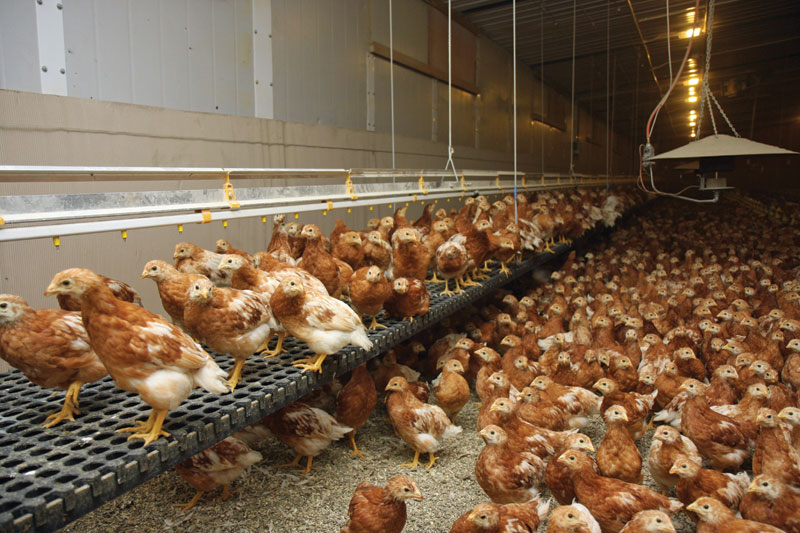 Some pullet rearers are considering changing current payment terms to limit losses from egg producers who fail to pay.
Free range egg producers currently pay for their birds between 14 and 28 days after delivery, but under changes now being considered by one pullet rearer who spoke to the Ranger they would in future have to pay half of the bill before the birds were delivered. Other rearers are understood to be considering similar changes.
The rearer we spoke to said that pullet rearers were getting "very nervous". In some cases they were spending a lot of money producing the pullets only to subsequently find that the producer who had ordered them did not have the money to pay the bill. A number of pullet rearers were looking at new systems of payment.
"We are looking at an arrangement under which the producer would pay 20 per cent six months before delivery," he said. "That would cover the hatchery cost if the producer cancelled at that point. Another 30 per cent would be paid at eight weeks, covering more of the costs. The balance would be paid according to the current terms at between 14 and 28 days."
Pullet rearers have been experiencing huge demand for pullets following recent producer price increases by major packing companies, but although the market overall is short of
eggs
there is still an oversupply of free range eggs, which are currently being cascaded down to cover shortages of cage eggs.
There have been warnings of another crisis in free range next year unless production is controlled. The fear of pullet rearers is that such a crisis could put producers out of business - leaving pullet rearers picking up the losses on pullets that have not been paid for.
"We are very concerned," said the pullet rearer. "We are worried that there could almost be a crash. We are going to have far too many free range
eggs
and next time we will not have the introduction of new EU regulations to get us out of the mess. In 18 months or so we could well see producers going bust. By introducing staged payments we would limit our exposure. That has to be the fair way to proceed."
He said it was a system used perfectly happily when farmers bought equipment and there was no reason why it could not be adopted for pullet purchases. With pullet costs rising and orders increasing in size pullet rearers needed some protection, he said.
The new terms could start coming into force at the beginning of 2013.
Download
08-06-2012 16:32 PM | Posted by: Jeff
Surely this is anti-competitive. Are you saying pullet rearers have got together to say that they are changing the terms by which they all operate.

There is an association called the Pullet Rearers Association. If they have called for this then I would have said it is illegal.
08-06-2012 19:00 PM | Posted by: Racheal
In a way I can understand this. The egg market to anyone but a fool seems to be heading into self destruct. Pullet rearers already seem to be battling against rising bad debts and when the market does eventually turn they could be left with producers who cannot afford to repay their credit and pullet rearers could end up like international banks with no-one to bail them out.
08-06-2012 20:34 PM | Posted by: Peter
This is likely to put many egg producers out of business. We are struggling to pay our last bills never mind having to pay for our next batch of pullets in front.
08-06-2012 20:36 PM | Posted by: Matt
Two things can happen with this. Either producers will cease trading as they cannot afford to pay for the pullet orders up front. Or we will order pullets right at the last minute.
09-06-2012 07:48 AM | Posted by: Ian
It's all presumptive but yet talks as if it is a done deal. As if they have got together and fixed this as an industry standard but no one company has put their name to it.
10-06-2012 14:00 PM | Posted by: Robert
You talk as if the producers are the evil villians. The only reason producers cannot pay for their pullets on time is that we are not being paid the going rate for our eggs. This problem then works it's way down or up the chain. The way to resolve this is not to change the credit terms on pullets or feed but to increase the price of eggs in supermarkets and pass that increase back to the producers.

If producers are not paid the going rate for eggs everyone in the chain suffers. However if some links in the chain then try to pass the responsibility back down to the producer then the ones to suffer will be the supermarkets and consumers as producers will go bust or stop producing.
Display name

Please enter your name

Email
(optional)
Comment

Please enter your comment

Post Comment


Your comment submitted successfully.Please wait for admin approval.

Some error on your process.Please try one more time.