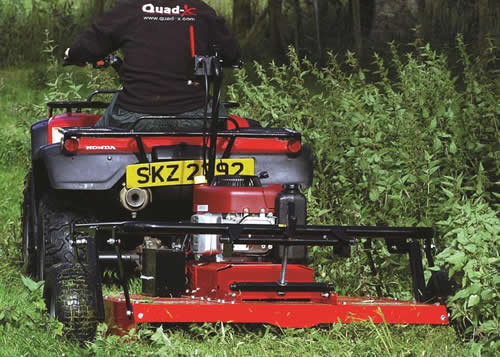 Quad-X, UK manufacturer based in Co Antrim, have spent the last few years liaising closely with a number of farmers and contractors to develop an innovative range of tractor machinery, to add to their extensive range of quad equipment. Among their range of land management machinery is their extensive range of mowers for pastures available in towed models for behind quads or UTVs and the mounted tractor models.
With the recent burst of sunshine and long awaited heat, at last grass will get a spurt, meaning you must start to manage its growth. Grass should be kept at 5-7cm throughout the growing season since some animals tend to be fussy and not eat grass any longer than about 15cms. Topping also promotes growth at root level and helps encourage new leaf growth and increases sward density, which reduces the opportunity for weeds to grow, protecting your pastures from the effects of hoof damage in winter. If grass is allowed to grow too long it will simply fall over, matt together and and rot in autumn allowing no light to the soil which will dramatically reduce the following years growth.
Quad-X offer a range of mowers including flail mowers and Power Shredder mowers for both tractor and quad. The tractor mowers are available in 6 widths from 1.3m/4'4 to 2.7m/9'. The flail mowers are ideal for general topping of grassland and weeds such as nettles, thistles and docks. This range offers a cost effective solution to grass topping where a fine chop, fuel consumption and time savings are not a priority. The Power Shredder Mowers have been designed specifically for dealing with heavier vegetation thanks to optimal material flow through the deck and rotor. Using the Power Shredder for grass topping will result in a finer chop and faster travel speed.
Quad-X manufacture a range of ATV Wildcut Rotary Mowers and Flail Mowers ideal for topping grass and weeds such as docks, thistles and nettles. The extreme-duty Wildcut Mower and innovative Power Shredder Mowers are the most capable ATV mowers available and are ideal even if you have heavy 5ft rushes, bracken or heather to cut. The Quad-X ATV Power Shredder has been designed to shred heavy rushes and other dense vegetation and for pasture topping performs at fast travel speeds and leaves a tidy finish. Considerable investment has been made in the rotor design which rotates at a higher RPM than a tractor flail ensuring momentum and faster travel speed. The Power Shredder chops the grass and other weeds very finely into a mulch-like material and spreads them more evenly.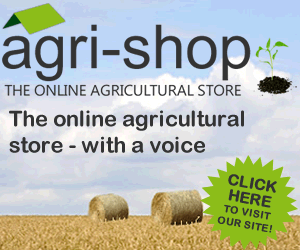 Quad-X are also working on another exciting new development to be showcased at the Royal Highland Show to meet the demand for general topping machinery to cut hard grass and boost regrowth. They are currently finalising a range of tractor mounted toppers in 11ft and 14ft widths. The advantage of these tractor mounted toppers with fold up wings will be primarily ease of access in tight gateways and narrow laneways, or when mowing among trees. In comparison, trailed toppers are awkward to manoeuvre.
The engineers at Quad-X have worked on the design to ensure greater drive train efficiency for proven lower fuel consumption.
If you would like to find out more about the Quad-X range, request a brochure or DVD please call 028 2587 2800, or visit www.quad-x.com where you can browse the range and view video footage of the machines.
Comments
No comments posted yet. Be the first to post a comment