Restrictions on neonicotinoid 'would put £630m at risk'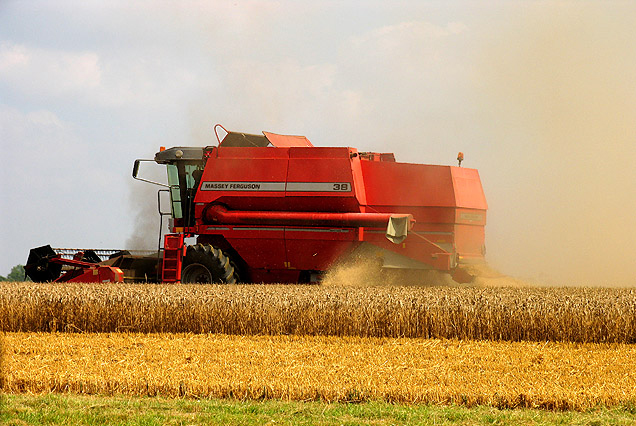 A comprehensive review of the value of neonicotinoid seed treatment released today in Brussels has prompted further concerns from UK agriculture about the proposed restrictions on its use.
The 'Humboldt Forum for Food and Agriculture' report (which can be downloaded at the bottom of the page) says that if UK farmers no longer had access to the seed treatment, it would result in a loss of approximately £630 million to the economy each year.
The report suggests significant implications for the winter wheat sector, where many farmers depend on neonicotinoids as the most effective method for controlling seasonal pests (particularly aphids) and managing the farming operations needed to produce the crop throughout the year.
If UK farmers no longer had access to neonicotinoid technology, the authors of the report conclude that this could lead to:
- Yield declines of up to 20%, which could make winter wheat an unprofitable crop for many UK farmers, and its production unfeasible in high-pest pressure areas.
- A loss of up to £630 million approx. (€782 million) each year to the UK economy.
- Threats to 1,300 jobs that have been directly created in the UK by neonicotinoids, and income loss for a further 15,000 growers.
In addition, world market prices for crop commodities could increase by up to two percent if an EU-wide suspension on neonicotinoids was introduced, the report found.
"At a time of increasing world commodity market volatility, any additional upward price pressures will impact on overall food inflation whilst at the same time negatively impacting on the UK farmers' ability to produce crops to the highest economic and environmental standards" said Paul Rooke from the Agricultural Industries Confederation.
In Brussels, the report was launched with the support of The European Seed Association, Copa-Cogeca and the European Crop Protection Association, against a backdrop of concern about calls for further restrictions across the EU, following a suspension on the use of neonicotinoids in France last year.
The debate has been sparked by concerns for the health of bee populations, despite extensive scientific and field evidence which has found no reason to restrict the treatments' use.
Neonicotinoids are critical for successful, profitable production of winter wheat, oilseed rape (OSR), barley and sugar beet in the UK, and for corn, sunflowers and vegetable crops across the EU.
"As well as lower yields and revenue losses, UK crushers and processors, who currently source from UK providers exclusively, may be forced to make good any stock shortfall by importing crops from abroad" said UK OSR sector, Chris Baldwin, Managing Director of United Oilseeds.
"Using neonicotinoids as a seed coating is the most effective way to apply insecticide to crops and target specific threats."
"The alternative means having to spray post-emergent crops with insecticide in the field. As well as being less effective, this method is less targeted and means higher input costs for farmers."
"As a co-operative with over 3,500 farmer members, the welfare of the countryside and the environment is at the core of our ethos. But we recognise pest control is an essential part of bringing sustainable, assured, healthy crops to the marketplace and consumers" he said.
NFU lead on bee health Dr Chris Hartfield said: "The results of this work are important, particularly in
light
of work being done currently by the European Food Safety Authority (EFSA) reviewing neonicotinoid seed treatments."
"While EFSA's work has identified gaps in the current regulatory process assessing how pesticides affect bees, we still do not know how relevant these gaps are and whether plugging them would actually improve the health of bees or other pollinators."
"Any decision to change the way pesticides are used to control crop pests will have an impact on both the protection of insect pollinators and the protection of crops."
The report also found:
- The productivity gap created by loss of this technology could only be closed by bringing into production an additional 3 million hectares of land outside of Europe at a cost of 600m tons of carbon dioxide (CO2) emissions
- Neonicotinoids contribute over £1.6 billion approx. (€2 billion) annually to commodity crop revenues and reduce production costs by £800 million approx. (€1 billion) across the EU compared to alternatives
- The true annual economic benefit of neonicotinoids to the grower, when compared to not using pesticides at all, is over £3.2 billion approx. (€4 billion)
- In total, over a five year period, EU potential wealth could erode by up to £13.8 billion approx. (€17 billion) as the result of further restrictions, putting the jobs of over a million people engaged in arable production across the EU at risk
- As many as 50,000 farm jobs could be affected across the EU if the technology was no longer available
"This report shows that the loss of neonicotinoid seed treatment would seriously damage sustainable food production in Europe" said Steffen Noleppa (agripol), one of the authors of the report.
"For the first time, we have been able to quantify the socio-economic and environmental value of this transformative technology and found that without it, crop yields would be significantly lower and grower margins would be eroded, in some cases irreversibly."
"Our report found that the consequence of such a ban for wider society could include lower crop yields, leading to higher commodity prices."
Download

15-01-2013 08:21 AM | Posted by: Just a farmer
This report is not based on facts but on crude speculation.

Fact is that the ban on imidacloprid, thiamethoxam, clothianidin and fipronil in Italy since 2008 lead to HIGHER yields.

The agrochemical industry is very afraid for the European Food Safety Authority Conclusion on the peer review of the pesticide risk assessment for bees for the active substances imidacloprid, thiamethoxam and clothianidin that will be published later this week. It proves that the current authorization is illegal because there are very big data gaps in the authorization dossier. The timing of this Humbold Forum report is strategic, but it is important that my fellow farmers know that their report is not based on facts but on strategic speculation.
15-01-2013 23:00 PM | Posted by: Sal
Sadly, DEFRA is filling the data gaps with unreasonable demands for proof that these 3 particular neonicotinoids (imidacloprid, clothianidin, & thiamethoxam) are adversely affecting our pollinators, as much for prevarication, & fiscal gain I am sure, apart from any deluded conviction that they are "safe".
EFSA & DEFRA between them are creating enough uncertainty around this whole issue so that nothing will happen, as people are so unsure what to believe. This is in spite of many decent independent studies showing that neonics have acute sublethal effects on bees. It's like the tobacco industry all over again. I believe even DDT took 30 years or so to be banned. Lets learn something from history!
Display name

Please enter your name

Email
(optional)
Comment

Please enter your comment

Post Comment


Your comment submitted successfully.Please wait for admin approval.

Some error on your process.Please try one more time.
Trending Now
Viewed
Discussed