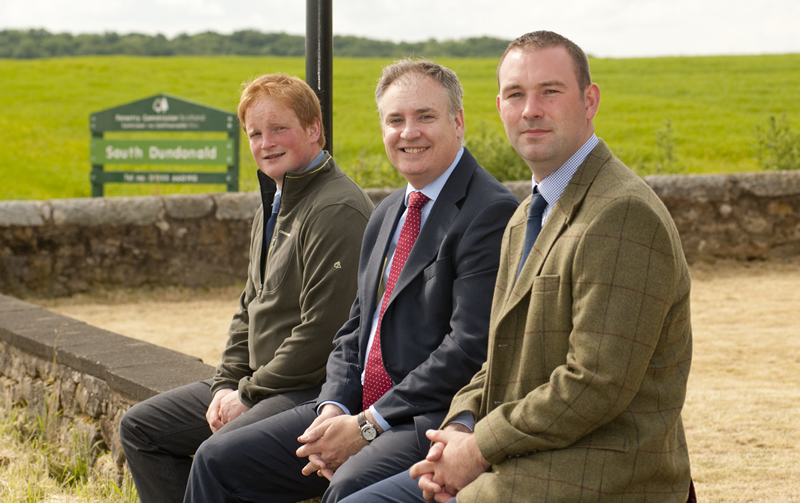 Craig Malone from Stirling, Rural Affairs Secretary Richard Lochhead, Zander Hughes from Dunfermline
Ahead of this year's Royal Highland Show, Rural Affairs Secretary Richard Lochhead today welcomed Scotland's newest farmers into the industry.
Mr Lochhead met Craig Malone (aged 27 from Stirling) and Zander Hughes (aged 25 from Dunfermline), the first two new entrants to Forestry Commission Scotland's Starter Farms initiative.
The pair beat off stiff competition for the two starter farms being offered as part of a pilot run for new entrants by Forestry Commission Scotland.
Both Craig and Zander will now take up ten year tenancy agreements starting in October on Pitcairn and South Dundonald Farms in West Fife.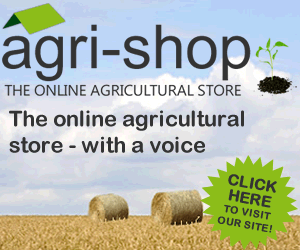 Mr Lochhead made the announcement while visiting the young farmers at South Dundonald Farm. He said:
"This week sees the start of this year's Royal Highland Show at Ingliston. This annual event is an excellent showcase for all that is great about Scotland's rural industries and attracts interest from around the globe.
"However, the successful future of farming depends on being able to attract new entrants into the industry and giving potential farmers an opportunity to get a foot on the farming ladder.
"That's why the Scottish Government is eager to explore ways to encourage and develop talent and new opportunities for the next generation of Scottish Farmer. I am delighted that Craig and Zander have been awarded tenancies by Forestry Commission Scotland.
"Land based opportunities are limited but I am extremely encouraged by the Commission which has worked closely with the industry to develop its Starter Farm Initiative.
"The farms complement the Commission's wider woodland creation, environmental and public access objectives and meet the needs of the agricultural industry alike. With this in mind, I am pleased that the Commission will, later this year, make three more starter farm units available to new entrants."
In Aberdeenshire and Dumfriesshire the Commission will offer 'part time'
farming units using a similar model to the two Fife farms, while the third will trial a different approach offering land and buildings alone.
This is targeted at those working and living in the locality and will offer a business opportunity to a new entrant or someone wishing to up-scale.
Simon Hodge, Forestry Commission Scotland, added; "Forestry Commission Scotland continues to explore ways to integrate woodland creation and farming, to work with new and existing tenants and to ensure the best use of the land resource within our stewardship.
"Throughout the selection process it has been gratifying to see the abundant talent and enthusiasm within the industry and if there is a downside to this process it has been having to disappoint some high calibre applicants."
Industry representative and prominent Fife Farmer, John Cameron, who sat on the selection panel, added; "This is an important day for the whole of rural Scotland on a number of counts. Firstly it cements the relationship between forestry and agriculture; secondly it demonstrates an approach to optimising land use; and thirdly it creates real and meaningful opportunities for new entrants to the industry to get a foot on the farming ladder."
The new tenants are being warmly welcomed by the local farming community, led by the West Fife Agricultural Society, which today presented the pair with an attractive package that includes a year's subscription to a number of local and national farming and land-based organisations, access to free financial accounting services, and possibly most importantly, access to a local network of fellow farmers who are able and willing to help the new entrants on their journey.
Speaking on behalf of the West Fife Agricultural Society, David Bonn, added; "It can be a particularly challenging time when you start up your farming business, that's why we are pleased to be able to offer some additional support to Craig and Zander, which will hopefully provide them with some business support that will help them achieve their business plans."
Craig Malone, from Stirling, will be farming at Pitcairn. He responded by saying "This is a tremendous opportunity that Forestry Commission Scotland has provided for young entrants - a chance like this does not come along very often. It's a true honour to have been awarded this tenancy in the face of such stiff competition."
Zander Hughes, from Dunfermline, who will be the new tenant at South Dundonald, said "I am delighted to have been selected for the South Dundonald tenancy, giving me the opportunity to farm in my own right.
The experience I will gain over the next ten years will be invaluable to me and I look forward to the challenges ahead."
A selection process similar to the one followed for this pilot programme will be opened to applicants in the Autumn. It is the FCS aspiration that new entrants for these farms will be appointed by Spring 2013.
Comments
No comments posted yet. Be the first to post a comment