Shoppers urged to back British pig farmers
Shoppers urged to back British pig farmers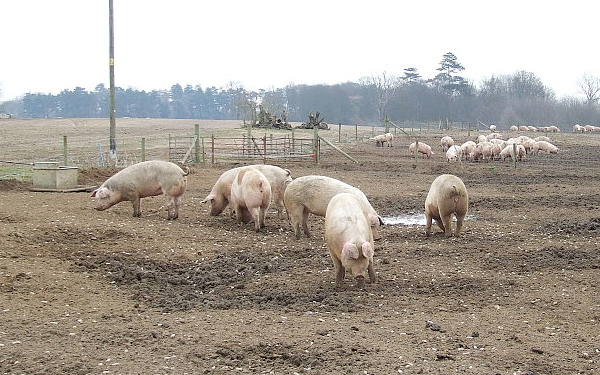 Specialist agricultural accountants have backed calls by the National Pig Association for consumers to buy British pork.

The call comes after it was revealed that soaring feed prices could see 10% of British pig production disappear this year.

According to Bpex, which represents pig levy payers in the UK, pig farmers are now losing £18 per pig they produce because bad weather in the US, the Black Sea and part of northern Europe has seen the cost of feed increase by 25%.


However the National Pig Association (NPA) has claimed that farmers are not receiving more money for the pigs they produce, because the intense rivalry between high street supermarkets is keeping down prices.

According to a survey by the NPA, pig farmers which make up 10% of the UK industry are threatening to pull out if prices don't increase between now and Christmas because they can't afford to feed their animals.


The NPA said that the industry would lose 2.3 million sausages and 1.5 million British bacon rashers a week if 10% of British pigs disappeared.

Being at the heart of the Fens, Moore Thompson has always provided specialist accountancy advice to agricultural and horticultural businesses, including many pig producers in Lincolnshire and Cambridgeshire.

Andrew Heskin, a partner in the firm's Farming Sector Team said: "It is critical that our consumers support British pig farmers, particularly as they are suffering from the high spike in feed prices.

"It is true that many pig producers are threatening to quit the industry because at the current time the supermarkets are deflating prices and their businesses are becoming unprofitable.

"If supermarkets see a surge in demand for British products, there is always the hope that they will pay farmers more per kilo which will cover their feed bills."

A spokesman for the British Retail Consortium said: "The major retailers always have an eye on commodity prices and what steps they need to take to support the farmers and producers within their supply chains.

"It's in the retailers own interests to have reliable supplies of the food consumers want to buy, including bacon and sausages."

Download
10-01-2013 18:48 PM | Posted by: Paula
Why can't the supermarkets that throw away a scandalous amount of fresh food every day offer it to the pig farmers? It was good enough for 'pig man' back in the 70's when he'd come and collect our fresh throw away veg and fruit etc. Isnt there a missing link here somewhere?
Display name

Please enter your name

Email
(optional)
Comment

Please enter your comment

Post Comment


Your comment submitted successfully.Please wait for admin approval.

Some error on your process.Please try one more time.