Shoppers want more British food, research says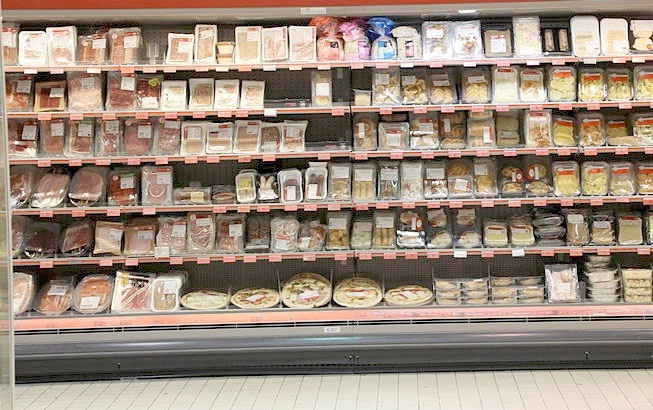 Customers want to see more British food on supermarket shelves in wake of the horsemeat scandal, according to research.More than 82% of shoppers are more likely to buy traceable food produced on British farms and a further 77% agree that supermarkets should sell more food from British farms.The fear of eating contaminated beef has caused many shoppers to be wary of all meat sold in supermarkets.Farming groups have blamed retailers who 'habitually drive down meat prices' below the cost of production causing a lapse in quality or an adulterated content of the product.NFU Deputy President Stephen James said he believed that shorter and more traceable supply chains would help to alleviate the problems of recent weeks.Failures in the supply chains of supermarkets were highlighted by farming groups like the National Beef Association."The squeezing of their suppliers margins and the relentless search for profit through buying cheaper product is the reason horsemeat is in their products" the association said."The supermarkets spend millions on creating and protecting their brand but what is behind that brand is reflected in their own brand economy burgers. They are brands are funded by the exploitation of the consumer and the supplier."James said: "Farmers have been furious about what has happened.""They have spent many years working to ensure the supply chain is fully traceable from farm to pack and building strong principles which are embodied in assurance schemes like Red Tractor. For me this is fundamental for consumer confidence."

"But more than that, I want to see retailers working on re-building consumer trust, improving transparency and so partnership with farmers and the rest of the supply chain is critical. However, what we see currently in some sectors is real short-termism.""The margin distribution in the supply chain needs more transparency and joined-up thinking to tackle the dual challenges of volatility and environmental pressures."57% of people, according to the One Poll survey, said they found information on food origin either confusing or very confusing. "This has to change" James said.EU ministers have held meetings in Brussels to deal with the fallout from the horsemeat scandal as investigations continue.Keith Taylor MEP has called for a change to EU law to allow consumers to see exactly where their meat comes from."The horsemeat scandal exposes major questions over EU rules on food safety and quality, transparency and food labelling, and as regards cross-border fraud and crime" he said."Concerns about the regulatory system, product labelling and how this alleged fraud could have been allowed to happen in the EU's internal market, must be addressed without delay.""The time has come to see mandatory country-of-origin labelling for all meat, including meat used as an ingredient in processed food. This should include place of birth, rearing and slaughter. Current EU rules only require country labelling for unprocessed beef. The Greens had called for full origin labelling on meat products in 2010 but this was foolishly refused by EU governments."The National Beef Association recently said the cheap food culture that has dominated the UK over the past 30 years 'has become outdated', they also said farmers will soon be as important to consumers as the retail giant that dominates the food industry."Most British retailers have still to appreciate that food, like oil, gas and metal, is already being traded as a global commodity and that the cheap food culture that has dominated the UK in particular over the past 30 years has already become outdated said Chris Mallon, NBA national director."The slip-shod supermarket procurement that has been exposed by the horsemeat scandal is the result of short cuts being taken because after decades of food being easy to find, and easy to buy, it has suddenly become not just harder to secure – but also more expensive."

Download

Trending Now
Viewed
Discussed