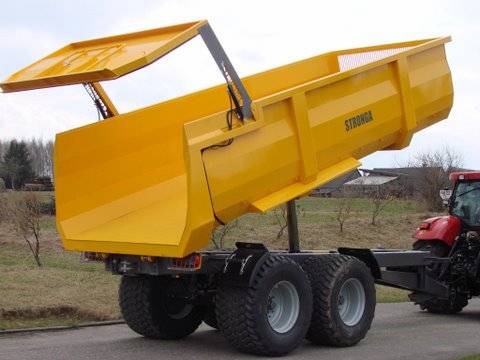 Stronga have expanded their BulkLoada range to now include a trailer specifically for the specialist vegetable and root crop sector. The BL700 has been designed and developed as a joint venture between Dutch firm Greve B.V and the Stronga design team.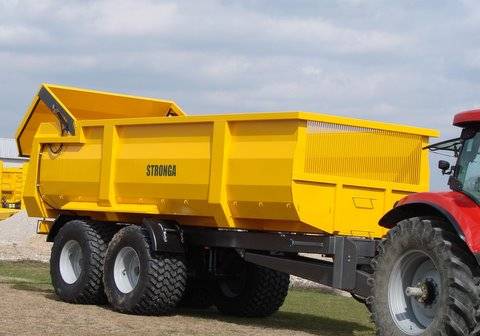 The signature BulkLoada body shape has been revised, with a longer and lower profile, to help minimise crop damage during loading from harvester elevators. The standard level load capacity is a class leading 24m3, with optional 300mm high extension sides increasing the capacity to 30m3.
The Hardox wearplate floor provides for a very stiff and long-life body structure. Hardox is also extensively used in high stress areas of the BL700's chassis, keeping the trailer light whilst retaining maximum strength and rigidity.
The BL700 has a host of carefully thought through features and benefits built into the design. The smooth and seamless construction inside the body minimises crop damage during loading and unloading. Heaping ability has also been improved by moving the pivot point to the very rear of the body.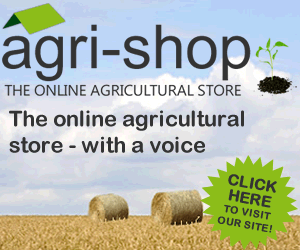 The self-locking rear door design has been developed to leave the rear of trailer clear of protrusions for ease of use when loading into hoppers and processing areas.
With a huge front window and grille providing excellent visibility into the trailer from the tractor, the operator can accurately control the loading process and minimise damage to the crop.
Extensive testing and development has led to the high performance of the BL700 with reliability typical of the whole BulkLoada trailer range for modern agriculture.
The BL700 is now available to vegetable producers across Europe. For more information on Stronga products call 00 44 1992 519000,
Email: Info@stronga.co.uk, or visit: www.stronga.co.uk
Stronga is a family owned company with many years experience in the design and manufacture of specialist trailers as well as other handling and transport equipment.
Comments
No comments posted yet. Be the first to post a comment