Supermarket adjudicator must have power to fine
Supermarket adjudicator 'must have power to fine'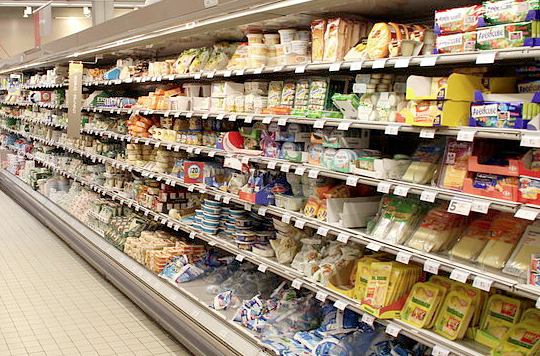 Farming groups have called for 'improvements' to the Groceries Code Adjudicator Bill as it is set to become law.

The Bill had its second reading in the House of Commons on Monday, and will now be considered in Committee over a number of days in the coming weeks, and it is expected that it will complete its passage through Parliament in early 2013.

The government is already recruiting the adjudicator in order that they can begin the important job of monitoring and enforcing the Groceries Code as soon as the Bill becomes law.

In October, activists staged a demonstration to highlight the need for the government to ensure the new supermarket watchdog being introduced has the power to fine supermarkets for unfair buying practices.

Campaigners from UK development and environmental charities will stage the demonstration at the Department for Business, Innovation and Skills.

The charities, which include War on Want and ActionAid claim that supermarket buying practices hit the working conditions of farmers overseas and in the UK.

"It is vital the government gives the supermarket watchdog the power to fine" said Murray Worthy from War on Want.

"A watchdog that is all bark and no bite won't be able to stop supermarkets bullying their suppliers."

They say the government's proposals to "name and shame" offending supermarkets will not deter them from continuing to engage in unfair trading, despite negative publicity, reinforcing the findings of the Competition Commission's 2008 investigation into supermarket practices.

NFU President Peter Kendall said: "We are now in the home straight after over a decade of campaigning for an effective body that can ensure the big supermarkets treat their suppliers fairly."

"The NFU has been at the forefront of getting an adjudicator up and running, working with a wide range of organisations and individuals, and we at last have the finishing line in sight."

"However, while the current Bill is in many ways a strong and workable piece of legislation, there are still improvements that need making. Most importantly, MPs must amend the Bill to ensure the adjudicator will, from day one, be able to fine retailers who are found to be in serious breach of the Groceries Code."

"Producers and suppliers have for too long been subject to unfair treatment by large retailers. Despite some positive work in recent years, abuse still happens. It is vital that Parliament ensures the adjudicator is equipped with the full range of powers to do his or her job effectively."

NFU head of government affairs Nick von Westenholz said that the debate showed the depth of support for a strong and effective adjudicator from all sides of the House. "We were particularly encouraged to hear the Minister, David Heath, recognise that MPs had overwhelmingly spoken in favour of fining powers to be made available to the adjudicator from the outset, and we look forward to further discussions with Ministers about amending the Bill to include this important provision," he added.

"The Bill will now be considered clause by clause by a committee of MPs, and this provides the final, crucial opportunity to amend the Bill before it becomes law so that it really is fit for purpose. We will be working with MPs in the coming days and weeks to ensure a good Bill becomes a first-rate Act of Parliament."

However, British Retail Consortium Food Director, Andrew Opie has said that a supermarket adjudicator will make no difference because few farmers deal directly with the supermarkets.

A report released by the BRC said farmers are benefiting from retail investment in the food supply chain and recommends investment in supply chains.

It includes examples of collaboration which are boosting UK farmers' returns and helping them benefit from meeting customers' needs. Farmers are also being helped to reduce both their costs and environmental impact.

The BRC says its evidence shows the mutually-beneficial relationships which help both consumers and these farmers are already in place.

It has also said the Groceries Code Adjudicator will only cover supermarkets' relationships with direct suppliers. They said it is a myth that it will make any difference to the majority of farmers.

The charities warn that if legislation now going through parliament leaves the proposed supermarket watchdog, the Groceries Code Adjudicator, without the power to fine supermarkets from day one it will struggle to enforce the Groceries Code and stop supermarkets shifting their risks and unexpected costs onto their suppliers.

Download
25-11-2012 15:43 PM | Posted by: The Radical Retired Farmer
The Radical says :- As most food is produced on farms, the Adjudicator needs to understand why so much of producers subsidies end up in the pockets of Supermarkets and not farmers. Then he needs to understand that in a market there needs to be buyers as well as sellers. Then he needs do more than establish a Code of Practice but legislate to control Supermarkets exploitation of the market by putting a guaranteed base price on food.
Then the government should stop pussy footing around the important subject of food and appoint a Minister for Food.
All this probably means having a British Agricultural Policy for Britain, which implies leaving the EU and taking in house control.
www.rightsandwrongs.co.uk

Cc UKIP

25-11-2012 15:46 PM | Posted by: Radical Retired Farmer
Discussion/ responses can continue through www.rightsandwrongs.co.uk -"Get in Touch"
Thanks
Display name

Please enter your name

Email
(optional)
Comment

Please enter your comment

Post Comment


Your comment submitted successfully.Please wait for admin approval.

Some error on your process.Please try one more time.