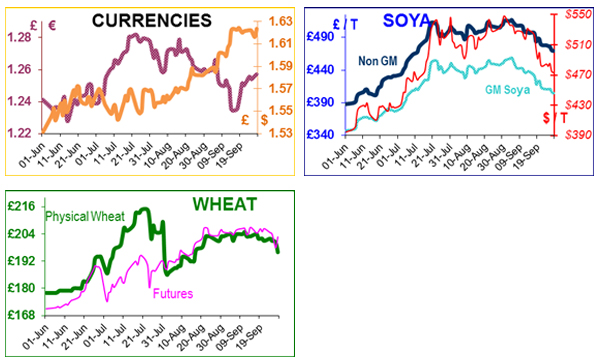 The US maize harvest is 40% complete compared to 12% last year and the five year average of 13%. The soya harvest is 22% complete compared to 4% last year and the five year average of 8%. US soya and maize prices weakened due to a combination of factors: harvest pressure; better weather (rain) in Australia and South America; and fund selling.
Maize prices started falling in mid-August, but UK and French wheat prices remained stable at £205 and €262/t respectively, until this week when UK prices fell about £10/t over three days – only to bounce up £5 on Friday following a bullish report from the USDA.
The fall in prices paralysed UK trade – although there is a lot of wheat to be moved in the short term everyone is stunned – fundamentally nothing had changed. The USDA grains stock report (aka lottery) was bullish on cereals and bearish on soya, so (as we write) Nov wheat recovered back to £201/t.
The trade continues to fret about the Black Sea region, and when (not if) they will implement export restrictions, the world is praying for a massive South American soya and maize harvest.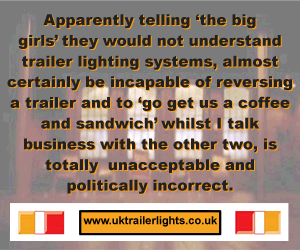 A well-informed magazine, Oil World, is forecasting that soya bean prices (currently $16/b) could still hit $20/b in the near future because just before the South American harvest (Feb/Mar) world soya stocks will be 32mt lower than the previous year. But by April the crisis will be over (tongue in cheek) because South America will have a massive soya and maize harvest, followed by a huge US harvest. Informa believe that the US will harvest 97m acres of maize and 80m acres of soya next year, which if realised would be the highest acreage since 1937. The cotton acreage will fall by 2.3m.
The drought in Kazakhstan means that only 13mt of grain has been harvested from 14.5mha, an average of 0.9t/ha; last year they harvested 19.8mt from 12.5mha, an average of 1.6t/ha.
Thus on the land areas measured, yields are down 56%. The total grain harvest is estimated to be 13mt this year, compared to 30mt last year, a reduction of 43%. The Ukraine is forecasting this year's grain harvest at 46mt, compared to 57mt last year; and hopes to export 20mt of grain this year 2012-13 (21.8mt last year).
The Russians believe that their grain crop will be 70mt, which would give an exportable surplus of 10-14mt. Moldova is a nation landlocked and sandwiched between Romania and the Ukraine. It too suffered from the drought, and is about to receive a €3.1m humanitarian and crisis bail-out from the EU. The country lost about €155.6m this year due to drought, and feed shortages and a mass livestock cull is in the offing.
Farmers, grain trade, flour and feedmillers are fed up with the poor quality of UK wheat and how to deal with it. Many are wishing their lives away or wanting to take a gap-year. We have collected many samples of wheat from 48 to 85 bushel and analysed them in detail. There is a clear relationship: lower bushel means lower starch, so lower energy. That energy gap has to be bridged using other high energy raw materials, in particular expensive vegetable oils.
The costs are various and significant: buying wheat futures with a view to taking physical delivery; managing separate wheat bins of differing qualities; laboratory analysis; haulage waiting time; the wasted time involved in negotiating deductions; recalibrating the grinders; monitoring grist quality; mycotoxin binders; feed loads that cannot be delivered because the rejected wheat has to go back to farm; consequently trying to get raw materials delivered is almost impossible because all the lorries are busy, but little is moving.
Comments
No comments posted yet. Be the first to post a comment