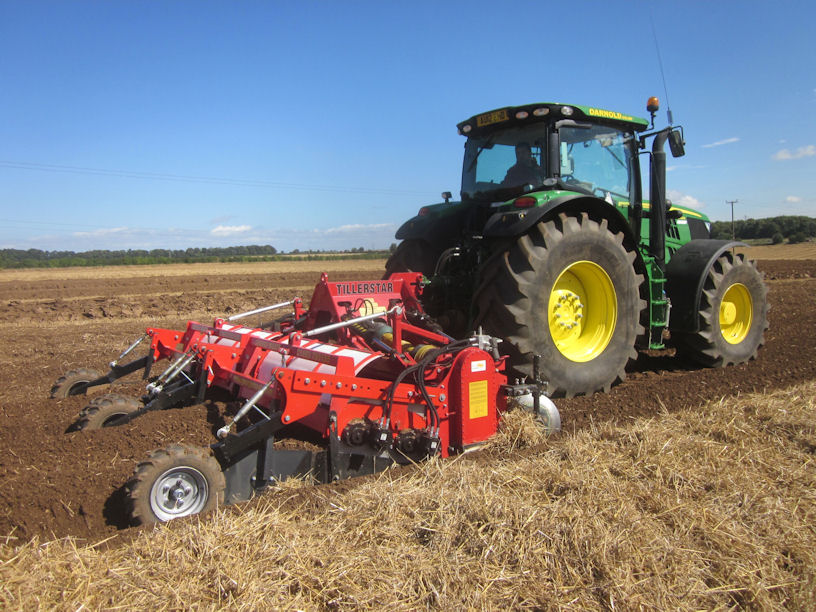 A two-bed version of the George Moate Tillerstar at work .
It's a rare event when a genuinely new idea for a farm implement comes along – new products are often variations on an existing theme.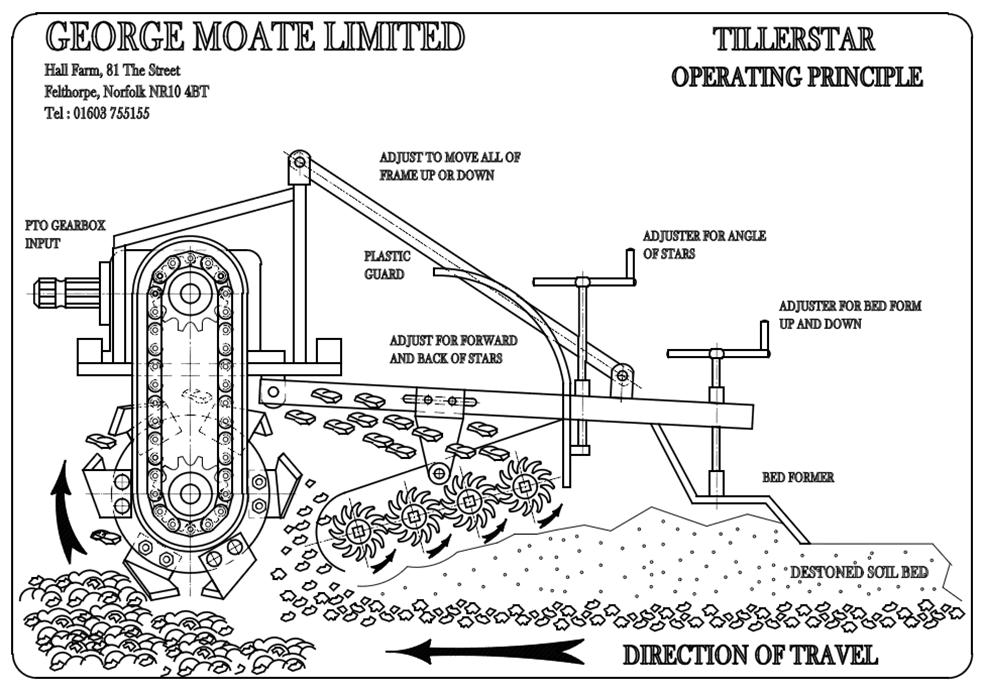 Soil thrown back by the bladed rotor is sieved by four flexible finger star rollers .
But the introduction of the George Moate Tillerstar bed maker and stone/clod separator is one of those rare events – it's a unique implement that offers a new way to prepare ground for potatoes, salads and root crops grown in beds.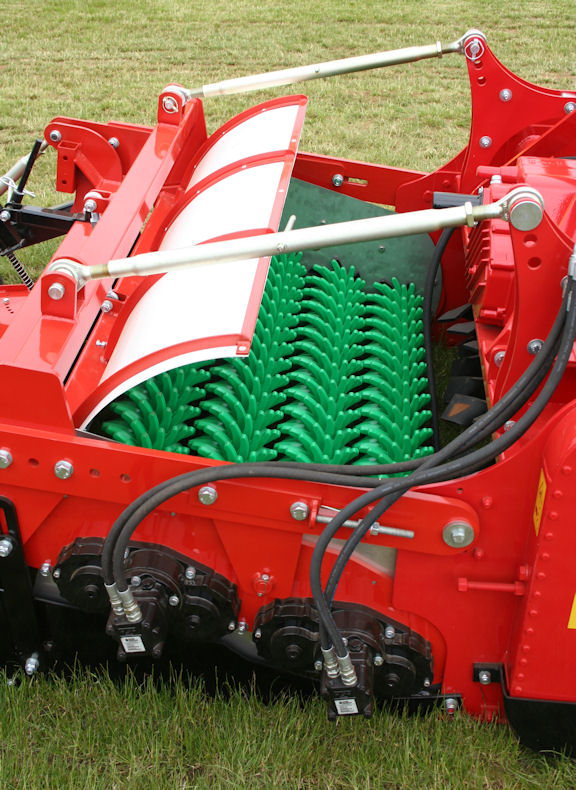 The separation rollers are adjustable for spacing, incline and speed.
"The Tillerstar's one pass approach can save a grower thousands of pounds in capital expenditure and the running costs associated with fuel and labour," says managing director Richard Pratt. "It will also reduce a grower's carbon footprint."
The Tillerstar is now in production for the 2013 season at the new Norfolk base of George Moate Ltd following an engineering appraisal that resulted in a number of refinements to the original design. The most obvious difference is a simplified but more powerful hydraulic drive arrangement for the flexible finger separation rollers – instead of using one motor per roller, each Sauer-Danfoss motor drives two rollers through a compact gearbox.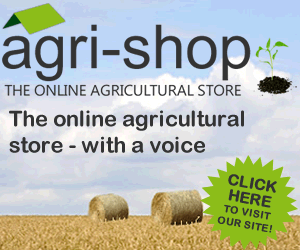 "We've also added a choice of motor sizes to suit different soil types and increase output, which is now typically 10 acres per bed per day," notes Richard Pratt. "A smaller motor will run faster at a given pressure, which suits light soils with stone, while a larger motor generating more torque will be better on heavier soils; a pressure testing port on the valve block helps set up the machine."
The Tillerstar is designed to replace the conventional approach to bed preparation, which often involves separate passes with a bed-maker to set up ridges, a bed tiller to cultivate heavier soils and a trailed separator to remove stone and/or clod from the seedbed.
All three implements can be replaced by the Tillerstar, which is capable of working directly into stubble, using a PTO-driven blade rotor to cultivate the soil and four star rollers to separate stone and clod. Spacers on the easy-change shafts determine the size of material separated by the rollers and the hydraulic drive allows on-the-move speed adjustment for fine-tuning.
In work, the bladed rotor cultivates with an upward cutting action that throws soil and stones backwards on to the flexible-finger star rollers positioned close behind. Loose soil passes between the rollers but any large stones or clods are conveyed forwards and dropped into the void behind the rotor.
They are then covered by the sieved soil as the machine moves forward, resulting in a 'clean' bed ready for planting up to 35cm (14in) deep.
An attractive feature of this mechanism is the way the separated material is deposited beneath the full width of the bed rather than concentrated in a windrow as with conventional de-stoning.
"This means routine cultivation will bring the evenly-distributed material back into the upper soil profile to help drainage for subsequent crops," points out Lesley Pratt, commercial director of George Moate Ltd. "Growers say the lack of windrowed stone would be welcomed by cereal growers who let land for potato production."
The Tillerstar range for 2013 comprises single-, double- and triple-bed configurations, each with a choice of 1.82m (72in) and 2m (78in) bed widths and output of around 10 acres per bed per day.
"We've also created a number of adjustable forming hoods that leave full-width beds for planting onion sets, carrots, leeks, beetroot and similar crops," points out Richard Pratt. "There are also applicator mounting kits for fertiliser and chemical treatments."
A single-bed model needs at least 110hp at the pto but is equipped with a multi-speed gearbox rated at 240hp, while the twin-bed version, which needs 170hp minimum, has a 330hp gearbox to make use of higher horsepower tractors.
Hydraulic folding is standard on the twin-bed machine and also on the largest Tillerstar – the triple-bed, which needs at least 250hp; it comes with a choice of 330hp or 360hp gearboxes. Auto reset safety clutches are fitted throughout for maximum protection with minimum downtime.
List prices range from £27,000 for a single-bed Tillerstar to a triple bed model at £77,000.
"We already have a healthy order book and are taking deposits from growers keen to secure a machine for next season," says Lesley Pratt.
Comments
No comments posted yet. Be the first to post a comment