Urban foxes dumped in the countryside
Urban foxes 'dumped in the countryside'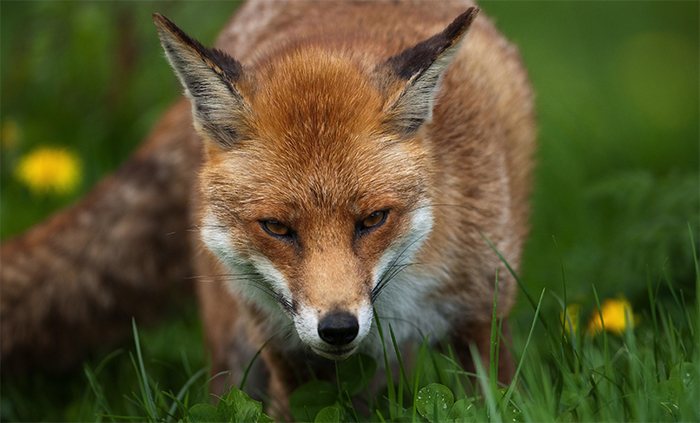 Urban foxes, which have been responsible for a number of attacks on young children, are apparently being trapped in major cities and dumped in the countryside.

Roger Gent, chairman of the British Free Range Egg Producers' Association (BFREPA), says he has seen urban foxes at large on farmland, despite denials by local authorities that they are being rounded up and dumped in the countryside.

"You can tell they are urban foxes. It is easy to see the difference because urban foxes are scavengers. They look completely bewildered in the countryside; they don't know how to hunt, they are just completely lost away from the houses where they normally scavenge for food."

Pressure has been increasing on local authorities following a number of disturbing attacks by city foxes. In the most recent incident a four-week-old baby boy was attacked in his home in south east London.

The child, Denny Dolan, underwent an operation to reattach one of his fingers following the attack. He also had stitches in wounds on his face after his mother reportedly found the fox dragging the baby from his bedroom.

Public reaction to the attack resulted in an intervention from the Mayor of London, Boris Johnson, who said more needed to be done to deal with what he said was the growing problem of urban foxes.

"They may appear cuddly and romantic but foxes are also a pest and menace, particularly in our cities," he said.

"This must serve as a wake-up call to London's borough leaders, who are responsible for pest control. They must come together, study the data, try to understand why this is becoming such a problem and act quickly to sort it out."

Londoners have become increasingly concerned about foxes. In a previous incident in 2011 a five-year-old boy awoke to find a fox in his third floor bedroom in Hackney.

The animal had apparently got into the house through an open window and crept upstairs. The previous year nine-month-old twins Isabella and Lola Koupparis were attacked in their cots in Hackney. Both girls underwent surgery at the Royal London Hospital.

In 2003 a four-year-old girl was bitten on the arm when a fox managed to sneak into her bedroom in Tufnell Park and in 2002 a 14-week-old baby was attacked in his home in Dartford, Kent. The child sustained four puncture wounds on his head.

The RSPCA insists that foxes are nervous of people and normally attempt to avoid contact with both adults and children.

It says a healthy fox would only attack someone if provoked. London Wildlife Trust says that attacks are very rare, although it did say following the latest attack that the trust recognised the impact the incident had had on the family involved and it hoped that the child concerned made a quick and full recovery.

There have been calls for a cull to reduce the number of foxes in our cities and towns, but London Wildlife Trust said that any cull would be "extremely controversial, complex and expensive to implement."

It said a cull was also unlikely to be effective in the long-term, as it would fail to address the underlying issues that were causing an increase in the London fox population and bringing foxes into closer proximity to people.

It said that people needed to change their behaviour. People should not be feeding foxes, for example. Residents also needed to ensure that food waste was put in closed, secure bins, beyond the reach of scavenging foxes.

"Taking simple measures like these will ensure foxes rely on natural prey, such as rats, and the reduction in the overall amount of food available should lead to a fall in fox numbers," said the trust. "This is the most effective way to control the urban fox population - and a solution that can be achieved without resorting to a widespread cull."

Roger Gent said that it was probably resistance to culling foxes that had resulted in the practice of rounding up animals in the city and transporting them to the countryside.

"I don't think it is a practice that is increasing; it is a continuation of something that has been happening for some time. Local councils deny it, but we know it happens.

The urban foxes are trapped in cities and towns, loaded into cattle boxes, then driven out to rural locations, where they are released. I have seen them, myself, on a friend's farm in Wales. These foxes look completely bewildered because there is not a house in sight," said Gent.

He said that problems were obviously increasing in urban areas where some people were feeding the foxes and others were making it easy for the animals to scavenge through household waste.

"The foxes are having large litters and numbers are increasing. Rather than culling the animals, the foxes are being trapped and then dumped out in the countryside where the foxes don't know what to do. They are used to scavenging; they don't know how to hunt."

Whilst the urban fox's instincts may have been honed to live on household waste, Gent said that releasing them into the countryside could still present a problem for free range egg producers. "Chickens will definitely be the easiest form of prey for them. They are pretty stationery for a fox. It is a bit different from trying to take lambs running around the Welsh hills," said Gent.

With the attacks on children in London increasing people's fears about the threat from urban foxes, pressure is likely to increase on local authorities to come up with a solution. Rather than dumping the animals on other people's doorsteps, in an environment that is completely alien to animals that have grown up in urban areas, Roger believes that the authorities should deal with the problem where it has arisen.

Download

25-02-2013 12:11 PM | Posted by: Sue
Is it not illegal to trap and then release. I thought foxes and grey squirrels were classed as vermin?

Either way it is cruel to dump urban foxes in the country. They will be bewildered not having the skills to hunt and will then become a menace and end up getting shot by the farmers.
09-03-2013 17:53 PM | Posted by: Catherine
So Mr Gent claims to be able to recognise a displaced urban fox by its "bewildered" expression... is he a qualified fox psychologist? Surely if, as this article states, rats are the fox's natural prey, then these foxes can actually do humans a big favour in our rat-infested urban areas, thereby doing away with the need to employ human "pest" controllers and their horrific poisons.
22-03-2013 21:06 PM | Posted by: RoddyBywater
I live in the city and I can assure you, the fox is no problem at all. There has been a lot of scaremongering going on in the media, and we all know who is behind this nonsense. As for these so-called attacks on children, where is the evidence ? The parents of the twins in Hackney refused to have a bite anaylst examine the kids, inspite of it being suggested in order to get their opponents to 'back off'. There were NO tests done at the hospital, that is a fact. They also refused DNA testing when a wildlife organization offered help to prove what they wee saying was true and so in turn would stop threats made to them. Really, one does not have to be Einstein to work this out. As for the latest accusation, the mother couldn't even tell the same story twice; the account changed by the day. She claims the 'fox' got in through a broken back door, awaiting repair, yet the housing association released a statement to say the door had been fixed two weeks earlier and there were no more requests for repair !! People will invent stories, not to protect a family dog, but to protect themselves from the authorities and all it would entail to be accused of gross neglect of your kids. Beleive these daft stories if you must, but while your at it, say hello to the faeries for me.
23-03-2013 09:30 AM | Posted by: Pat56
WHY do all these papers, keep on printing LIES. The attack on the 14 week old baby in dartford in 2002, turned out to be a german shepherd, DOG ATTACK, NOT FOX ATTACK, THERE IS A DIFFERENCE. People in the area, were so DISGUSTED with Foxes getting the blamE, the family had to leave the area. The Dog ATTACKED the child NOT ONCE BUT TWICE. Also the Hackney ALLEDGED FOX ATTACK, YES THAT IS RIGHT ALLEDGED NEVER PROVEN, NO FOX ATTACK EVER IS., JUST HEARSAY. I understand from a wildlife sanctuary heard via thier contacts, the twins were attacked by a DOG, that was at thier bar b q. The family were advised by a hackney detective to let a wildlife expert carry out DNA testing on the twins bite marks, the family said NO, WHY IF WHAT YOU ARE SAYING IS TRUE. The detective also said, to let the media know the results, again the parents said NO, WHY WHEN WHAT YOU ARE SAYING IS TRUE. Now baby Denny in south London, you say the baby was dragged from his bedroom. The story changed, baby Denny was apparently, according to the Mother left UNATTENDED on the sofa, propped up by a quilt while she went upstairs to tidy up. This time it was the front door that was open, father had just left NEVER noticed the front door was still open, the house would have been FREEZING as it was on the 6th of February, 2013. Phoenix Housing say they repaired the broken door on the 24th January, 2013.,2 weeks before this ALLEDGED FOX ATTACK, and they also say they had NO further calls outs, from the family concerning this broken door. Mother said she went upstairs, she heard a thud/cry, came back down the stairs, baby Denny was being dragged of the sofa, the Fox APPARENTLY was SWINGIING THE 4 WEEK OLD BABY AROUND, BY THE ARM, THAT WAS DOWN THE FOXES THROAT. BABY DENNY'S HEAD WAS REPEATEDLY HITTING OF THE HARD, VERY HARD DOOR FRAME/WALL, YET THE ONLY MINOR, VERY MINOR INJURIES TO BABY DENNY'S FACE, WAS A FEW MINOR VERY MINOR ABRASIONS. IF THAT HAD HAPPENED TO BABY DENNY A FOUR WEEK OLD BABY'S HEAD IS VERY VUNARABLE UNLIKE AN ADULT. I BELIEVE THOSE INJURIES WOULD HAVE PROOVED FATAL, TOO BABY DENNY. I LIKE MANY OTHER'S STILL BELIEVE THIS WAS A DOMESTIC DOG ATTACK, JUST LIKE ALL THE OTHERS, NO EVIDENCE, NO PROOF, JUST HEARSAY,.. SO WHY DO YOU PRINT STORIES, THAT HAVE NEVER BEEN PROVEN. FOXES ARE NOT A DANGER, BUT SO HUMAN BEINGS, MOST DEFINATELY. JUST LIKE THE HACKNEY COUPLE, BABY DENNY'S PARENTS, HAVE VANISHED & THEY HAVE BEEN RE-HOUSED, JUST LIKE THEY WANTED. STOP BLAMING THE FOXES WHEN YOU HAVE NO PROOF...FOX LOVER..
23-03-2013 10:05 AM | Posted by: PAT56
FIRSTLY ALL THESE ALLEDGED FOX ATTACKS HAVE NEVER EVER BEEN PROVEN, JUST HEARSAY..
23-03-2013 14:57 PM | Posted by: PAT56
Just like RoddyBywater says, I live in the city and have NO problems at all with Foxes, in fact they are a pleasure too watch. All these people that claim a Fox has come into thier house and ATTACKED thier babies are covering up for really ATTACKED the twins in Hackney & Baby Denny in South London..