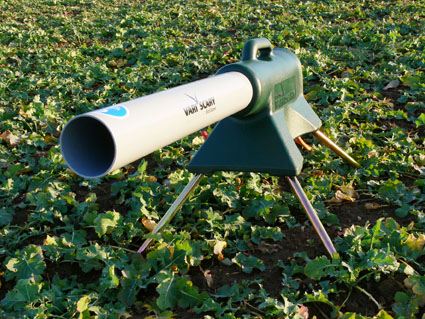 Oilseed rape growers could save up to 30% on the operating costs of gas guns and minimise conflict with neighbours by focussing firing patterns on periods of peak pigeon activity. Advice to pigeon shooters highlights key flight times in the morning, early afternoon and before dusk; outside these times there is typically less movement of birds and the opportunity to extend firing periods.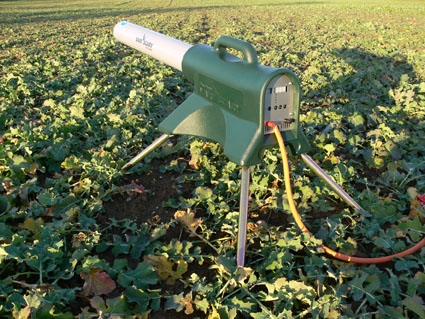 The unique variable shot patterns of the Techneat Vari-Scary gas gun (above) enables growers to alter the frequency of firing within time slots. This can concentrate deterrent on periods of intense pigeon activity, but reduce or even switch off firing when the risk is low.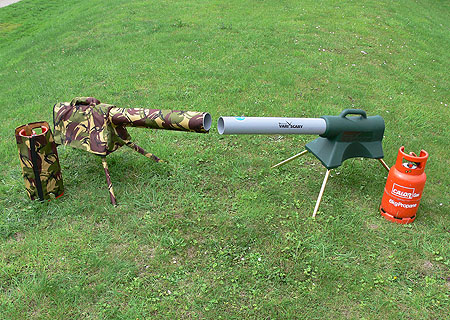 Peter Theobald, pigeon shooting expert with Sporting Gun magazine, highlights that, with 16-hour long winter nights, pigeons are ravenous first thing in the morning and quickly move onto fields from roosting woods. Similarly, with the prospect of the long night, they will always aim to fill their crops shortly before going to roost.
For the pigeon shooter it makes for some short, but intense and immensely entertaining periods. For growers, if they can keep the marauding flocks moving on first thing in the morning, and then prevent them coming back in from 2.00 to 4.00pm in the afternoon, there is the real opportunity to minimise damage.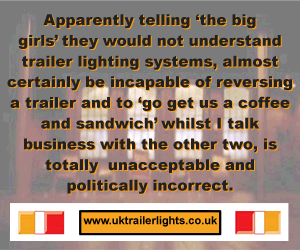 With the Vari-Scary clock timer growers can concentrate firing during early flight and again later in the afternoon, with less intense activity during the middle of the day, according to Tom Neat of Techneat Engineering. The combination of the renowned gas economy of the Vari-Scary and option to alter the firing pattern could add up to savings of 30% in costs, he calculates.
"Furthermore, there is the Vari-Scary seven-day timer's potential to pre-programme complete periods without firing, such as the innovative 'Silent Sunday' mode," he adds. "This serves to further avoid the pigeon population's desensitisation to gas guns and helps maintain good relations with local community."
To help with appropriate in-field location of gas guns, Mr Neat highlights that growers can use the Defra internet mapping service, Magic, to view field maps on a 1:5000 scale, and use the map tools measure to calculate precisely the distance from a gas gun to neighbouring houses or footpaths. The Magic website map can be viewed at: http://www.magic.gov.uk/website/magic/
Snow cover
Growers must be extra vigilant during periods of snowy weather over the winter, advises Mr Neat. "If one crop is larger and stands proud of the snow when others around are covered, it will be targeted by the entire pigeon population and could be decimated in just a day or two," he warns.
"They will need to act quickly to move their Vari-Scary gas guns and Eye-Scare visual deterrents into the vulnerable fields. Both systems are designed to be light and easily portable to tackle pigeon hotspots quickly and effectively," he adds.
Designed and manufactured in the UK, the Techneat Vari-Scary is fitted with the unique 24-hour, 7-day full variable-sequence clock as standard, along with high-lift legs to ensure good gunshot projection across the field. Camouflage jackets are available for both the Vari-Scary gas guns and gas bottles. The Vari-Scary can be ordered on-line from just £295 each at: http://www.techneat-birdscaring.co.uk/ or from retail distributors across the UK.
Comments
03-02-2011 17:50 PM
| Posted by Anonymous
You could also contact http://www.nppc.co.uk/ and arrange for a fully insured shot to protect your crops and at the same time be subjectsed to a strict set of rules and booking arrangements.

I'm a member and feel this is the ideal method of crop protection.

Simon M
03-02-2011 21:40 PM
| Posted by Anonymous
Of course 'vari-scary' gas guns will merely vary pigeon feeding times and/or move the birds to other fields of oilseed. In this respect they are no different to any other pigeon scaring device. Basically once pigeons realise that no lead is being fired at them they learn. You can't beat a bloke with a gun, they don't like it up 'em.
Shot birds do not return.
04-02-2011 14:26 PM
| Posted by Anonymous
I'm also a member of National Pigeon & Pest Control (NPPC) and here are 13 reasons to use them for your crop protection:

1.Each member shooting on your land carries full public liability insurance cover via my membership of BASC The British Association of Shooting and Conservation i.e. £10 million Legal Liability Cover.

2.Guns will be booked the day PRIOR to going out, by telephoning you or e-mailing the day before.

3.If you have a more immediate pest problem guns are available at short notice by mobile number.

4.A Vehicle Stickers will be carried and displayed at all times when out shooting.

5.Vehicles will be parked so as not to cause any obstruction to farm vehicles and other users. Under no circumstances will any member drive onto any crop or along 'tram-lines'.

6.Dogs are not used.

7.Guests will NOT be taken unless it is agreed with the farmer prior.

8.Only smooth bore shotguns to be used.

9.Only the crop being protected will be shot over and great care taken when placing decoys so as not to damage the crop.

10.SHOOTING ONLY TAKES PLACE FROM A PORTABLE HIDE KIT) and no damage to hedges or crops will be encountered. .

11.Only woodpigeons, feral pigeons, corvids and rabbits to be shot unless otherwise stated by farmer.

12.Under no circumstances will empty cartridge cases or litter of any kind be left on site.

13.Any damage to property, crops etc. Can be reported immediately. Also the discovery of empty cartridge cases – by other users

AND ALL OF THIS IS FREE –