Vets express disappointment over badger cull halt
Vets express disappointment over badger cull halt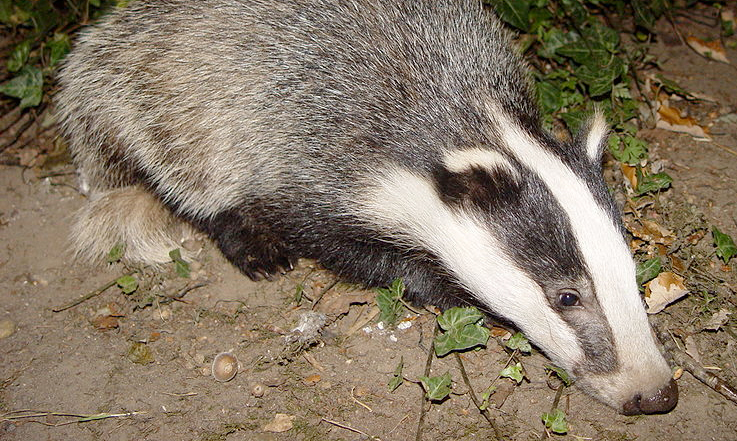 The British Veterinary Association (BVA) has used its annual dinner to call for action on welfare at slaughter, stronger legislation over dog breeding and express disappointment over the badger cull ruling.

The Cardiff City Hall event was attended by parliamentarians, key representatives of animal health organisations and the agri-food industry.

On bovine TB, BVA President Carl Padgett expressed disappointment at the decision to halt the proposed badger cull.


"The promise of an average 16% reduction in herd breakdowns over the coming decade certainly didn't seem insignificant to the vets and livestock keepers battling this devastating disease on a daily basis.

"But the decision was clear and now I urge my colleagues to do their utmost to support the roll-out of the vaccination policy in the Intensive Action Area.


"However, we hope the option of a badger cull remains on the table for consideration as the TB picture continues to develop, to work alongside vaccination and cattle measures and give us the chance to fight TB without one hand tied behind our backs."

Padgett reiterated concerns about the future of veterinary laboratories in Wales and made a plea for the option of a badger cull to tackle bovine TB to be put back on the table.
Environment and Sustainable Development Minister John Griffiths AM responded on behalf of the guests.
"We are concerned that meat from non-stunned slaughter is reaching the mainstream market – something that the law did not intend. That's why we're calling for meat and products from non-stunned slaughter to be labelled as such" said Padgett as he called on the government to consider the issue of pre-stunning as a welfare measure at slaughter.
"We recognise that it is difficult politically, but BVA has received support from both inside and outside the veterinary profession since raising our concerns publicly. And we would urge you, Minister, to consider these issues as you develop your consultation on welfare at slaughter later this year."

The BVA urged Wales to tackle its "reputation for puppy farming by listening to those experts that came together in the Task and Finish Group".
"In our response to the latest consultation we make the case for not watering down the recommendations on staff to dog ratios – one staff member for 30 adult dogs is insufficient and the Task and Finish Group proposal for one to 20 should be the maximum. We have also repeated our call for a section on hereditary disease and responsible breeding."
On veterinary laboratories, surveillance and the role of government vets, Mr Padgett reminded guests of the BVA's concerns about the potential impact of lab closures in Wales.
"The announcement caught us by surprise, not least because decisions appeared to have been made before a proper assessment had been undertaken on the impact on the UK's surveillance network….We believe any future model must be shaped by good surveillance strategies, and not the need to cut costs.
"There is never a good time for a new disease to appear, but the emergence of Schmallenberg Virus in northern Europe and England has provided us with a very timely reminder of the acute need for robust national and international surveillance systems.
"The state will always need a core of properly trained, properly motivated, and properly rewarded veterinary surgeons in the event of a notifiable disease outbreak and we would strongly urge against the downgrading of veterinary roles in government, both in terms of individual numbers and in status."

Download
11-07-2012 11:53 AM | Posted by: Carol
I always thought vets were supposed to preserve and care about animals. This includes badgers. It seems they rightly care about animals during slaughter but do not care about an endemic species to the UK like the badger. Scientific evidence was used in the deecision to vaccinate badgers and if it doesn't work it will just prove that badgers are not the main culprits but the farmers who keep their cattle in poor conditions. Stop blaming the badgers and start realising that it is the farmers who need to change. We need to stop cattle getting this dreadful disease but blaming the badger is the wrong way of tackling it.

13-07-2012 16:48 PM | Posted by: DAIBOY
A 16% reduction over a decade, means that thousands of bagers are slaughtered and there is still an 84% failure rate.What a disgusting waste of money and life. I would trust many vets before a doctor to treat me but doctors are not allowed by law to slaughter PEOPLE with diseases.We vaccinate or isolate people not take pot shots at them, as in England.VETS ARE TRAINED IN SCIENCE AND ARE SUPPOSED TO SHOW COMPASSION. I know there are vets, who work for DEFRA who obviously turn a blind eye to abuse as at Cheale Abattoir.Defra initialy refused to take legal action because the abuse of pigs had been filmed undercover without consent.Panorama went undercover to expose abuse of disabled people in a Bristol carehome.Thank god the authorities did not have the mindset of DEFRA.
I am not religous and I will only respect others religions if they do no harm.We live in Britain and the law says animals must be prestunned. There must be NO EXCEPTIONS. Kosher and Halal are NOT HUMANE.See www.THE EARTHLINGS. 2000 years ago before electricity they may have been the most humane means of slaughter but it is not humane to cut the throat of a conscious, sentient being, that feels the same pain and fear as humans.How do they differ from concentration camps or genocide except the target species is not human.Man could do what he liked to a slave because it was LEGAL.It was not right or moral.
It disgusts me that in Wales, puppies are churned out of puppy farms under poor welfare conditions and yet city dog pounds are overflowing with dogs that cannot be homed. It is brutal and depressing to euthanase healthy dogs. THE ANSWER IS EASY. CLOSE PUPPY FARMS.tHIS IS THE MORAL DUTY OF THE WELSH ASSEMBLY if it wants to set a standard for others to follow of being MODERN & CIVILISED.
18-07-2012 14:47 PM | Posted by: TrishHall
Cameron's Defra comprises of his own hunting and shooting pals - Paice and Spelman. This Tory-led govt is determined to persecute and anhialiate our wildlife. Their argument that 25,000 cattle are killed each year because of bTB pales into insignificance when compared to the numbers culled each year due to mastitis (90,000), lameness (31,000) and infertility (125,000). There will be huge public opposition if this cull goes ahead and I would urge readers to boycott farming products and abstain from holidays in the West country.
18-07-2012 17:43 PM | Posted by: ros berrington
I am appalled that the badger cull is likely to go ahead when the scientific research suggests this is not the answer and will more likely increase t.b.What needless suffering and as to the B.V.A supporting the cull,shame on them.
Display name

Please enter your name

Email
(optional)
Comment

Please enter your comment

Post Comment


Your comment submitted successfully.Please wait for admin approval.

Some error on your process.Please try one more time.