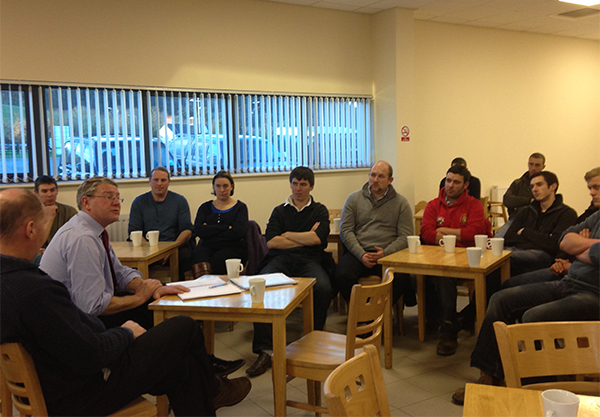 Key issues facing the future of farming in Wales were high on the agenda when NFU President, Peter Kendall, addressed a next generation meeting in Welshpool yesterday.
Comprising of over 20 local young farmers, each representing all aspects of farming in Montgomeryshire, problems and queries regarding Welsh hill farming, the dairy and livestock sectors were put to Mr Kendall.
NFU President Mr Kendall said, "Next generation meetings are so important for the future of the farming industry, they ensure that both NFU Cymru and the NFU hears the thoughts and concerns of the next generation of farmers, the people who will be at the heart of the industry in the future is absolutely vital."
"Engaging with the next generation of farmers and growers, and bringing them into the fold to discuss the issues that we will face in the coming years means as an organisation, we will be better prepared to cope with the challenges that come our way."
"We are really pleased that so many people wanted to take part in this meeting."
"When I travel around the country and meet young farmers – such as earlier this summer during my visit to the Royal Welsh Show – I see the enthusiasm and dedication they have for their industry. If we can harness and support this then the future of farming here in Wales and indeed the rest of the UK looks bright."
Comments
No comments posted yet. Be the first to post a comment