Wool quality is essential for good sheep management says Border Leicester breeder
Wool quality is essential for good sheep management says Border Leicester breeder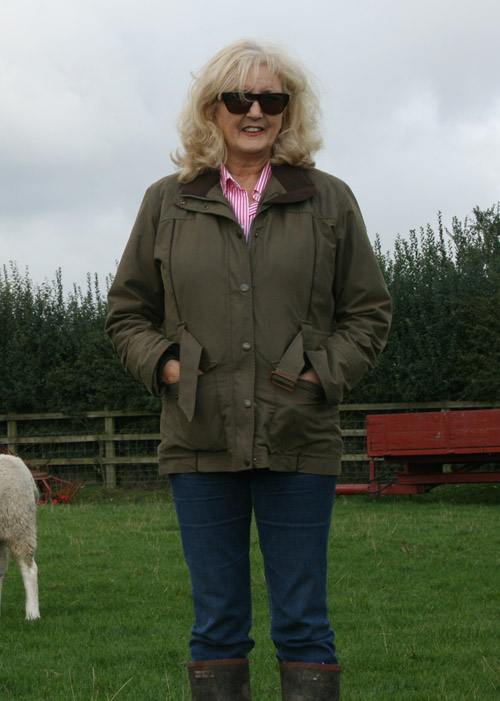 Fleece quality has always played an important part in the breeding policy of Ellie Stokeld's Border Leicester flock – and while it has brought her considerable success in some of the UK's most prestigious fleece competitions she believes it remains an essential part of good sheep management.

That's the view of this enthusiastic Border Leicester breeder who has even created an extensive and informative web-site – www.borderleicester.com - dedicated to promoting the breed world-wide.

Ellie Stokeld's flock of 90 pedigree ewes, based near Stokesley in North Yorkshire, was established in 1997. The last 11 years has seen the flock develop a regular trade for tups at the breed society's main sales at Kelso, at Welshpool and at the NSA' s autumn fixtures at Builth Wells

Four years ago at Kelso the flock achieved an average price of £990 for its shearling tups and not only won the breed championship and reserve but also took the award for the best group of three sheep. The flock's top price at Kelso is £1600.

But it's also the wool quality of Ellie Stokeld's sheep that has earned her many championships in fleece competitions. She has been showing her Border Leicester fleeces at the Great Yorkshire Show for many years and has taken the fleece breed section title umpteen times as well as the supreme fleece championship on several occasions. There have been good wins too at Lincolnshire Show and the East of England Show. Fleece weights are around 3.5-4kg.

"Our commercial tup buyers demand a very good fleece on their sheep and that means we've got to put a lot of emphasis on fleece quality as part of our breeding programme. A tight, weather resistant fleece is what we must produce. The fleece must be tight and have good crimp and be even all over the sheep – from head to tail.

"You can have the best sheep in the world but if it has a bad fleece on it you might as well forget it because it just won't thrive," says Ellie Stokeld.

Retired wool merchant and well known fleece judge John Sylvester is a big supporter of the Border Leicester and keeps some sheep in Ellie Stokeld's flock.

"The hogg fleece from a Half-bred, sired by the Border Leicester, is among the best wool produced in the UK and as good as any wool that comes out of New Zealand. In fact British wool buyers would prefer to have wool from English Half-breds rather than import wool from New Zealand," reckons John Sylvester.

The foundation females for Ellie Stokeld's flock came from several well-known breeders but it was when she decided to buy her first stock ram that she met Jim Stobo - one of the UK's top Border Leicester breeders.

"I've been very lucky to have someone with so much experience as Jim Stobo as my mentor. Over the years his rams have had a big impact on the flock and that's helped me concentrate on important traits to maintain correct conformation, good mouths and most importantly the skin (wool)," says Ellie.

Another breeding season is already well underway with the flock's autumn tupping time starting in late September. After mating the ewes at home are carefully managed during the winter months in readiness for lambing to begin in mid-March. The flock's lambing percentage is at least 180%.

"The Border Leicester is an easy lamber, excellent mother and has plenty of milk – traits that the breed is renowned for passing on to its female Half-bred progeny."

Although there's still a good demand for Border Leicester tups in Wales and parts of Scotland - to produce Welsh and Scotch Half-breds respectively - the English Half-bred (traditionally a Border Leicester x Clun Forest) is not as popular as it used to be.

It's a situation Ellie Stokeld believes needs to change. "The Half-bred is a tremendous sheep that served the sheep industry so well for generations. Much of its success was due to the efforts of Border Leicester breeders to produce good rams able to sire Half-bred progeny that had all the qualities needed in an efficient commercial breeding ewe.

"I think prime lamb producers should take some time to look at what the Half-bred is capable of as a commercial ewe – and especially her conformation."

Ellie Stokeld vigorously stands by the breed's reputation as being "the great improver": "The Border Leicester will improve any breed it's put to. The UK sheep industry is moving into a new era and as flock owners re-assess what the future holds it's a perfect time to look back at the great days of the Half-bred commercial ewe and remember that the Border Leicester can give size, vigour, prolificacy, good fleece quality and conformation – all essential traits needed in a commercial ewe capable of producing prime lambs efficiently and profitably."


Download

No comments posted yet. Be the first to post a comment
Display name

Please enter your name

Email
(optional)
Comment

Please enter your comment

Post Comment


Your comment submitted successfully.Please wait for admin approval.

Some error on your process.Please try one more time.