Zimbabwe cattle die due to lack of pastures
Zimbabwe cattle die due to lack of pastures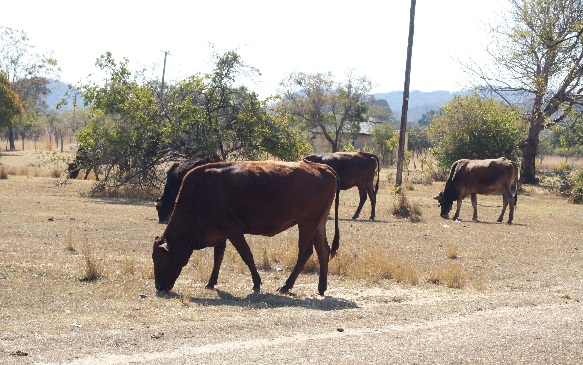 Zimbabwe livestock farmers have warned of beef shortages owing to an increase in the number of cattle dying due to lack of pastures.
The lack of pastures has been blamed on the raging drought due to poor rains recorded in the last rainy season.
About 50 cattle are reportedly dying every week due to lack of pastures and the situation has been further worsened by
water
shortages.
The drought prone Matabeleland South province is the hardest hit, according to the chairman of Matabeleland South livestock farmers association, Retired Major Clement Bishop Malaba.
Rtd Maj Malaba who said the situation is critical as cattle were now in a deplorable state making it difficult to sell them called for urgent government intervention.
"The situation is extremely bad and if no mitigatory measures are taken, people will lose all their cattle.
"There are no pastures anymore in Matabeleland South province," Rtd Maj Malaba said.
He said the worst affected districts of Matabeleland south province were Gwanda, Kezi, Mangwe and Bulilima.
"Buyers are no longer interested in the cattle because they are below the grade which is a big loss to farmers," said Rtd Maj Malaba.
He said the state of cattle in the area is forcing farmers to sell their cattle for as little as $50 while some exchange their beasts for
solar
panels and motor vehicles.
A recent study by the government department of Livestock Production and Development warned that a total of 200 000 cattle might succumb to drought in the Matabeleland South province.
Matabeleland South province, which experiences poor rains yearly compared to other provinces, has about 389 000 cattle.
The country's cattle population stands at 5 156 753.
Presenting his Mid Term Budget Review Statement a fortnight ago, Finance Minister Tendai Biti said there was a need for mitigatory strategies in the form of supplementary feeding and relocation of cattle from drought stricken areas to areas with enough pastures in a bid to save cattle.
Zimbabwe is one of the six southern African countries hit by drought this year, leaving over 14 million in the affected countries in need of food aid.
Download
20-09-2012 11:30 AM | Posted by: Saunders
It is no surprize there is little grazing for livestock in southern Zimbabwe..sure the rains were not great this year but it is about time these livestock owners took a good look at their destructive activities which are contributing to climate change, for example,persistant seasonal range-land burning, over stocking without a sustainable marketing plan, and no planned communal grazing methods. The common answer to a lot of these questions as to why these activities are not changed,is usually.."it is traditional". Well my reply is you need to re-think your traditions because they are damaging..time to wake-up, or is it too late for the arrogant?
Display name

Please enter your name

Email
(optional)
Comment

Please enter your comment

Post Comment


Your comment submitted successfully.Please wait for admin approval.

Some error on your process.Please try one more time.