Zimbabwe will face starvation without boosting maize crop
Zimbabwe will 'face starvation' without boosting maize crop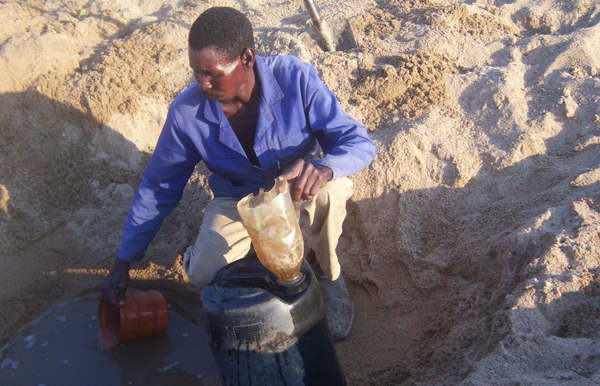 Zimbabwe white commercial farmers have expressed willingness to assist the government in formulating policies to boost maize production to avert recurrent food shortages.
Dams have also dried up in some rural areas of Zimbabwe as drought ravages the country. In the picture, Nkosi Moyo fetches
water
from a well dug by villagers in Kezi.
Charles Taffs, the Commercial Farmers Union (CFU) president, said Zimbabwe will continue facing starvation if no sound agricultural policies are put in place to attain self-sufficiency in maize production.
"Looking into the future, prospects for Zimbabwe's maize production in the coming season and beyond are not good.
"Unless the Zimbabwe Government immediately puts in place policies that boost maize production the country may well face starvation.
"The Commercial Farmers' Union stands ready to assist in formulating such policies and contributing to food production," Taffs said in a report released on Thursday.
Close to a million people face starvation owing to a ravaging drought blamed on a poor harvest in the last farming season.
Taffs said the food situation in the country calls on the government to immediately look for funds to import maize from African and world markets to avert starvation.
"In any event Zimbabwe will be in competition with other importing countries in the region. Thus Zimbabwe needs to act expeditiously to secure maize supplies from both regional and world markets.
"These imports will have to be undertaken when the world
grain
markets are undersupplied. Droughts have struck food producing regions in all the continents.
"Of special significance to Zimbabwe are world maize production and trade developments because this commodity is our staple food commodity," he added.
The CFU president said the situation could have been better if Genetically Modified Organisms (GMOs) were allowed in Zimbabwe as neighbouring South Africa had a surplus of it.
"GMO maize is produced in South Africa so that market cannot be tapped as GMO maize is prohibited for human consumption in Zimbabwe."
President Robert Mugabe has condemned GMO's as bad for Africa.
Mugabe says while GMOs were cheaper to produce, they were costly in the long-term as they contaminated the environment and harmed biodiversity.
Download


No comments posted yet. Be the first to post a comment