Alpacas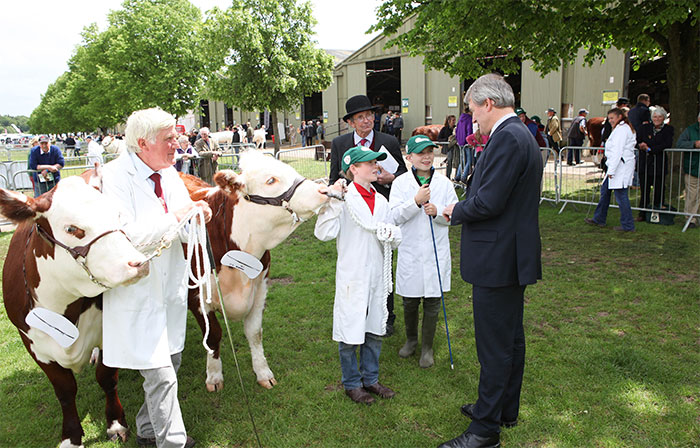 Public consultation launched on TB in non-bovine animals
A 12-week-long public consultation has been launched on proposals for new controls to address incidences of bovine tuberculosis (TB) in specific non-b...
Record cattle entries at Royal Three Counties Show
Cattle entries for this week's Royal Three Counties Show have reached record levels. The show boasts a grand total of 970 cattle this year – aroun...
Call for stronger TB surveillance for camelids
The NFU has called on government to strengthen TB controls for camelids to help stop the spread of bovine TB. In its response to a Defra consultati...
Spring Lambing Day at Walford Campus
The Walford Campus has over 90 different species of animal ranging from a 275 strong dairy herd to Alpacas, Meerkats and Chinchillas. You will have an...
Expat life: Alpacas in Spain
I think when we first moved to Spain, in January 2008, we were full of optimism and hope for our new life, although that quickly evaporated within the...
Breeding alpacas in Andalucia
Before we arrived from England, a rumour circulated among the neighbours that we would be keeping giraffes. In fact we had decided to turn over a new ...
EU law changes 'could undermine SMEs in textiles'
EU law changes intended to help consumers when buying clothes and other textiles could undermine small and medium UK enterprises, according to campaig...
New arrival saved at Hall Hill Farm
Mothers Day has an extra special meaning this year at Hall Hill Farm as a newborn calf is reunited with its mother after being found in a ditch shortl...
Alpaca wool processing plant set to open in Dorset
A Dorset businessman is opening an Alpaca wool processing plant, after receiving funding from the Rural Development Programme for England (RDPE), with...
Baby alpaca named through Facebook
A baby Alpaca at an award winning Durham tourist attraction has been given a name thanks to Facebook, a six year old boy and his two year old brother....
Alpacas guard the flock and keep the foxes away!
On first appearances Alpacas seem unlikely candidates for taking on the responsibly of guarding chickens and sheep. However, as one commercial chicken...
Loss of Royal Show has silver lining
The closure of one of the country's biggest agricultural shows may have benefitted an event much closer to home. Last year's Royal Show...
Gearing up for the show season
THE finishing touches are being made for the first big event in the region's annual show season. The 32nd North Yorkshire County Show is held...
I've got nothing to wear……!! Alpaca fear leads to new lines
After owning alpacas for nearly five years and my herd now standing at 30 animals it is a shocking fact that I do not possess one single item made fro...
Alpaca and Llama TB open meetings
Bovine tuberculosis (bTB) is a serious, notifiable disease. It is mainly seen in cattle but is increasingly affecting camelids (alpacas, llamas, guana...
TB in Alpacas - My Story So Far
In September 2008 – I lost my first beloved male alpaca to Bovine TB. When I got the PM results and was told it was TB I was devastated. At the time ...
Farmer clamped by alpaca's bite
Alpacas were introduced to UK farms about 20 years ago Three men were needed to free a farmer from the jaws of an alpaca after he stepped in to stop...
New Zealand-Wool shortage.
NEW ZEALAND-DROP IN SHEEP FLOCK HITS WOOL INDUSTRY. THE decline in the national wool flock has implications beyond the farm gate for Design Spun, a N...
New dating agency for grazing animals
East Anglia has a new kind of dating agency - one that pairs up farmers looking for new grazing land for their livestock with land owners who need hel...
Australia-Cattle markets go to the aid of Farmers hit by the bush fires.
Australia-cattle markets assist farmers. Farmers looking for somewhere to agist livestock can go to various major saleyards for help. All livest...
Get ready for Bluetongue vaccination!
Livestock and dairy farmers must prepare for bluetongue vaccination from early May, says NFU East Midlands. Today's Defra announcement on the ...
Rochdale Bluetongue zone
Rochdale has been included in a protection zone after an outbreak of Bluetongue - one hundred miles away. The borough has been placed in a `surveil...
County show? It must be Newark!
With summer just around the corner, Newark & Nottinghamshire County Show on 10 and 11 May heralds the beginning of the agricultural and farming showca...
Meet Creatures Great and Small at the Great Yorkshire Show
Alpacas,  sheep racing,  Shetland ponies and a sheepdog and duck display are just some of the elements adding a different dimension to this year's...
The World's First 100% Alpaca Duvet
At last a luxury, hypoallergenic, all natural duvet made to organic standards from sustainably farmed British products produced with no animal sufferi...
Noahs ark at autumn show
The East of England Showground in Peterborough will resemble Noah's Ark when thousands of animals of all shapes and sizes walk in two by two at the Ea...