Animal Health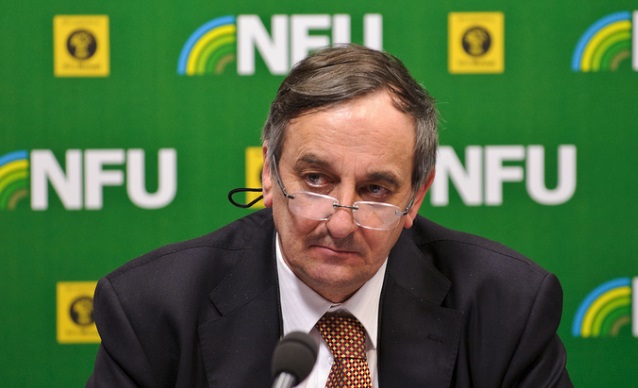 Schmallenberg virus circulating, say scientists
Schmallenberg virus could circulate across the UK after the virus has over-wintered according to results uncovered by the Royal Veterinary College and...
Zimbabwe cattle die due to lack of pastures
Zimbabwe livestock farmers have warned of beef shortages owing to an increase in the number of cattle dying due to lack of pastures. The lack of pa...
Badger culling ruled legal
The legal challenge launched by the Badger Trust against Defra's plans for a targeted badger cull has failed in the High Court. The result means th...
David Attenborough fears butterfly numbers following rain
Butterflies could suffer serious population crashes this year following record-breaking wet weather, Sir David Attenborough has warned. Conservatio...
Financial health key to animal welfare - EU commissioner
The EU agricultural commissioner has claimed that the financial health of the industry is key to controlling animal health risks. Addressing the Wo...
MEPs call for greater animal welfare enforcement
The European Parliament has called for better enforcement of current legislation on animal welfare and the adoption of a 'science-based' framework on ...
EU paves way for GM meat and milk
European Union officials are paving the way to bring genetically modified (GM) animals to the European market. European authorities have developed ...
Vets express disappointment over badger cull halt
The British Veterinary Association (BVA) has used its annual dinner to call for action on welfare at slaughter, stronger legislation over dog breeding...
Schmallenberg vaccine produced
The development of a candidate vaccine against the Schmallenberg virus has been announced by MSD Animal Health. The first cases of the disease first a...
Veterinarians demand faster diagnostics
Speed and accuracy are the key features that veterinarians and farmers want from diagnostic tests, a new Europe wide survey has revealed. More than...
Veterinary profession must meet demands of food sector - report
The multi-stakeholder Veterinary Development Council (VDC) today publishes its report setting out practical ways to help the veterinary profession mee...
New TB rules will 'hurt some businesses'
A raft of new and revised TB rules for England will be enforced on July 1st and farming bodies, including the National Beef Association, are encouragi...
EU pig rule could cost farmers £28m
A European directive that could leave British pig farmers facing a £28 million bill has been criticised by agricultural accountants. New rules int...
Swine infection screening using oral fluids
Large numbers of pigs could be screened more quickly and cost-effectively for a range of common pathogens, such as PRRSV, SIV and PCV2, thanks to a ne...
Climate change poses malaria risks
There were about 216 million cases of malaria and an estimated 655,000 deaths in 2010, according to the World Malaria Report 2011. Malaria mortalit...
Marine Bill 'poses threat to shooting'
The Marine Bill, which was introduced to improve marine nature conservation, has attracted criticism from BASC for failing to take shooting interests ...
Rodent risks highlighted at Pig & Poultry Show
Bayer have used their stand at the Pig & Poultry Fair to highlight the significant threats that rodents pose to stock health. Ken Black, Bayer&rs...
BPEX report on successful year for pig health
BPEX Director, Mick Sloyan, will be announcing new developments for pig health at the Pig & Poultry Fair. As the national Pig Health Improvement P...
Salmonella control for pigs launched
Animal nutrition specialists Optivite have launched a new salmonella control programme for pigs. The programme looks at meeting an overall need rat...
Producers urged to vaccinate lambs
The warm and sunny March weather was a godsend for the many UK sheep units lambing during the month, but producers must not become complacent if they ...
New research launched into neglected cattle diseases
Four European academic research groups, together with Pfizer Animal Health, have forged a new research consortium to combat uterine disease - a proble...
Roslin Institute and Kent University win key funding
Leading global pig breeders and geneticists, JSR Genetics, have successfully won two prestigious Technology Strategy Board grants in conjunction with ...
JSR launch 'Faster Finishing' Boar
Pig and Poultry Fair 2012 will see the launch of a keenly anticipated new Sireline, the 'faster finishing' JSR Geneconverter 800m Boar, by...
Novartis produces sheep parasite protection chart
Novartis Animal Health has published a product usage chart aimed at SQPs and vets that gives guidance on the use of ectoparasites through the seasons....
Bee health a top priority, says crop protection boss
Rejecting calls for a ban on certain insecticidal seed treatments, the crop protection industry has moved to highlight the regulatory controls and ste...
Vets urge caution over superbug claims
The British Veterinary Association (BVA) has urged caution over the findings of a Soil Association literature review, published today, which cites "ov...
Inspectors deployed at ports for first time in decades
RSPCA inspectors were at a UK port today for the first time in more than a decade to check the welfare of hundreds of calves and sheep being shipped a...
RSPCA pledges zero tolerance to welfare breaches at ports
The RSPCA's new chief executive, Thanet Council and Compassion in World Farming have all pledged zero tolerance to breaches of animal welfare or...
Habitats directive review will help landowners deal with wildlife
The CLA today welcomed new guidance supporting the growth of rural businesses while continuing to protect valued habitats and species. The Associa...
New pig welfare standards 'must be enforced'
New rules for the pig industry are intended to create a more-even set of welfare standards across Europe and stop some farmers - such as those in Brit...
NFU highlights research into Schmallenberg
Representatives from the NFU have met with scientists at the leading UK research institute studying livestock diseases to hear of progress in understa...
Organisations attack Welsh stance on badger cull
Veterinary associations, the CLA and the NFU have expressed enormous disappointment at the backwards step being taken by the Welsh Government, which h...
New vet meds scheme makes online buying safer for farmers
Farmers can have more confidence in buying livestock medicines online after NFU lobbying resulted in the launch of a new accreditation scheme for vet ...
Early start essential to reduce insect burden on livestock
An early start to controlling insects around livestock gives the best chance of minimising the annual population explosion of flies and midges that be...
BASC welcomes Defra snare code revisions
The UK's largest shooting organisation, the British Association for Shooting and Conservation (BASC), broadly welcomes the findings of an extens...
First PCR test to detect Johne's Disease introduced
Life Technologies today introduced its first Friedrich Loeffler Institut (FLI)-approved real-time PCR test to rapidly detect the bacterium that causes...
Peak district warns dog walkers ahead of spring season
Peak District dog-walkers are asked to keep their pets on short leads to protect young animals during the spring breeding season. Mauled bodies of...
Rhino orphanage supported with tractor donation
New Holland Agriculture announced yesterday at the official inauguration of Ntlo ya Lerato Rhino Orphanage the donation of a TT55 tractor to support t...
Vet surveillance reforms progressing in Scotland
A strategic board to oversee reforms of veterinary surveillance in Scotland has been created, following recommendations from an independent review. ...
Act now in response to drought, warns Environment Agency
New report warns drought could spread to more areas of the country if dry weather continues Water companies and farmers, as well as businesses and...
Begg calls for new dairy labelling
Addressing the All Party Parliamentary Cheese Group at a reception in London last night, Dairy UK Director General Jim Begg urged the Government to su...
RSPCA launching new advertising campaign
The RSPCA's Freedom Food labelling scheme is launching a new online advertising campaign this month in a bid to increase awareness of of farm an...
Vets call for surveillance and welfare protection
The President of the British Veterinary Association (BVA) used his annual London dinner speech to call on the Government to protect the UK's vet...
Minister bans movement of battery eggs
Minister of State for Agriculture and Food, James Paice MP, has confirmed that eggs being produced in barren battery cages across the EU, and egg prod...
Life Technologies acquires LSI
Life Technologies Corporation today announced it has acquired Laboratoire Service International (LSI), a French-based manufacturer of animal health di...
Phytogenics recognised as safe by the EU
FRESTA F, the world's first and only proven phytogenic zootechnical feed additive, is approved for use by the EU. The EU announced Feb 15 the...
Legislation 'not the way ahead' on animal welfare - Agnew
During a debate in the European Parliament's Agriculture Committee on the EU's 'Strategy for the protection and welfare of animals&r...
Concerns rise over Schmallenberg
Welsh livestock farmers have expressed their worries about the potential spread of Schmallenberg Virus (SBV) following the increasing incidence of the...
MSD Animal Health updates poultry vaccines guide
MSD Animal Health has updated its safety guide for the use of inactivated poultry vaccines. The wallet-sized guide has become popular with poultry man...
Risk-based regulation 'right direction' for farming
The British Veterinary Association (BVA) supports Defra's response to the Farming Regulation Task Force aimed at reducing the burden of red tape...