Arable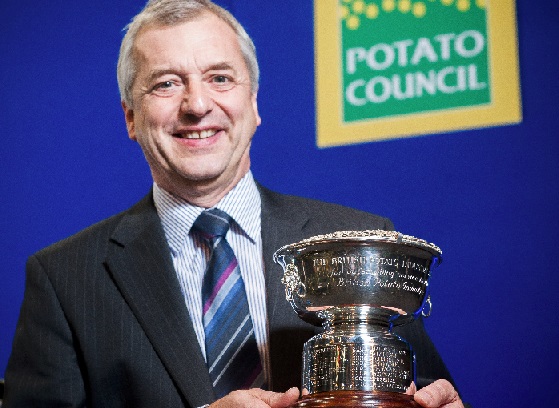 Hunt begins for this year's potato industry award winner
Potato Council is seeking industry's nominations for this year's British Potato Industry Award. This prestigious honour is awarded to an individual re...
British produce display at Chelsea Flower Show gets gold
Chelsea Flower Show judges and visitors alike have praised the NFU and Waitrose's new display aimed at giving people the chance to walk through a tunn...
Former Monsanto employee put in charge of GMO papers
Just months after a study was published showing that two Monsanto products, a genetically modified (GM) maize and Roundup herbicide, damaged the healt...
Spring oats offer good opportunity at £180/tonne
Historically oats have suffered in the shadow of wheat and barley, this has changed however as the market is expanding for human consumption and to so...
Breakfast cereal makers need to 'think beyond the bowl'
Breakfast is probably the most important meal of the day, but in the US, the battle over what to eat and where has never been greater. According t...
Difficult conditions prove challenging for students at Cereals 2013
The difficult weather conditions over the winter and spring have proved challenging for the six teams of students managing winter barley plots at the...
New generation on rural development study leave
NFU Scotland's New Generation group is heading to Wales to see if the Welsh New Entrant/Young Farmer model could be adopted as part of Scotland's futu...
New discovery 'could shatter' ideas of how agricultural emerged
Archaeologists have made a discovery in southern subtropical China which could revolutionise thinking about how ancient humans lived in the region. ...
Grain Market Report - 17th May 2013
David Sheppard, Gleadell's Managing Director, comments on the wheat market. Wheat - USDA projects record US and Global 2013 corn output at 359ml...
New nitrate rule changes receive mixed reaction
New nitrate regulations will have both positive and negative impacts on farmers in Nitrate Vulnerable Zones (NVZs), the NFU said today. The new pro...
Chicago Grain Market Report - 16th May 2013
Soycomplex NOPA pegged the April US crush at 120.113 million bushels versus trade expectations of 125-126 million. That's down sharply from 137.08 ...
Tough times ahead for farmers, says Quinney
The next 12 months are going to be 'tough for farmers' as the adverse weather conditions continue to have a knock on effect according to NFU Vice Pres...
Love Potatoes? Busy Mums Do! Potato Council website a hit
Consumers are increasingly turning to the net for information, advice and recipe inspiration for fresh produce, according to Potato Council. The organ...
Three new varieties follow DSV trio of firsts
Two new Oilseed Rape varieties and a new Winter Wheat will be previewed by DSV UK at Cereals 2013 hot on the heels of the company's trio of firsts in ...
Rural planning specialists warn of dramatic changes
European scrutiny of fungicides and pesticides could change the British farming landscape according to a team of rural planning specialists. The Fa...
Don't ignore the risk from eyespot at T1
As the growing season gathers pace, Dr Rumiana Ray of Nottingham University warns growers against complacency to eyespot and advises those in high eye...
Seed legislation should protect farmers and consumers says NFU
Claims that the trading of seed on a small scale by amateur gardeners and allotment holders may become outlawed by proposed new EU legislation are mis...
High capacity venturi unit for rapid pesticides loading
A high capacity venturi unit that sucks pesticides out of induction hoppers at a rapid rate during chemical loading has been developed by Pentair for ...
Shortage of Redigo Deter seed treatment is possible
An unprecedented increase in local and global demand for the insecticidal seed treatment active ingredient, clothianidin, could lead to possible short...
Unlock potential of smallholders to combat hunger, report says
The single most important thing governments can do to end global hunger is to support the millions of women farming tiny plots of land in developing c...
Farmer designs novel double press
Unable to find the ideal cultivator press for his 175HP NH 7030 which worked his heavy Essex clay, our contributing farmer designed what he wanted on ...
Chicago Grain Market Report - 26th April 2013
Soycomplex Strength in outside markets spilled over into the soycomplex, despite net cancellations of 206,300 MT in old crop beans and sales of "on...
Bird flu could reduce domestic demand for feed
David Sheppard, Gleadell's Managing Director, comments on the wheat market. Wheat - Chinese import demand has been hit by a new bird flu outbrea...
Fertiliser Market Report - 26th April 2013
Calum Findlay, Gleadell's fertiliser manager, comments on fertiliser markets: As crops continue to advance after a very slow start, things are now ...
Sumo's DTS drill shows its paces on pea acreage
Sumo drill specialist Marcus Ainley sowing Maro marrowfat peas at 320kg/ha into sandy soil over clay near Braintree, Essex in the third week of April,...
Donated animal feed arrives for snow-hit farmers
Fifty-five bales of donated fodder were delivered to the hill farmers of south Cumbria who lost thousands of sheep in snow blizzards and are seriously...
Twin outlet spray nozzle for faster spraying
A new 035 size for the Hypro GuardianAIR Twin range will be shown for the first time at Cereals 2013. The versatile drift-reducing nozzle with the fin...
Bean growers get new option for Downy Mildew control
The PGRO has announced an Extension of Authorisation for Minor Use (EAMU) for the fungicide SL567A, for control of Downy Mildew in field beans this se...
An improved weather outlook seen as bearish for corn
Soycomplex A weekend of less severe weather than anticipated, and an improved outlook for the week ahead set the tone. China imported 3.84 MMT of s...
Bayer and KeyGene enter crop agreement
Bayer CropScience and KeyGene announced that they have entered into a multi-year agreement to improve traits in a number of major agricultural crops. ...
NFU challenges Tesco to commit to British farming
The National Farmers' Union has called on Tesco to help bring profitability back to British farming after the commercial director for the retailer, Ke...
Arable and livestock co-operation 'needed this spring'
Arable producers struggling to get crops drilled should take advantage of the forage shortage in the livestock sector and grow maize, suggests James T...
Commission proposals for CAP transition rules in 2014
The European Commission has today published proposals to provide transitional arrangements in 2014 for certain Common Agriculture Policy (CAP) rules, ...
A breath of fresh air
Diane Symes, Chair of the AHDB Education Group, shares her passion for teaching children about food, farming and health eating. It's my passion - ...
Researchers developing climate change resilient crops
Researchers at the University of Bolton have made a molecular-level discovery in plants that could lead to the development of crops that are more resi...
Grain markets driven by US winter wheat concerns
David Sheppard, Gleadell's Managing Director, comments on the wheat market. Wheat - APK report Ukraine's spring grain production at 32.1mln t on...
Crop Market Update - 18th April 2013
Becky Ward, PGRO principal technical officer, comments on winter bean crops, pea and bean weevil, field thrips, and herbicides. Winter bean crops ...
Forage options for farmers running short of home-grown feeds
Livestock producers facing the prospect of light first cut silages due to the late arrival of spring, will need to act now to make up the shortfall ac...
Indirect land use change proposal 'a blow'
A proposal to reduce the market size for biofuel production in Europe will damage farmer confidence and reduce the incentive to produce for food, feed...
Chicago Grains Market Report - 16th April 2013
Soycomplex Outside market weakness dragged the entire grains complex lower, with gold posting its largest 2-day loss on record and crude oil also f...
Unions split over Agricultural Wages Board abolition
As the abolition of the Agriculture Wages Board nears completion due to a vote in the House of Commons today, the National Farmers' Union has called o...
Alternative ways to get over fodder shortage
Having had to endure the worst spring weather for well over 50 years, many farmers were unable to drill cereals and are also now low on forage. But ac...
CAP agreement 'could hit small farmers'
The latest agreements by MEPs on the future of the Common Agricultural Policy could have negative consequences for the UK's smaller farmers, according...
MPs to meet farmers to discuss future
On Tuesday April 16th the All Party Parliamentary Group on Agroecology will be hosting an event in Parliament bringing together an array of farmers so...
US winter wheat 'worst start since 2002'
David Sheppard, Gleadell's Managing Director, comments on the wheat market. Wheat - Latest USDA report puts global corn and wheat stocks above t...
Oilseed rape 'at risk from pollen beetle'
With the end of winter in sight and warmer temperatures predicted as we head towards the end of April and into early May, already struggling oilseed r...
Chicago Grain Market Report - 12th April 2013
Soycomplex Weekly soybean sales of a combined 383,700 MT fell short of trade expectations of 5-800 TMT, although most of these (319,200 MT) were fo...
MPs and farmers to discuss agroecology
Farmers will be attending an All Party Parliamentary Group meeting on Tuesday so MPs can hear first-hand why they use agroecological methods on their ...
Prioritise grass weeds, Dow AgroSciences urge
Many UK farmers face the latest campaign to control blackgrass and other grass weeds and setting priorities for the current crop and next season will ...
Tesco joins Morrison's and Asda in allowing the use of GM soya in poultry feed
Tesco and the Co-operative are the latest of the supermarket chains to confirm that poultry feed will no longer be GM-free and follows decisions alrea...