Arable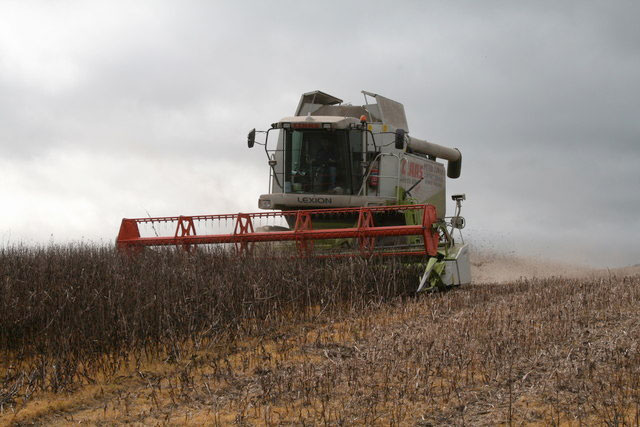 Financial impact of poor grassland management revealed
Figures calculated by Barenbrug UK – a leading supplier of agricultural grass – reveal that farmers who are not reseeding their grassland regularly co...
EU wheat futures slump to 4-year lows
EU wheat futures slumped to fresh 4-year lows on harvest pressure and rising production estimates coming out of Russia and Ukraine. The day ended w...
Confidence high over US corn record
Soycomplex Beans closed lower as the latest weather forecasts for the Midwest adopted a wetter outlook for the beginning of August, the key month f...
Investment in rural economy to rise as UK sees positive growth
Employment and investment will rise next year as the rural economy continues to benefit from a more positive UK economy, according to a survey by the ...
Dry weather damage to Australian wheat; corn market closes higher
Soycomplex Beans closed with strong gains. Weekly soybean export inspections came in at 112,345 MT versus 97,160 MT last week. That takes the 2013/...
EU grains closed mixed with trade 'subdued'
EU grains closed mixed with Nov 14 London GBP0.80/tonne lower at GBP125.50/tonne, Nov 14 Paris wheat was down EUR1.50/tonne to EUR178.25/tonn, Aug 14 ...
Don't let black-grass through the gate
Farmers without black-grass have heard enough stories by now to know it won't be a welcome addition to their rotation plans, nor would those with susc...
Accept neonicotinoid ban, Defra warned
The government's draft National Pollinator Strategy needs to be transparent if it is to command public confidence, the Environmental Audit Committee h...
Northern wheats looking good
As one of the highest yielding soft Group 4 wheats on the Recommended List, Limagrain UK's Myriad, was launched last year as a high yielding option fo...
Biomass investment slashes drying costs by 70 percent
Angus unit opens its gates next week to show impact of biomass, wind and solar on farm business. With harvest underway, the good news for one Arbro...
Quality problems with EU wheat
EU grains markets closed lower on the day, although mixed on the week. The day finished with Nov 14 London wheat down GBP1.45/tonne at GBP126.30ton...
US corn yields at record; Damage to European crop quality
Soycomplex Beans closed mixed, a little stronger nearby and a touch weaker further forward. The USDA announced 360,000 MT of US beans sold to China...
US corn yields at record; Damage to European crop quality
Soycomplex Beans closed mixed, a little stronger nearby and a touch weaker further forward. The USDA announced 360,000 MT of US beans sold to China...
Maris otter barley, the secret plot for quality
It may not have a preservation order, but a particular plot of North Norfolk farmland is, to many brewers, sacred. Four acres in size and bounded by t...
Agri-Tech East to say ancient wheat varieties and latest technology hold key to food security
Global wheat consumption exceeded production in six out of the last eight years. Although increasing yield to meet demand is important, improving resi...
Farmers 'optimistic for future growth' despite falling prices
The second in a series of agricultural surveys conducted this year reveal that the majority of farmers are optimistic about future growth and are plan...
EU grains close lower; UK weather favourable for spring crops
EU grains closed lower again, with London and Paris wheat slumping to fresh 4 year lows. The day ended with new crop Nov 14 London wheat closing GB...
Wheat market concerned over US export business
Soycomplex Beans closed lower. Weather forecasts call for a couple of days of Midwest heat followed by a relatively cool and non-threatening start ...
Protect maize before it gets too tall
Heavy rain and thunderstorms across southern and eastern England could trigger the onset of foliar diseases in maize crops. Cool wet or humid conditio...
Astrid yielding 4.67 t per ha
Ralph Moore who farms in South Norfolk is pleased with this year's crop of the winter oilseed rape with the first field of Astrid yielding 4.675 t per...
Alternaria control in potatoes
Andrew Stilwell of distributor Bartholomews looks after a large area of potatoes and of that area he reckons that 60 to 70% are processing varieties p...
Wheat market jumps following Ukraine news
General News broke in late afternoon trade (London time) that a Malaysian passenger plane en route from Amsterdam to Kuala Lumpur had apparently be...
Alegria – an attractive oilseed rape variety
Neil Potts of the advisory company Matford Arable Systems Ltd in Exeter describes the winter rape variety Alegria as being attractive from start to fi...
Early harvest and high yield is a winning combination
Farm Manager Philip Steans of Lackham Farm in Wiltshire has already harvested some of his Alienor winter oilseed rape (on 9th July) and it has yielded...
Corn market recovers most losses; EU barley estimate raises
Soycomplex Beans closed higher, consolidating recent losses - last night's close had been the lowest for a front month since Jan 2012. The USDA ann...
Scottish farmers remain frustrated over lack of CAP clarity
With combines starting to roll, thousands of Scottish farmers remain frustrated at the lack of information on how they will be required to meet the gr...
Seven steps for forage success
Poor optimisation of forage yields through simple losses in field, clamp and at feeding out could be causing dry matter (DM) declines upwards of 40%, ...
Russia grain harvest 'progressing well'; corn market closes around 5-7 cents lower
Soycomplex Beans closed mixed, lower nearby to flat further forward. The USDA announced the sale of 120,000 MT of US beans sold to China for 2014/1...
USDA raises forecast for the UK wheat crop
EU grains closed mostly lower, as the fall out from last Friday's bearish USDA report continues. New crop Nov 14 London wheat finished GBP0.90/tonn...
The double life of a genome
Early maize farmers selected for genes that improved the harvesting of sunlight, a new detailed study of how plants use 'doubles' of their genomes rev...
EU grains markets finish mostly lower again
EU grains markets finished mostly lower again, extending the recent theme. Nov 14 London wheat set a fresh contract lifetime low, and also finished at...
China may reject new types of GMO corn due to safety concerns
Soycomplex Beans closed higher, with the best grains on the deferred positions. This could probably be attributed to a correction from Friday night...
More pasture-fed producers wanted
The Pasture-Fed Livestock Association, which certifies farmers producing beef and lamb solely on pasture and conserved forage, is looking for more sup...
UK farming policy needs overhaul to tackle future problems, report says
Major changes are needed to the UK's food and farming policy if it is to combat food poverty, obesity and environmental problems of the future, accord...
European Commission signs memorandum over agricultural development
Commissioner for Agriculture and Rural Development Dacian Ciolos and Vice President of the European Investment Bank (EIB) Wilhelm Molterer signed toda...
Farmers are advised to pause before harvesting wholecrop
Farmers considering harvesting cereals for wholecrop this week are advised to pause and consider their winter feeding stocks before filling another cl...
The common thread is early vigour
Andrew Stilwell of the distributor Bartholomews has been a great supporter of the winter oilseed rape variety Alienor which has been a widely grown va...
The growing importance of Phoma resistance
With Phoma stem canker still being the Number one disease of winter oilseed rape, growers may need to consider their variety selection very carefully ...
EU grains close mixed following recent rout
EU grains closed mixed, attempting a bit of light consolidation/profit-taking following the recent rout ahead of tomorrow's USDA WASDE report. New ...
US could see final corn yields 'close to a record'
Soycomplex Beans closed closed 4 to 10 cents lower. Weekly export sales of 56,300 MT of old crop and 526,500 MT of new crop were towards the top en...
London wheat sets 'lifetime closing low'
EU grains markets finished lower again, in a continuation of the recent theme. Nov 14 London wheat set a fresh contract lifetime closing low, and also...
Wheat market slumps to 'fresh lows'
Soycomplex Beans closed mixed, but mostly lower save for the front end. Non threatening US weather and the outlook for a record large by some consi...
Growth deal announcement 'must benefit rural economy', says CLA
Government allocations from the national growth pot 'must benefit all sections of the economy', the Country Land and Business Association have said. ...
Season extension to boost beet
Lincolnshire sugar beet grower and contractor, Richard Ivatt, has completed the first stage of his fungicide programme this week, with an application ...
Farmers to protest 'threatening' US-EU trade deal
Farmers and growers will protest in London calling for the free trade negotiations between the EU and the US to be scrapped. The Transatlantic Trad...
Ukraine may harvest record corn crop; US weather 'non-threatening'
Soycomplex Beans crashed lower for a seventh straight session, with the front end bearing the brunt of losses. Jul 14 beans have now fallen more th...
Fight resistance in the crop fields, AIC warns
A better approach is needed to crop protection to avoid the threat of significantly reduced food and animal feed, according to the Agricultural Indust...
CLA highlights sharing as key for future of farming
A wider uptake of share farming could enable thousands of young people to get their first foot on the farming ladder according to the CLA. The CLA...
Yorkshire farmer's miscanthus move brings business boost and lifestyle benefits
An East Yorkshire arable farmer has boosted business after swapping combinable crops for miscanthus on half of his land – and is even enjoying more fr...
International collobration aims to protect world's crops
Experts from the UK and India are working together to identify and develop novel environmentally-sustainable strategies to control plant pests, known ...