Bees and Beekeeping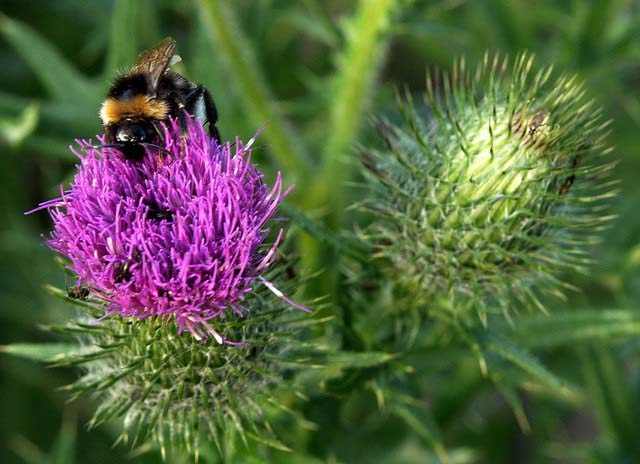 £100,000 committed to bee health research
The major stakeholders in the beekeeping industry in the UK (BBKA, BFA, NFU and Rowse Honey Ltd) met to discuss the crisis of the declining bee popula...
A new pest for maize farmers
So far only small numbers of insects have been found, but it is only a matter of time before the Western corn rootworm becomes a problem for maize far...
Worcestershire vegetable farmers find rare bumble bee
Worcestershire vegetable growers Paul and Mike Southall, have miraculously brought back one of the UK's most endangered species of bumblebee to ...
Fungus Foot Baths Could Save Bees
One of the biggest world wide threats to honey bees, the varroa mite, could soon be about to meet its nemesis. Researchers at the University of Warwi...
Lorry carrying 12m bees overturns
Motorists on Canada's biggest highway ended up with a bee in their bonnet after a truck transporting 12m of the insects overturned. The lorr...
UK farmers warn of food crisis if EU tightens pesticide controls
Commercial farming of cereals and vegetables such as carrots, onions and parsnips in Britain will be badly damaged under proposals to curb pesticides ...
Sainsbury's sow the seed for wildlife at home
Sainsbury's customers now have the opportunity to create their own Operation Bumblebee habitat at home to reverse the plight of endangered bumbl...
Borneo - a new acaricide for horticultural crops
A new acaricide based on the active ingredient etoxazole, Borneo has received recent approval for use in protected tomatoes and aubergines as well as ...
Inspections on bee colony losses to be given higher priority
As a precautionary measure, work on the investigation of bee colony losses by the National Bee Unit (NBU), which commenced last year, is being given h...
Compass points towards cost-effective disease protection
As late season diseases in oilseed rape start to develop and require treatment, some growers are pointing towards the fungicide Compass for cost-effec...
Family committment help build Holstein success
Sit with the Gould family round their kitchen table and you'll certainly not go short of genuine Lancashire hospitality - the fact this kitchen ...
Wildflowers' seed of hope
Charities paint brighter picture for endangered wildflower species Endangered wildflowers and wildflower meadows could delight future generations tha...
Bee Virus Could Wipe Out Mankind, Warn Scientists
A VIRUS which has wiped out billions of bees could cause a global catastrophe worse than climate change, scientists claim. A race against time is on ...
Three tourism providers win top National Park Bumble Bee B&Bs Awards
Three Coquet Valley B&B's have been honoured with a new, National Park green award for nature tourism. Silverton House, Tosson Tower Farm and P...
West Lakes farmer wins contract with store giant
A LAWYER turned Lakes farmer has won a contract to supply supermarket giant Booths with pork. Tony Fox is rearing British Saddleback pigs on his fa...
Healthy heather crop comes to the rescue of Willie's bees
A surprisingly good crop of heather in the hills of north Northumberland and the Scottish Borders has come to the rescue of millions of honey bees aft...
Sainsbury's helps the plight of the bumblebee
Sainsbury's declares war and fights for better farming practices to improved farmland bio-diversity. With an army of bumblebees on the front li...
Wildlife benefits of set-aside under threat
Set-aside land was originally introduced in the 1980s as part of the Common Agricultural Policy (CAP) to reduce over-production of food in the EU.  Fi...
Protect your investment from flowering pest attack in rape
If pest thresholds for seed weevil are reached and attack from pod midge also threatens, it makes sense to protect the investment made to date in wint...
Filan – top class broad-spectrum disease control with added bonuses
As oilseed rape moves into the flowering phase, growers will be moving their attention to the late diseases, Sclerotinia, Alternaria and Botrytis. The...
Shooting stems pose OSR management problems
Oilseed rape crop main stem growth is shooting ahead this season, but the secondary side shoots trying to catch up are more vulnerable to pest and dis...
Farmers break new ground in University podcast
Three Scottish farmers lectured students at the University of Leeds this week about how they are already coping with the effects of climate change. Bu...
Use technology to grow - and profit
Growers attending the ADAS/Syngenta UK Vegetable Industry Conference this week (Wednesday 7 February) were told to adopt new technology and ideas to h...
Young Farmers step into the spotlight
YOUNG farmers swapped life in the great outdoors for 'the smell of the greasepaint and roar of the crowd' when they took part in their ann...
Border Farm is Britain's 'Most beautiful'
A north Northumberland farm in the Till Valley, eight miles west of Berwick and three miles from the Scottish Border, is Britain's 'Most B...
Big Boost for the British Bumblebee
You may have noticed fewer bumblebees around during the summer, this is because they are in serious decline in the UK according to research1. To help ...
Protecting the rape canopy
The risk of disease development in oilseed rape canopies rises as humidity increases. High humidity encourages wet weather diseases, such as Botrytis ...
Reservoir brings sweet taste of success to Suffolk farmer
A 20-million gallon water storage reservoir has been built near Woodbridge thanks to funding from Defra's Rural Enterprise Scheme (RES). The ...
New Levels Of Protection For Potato Crops
Bayer CropScience today unveiled two new products – Infinito, a mid- to late season blight fungicide, and Biscaya, a foliar insecticide – developed to...
NFU to prepare Cheshire farmers for more changes in beef market
Uncertainty once again surrounds the Cheshire farming industry as it enters yet another period of change now that cattle over thirty months old is all...
Operation Bumblebee redresses plight of the bumblebee
Operation Bumblebee is set to revive the fortunes of the humble bumblebee across the entire UK arable farming area. Over 1000 farmers are now being so...
Coasting into seaside job
A Lake District ranger is moving areas to protect a patch he says is unparalleled with fells meeting coast in a landscape he loves. Taking over the...
Passion for Pumpkins at Countryside Live!
Photo shows, left to right: Patrick Cremins, Diane Kirkman, Education Administration of the Yorkshire Agricultural Society, and Sandra Cremins with th...
No stings attached for Kiwi bee adventure
A Lake District ranger is buzzing off for some antipodean apiary, swapping his Ullswater patch for beehives down under. After 17-years caring for t...
Red mite - An irritating threat
Red mite, once thought to be a disease of the past, is now a cause of increasing problems in the free range layer and in other sectors of the poultry ...
Watch out for beetles when the warmer weather comes
The poor state of many oilseed rape crops coming out of winter makes them particularly vulnerable to attack by pollen beetle in March, warns Jon Oakle...
Grow quality wheats - say leading merchant and UK miller
'Grow quality wheat's and we will buy them.' That was the clear message from Banks Cargill Seeds Director Charlie Whitmarsh, and RHM...
Slug surge makes fast crop protection key
A surge in slug activity in the event of rain will make fast crop protection a priority to avoid damage to seedlings. With rain forecast for many reg...