Cattle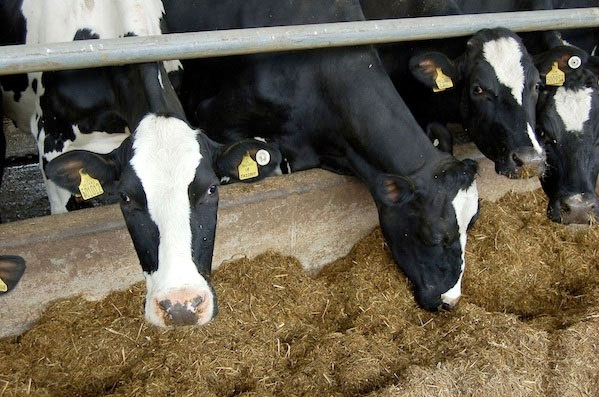 Full backing from vets for NI BVD scheme
British Veterinary Association (BVA) has given its full backing to the announcement that compulsory testing for Bovine Viral Diarrhoea (BVD) will be i...
Livestock movement simplifications welcomed by NFU Cymru
NFU Cymru has welcomed Welsh Government's proposals that will potentially deliver significant simplification to livestock movement rules from 2015. ...
Improved approach to surveillance for animal disease threats
The Animal Health and Veterinary Laboratories Agency has announced an approach to scanning surveillance to better detect new and re-emerging animal di...
University secures grant for bovine tuberculosis research
A collaborative project between academics in the UK and India aims to develop a revolutionary new control strategy for bovine tuberculosis (TB), with ...
Tesco offers two year contracts to beef farmers
Tesco is formalising direct two year contracts with beef farmers to be offered initially to 100 farmers in conjunction with its principle partner, St ...
£10m UK and Singapore beef trade deal reached
A new trade agreement has opened the door to UK exports of beef to Singapore worth an estimated £10 million a year to the UK economy. Singapore's b...
Increased risk of scour in cattle this winter
The dry summer followed by significant rain in October and November has led to a large late gutworm challenge. The NADIS December Parasite Forecast, h...
Badger cull operations to cease in Gloucestershire
The cull company in west Gloucestershire and Natural England have agreed to end culling operations tomorrow. In October, Natural England granted an...
World-leading bull has unmatched combination of kg milk and % fat
A Holstein bull which was first identified as a 'genomic super sampler' has become one of the leading proven dairy sires available to UK dairy farmers...
Pig campaign underestimates health risks, warns vet association
Celebrity campaigners championing the use of swill as an environmentally-friendly food source for pigs are 'underestimating the disease risks' which s...
New US meat labelling rules take effect Saturday
This Saturday, new regulations are scheduled to take effect that will require meat producers to list many details on their packaging, such as the coun...
Safeguard antibiotics for animal health, says veterinary association
The British Veterinary Association (BVA) is reminding animal owners that the rules for safeguarding antibiotics in humans also applies to animals. ...
Farmers warned over treating liver fluke infection
Treating cattle for liver fluke infection at or soon after housing is the best strategy to increase feed conversion rates and improve productivity ove...
Strong trade for store cattle at Bishops Castle
Auctioneers Halls reported a strong trade throughout as 290 store cattle went under the hammer at Bishops Castle Auction on November 7. With a goo...
Veterinary association supports BVD eradication plans for Scotland
The British Veterinary Association (BVA) has given full support for the new control measures being introduced as part of the Bovine Viral Diarrhoea (B...
Badger cull extensions 'justified', says veterinary association
The pilot badger cull in Somerset ended on Friday 1st of November. An extension period for the Gloucestershire badger cull granted by Natural England ...
Carmichael welcomes return of Scotch beef to US market
The lifting of the ban on beef imports from the EU to the USA is an 'important milestone' for Scottish beef, according to Secretary Alistair Carmichae...
Commission welcomes US BSE legislation
The European Commission has welcomed the United States Department of Agriculture's (USDA) announcement to bring the US legislation in line with intern...
Horse DNA detected in canned beef from Romania
The FSA has been informed that a batch of canned sliced beef that was found to contain horse DNA has been withdrawn from sale. Horse meat is not i...
Suckled calves peak at £1,255 per head at Bishops Castle
Top quality genuine suckled calves sold for more than £1,000 per head and £3 per kilo at Bishops Castle and District Quality Cattle Association's succ...
Bad weather prompts badger cull concerns
Recent heavy storms across southern England have prompted concerns that badgers caught in traps could suffer unnecessarily during the badger cull in G...
Farmer responsibility 'key to TB control', says beef association
Farmers must take responsibility for TB control on their own farms, the chairman of the National Beef Association's TB committee Bill Harper said, mai...
Dairy sector 'faces more threats than ever before'
The dairy industry must 'strive to find opportunities' in the challenges it faces on public health, according to Dr. Judith Bryans, chief executive of...
NBA Beef Expo 2014 returns to Hexham
The National Beef Association (NBA) is returning to its Northumberland roots for NBA Beef Expo 2014, which is also putting grassroots showing back on ...
British dairy has potential for international growth, says NFU
An NFU delegation heads to Japan this week to explore the opportunities the British dairy industry can offer the international market and to share exp...
Fluke disease 'could be more widespread than anticipated'
Overwintered fluke disease is forecast to be significant in all regions of the UK, except eastern England and the Midlands, according to the November ...
Badger cull extension granted as welfare charity writes to Paterson
Natural England confirmed on Wednesday that it had granted an extension to the Gloucestershire badger cull for a period of eight weeks. Animal welfare...
Auctioneers report 'fantasic' trade for dairy cattle
Auctioneers Halls reported a "fantastic" trade for dairy cattle at Shrewsbury Auction Centre on Tuesday as heifers sold up to £2,550 and cows to £1,98...
30 percent of local badgers removed, says Defra
As the badger cull in Gloucestershire ended this week, the cull company has applied for an extension to Natural England. In the six weeks of the pi...
Farming unions back Paterson as cull extensions sought
The Country Land and Business Association has welcomed Environment Secretary Owen Paterson's commitment to the badger cull extension as the pilot prog...
Split in responsibilities 'led to confusion' at height of horse meat scandal, says report
A report by the National Audit Office has found that, while arrangements for identifying risks to food safety are effective, similar arrangements for ...
Irish livestock markets support BVD eradication programme
Ireland's programme to eradicate BVD from the cattle industry has received a positive response from the country's livestock markets. Following a v...
Cogent Breeding acquires world-leading genomic sire
Cogent Breeding Ltd, the beef and dairy genetics specialists and global leader in sexed semen technology, has today confirmed that it has bought Cogen...
Farmers urged to be alert for lungworm disease in cattle
Farmers are urged to remain alert for lungworm disease in cattle as the peak period for infection continues into October, according to the latest Para...
New project will deliver bTB-resistant breeding for dairy cows
Dairy farmers will be able to genetically select for bovine tuberculosis (bTB) resistance within two years, due to a new joint research project funded...
Dairy farmers 'lost over 1p/litre last year'
Dairy farmers lost over a penny on every litre of milk produced last year, as costs of production soared due to the appalling wet weather. The Nati...
Major cuts of greenhouse gas emissions from livestock within reach
Greenhouse gas emissions by the livestock sector could be cut by as much as 30 percent through the wider use of existing best practices and technologi...
Borderway bull sale 'one of the UK's largest'
Harrison and Hetherington have announced that they are to conduct one the UK's largest sales of Holstein & British Friesian bulls that has been seen f...
Opportunities for precision technology to improve dairy herd performance
Tracking animal behaviour, improving heat detection, picking up subclinical disease, improving grazing outputs and reducing lameness will all be discu...
Calf disease monitoring system wins first Nick Bird Award
First winner of The Nick Bird Award is Doug Fleming, an agricultural engineering student at Harper Adams University, from Berwick-upon-Tweed. He gaine...
McCormick dealer celebrates with Powys organic dairy farmer
Organic dairy farmers Merfyn and Beryl Edwards will raise a glass to their local tractor dealer following a presentation to celebrate a sales landmark...
Premier pedigree herd competition winner announced
Holstein UK's Premier pedigree Herd for 2013 is Bill Nadin and Yasmin Bradbury's Sterndale and Peak herd from Earl Sterndale near Buxton in Derbyshire...
Labour Party decision on badger cull 'wrong,' says Kendall
The Labour Party has said it would halt the badger cull policy if it won the general election. But National Farmers' Union President Peter Kendall sai...
Milk price rises are well overdue, says NFU
Welsh farmers have been justifiably expectant of farm gate milk price rises these last few months, said NFU Cymru Milk Board Chairman, Aled Jones. ...
Russia ends ban on British beef with trade deal
A beef and lamb trade deal expected to be worth up to £100 million over three years has been finalised in Moscow by Russian Deputy Prime Minister Arka...
Milk price increase for Muller members
Dairy farmer members of the Müller Wiseman Milk Group (MWMG) who receive the company's Standard milk price are to see it increase to 32.50 pence per l...
Dairy Show celebrates young farm vets with a new award
Three young veterinary students have been short-listed for a prestigious new award, which will be presented at the Dairy Show next month. The Dair...
E. coli cattle vaccine could cut human cases by 85%
E. coli vaccinations for cattle could cut the number of human cases of the disease by up to 85%, but they are being delayed by conflicting responsibil...
High risk from liver fluke in cattle this autumn
Farmers should be alert for liver fluke disease in their cattle according to the latest Parasite Forecast from NADIS. The September forecast warns...
Badger cull 'failing' says veterinarian
Following the news that shooters involved in the badger cull in Somerset are failing to kill the numbers of badgers required to fulfil their quotas, M...