Cattle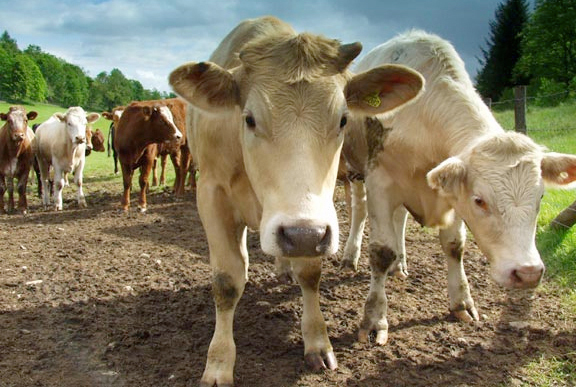 Animal charities 'deeply disappointed' as Defra endorses next cull
Animal welfare charities have reacted strongly to the announcement by Nigel Gibbens, the Chief Veterinary Officer that DEFRA's badger cull policy shou...
Government determined to continue with culling, says Truss
Further measures to combat TB in cattle has been announced today by Defra as Environment Secretary Elizabeth Truss said the government must continue w...
Suffering dairy market shows signs of recovery
Though the dairy market continues to suffer from low prices, the rate of decline is slowing and could even show a price recovery predicted in the next...
Farmers 'disgusted' by Grocery Adjudicator's lack of teeth
Sharp decreases in the price of commodities, such as milk, lamb and beef, have highlighted the limitations of the Grocery Code Adjudicator. The Ten...
Welsh beef producers under pressure from fragile market
The current fragile state of specialist beef production was highlighted at a recent NFU meeting when it was reported that the number of beef cattle, o...
Beef Association spring spectacular classes announced
A total of 15 classes, four championships and a supreme championship have been confirmed for next year's National Beef Association's (NBA) Spring Spec...
UK farmer confidence falling, according to new survey
Falling farmgate prices and market price volatility have contributed to a drop in farmer confidence, a new survey by the NFU has revealed. After th...
Calf coats reduce feed costs, study finds
Using calf coats on calves born in the winter months can improve growth and reduce feed costs, according to researchers at Harper Adams University. ...
Vet support for badger cull falls
Support for the controversial badger cull appears to be faltering among veterinarians who believe it should not continue without further independent a...
Livestock Event 2015 to host four national beef shows
Four beef breeds will be staging major national fixtures at Livestock Event, the UK's largest event within the sector, to be held at The NEC, Birmingh...
Beef farmers warned to 'get used to' increasing market volatility
Beef farmers have been warned to 'get used' to an unavoidable increase in volatility and a challenging future market, according to the Anglo Beef Proc...
Late TB tests mean CAP fines for farmers, Defra announce
Farmers who are late testing their cattle under compulsory TB rules will be fined a proportion of their CAP payments from next month, Defra have annou...
Human consumption of meat driving climate change
Human consumption of meat and dairy products is a major driver of climate change, according to a new report. Greenhouse gas (GHG) emissions associ...
US steak cut innovation in focus at EBLEX Conference
Latest developments on cutting methods in the US beef sector to enhance carcase utilisation will be highlighted at the EBLEX Processor Conference. ...
Autumn Statement: What it means for farmers
The freezing of fuel duty for a further year, exempting apprenticeships from national insurance, and a further extension to small business rate relief...
Dairy price slash a 'kick in the teeth' for farmers
The chairman of the NFU dairy board has expressed disappointment following the latest round of milk price cuts. Dairy companies First Milk and Dair...
First Milk and Dairy Crest announce milk price cut
Dairy companies First Milk and Dairy Crest will be cutting the price paid to farmers by January, a reduction of 1 pence per litre and 1.25 pence per l...
Forest of Dean councillors push for badger vaccination project
Councillors in the Forest of Dean area will decide on Thursday whether to give financial support to a badger vaccination project as an alternative to ...
Government must stop 'ruthless milk discounting'
Ruthless retail milk discounting is not sustainable, and ultimately will damage the sustainability of the UK dairy industry, NFU dairy board chairman ...
Home Secretary endorses agricultural crime initiative
Home Secretary Theresa May MP has praised an agricultural industry led crime initiative which brings farmers, auctioneers and the police together in a...
US UK beef inspection anticipated soon
EBLEX has been helping ensure the industry is in the strongest position possible should a trade agreement be reached between the UK and the US for bee...
TCBZ resistance could threaten UK cattle
UK producers, animal health advisers, and vets should be on the look-out for signs of resistance to triclabendazole (TCBZ) in cattle according to Meri...
Dairy industry needs to find ways of coping with market volatility
Pembrokeshire dairy farmers voiced their concerns regarding severe farmgate milk price cuts during a well-attended Pembrokeshire NFU Cymru on-farm mee...
UK beef farmers 'should be in bullish mood'
British beef farmers should be in 'bullish mood' after the famous French butcher Yves-Marie le Bourdonnec, declared that British breeds were a cut abo...
Is this the smallest commercial dairy herd?
Milk buyers like big collections, and dairy farmers are getting larger every year. The average British cowman looked after 75 cows in 1996 and tod...
Beating bovine TB is 'going to hurt', NFU warns
The NFU brought together many leading experts from across the country to discuss the scientific basis for eradicating bovine TB with farmers battling ...
Myhealthyherd Launches Free Herd Health Planner
A new version of the popular herd management application myhealthyherd will, say its developers, provide farmers with a much simpler and more extensiv...
Firmer beef prices next year, report says
UK beef prices should firm up next year amid tighter supplies, according to the latest forecasts from EBLEX. The latest outlook for the UK beef mar...
Dairy farmers voice market volatility concerns
Falling milk prices and the volatility in global dairy markets were put under the spotlight during a recent meeting of dairy farmers in Carmarthenshir...
Abandon the badger cull plans, scientists warn government
A group of 26 scientists have written to Prime Minister David Cameron urging him and his government to abandon further plans to cull badgers in Englan...
Irish beef protests intensify over UK price gap
Speaking in Clonee, Co Meath this afternoon at the beginning of IFA's nationwide 48-hour beef protest, IFA President Eddie Downey said the refusal of ...
Make most of milk quota, dairy producers urged
Dairy producers should plan ahead to make the most of capital or trading losses before milk quota is abolished in April 2015, according to rural accou...
Farmers take dairy concerns to Defra minister
Ways of easing volatility in the milk sector were discussed by Secretary of State Liz Truss and the NFU in a meeting with President Meurig Raymond and...
Smaller European markets drive beef export growth
Demand from smaller European markets has helped drive strong growth for UK beef exports, according to EBLEX. Latest data from HMRC revealed that UK...
Dairy Crest to sell operations to Muller for £80m
Dairy Crest has today announced that it will sell its dairy operations to Müller for £80 million. The company had been plagued with problems in the...
Long-term outlook for UK dairy 'remains positive'
The UK dairy industry is facing formidable short term challenges due to global market volatility, which is set to continue, but the long-term outlook ...
A student's farm crowdfunding venture
When Harper Adams University student Jack Stilwell launched a crowdfunding project in a bid to start his own beef farm, he was fully aware that the ve...
New campaign aims to educate farmers about cattle diseases
A campaign has been launched by the National Beef Association (NBA) to educate beef farmers about the everyday health problems that face their herds. ...
We will continue to use all the options available to fight TB - Eustice
We will continue to use all of the options available to us to fight this dreadful disease, which has been out of control for 20 years, Farming Ministe...
Cream of dairy genetics on offer in December
An all-star line-up of high-class dairy cattle from the UK will be going under the hammer in Carlisle in Britain's Premier Elite Holstein auction in D...
FUW welcomes Welsh Government badger survey
The Farmers' Union of Wales has welcomed the launch today (Monday November 3) of a survey of badgers found dead in Wales. The survey is being condu...
Farmers 'should not be complacent' over liver fluke
Despite a low to moderate risk prediction for liver fluke this autumn, preventing pasture contamination by strategically treating stock is an integral...
Future of Scottish dairy to be debated at AgriScot
The future direction of the Scottish dairy sector will be debated at next month's AgriScot event, being staged on Wednesday 19 November at Ingliston, ...
Soil Association requests changes to TB compensation bill
Following discussions with licensees and members, the Soil Association has submitted a proposal to request changes to the Cattle Compensation (England...
Badger cull is legal as Trust loses appeal
The Court of Appeal has rejected the Badger Trust's appeal concerning the legality of the government's badger cull. The trust's appeal was based on...
Scottish farmers disappointed over EU calf scheme
The European Union has ruled out Scotland front-loading payments made under the new Beef Calf Scheme that would have supported smaller beef producers,...
Irish beef farmers 'have had enough' as they begin protests
Irish beef farmers are set to protest the prices they are being paid for their cattle, arguing that they are well below the UK and EU averages. IFA...
'Extremely worrying times' ahead for farmers, says NFU
With farmers facing significant challenges heading into the winter, the Government is being urged to come forward with proposals for how they intend t...
Cattle pneumonia could cause long-term costs for farmers
Cattle farmers could have increased costs due to ineffective treatment of calf pneumonia, according to Merial Animal Health. "Past research has sho...
Firm cattle trade as Morris family wins Tom Gittins Cup
An entry of 750 strong store cattle was sold at Bishops Castle Auction on Thursday last week as the trade held firm from start to finish supported by ...