Cattle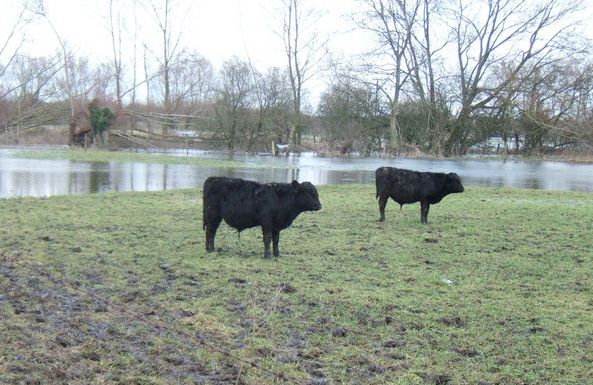 What are the consequences for livestock farmers after the floods?
With much of the UK having seen record levels of rainfall and extensive flooding of pastures and crops, James Ingles, Head of Agriculture at Barenbrug...
Harper Adams conference links farming, science and nutritional food value
Harper Adams University is set to host the 2014 Frank Arden Memorial Conference on 24 April, supported by the Nuffield Farming Scholarships Trust. ...
Eight strategies for efficient and sustainable livestock farming
Eight strategies to make cows, sheep and other cud-chewing, or ruminant, livestock a more sustainable part of the food supply are outlined by Rothamst...
Female sexed semen has higher value than previously thought
Using sexed female semen has gained significant momentum across the UK's dairy herds where the prospect of a valuable replacement heifer and the likel...
'Excellent trade' for quality store cattle at Bishops Castle
An excellent trade was reported by auctioneers Halls at just under 250 store cattle went under the hammer at Bishops Castle & District Quality Cattle ...
Where next for large-scale livestock production?
The potential effects of large-scale livestock systems on animal health and welfare are set to come under the spotlight during a special workshop look...
Major BVD initiative launched in England and Wales
A major new initiative concerning one of the most devastating diseases affecting the cattle industry, BVD, Bovine Viral Diarrhoea - has been launched ...
Government urged to take alternative strategies to combat TB
Following reports that the Independent Expert Panel on badger culls concluded that they were 'ineffective and inhumane', Green Party's animal spokespe...
National Dairy Apprenticeship programme at Plumpton College
National Dairy Apprenticeship programme at Plumpton College Just ahead of National Apprentice Week, Plumpton College and LKL Services Ltd have join...
Plumpton College Open Day
Plumpton College has an Open Day on Saturday 10th May 2014. There will be courses and careers advice, apprenticeships information, business trainin...
Badger vaccination 'not a viable alternative to culling'
The President of the British Veterinary Association (BVA), Robin Hargreaves, has called for government decisions on TB testing and veterinary surveill...
Welsh beef farmers voice price concerns
Welsh Beef producers are voicing concern over the beef price difficulties with farmers calling on the meat trade to recognise how current negative sho...
Farmers express 'despair' at Welsh government TB proposals
Clwyd farmers have expressed their despair and anger at a Welsh Government decision to change the way farmers are compensated for cattle slaughtered a...
Scottish government urged to support chicken sector
Retailers must 'play their part' in securing the future of the Scottish chicken industry, according to the National Farmers' Union. In a letter to ...
Successful second cattle auction at Bishops Castle
A highly successful second store cattle sale of the year was reported by auctioneers Halls at Bishops Castle Auction on February 13. A catalogue en...
UK and Irish unions thrash out livestock concerns
UK and Irish farming unions met this week in Stirling to discuss issues facing the livestock industry. Representatives from NFU, NFU Cymru, Ulster ...
Concerns raised over Welsh bovine TB policies
Concerns about a number of planned changes by the Welsh government to bovine TB policies were expressed at a recent meeting of Rembrokeshire NFU Cymru...
Genetic discovery could lead to TB resistant cattle
Scientists have identified genetic traits in cattle that might allow farmers to breed livestock with increased resistance to bovine tuberculosis (TB)....
Farmers Despair at Government TB Proposals
Montgomeryshire farmers have expressed their disappointment and despair at a Welsh Government decision to look at introducing a system of tabular valu...
Financial and fodder support needed for Somerset farmers
Chris Mallon, Chief Executive of the National Beef Association, has received many telephone calls asking for information about the cattle on the Somer...
Treat housed dairy cattle for fluke before turnout
Dairy herds struggling with liver fluke should consider a pre-turnout, flukicide-only lactating cow treatment to clear out adult flukes. "If fluke ...
Spring Lambing Day at Walford Campus
The Walford Campus has over 90 different species of animal ranging from a 275 strong dairy herd to Alpacas, Meerkats and Chinchillas. You will have an...
Figures show 'very little' increase in Polish beef imports
With weakening cattle prices of late, many have been quick to point the finger at Polish beef imports. The evidence does not however, back up the s...
2014: A milestone year for dairy sustainability
The dairy industry will face a new raft of challenges on sustainability during 2014, which will have important ramifications for the supply chain, acc...
Texel genetics in demand in southern hemisphere
An Australian Texel ram carrying 50% British Texel genetics is making a splash in the Southern Hemisphere, having notched up impressive performance te...
Enhanced management for long-term TB herds
Herds suffering long-term bTB breakdowns will in future be considered for a more tailored management approach by AHVLA, in partnership with farmers' p...
Widest choice of bloodlines in Cogent's new Jersey catalogue
Cogent's new Jersey catalogue will be landing on doormats this week and bringing milk producers their widest choice of bloodlines for this Channel Isl...
Chronic fluke disease reaches peak level in cattle and sheep
Farmers should be alert for ill-thrift in animals as levels of chronic liver fluke disease in cattle and sheep peak in late winter/early spring, accor...
Europe 'failing consumers over animal welfare'
Efforts at enforcing recent animal welfare legislation means that Europe is 'ill-serving' its consumers, according to farming unions. At a European...
Defra to publish consultation on TB-free England
Defra is planning to publish a summary of responses to the consultation on a strategy for achieving officially bovine TB-Free Status for England. T...
Genomic evaluation reviewed at breeders conference
A review of current progress on the use of genomic evaluation in cattle breeding was just one of the subjects covered at the recent Cattle Breeders Co...
'Very good' store cattle trade at Bishops Castle Auction
Auctioneers Halls reported a good trade for the best quality store cattle as 350 went under the hammer at Bishops Castle Auction on Thursday, January ...
UK cattle slaughter at 'lowest level since 1970'
The total number of prime cattle slaughtered at UK abattoirs during 2013 fell two per cent on the year to 1.93 million head according to EBLEX. Thi...
Excellent dairy cattle trade at Shrewsbury Auction Centre
Auctioneer Halls reported an 'excellent' entry and trade in dairy cattle from start to finish at Shrewsbury Auction Centre on Tuesday with in-milk hei...
Horsemeat scandal triggers local produce boom
Meat producers are reporting a significant increase in sales over the last year as consumers continue to buy locally, one year on from the horsemeat s...
Natural England preparing for next badger cull
Natural England have said potential applicants for badger control licenses for 2014 onwards 'should now begin to prepare information for the Expressio...
Efficiency is key, UK beef farmers told
Genetic and feed efficiency will be central to ensuring beef farmers can meet the growing domestic and global demand for British beef, more than 300 f...
Catchment Sensitive Farming grant scheme opens February
The Catchment Sensitive Farming Capital Grant Scheme will open for applications on 1 February 2014. The grants scheme supports farmers to undertake...
What's changed since the horse meat scandal broke?
One year ago consumers were shocked to find out that what they thought was beef – was actually horse. The horse meat scandal gave charities a chanc...
Glendale PR wins contract to represent National Beef Association
Glendale PR & Marketing has won the contract to provide public relations services to the National Beef Association (NBA). The Wooler-based business...
MEPs call for measures to stop food fraud
Recent food fraud cases, including the sale of horse meat as beef, should prompt the EU to review the functioning of the food production chain, step u...
Isle of Man introduces cattle controls over BVD
The Isle of Man Department of Environment Food and Agriculture is brining forward a Bovine Viral Diarrhoea Order (BVD order) to control the prevalence...
Beef Association warns farmers will lose out over CAP deal
The Scottish Beef Association has warned many upland beef farmers could be "shafted" by the new CAP deal. The association insisted many beef producers...
UK's protected food names 'boost EU economy'
More than 60 unique British foods have now achieved protected status to help safeguard the products and deliver boosts to the economy. Anglesey Sea...
NBA unveils Beef Expo 2014 judges
Two top class judges have been secured by the National Beef Association (NBA) for Beef Expo 2014's National Spring Spectacular Show, which returns to ...
Sainsbury's reviews price paid to British dairy farmers
Sainsbury's has set a new price paid to its British dairy farmers through the sustainable Cost of Production (COP) model. Due to the cost decrease ...
New livestock rules will save farmers £70m, says Paterson
Changes to livestock movement rules will save farmers and taxpayers £70 million over 10 years, Owen Paterson announced today. Speaking at the Oxfor...
Cogent's 'sell-out' outcross bull comes back on to the market
Outcross sires are like gold-dust in the modern Holstein population and one that also brings almost three points for PTA Type, superb daughter health ...
Chinese demand to drive high dairy prices in 2014
International dairy commodity prices strengthened from already high levels in the three months to mid-December and are expected to remain high at leas...
2014 Outlook: High global prices to continue as supply remains tight
The Rabobank Global Cattle Price Index has risen by 6% since June, driven by lower-than-expected beef supply in the main exporting countries and stron...