Cattle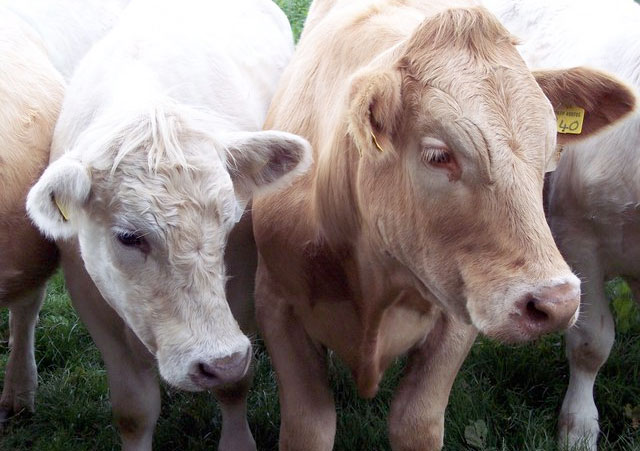 Profitability of beef to be focus of EBLEX conference
Efficiency and profitability of producing high quality beef and lamb for domestic and export markets will come under the spotlight at this year's EBLE...
August brings lungworm risks to unvaccinated cattle
Unvaccinated calves during their first grazing season are most at risk of lungworm infection this August, according to the NADIS Parasite Forecast. ...
Cattle trade shows signs of steadying as supplies tighten
The cattle trade has steadied over the past two weeks as cattle availability begins to tighten, according to analysis by Quality Meat Scotland (QMS). ...
Veterinary association to support second year of badger culls
The British Veterinary Association (BVA) has said it will support the second year of the pilot culls in England. This follows Defra's response to BVA'...
TB ranked as greatest constraint for dairy farmers
The initial findings of the most comprehensive survey of dairy farmers were released at the Royal Welsh Show today with responses indicating a 20% ris...
No horse meat found in latest industry and EU testing
The latest round of industry and European Union (EU) testing published today found no horse meat DNA in meat products at or above the 1% reporting thr...
Lib Dems warn over collapsing beef prices
The Welsh Liberal Democrats have warned that the recent collapse in beef and lamb prices could leave the industry in Wales unsustainable. Ahead of...
Smart segregation gates aid cow flow and management
The new range of gates includes two-way and three-way segregation options, to allow individual cows to be separated from the herd for specific attenti...
Suckler herd of the year award launched
The search is on for the UK's top suckler herd, an annual award organised by Beef Shorthorn Society and supported by Morrison with £1,500 at stake. ...
Bovine TB rates fall to lowest in 10 years
Incidents of Bovine TB in cattle fell in April to their lowest levels in almost ten years, according to the latest statistics from Defra. The numbe...
Lakes farm gears up to host prestigious cattle open day
The Luing Cattle Society is holding its annual open day in England for the first ever time this year. The event takes place at High House Farm, Winst...
Farming family journey 'to hell and back' over positive TB test
A farmer whose herd of pedigree Jersey cows was established 110 years ago by his great-grandfather has told how his family has been "to hell and back"...
Beef Association calls for introduction of Agricultural Ombudsman
The National Beef Association (NBA) has welcomed the industry coming together to tackle falling prices in the Beef Summit in London, but says tougher ...
Top quality pedigree dairy holstein herd to be dispersed
One of the UK's foremost pedigree dairy Holstein herds is to go under the hammer in its entirety, in a special dispersal sale at Carlisle's Borderway ...
Beef promotion key to improved farm-gate price
On the back of ongoing farm-gate beef price cuts, Clwyd NFU Cymru members were reassured by Hybu Cig Cymru (Meat Promotion Wales) that it will continu...
Milk price cuts causing 'lack of trust', says NFU
Recent price cuts by milk buyers have caused a lack of trust which must be addressed if the UK is to be competitive in the growing global dairy market...
First national model for Bovine TB calls for more focus on cattle
In a study published in Nature this week, a team of researchers based at the University of Warwick has produced the first national model to investigat...
Global beef market 'will regain momentum', says report
The global beef market will regain its positive momentum in Q3 once the current, temporarily high supply has worked through the system, according to n...
Beef summit highlights industry challenges
Yesterday's Beef Summit, held in London, has identified the challenges that face a sustainable beef industry, but now action is needed to make it happ...
British-bred Holstein and polled no 2 for type joins Sterling Sires
A British-bred Holstein bull offering £175 PLI genomic proof in combination with high scores for management and functional type traits has joined the ...
NFU county meeting to discuss drop in beef prices
Local farmers have been invited to the next Clwyd NFU Cymru county meeting on Thursday, 3 July 2014, at Brookhouse Mill, Denbigh. Starting at 7.30p...
New Anglo-German student exchange to investigate viruses in badgers
An exchange of undergraduate students between Plymouth University Peninsula Schools of Medicine and Dentistry and the Robert Koch Institute in Berlin ...
Badger cull breaches wildlife convention, say charities
Potential negative impacts on protected wildlife caused by the badger cull are in breach of the Bern Convention, claim wildlife protection groups. ...
Negotiations begin for £120m China beef and lamb export deal
British beef and lamb could soon be heading to China in an agreement that could be worth up to £120m to the UK economy each year. Owen Paterson wel...
Hong Kong market reopens for US beef
Agriculture Secretary Tom Vilsack today announced that the United States and Hong Kong have agreed on new terms and conditions that pave the way for e...
Shotguns will be allowed in badger culls
Natural England has confirmed that the use of shotguns will continue to be permitted during this year's badger culls, despite the Independent Expert P...
Beef price crisis harming farmer confidence, MPs told
Low beef cattle prices are causing problems in farm incomes and damages the confidence of the industry, according to the Farmers' Union of Wales who m...
Record cattle entries at Royal Three Counties Show
Cattle entries for this week's Royal Three Counties Show have reached record levels. The show boasts a grand total of 970 cattle this year – aroun...
New measures announced to help tackle bovine TB
A consultation proposing further measures to strengthen bovine TB cattle controls has been launched. The proposals come as new statistics published...
Cattle farmers should be alert to lungworm
The June NADIS Parasite Forecast has advised cattle farmers to be alert for signs of lungworm in their herds this summer. Symptoms may appear in unvac...
NFU meets with other farming union leaders for beef summit
NFU Scotland met with farming union leaders from across the British Isles in London on Monday evening for a summit on the current beef situation. N...
Beef representatives meet to discuss reduction in regulation
Representatives of English beef and lamb met with the minister responsible for Food and Agriculture, George Eustice MP, to discuss ending the splittin...
Beef 'top of the agenda' for UK farming unions
Farming union leaders from the whole of the UK have met in London for a Presidential Summit on the current beef situation. Discussing wide ranging ...
Small-scale badger cull risks spreading TB further, scientists warn
A pilot scheme to selectively cull badgers that test positive for tuberculosis risks spreading the disease further, according to scientists. The sc...
Farmers threaten protest over falling beef prices
The dramatic fall in the beef price over the past few months is a major concern for the livestock industry and pressure group Farmers for Action have ...
Farmers frustrated at drop in beef price
The dramatic fall in the beef price over the past few months is a major concern for the livestock industry. Beef farmers are angry that a year afte...
Defra 'breaching its own badger cull policy', says charity
The government is failing to comply with its own badger cull policy commitments by refusing to assess how badger cull populations were affected by sev...
Dairy Crest cut price paid to farmers
Dairy Crest has announced a price cut of 1.25 ppl for farmers on standard liquid contracts from 1 July. The new price will be 31.2 ppl after the cut. ...
Deliver fair share to beef producers, NFU warns
The beef sector is being urged to deliver a fair share of the margin back to producers or run the risk of stalling the recovery in Scotland's beef her...
Farm assurance continues to add value at the farmgate
Farm assured beef cattle returned an average 13p/kg more than non-assured stock at markets last year, according to EBLEX. The Farm Assurance Price ...
Farmer workshops aim to tackle Johne's disease in cattle
Paratuberculosis (Johne's disease) is of welfare and production concern for cattle farms. A series of QMS funded workshops are being held across Scotl...
Gap between beef retail and farmgate prices 'cannot continue'
NFU Cymru Livestock Board members have called on the rest of the supply chain to restore confidence and stability to the beef price following the dram...
Improved signalling needed after volatile beef prices
Beef farmers looking for clear signals on future trade requirements. The significant drop in beef prices has NFU Scotland to write to Scotland's abatt...
Calf testing initiative aims to eradicate BVD
Nationwide eradication of Bovine Viral Diarrhoea (BVD) - one of the most profit-draining infectious diseases of cattle - moved a significant step clos...
Liver fluke affecting one in four cattle
Liver fluke in cattle is on the rise according to the latest official data released by the Food Standards Agency. The figures for 2013 show that nearl...
Quality store cattle in demand at Bishops Castle sale
An excellent entry of 375 store cattle went under the hammer at Bishops Castle & District Quality Cattle Association's annual May sale. Despite th...
Challenging finished beef trade impacting on store cattle prices
The challenging market for finished beef is beginning to impact on store cattle prices, although the best quality animals continue to hold their own, ...
Vets 'will not support' Badger Trust's judicial review
The Badger Trust has made an application for judicial review at the High Court to challenge the legality of the DEFRA Secretary of State's decision of...
Call for stronger TB surveillance for camelids
The NFU has called on government to strengthen TB controls for camelids to help stop the spread of bovine TB. In its response to a Defra consultati...
Supermarkets warned to support British beef
FUW president Emyr Jones has written to UK supermarkets reiterating the need to support Welsh and British beef through loyalty and sustainable prices....