Cattle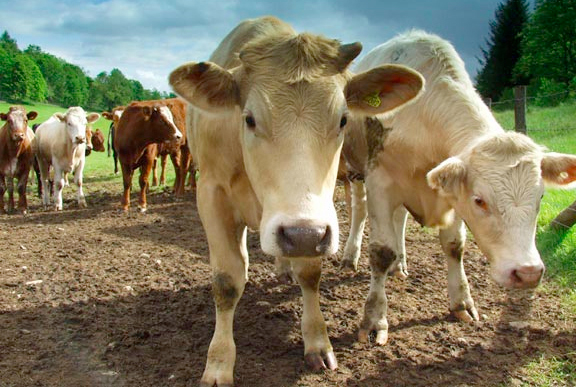 New cattle TB controls come into force in England and Wales
New rules for controlling bovine TB in England and Wales have come into force today, the government opened a consultation to develop cattle controls a...
Cost control 'critical' to dairy farm profits as prices slump
Although dairy farmers' income jumped sharply last year, cost control will be critical if they are to weather this autumn's low milk prices, rural acc...
Milk price crisis: 'Cuts getting more severe with more excuses'
'The cuts keep coming' dairy farmers were warned by Farmers for Action group, 'getting more severe each time with more and more excuses' as a number o...
Plans to scrap badger cull a 'populist move', says Hargreaves
On so many welfare issues politicians are 'in danger of taking the view that if it's not popular it's got to be wrong,' said the outgoing British Vete...
Tesco cuts price paid to dairy farmers
Tesco has today confirmed it will cut the price it will pay to British dairy farmers for six months from the 1st November, following an independent co...
TB devastating farming families, say NFU as Labour pledges scrap
The Labour Party would abandon the badger cull should it win the next General Election in May, according to their Shadow DEFRA Minister Maria Eagle. ...
Grazers return to nature reserve
For the first time in many years cattle are roaming the heathland landscape of one of south Devon's top nature reserves. Bovey Heathfield nature r...
Half of farmers have not tested herd for BVD, survey shows
Results from the Farming Against BVD survey have been presented by an independent expert panel at Novartis Animal Health headquarters, giving insight ...
Farmer Survey shows need for more advice on BVD
Results from the Farming Against BVD survey were presented by an independent expert panel at Novartis Animal Health headquarters on 18th September 201...
'Huge turnout' for Berkshire's Have a Go show
They came, they saw – and many of them had a go! The 2014 Royal County of Berkshire Show will be remembered as one which excelled for its particular b...
Winter: Preparing livestock's seasonal housing needs
The days are shortening, harvest and autumn sowing is mostly done, so now is the time to turn your attention to the winter and your stock. You must as...
Planting trees improves lamb and cow health
Farmers discovered ways of improving the health and wellbeing of livestock at a recent event aimed at highlighting how trees can increase a farm's pro...
Antibiotic usage in livestock
With the growing problem of bacterial resistance to antibiotics, antibiotics from the fluoroquinolone and 3rd and 4th generation cephalosporin groups ...
NFU spells out priorities ahead of 2015 General Election
A Government that understands farm businesses, wants agriculture to grow and has the policies that send the right signals to farmers, are the key mess...
Dairy Show 'boasts genetics of the future'
Calf showing can sometimes be seen as a poor relation compared to the excitement of dairy interbreed championships – but it is the foundation on which...
Farmers remain on guard over liverfluke
After last year's fierce fluke challenge and with the wet and warm conditions having continued this year, farmers are right to remain on their guard a...
A health check for your soil
Soil is the basic raw material of farming and fundamental to agricultural productivity. Traditionally soil health has been seen largely as a function ...
Win £1000 off your next fertiliser order
Quality fertiliser is the key to yield and that holds true whether it's applied to grass, other forage or arable crops so this great prize of £1000 to...
Farmers reminded of changes to Bovine TB rules
Farmers were reminded of impending changes to rules on Bovine TB pre-movement testing of cattle moving to and from premises within Sole Occupancy Auth...
Combining solar and livestock farming: New guidance published
A new guidance published today expounds best practice in coupling conventional agriculture and ground-mounted solar electricity generation. The new...
Badger cull expected to begin 'as soon as tonight'
Badger culling in west Somerset and west Gloucestershire is expected to begin as soon as tonight, according to Humane Society International UK. Und...
Dairy farmers risking cows' health with feeding, research says
Dairy farmers are potentially risking their cows' health, fertility and production by inadvertently feeding rations containing mycotoxins and bacteria...
Calving at 2 Years? – Yes say the National Beef Association
"In the modern day beef industry there is little room for calving at 3 years old." This is the message from Charlie Maclaren, newly appointed board me...
Minister's back Food Crime Unit after horsemeat scandal
The UK is to have a Food Crime Unit to fight fraudulent food trade after the recommendations in the Elliott report, commissioned after the horse meat ...
Beef Association gives 'guarded' welcome to vaccination scheme
Bill Harper of the National Beef Association TB Committee has given a guarded welcome to the recently announced Badger Edge Vaccination Scheme (BEVS)....
Culling badgers 'not the answer' as vaccination scheme launched
A new badger vaccination scheme has been launched as part of the government's comprehensive strategy to make England bovine TB free. Vaccination sc...
New research aims to improve dairy cow health
An new collaboration has been established to drive the innovative application of sensors to improve dairy cow health and welfare. The collaborativ...
Wildlife trusts urge badger vaccination schemes
Vaccination schemes are being demonstrated as a 'practical, cost-effective option' in dealing with bovine tuberculosis, an animal trust is claiming in...
Natural England gives go-ahead for second badger cull
The second year of badger culling will begin in west Gloucestershire and west Somerset this autumn, Natural England has announced. The government a...
Very gloomy times for UK dairy, Farmers for Action predicts
This week could be 'very gloomy times' for UK dairy farmers, according to Farmers for Action as they expect prices to fall by as much as 2ppl for Octo...
Store cattle prices up, prime beef set to follow
The price store cattle are attracting at auction marts has improved by around £50 per animal over the last two weeks, according to reports from the Li...
Defra urged to extend badger vaccination scheme ahead of cull
With this year's badger cull rumoured to start in the coming weeks, DEFRA has been urged by the Humane Society International to expand its limited Bad...
Livestock farmers' 'confidence in jeopardy'
An excellent turnout of Monmouthshire livestock farmers attended an on-farm meeting held in Llansoy to raise their concerns on the future of the beef ...
Innovative feeder proven as badger deterrent
A recent trial undertaken at the Royal Agricultural University (RAU) revealed how limiting badger access to mineral licks, blocks and tubs with a feed...
Industry Expert brings science focus to the beef industry
The National Beef Association has just announced the appointment to its Board of commercial expert in animal nutrition and management Charlie Maclaren...
Frome Show: 'Wonderful opportunity to see top quality show cattle'
Frome's Annual Show, the Cheese Show as it's been known locally for many years, is fast becoming one of the South West's most important one day agricu...
New elite short gestatiuon Angus sire joins Sterling Sires
A new British-bred Aberdeen Angus bull offering minus 4.9 days gestation length has joined the Sterling Sires line up. Oakchurch Duke N121 has calving...
Union slams retailers' short-term vision for beef
Scottish farmers' share of the retail price of beef is at its lowest level for almost five years. Farmgate prices for beef cattle hit record levels...
Farmers warned over production losses to lungworm
Treating lungworm infection swiftly and effectively in beef and dairy cattle is vital to help prevent major losses in productivity, according to Meria...
Beef price top topic at Anglesey Show
Day one of the Anglesey Show is underway and the current beef price situation is putting the future of the Island's beef farmers' in jeopardy, NFU Cym...
UK beef herd continues decline
With poor seasonal conditions taking their toll, productivity in the beef herd sector continued its decline, falling by 3% to under 1.6 million head f...
Support an end to non-stun slaughter, vets urge party leaders
Party leaders in the United Kingdom have been urged to support a veterinary campaign to end non-stun slaughter. Writing to party leaders, Robin Har...
Vaccination of badgers: Review of risks
A badger vaccine has the potential to reduce infection of cattle and a vaccination could also have a role in protecting uninfected badger populations...
FUW presents cheque to Addington Fund in aid of Somerset farmers
The Farmers' Union of Wales Ceredigion branch today (Wednesday July 30) presented the union's Apêl FUW Somerset cheque of £1,755 to the Addington Fun...
Limousin herd dispersal boosts store cattle auction
A small seasonal number of store cattle at Bishops Castle Auction on July 24 was bolstered by an excellent entry of 23 cows and calves from a pedigree...
Profitability of beef to be focus of EBLEX conference
Efficiency and profitability of producing high quality beef and lamb for domestic and export markets will come under the spotlight at this year's EBLE...
August brings lungworm risks to unvaccinated cattle
Unvaccinated calves during their first grazing season are most at risk of lungworm infection this August, according to the NADIS Parasite Forecast. ...
Cattle trade shows signs of steadying as supplies tighten
The cattle trade has steadied over the past two weeks as cattle availability begins to tighten, according to analysis by Quality Meat Scotland (QMS). ...
Veterinary association to support second year of badger culls
The British Veterinary Association (BVA) has said it will support the second year of the pilot culls in England. This follows Defra's response to BVA'...
TB ranked as greatest constraint for dairy farmers
The initial findings of the most comprehensive survey of dairy farmers were released at the Royal Welsh Show today with responses indicating a 20% ris...