Cattle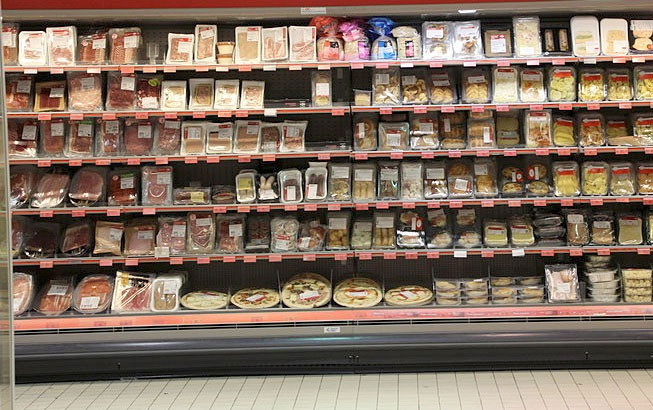 Farmers denied advantages of cloned technologies
The National Beef Association has called on the UK's Food Standards Agency to fall in with the rest of the European Union and allow meat, milk, ...
Germany win again in World Cup steaks
New figures have revealed that England's 2010 World Cup barbecue performance mirrored the team's performance on the pitch - beaten by Germ...
Minister calls for more honest labelling
The Food Minister is urging other sectors to follow the good example set in the pig meat sector regarding country of original labelling (COOL). F...
Calls for EU to ease TSE controls
Consumer safety and confidence will always be paramount to Welsh farmers but NFU Cymru believes the time is now right, 14 years since BSE hit the head...
Morrisons to improve sustainability on dairy farms
First Milk, a UK dairy business, and Morrisons supermarkets have set up a strategic partnership to improve sustainability throughout the British chees...
Dairy mineral assessment tool launched
Alltech will be launching its latest concept for tackling the key challenges faced by dairy farmers at the Dairy Event and Livestock Show at the NEC, ...
Dairy farmer puts organic milk on the map
A Devon dairy farmer has created a giant 2,450 square metre outline of a cow on the side of a hill near Crediton in Devon to remind people of the impo...
IBR educational campaign launched
Infectious Bovine Rhinotracheitis (IBR) has become a barrier to herd productivity on many farms, but a new educational campaign from vet practices aim...
Cloned cattle warnings from NBA
The National Beef Association has called on everyone with a stake in the UK beef industry, including dairy farmers who cull out cows and bulls, to do ...
NBA support VIA
NBA will support the use of VIA in British abattoirs if operational lessons learned from installation in Northern Ireland and the Irish Republic is ac...
TV deal for beef and lamb producers
Red Tractor beef and lamb is to sponsor a new series of TV competition Britain's Best Dish. EBLEX has brokered the deal with ITV which will ...
Decline in BSE could see TSE controls relaxed
The NFU supports the latest strategic plan for the unwinding of TSE restrictions across Europe via the publication of the Commission's TSE Roadm...
Baileys look for Ireland's finest dairy cow
The manufacturers of Baileys® Irish Cream are searching for Ireland's finest Holstein Friesian dairy cow. The Baileys® Champion Dairy Cow Compet...
New tool in fight against livestock parasites
Graig Producers, the Powys-based livestock marketing group are launching their internal parasite monitoring service for beef and sheep farmers at the ...
Eradication of TB paramount in culling decision
The National Beef Association fears the Court of Appeal's decision to block Welsh Government moves to cull badgers in a locality that is cursed ...
EU relaxes plans on GM crops
The European Commission will today announce proposals to speed up the EU's genetically modified (GM) crop authorisation procedure. Member sta...
Deadline due warns animal medicine body
"The clock is ticking on the current CPD (Continuing Professional Development) training period for qualified animal health advisors, known as SQP...
Demand for dairy cattle grows
The chairman of Shrewsbury Auction Centre has appealed for more entries of dairy cattle to meet strong demand from buyers at the weekly market. Fo...
Welsh remain pessimistic about recovery
Small business owners in Wales remain the most pessimistic when it comes to being well-placed for economic recovery, according to a new survey. The...
Be aware of beef industry changes - NBA
Beef farmers with 20-30 years of running a challenging business in front of them need to be sensitive to changes in the direction the beef industry is...
BVA supports Welsh badger cull plans
The British Veterinary Association (BVA) reiterated its support for the Welsh Assembly Government's proposed badger cull to tackle bovine Tuberc...
Blood testing key to eliminate BVD
The National Beef Association thinks efforts to eliminate BVD in Scotland will be more successful if initial government cash support is used to cover ...
Scientific breakthrough for livestock breeders
Welsh based company Ovasort Limited has made a scientific breakthrough that will enable livestock breeders to pre-select the sex of pigs and cattle. ...
Surge in demand for hereford beef reported
A world-wide resurgence in the Hereford breed came into sharp focus at the European Hereford Conference, held in the UK last week (28 June). Unprecede...
£7m disease project to help livestock sector
The health of Great Britain's livestock sector will receive a big boost thanks to a grant to fund research into potential new vaccines for paras...
Dry cow management success
Over the years, so many feeding strategies have been promoted to improve dry cow nutrition that dairy farmers, vets and herd managers have often been ...
Winner announced for Best Burger Challenge
Phil Davies Quality Butchers Limited has been named as England's best burger maker in an EBLEX competition. Having triumphed in the Independ...
NFU warns beef supply chain as prices fall
The NFU is warning the beef supply chain that the falling beef price is knocking producer confidence and undermining the long term sustainability of U...
Lower risk of Bluetongue in Scotland - Standing Committee
The diligence of Scotland's livestock keepers in keeping Bluetongue out of the country has led to Scotland achieving lower risk status for the d...
Producers expect World Cup beef boost
Beef and sheep producers are hoping for a repeat of England's last World Cup performance - but not on the pitch. Figures from EBLEX show the...
Greater controls on imported livestock helps reduce bluetongue
JAB has welcomed the announcement by the European Commission that Great Britain's bluetongue status will be reclassified from a BTV8 protection ...
New bluetongue status for Britain
Veterinary associations have welcomed the European Commission announcement that Britain's bluetongue status will be reclassified as a Lower Risk...
The Badger Cull Debate Continues!
The Welsh Assembly Government has taken the controversial decision to cull badgers in north Pembrokeshire, as part of its measures to control the spre...
Breeders should send unexplained calf deaths for post-mortem
The National Beef Association is advising all calf breeders to co-operate with their regional vets who are investigating the unexplained appearance of...
Commercial youngster champion at Northern Limousin Extravaganza
The commercial champion got the nod over the pedigree champion in the battle for supreme honours at the 2010 Northern Limousin Extravaganza at Skipton...
New date and venue for Kenilworth Show
One of the Midlands' leading agricultural shows takes place in Warwickshire on Saturday, June 5. The Kenilworth Show attracts thousands of p...
Room exists for important lift in retail beef prices
Retailers should be preparing re-pricing schedules so they can take full advantage of the on-going consumer recovery in fresh beef consumption for hom...
Farmers tuned in to online information
The results from a national survey, conducted by the National Farm Research Unit (NFRU) reveals that farmers across the country are widely adopting th...
Livestock entries at an all Time high
An unprecedented number of entries have already been received for the cattle classes at this year's Great Yorkshire Show. The farming and count...
Scots farmers to receive £23.4 million
Scottish Beef Calf Scheme payments to start this week More than 7,500 Scottish producers will receive their share of £23.4 million of European fundin...
Organised effort to reduce cattle disease on each side of Ireland's North-South border supported by NBA
The National Beef Association (NBA) is looking forward to assisting with the construction of an Island of Ireland health scheme for cattle and hopes t...
Beef sector in danger of mincing itself to death
The beef sector is in danger of mincing itself to death, according to the National Beef Association. The latest Kantar Worldpanel consumer survey s...
Demand for Dexter beef grows
Whilst national outlook for beef prices in 2010 are looking firm, the Dexter cattle society are looking to see an even more significant increase in De...
Farmer takes fight to High Court
A farmer is set to take Cumbrian Trading Standards to the highest court in the land in a bid to overturn a conviction for breach of cattle regulations...
New project offers North East farmers a glimpse of the future
Beef and sheep farmers across the North East are being invited to take part in an exciting project to create the farm of the future. Funding has be...
Event planned to help landowners manage difficult sites
Wet Culm Grassland habitats can be difficult to maintain, especially tussocky, scrubby areas which are often dominated by purple moor-grass. Devon Far...
Who buys beef taken from non-assured ROI cattle processed in Northern Ireland?
The National Beef Association (NBA) says critical questions must be asked about the retail destination of beef taken from the thousands of cattle impo...
Finishers looking for best prices should target British-only beef suppliers
English and Welsh finishers who want to be sure of always receiving the best price for their cattle should build arrangements with abattoirs supplying...
Annual MOT keeps beef and sheep enterprises on track
Beef and sheep farmers should set annual performance targets for their enterprise at the start of each year to drive their business forward, according...
Charolais cattle demand buoyed by commercial marketplace
An insatiable demand for British Charolais cattle from commercial beef producers was reflected in last year's UK marketplace where the breed enj...