Cattle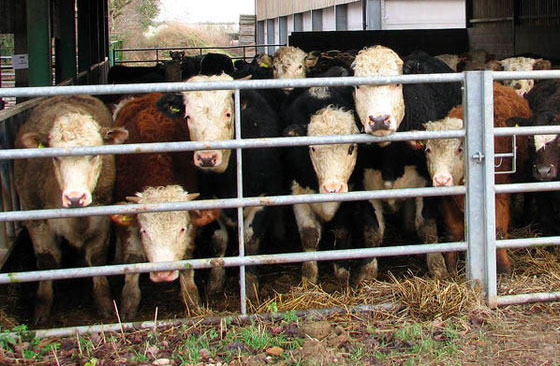 High risk from liver fluke in cattle this autumn
Farmers should be alert for liver fluke disease in their cattle according to the latest Parasite Forecast from NADIS. The September forecast warns...
Badger cull 'failing' says veterinarian
Following the news that shooters involved in the badger cull in Somerset are failing to kill the numbers of badgers required to fulfil their quotas, M...
Cameron refuses to return red meat levy to Scotland
In a letter to First Minister Alex Salmond, Prime Minister David Cameron has refused to return to Scotland the levy income paid by Scots livestock pro...
Government strategy 'will not stop excessive farm use of antibiotics'
The rapid spread of multi-drug resistant bacteria means everyday infections or diseases may be harder to prevent or treat, according to a new report s...
Global players to engage with the Indian dairy market
The Indian dairy market is complex, particularly for foreign players and past failures indicate that getting the strategy and timing of entry right, i...
Cogent to market Royal Welsh champion Charolais bull
A Charolais bull that has been described as 'a spectacle of an animal' and that took this year's Royal Welsh Show by storm, is now being marketed by C...
Chinese dairies join top 15 for first time
While the top-5 dairy players continue to drive consolidation and maintain a firm hold on their positions, elsewhere there is much movement. Chinese p...
Heath accused of misleading MP about badger cull
The Humane Society International UK has accused Farming Minister David Heath of 'misleading' a Member of Parliament about the transparency of badger c...
Public come out in numbers to protest Gloucestershire badger cull
Members of the public and the media descended on parts of rural Gloucestershire following the confirmation by police that badger culling was scheduled...
Gloucestershire police confirms badger cull go-ahead
Police in Gloucestershire have confirmed that the government's badger cull has commenced in the designated cull zone, following a week after shooting ...
Cogent restructures UK businesses
Dairy and beef genetics firm Cogent Limited has announced the full integration with Dairy Daughters, World Wide Sires UK and Cogent Breeding UK busine...
Trial shows potential of active live yeast to alleviate acidosis
Supplementing dairy cows fed an acidosis-inducing diet with an active live yeast improved dry matter intake (DMI), milk yield and rumen pH, according ...
Three top Jerseys in the UK's largest ever catalogue for the breed
Cogent's involvement with the Jersey breed has been stepped up a gear this autumn, as the company launches by far the largest and most comprehensive J...
Liver fluke treatment re-introduced by MSD
The flukicide drench ZANIL has been re-introduced into Great Britain by MSD Animal Health as a treatment against chronic liver fluke in cattle and she...
China's growing appetite for beef
Beef consumption in China has risen steadily over the last few years. According to a new report, rising incomes, dietary shift and urbanisation are dr...
RSPCA says badger cull farmers will not be named after NFU complaint
Farmers involved in the badger cull will not be named and shamed by the RSPCA as a result of an investigation by the Charity Commission. The NFU r...
NFU calls for Scottish CAP deal as figures show decline in beef herd
NFU Scotland has repeated its call for Scotland's beef sector to secure a meaningful deal from CAP reform after figures showed another alarming declin...
Gloucestershire police deployed as badger cull begins
Police have been deployed in parts of Gloucestershire to provide 'reassurance' to communities at risk of disruption as the badger cull pilot schemes a...
Survey shows continuing improvement in udder health
A continuing trend of improvement in udder health in British dairy herds is the positive headline from the fifth annual National Mastitis Survey compl...
Farmers win injunction over badger cull protesters
A High Court judge has granted the NFU and a number of other claimants an interim injunction to protect farmers in and around the pilot cull areas fro...
Thousands sign badger cull e-petition
An e-petition opposing the planned badger cull programme which was signed and promoted by various organisations, has broken the record for the largest...
Foundations for next food scandal being laid as retailers move away from shorter supply chains
The foundations for the next food scandal are already being laid by some retailers as they edge away from shorter supply chains that were promised fol...
Scottish livestock numbers 'decline markedly' over the past decade
Scotland must be allowed to calculate coupled payments of up to eight per cent of the UK ceiling in order to help stem the decline in breeding sheep a...
Former genomic sires now with world-class daughter proofs
Two leading bulls to emerge from the UK proof run this week are building farmer confidence in genomic technology. Each of the bulls - De-Su Bookem and...
Two UK bulls give international leaders a run for their money
A former number one bull with outstanding health and fitness traits returns to his breed-leading position in the new Holstein bull proofs for August 2...
Hereford breeder wins Idris Davies Memorial Award
Hereford breeder George Thorne from Studdolph Hall, Steynton, Milford Haven, is the winner of the Idris Davies Memorial Award for 2013, announced at t...
Most popular year yet for Natural England grant scheme
From Northumberland to Cornwall, farmers in 79 priority catchment areas of England have submitted more applications than ever before for funding from ...
Heath announces new rules to halt spread of bovine TB
New rules to stop the spread of bovine TB, including more targeted support for badger vaccination are being introduced. Stamping out infection in a...
Cameron makes badger cull pledge
A fresh commitment has been made by Prime Minister David Cameron to eradicate bovine tuberculosis (bTB) at the North Devon Show. Speaking at the sh...
Compassion to march against live exports in London
A march is expected to go ahead in London on the 10th of August held by Compassion in World Farming against the live export of farm animals. Over ten ...
Glympton Glespin K470 wins 2013 Aberdeen-Angus
The Aberdeen-Angus Cattle Society National Show, held at Perth Show, Scotland, saw judge Colin Hutchings tap out Glympton Glespin K470 as his overall ...
Charollais champion sells for 1,500gns at NSA ram sale
The last minute sale of the Charollais champion for 1,500 guineas injected real excitement into the NSA Wales & Border Early Ram Sale yesterday at the...
Vet associations cautious as TB tendering plans revealed
Veterinary associations have reacted cautiously to the announcement by AHVLA outlining details of a new model for the supply of veterinary services to...
Scottish livestock groups map out CAP priorities
A number of key Scottish stakeholders have mapped out the priorities that they believe should underpin the delivery of support to Scotland's livestock...
Efforts ongoing to assist ranchers impacted by drought
As severe drought conditions persist in certain regions throughout the country, the U.S. Department of Agriculture's (USDA) Farm Service Agency (FSA) ...
Judge announced for Ireland's Dairy Livestock event
The judge of the 30th Diageo Baileys Irish Champion Cow Competition which takes place on 21st August at the Virginia Show, Co. Cavan is Canada-born Ly...
Lack of grass concerns beef and sheep producers
The hot July weather has burnt off many pastures and supplementary feed manufacturers are experiencing a surge of enquires from cattle and sheep produ...
Wildlife trust to attempt badger vaccination programme
The Hampshire and Isle of Wight Wildlife Trust will begin staff training in August and September to prepare for a programme of badger vaccinations on ...
Arla's Ashby closure puts 370 jobs at risk
A dairy and distribution facility at Ashby-de-la-Zouch owned by Arla Foods is set to close in April 2014, and could result in the loss of up to 370 jo...
Environmental boost at Royal Welsh Show
The welfare of livestock exhibited in heat-wave conditions at this year's Royal Welsh Show was given a boost by a £15,000 project to improve ventilati...
Singaporean visit 'aimed to increase confidence in UK beef'
A delegation led by Dr Chew Siang Thai, Director General of the Agri-Food and Veterinary Authority (AVA) of Singapore has visited the AHVLA to learn a...
Irish beef partnership avoids the feeding crisis
Dr Steve Collins, a beef farmer from West Cork has found an innovative way to avoid the Irish feeding crisis. Steve, a founder of the Dingle Dexter B...
Strategy aims to keep low risk of TB in Cumbria
A Government strategy which aims to keep Cumbria at low risk of bovine TB and eventually free of the disease entirely is to be discussed in Carlisle n...
French research institute chooses BouMatic as dairy partner
BouMatic, dairy equipment and chemical manufacturer, has been chosen as the partner for the "Research unit into animal feed most beneficial to dairy c...
Alasdair Houston re-elected Charolais chairman
Ralph Needham has been elected Charolais society president. A former chairman who joined the British Charolais Cattle Society in 1968 farms a mixed fa...
Horse DNA detected in meat pie from Latvia
A frozen meat pie product that was found to contain horse DNA has been withdrawn from sale. The pie is a Galdin Klajies product manufactured in La...
Scottish hopes for BVD eradication 'can be achieved'
Initial BVD testing results show that Scotland's ambition to eradicate the costly cattle disease Bovine Viral Diarrhoea (BVD) can be achieved, accordi...
British calf registrations drop 5% since start of 2013
The latest update on GB calf registrations from the British Cattle Movement Service (BCMS) reveals a decline of 5% since the start of the year. The st...
UK students heads to USA to investigate genomics in cattle breeding
Asda/ABP BeefLink is supporting one young farmer as she heads across the Atlantic to investigate the use of genomics in modern cattle breeding. Sta...
Network of fraudulent companies behind horsemeat scandal - MPs
Influential MPs believe a complex and highly organised network of companies fraudulently mislabelling meat is behind the horsemeat scandal. MPs hav...