Cattle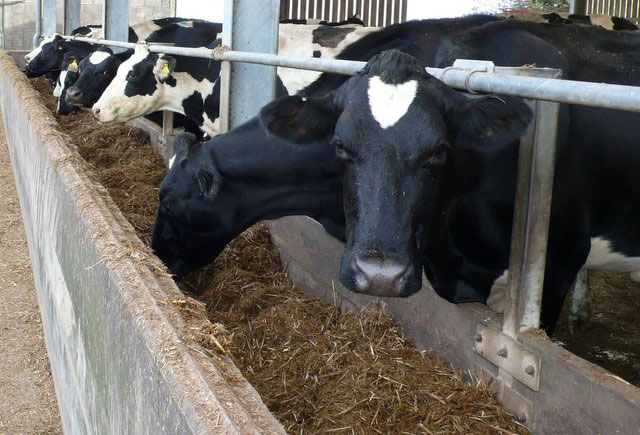 South Devon cattle breeders celebrate at National Show
More than 100 South Devon cattle put on a stunning display at the breed's National Show last week. Hosted by the Devon County Show this year, the N...
Schmallenberg vaccine ready for use this summer
UK farmers will be the first in the EU with access to a vaccine to help protect sheep and cattle against birth defects caused by the Schmallenberg Vir...
Schmallenberg surveillance results out
The first round of Schmallenberg surveillance testing in Scotland is almost complete with no positive samples identified. NFU Scotland, working wit...
Tough times ahead for farmers, says Quinney
The next 12 months are going to be 'tough for farmers' as the adverse weather conditions continue to have a knock on effect according to NFU Vice Pres...
Compensating for delayed spring grass growth
This year's severely delayed start to grass growth makes it all the more important to maximise conversion of grass to live-weight in growing cattle, a...
New website for easy registration on calf health programme
A new website has been launched by Zoetis (formerly Pfizer AH) for registration of calves on the SureCalf® pre-sale pneumonia protection programme. La...
Pasture-fed livestock group grows after horsemeat scandal
The Pasture-Fed Livestock Association (PFLA) has experienced a surge in interest since horsemeat DNA was confirmed in some processed foods on sale in ...
Nomad cattle undermines NI beef prices, say retailers
Northern Ireland's beef industry can profit hugely from the horsemeat scandal if purchasing focuses exclusively on UK-only beef cattle that are backed...
Vital vaccine shortfall for hill farmers
Hill farmers may struggle to control tick-borne diseases in their flocks this season after it emerged that supplies of vital vaccine have been disrupt...
Cheshire Show's efforts to raise awareness of rare breeds receive backing from rural TV star
The Cheshire County Show is supporting the Rare Breed Survival Trust (RBST), which celebrates its 40th anniversary this year, by giving the public the...
Mega farm fears threatening UK livestock production
Growing urbanisation of the British countryside is threatening national food production, says the National Pig Association. There are concerns tha...
NFU challenges Tesco to commit to British farming
The National Farmers' Union has called on Tesco to help bring profitability back to British farming after the commercial director for the retailer, Ke...
Farmers asked to share TB incidence to improve disease control
The South East and South West Wales Regional TB Eradication Delivery Boards have joined in the fight against bovine TB in Wales by launching a pilot s...
Phenylbutazone detected in horsemeat of 'low concern' says EU
A joint assessment from the European Food Safety Authority (EFSA) and the European Medicines Agency (EMA) has concluded that the illegal presence of r...
Arable and livestock co-operation 'needed this spring'
Arable producers struggling to get crops drilled should take advantage of the forage shortage in the livestock sector and grow maize, suggests James T...
NFU Scotland calls for assistance for storm-stricken farmers
Scotland's leading agricultural body, NFU Scotland, has reiterated its call to the Scottish Government for assistance to mitigate the worst effects of...
Welsh milk producers look ahead
Welsh dairy farmers expect their milk buyers to seek markets that maximise in full the value of milk and dairy products in order to secure future supp...
FSA to review its response to horsemeat scandal
The FSA Board today agreed that a review will be carried out into the Agency's response to the recent incidents of adulteration of processed beef prod...
Schmallenberg disease confirmed in Dumfriesshire
The first confirmed case of the Schmallenberg disease has been identified on a Dumfriesshire farm after birth defects were found in a calf. Spread ...
Beef producers need fair pay to prevent labelling scandals
The most recent results of horsemeat substitution tests in beef products confirm that inattentive retailers have allowed both consumers and beef farme...
Financial pledges made as farmers remove perished livestock
Up to £250,000 will be available to reimburse farmers for the cost of removing sheep killed in freak snow in England last month, Farming Minister, Dav...
Support payments for beef farmers 'imminent'
The Scottish Government has announced that support payments for beleaguered beef farmers is 'imminent'. Farmers should begin to receive Scottish Be...
More farmers battling TB as 3,000 cattle culled in a month
The number of cattle slaughtered because of TB has risen again this month bringing the total number of cattle culled to 186,664 (from January 2008 – J...
Dairy farmers 'losing confidence,' says survey
DairyCo's Farmer Intentions Survey results for 2013 has reflected the challenging year experienced by dairy farmers across the UK, with a significant ...
Farm groups call for livestock burial extension
The Country Land and Business Association has called for the temporary exemption for burying livestock perished by the recent extreme weather conditio...
UK-bred full brother to Atwood is new number one Holstein for type
Bull proofs published today by Holstein UK reveal a brand new number one bull ranked on Type Merit on both UK and international rankings. Heavenly Gol...
Livestock farmers urge government help in clean-up
Livestock farmers left to deal with large numbers of dead sheep and lambs following the cold weather have said the government has failed to enact meas...
Surveillance cameras to be used to combat TB
Infrared surveillance cameras monitoring badger visits to cattle farms will be used in a new study to determine the risk faced by individual farms of ...
Government urged to support struggling farmers
The National Farmers' Union has urged the government and landlords to support struggling farmers who have lost livestock due to the extreme weather. ...
Beef Association urges consumers to check for 'Origin UK'
The National Beef Association has said no-one 'can afford to lower their guard' or consumers could once again be buying contaminated beef products in ...
Buy British to support snow-hit livestock farmers, urge NFU
The National Farmers' Union has urged the public to 'buy British' to support livestock farmers affected by the recent extreme weather conditions. T...
Spring season 'will bring high parasite risks' for livestock
According to the NADIS Parasite Forecast, the spring season from April will bring high parasite risks for sheep and cattle, particularly affecting new...
'Holy grail' of foot-and-mouth vaccines developed
A group of scientists have developed a new type of vaccine to combat food-and-mouth disease which contributed to the deaths of over 7 million livestoc...
Schmallenberg confirmed on Scottish farm
Confirmation that the Schmallenberg virus (SBV) has been discovered in Scotland for the first time has come as a 'disappointing blow' to Scottish catt...
Major breakthrough in tackling production disease in dairy cows
This month veterinary practices will have access to a solution designed to reduce the incidence of ketosis in dairy herds by 74% following a single tr...
Cattle keepers set new online reporting records
More than 91 per cent of all cattle movements, births and deaths were reported electronically in February, the highest ever figure. "Every month mo...
Badger to cattle TB infections are rare, says research
The passing of bovine tuberculosis (TB) from badgers to cattle may be a 'rare' occurrence on farmland, according to new research by the Royal Veterina...
Sheep and cattle perishing in freeze
Unseasonable snow and icy conditions are causing thousands of sheep and cattle to perish along with added fears of disruptions in feed and fuel delive...
Scottish farmers battling 'worst March weather on record'
Farmers in Dumfries and Galloway and parts of Argyll and the Islands are battling through some of the worst March weather on record. Heavy drifting...
Tesco confirms price rise for dairy farmers
700 farmers who make up the Tesco Sustainable Dairy Group will receive a rise in the price they are paid for their milk to 32.77ppl, the supermarket c...
Hungarian horse meat labelled as beef
Lancashire County Council has identified traces of horse meat imported from Hungary that was labelled as beef, the Food Standards Agency has confirmed...
NFU discuss farming issues with Welsh shadow minister
Developments in CAP reform, the food chain and animal health were hot topics of discussion when NFU Cymru met with Conservative Shadow Minister Antoin...
Red Tractor beef 'leading the price lift' says Beef Association
Cattle backed by full farm assurances under the Red Tractor qualification is leading the price lift which 'could help re-build Northern Ireland's rick...
Commit to British farmers, says Dairy Coalition
The Dairy Coalition has warned buyers, processors and retailers 'must commit to British farmers' to deliver better market returns as recent reports sh...
Dairy profits drop by 13% as outlook 'remains bleak'
Lower milk prices, falling production and soaring input costs are contributing to falling profitability in the dairy industry, according to rural acco...
No place for nomad cattle in N Ireland, says beef association
There is no place in Northern Ireland for nomad cattle brought in from the Republic for immediate slaughter, according to the National Beef Associatio...
Badger cull 'backed by science' says farming minister
Farming Minister David Heath has backed badger cull calls by saying the government must do everything it can to stop the spread of bovine TB which is ...
Scotland sees decrease in livestock numbers
Scotland's Chief Statistician today published results from the 2012 December Agricultural Survey, covering winter sown crops, hay and silage productio...
Dairy farmers urged to place more calves on rearing market
Dairy farmers could secure an important place in the new push to produce large volumes of high quality, high priced beef sired by native breed bulls f...
38,000 cattle slaughtered to combat TB in 2012
In 2012, the spread of bovine TB led to the slaughter of 38,010 cattle in Great Britain, a 10% increase compared to 2011, according to new statistics ...