Cattle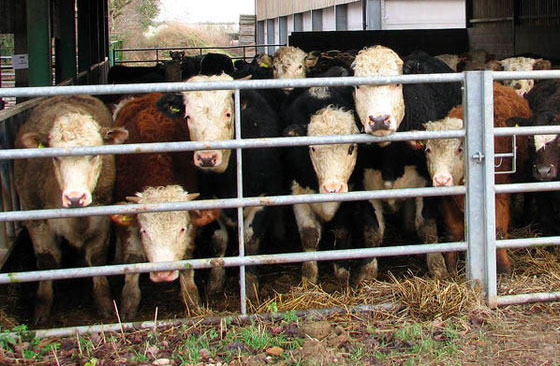 Australian beef exporters facing new hurdles
Changing dynamics in traditional key export markets are presenting both hurdles and opportunities for Australia's boxed beef exporters, according to a...
European role for NFU livestock board member
NFU livestock board member Andy Foot has been elected vice chairman of the European agricultural umbrella organisation's beef working party. Foot,...
Beef and lamb boost as Russia ends import ban
News that Russia is to lift its 26-year ban on importing British beef and lamb has been described as 'great news for the livestock industry'. Russi...
Cup winning heifer sells for £2,400
Ellesmere dairy farmer Richard Howard held off a strong challenge by defending champion Alan Morris to win the silverware at the annual dairy show and...
Farming group attacks Charity Commission on RSPCA stance
The Farmers' Union of Wales has accused the Charity Commission of 'bringing the nature of charities into disrepute by failing to confront the RSPCA' o...
Robot 'feed waiter' to be presented at Agromek 2012
A robot waiter that feeds cows automatically at the feeding table, will be presented at the Agromek 2012 Agricultural Exhibition in Herning, Denmark o...
Chester farmer elected as CLA Cheshire Chairman
David Rowlands, who farms rare breed Red Poll cattle at Mickle Trafford, has been elected as Chairman for the CLA's Cheshire Branch. Edward Clark,...
NFU attacks RSPCA over badger warning
The National Farmers' Union has said the RSPCA 'overstepped the mark' over comments made about 'naming and shaming' people involved in the badger cull...
Muller Wiseman raises milk producer price
Dairy farmers who supply Müller Dairy and Robert Wiseman Dairies are to see their milk price rise to 30.5 ppl. But Farmers for Action campaign grou...
Competition key to livestock success - LAA chairman
The newly appointed chairman of the Livestock Auctioneers Association says he is looking forward to working hard to ensure livestock producers will co...
Paterson to lead dairy delegation to China
Environment Secretary Owen Paterson will be due in China as he attempts to boost the UK dairy industry in the region. The Environment Secretary wil...
Tesco agrees £25m UK beef and pork deal
Tesco has announced it is to launch direct contracts with beef and pork farmers in a £25 million annual deal with better prices. The changes will ...
Dairy turmoil must not be repeated says NFU
Later this week the NFU is expected to tell a House of Commons Committee that the dairy 'turmoil' of 2012 must not be repeated as a part of its inquir...
Liver fluke in top 10 diseases to beef cattle
According to the latest National Animal Disease Information Service (NADIS) Parasite Forecast, liver fluke was rated in the 10 most important diseases...
Livestock producers are under pressure says NFU
Beef and sheep farming cost pressures mean that most average producers are still making a loss before the single payment, the NFU said today. Lives...
Martin Smith promoted as Ufac's sales manager
Eleven months after joining Ufac-UK as area business manager, Midlands, Martin Smith has been promoted to national sales manager for the UK and Irelan...
Government remains committed to TB eradication despite vote
Today's backbench business debate was an opportunity for MPs to discuss the government's TB eradication programme, the NFU said today. A vote of 1...
Cattle with pre-fix UK9 ear tag 'should be selling at average price'
Over recent weeks Northern Ireland's beef farmers have asked a question and the only answers have come from within the Republic of Ireland (ROI) – and...
Badger cull delay could spark assessment of RBCT trials
The decision to delay the badger cull in England should be used to undertake a full and proper assessment of the impacts of the Randomised Badger Cull...
Global droughts curb meat consumption
Global meat production rose to 297 million tons in 2011, an increase of 0.8 percent over 2010 levels, and is projected to reach 302 million tons by th...
NFU writes to Defra to urge 2013 badger cull
The National Farmers Union (NFU) have written to Environment Secretary Owen Paterson to request that the pilot badger culls in West Somerset and West ...
RSPCA expresses delight as badger cull halted
The government has announced today that plans for a badger cull in Somerset and Gloucestershire, which had been due to start any day, have been put on...
Defra announce new TB measures
Defra has today announced changes to the rules around the movement of cattle to help prevent the spread of bovine TB. The changes will start on Ja...
Large-scale can be sustainable, but industry needs to address perception issues
Large-scale livestock farming can be sustainable, but the UK now needs to take a proactive approach to establish an evidence base and best practice st...
RSPCA accused of bullying after badger cull threats
The NFU has accused the RSPCA of hypocrisy after farmers were warned they could lose their valued Freedom Foods status if they supported or allowed ba...
75,000 Welsh cattle slaughtered due to TB in last 10 years
Over 75,000 cattle were slaughtered in Wales in the last decade (2002-2011) as a result of bovine TB, equivalent to more than the total number of adul...
Importing cattle from Republic 'damages NI's economy'
Northern Irish farmers have reacted strongly after confirmation that 14.6% of their prime cattle kill during last week in September was imported from ...
TB vaccine 'remains years away' say farming groups
A cattle vaccine to help control bovine TB in the future 'remains many years away' according to farming groups. Unions such as the NFU have admitt...
Farming groups 'stand firm' behind TB badger cull
Farming groups have said they will 'stand firm' behind the government's TB eradication policy, which will include pilot badger culls. Critics say ...
Farmers warned on Schamellenberg virus signs
Welsh farmers were today urged to be vigilant following the detection of Schmallenberg Virus (SBV) antibodies in three cows and one calf on premises i...
Census shows need for CAP payments
The latest agricultural census in Scotland highlights the need for continuing Common Agricultural Policy coupled payments. That was the message fr...
Muller Wiseman increases milk price to 29ppl
Dairy farmer suppliers to Robert Wiseman Dairies and Müller Dairy are to get an increase in the milk price they receive. The Company has also reaf...
Welsh gov't 'should pay for pre-movement of cattle testing'
The Farmers' Union of Wales is calling on the Welsh Government to pay for pre-movement bTB testing of cattle following its U-turn over a badger cull t...
Learn from EID mistakes, European policy makers warned
European policy makers have been urged to 'learn from their mistakes' on the law governing the electronic tagging of sheep when implementing new rules...
Dairy farmers face tax bills 'despite making a loss'
Dairy farmers are likely to face worrying tax bills this winter, despite many producing milk at a loss following well-publicised price reductions by p...
Pressure mounts as Arla increases price of milk
Members of the NFU Cymru Milk Board have renewed their challenge to other milk buyers to urgently reverse the price cuts implemented in May and June f...
Three new Holstein bulls launched at Livestock 2012
Three new Holstein bulls representing cutting-edge genetics, A2A2 milk and outstanding daughter fertility have been launched this week at Livestock 20...
Beef industry future under the spotlight in new report
The UK beef sector, a supply chain that generates £2.8 billion for the economy and provides 440,000 jobs in England alone, faces 'significant challeng...
Farmers challenge Defra movement proposals
Proposed changes to simplify livestock movements could potentially make keeping sheep more burdensome, the NFU has warned. It comes following a mee...
Price volatility is not going away, livestock farmers warned
Livestock and dairy farmers have been warned to keep a close eye on the costs of production as input price volatility is 'here for the foreseeable fut...
Associations warn against NVZ changes
Farming associations have criticised the changes to the Nitrate Vulnerable Zone (NVZ) programme introduced by Defra this week. The NFU said the ch...
At Livestock 2012: Broadwood International
Broadwood International bring Hustler Chainless Balefeeders and SweepEx push brooms to Livestock 2012. The Livestock Event is Europe's leading eve...
Dairy coalition challenges buyers to reverse price cuts
Members of the Dairy Coalition today renewed their challenge to milk buyers to urgently reverse the price cuts implemented in May and June. The co...
What is the real cost of cheap food?
With increasing public awareness of animal welfare, how much more are people willing to pay for the happiness of the animals they eat? Innovative r...
Empowering dairy farmers 'will be legacy of the protests'
Harnessing the collective strength, created by dairy producers who protested against farm gate milk price cuts, into something positive and empowering...
Yeast diet can increase margins by £13 per bull
A new bull beef trial at Harper Adams University College suggests the dietary inclusion of a fermented yeast culture can increase margins by at least ...
Cuts could leave council vulnerable to animal diseases
Data on animal movement that may be essential in the event of a disease outbreak such as food and mouth, will no longer be kept on file by Cumbria cou...
New Holstein front-runner in generally stable August listing
There's a new number one bull at the top of the Profitable Lifetime Index rankings published today by DairyCo Breeding+, but a close analysis of the f...
Welsh bovine TB measures are 'draconian', says NFU
Welsh dairy and beef farmers are facing difficulties due to 'draconian' bovine TB cattle control measures introduced by the government, according to t...
World feed prices continue to pressure producers
Adverse weather conditions in many parts of the World have caused prices for wheat and soya to rise rapidly in recent weeks, putting severe pressure o...