Cattle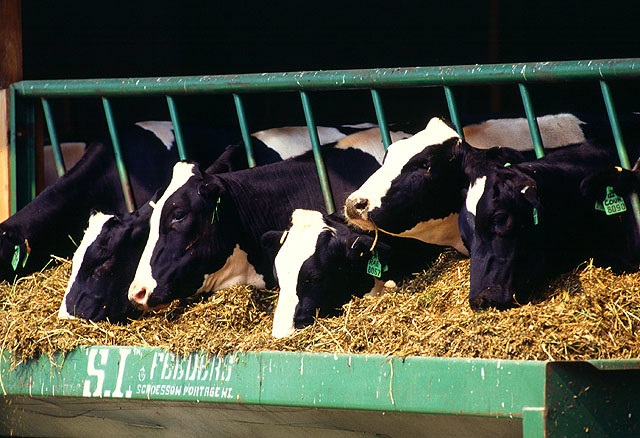 Arla Foods looking to recruit as work starts on new dairy
Arla Foods brought in the earth movers to start building its '150 million fresh milk dairy in Aylesbury at the beginning of February, and is loo...
Positive future for livestock farmers
"Everyone aspires to eat red meat, it is the protein of choice and we as farmers have an obligation to feed the growing global population." This was t...
More EID reforms needed, say UK farming unions
Further reform of sheep EID regulations is desperately needed to help farmers already struggling to keep on top of inappropriate requirements. That...
Biggest ever NBA Beef Expo will include top farm tours
Plans for the National Beef Association's renowned Beef Expo ' held this year at the Three Counties Showground, Malvern, Worcestershire, o...
Top UK beef farmer to speak at Welsh meetings
The National Beef Association (NBA) has teamed up with Farming Connect to offer four meetings in Wales next month, all including a presentation from a...
Will euro fears spark export drive?
Farmers are being urged to look into new export potential for their beef and lamb which could help to make up for the uncertainty over the future of t...
Action to boost meat exports
Extra '300k to promote Scotch Beef and Scotch Lamb sales in Europe Support for Scotch Beef and Scotch Lamb is being ramped up with '300...
Lely Astronaut A4 milking robot wins award
The Lely Astronaut A4 milking robot has been acclaimed as 'Agricultural machine of the year 2012' in Poland. This prestigious award, grant...
New bulls added to Cogent breeding portfolio
Continuing to dominate the Jersey rankings, Cogent Breeding has added newly available Potterswalls Belles Pride and DJ Holmer to its elite proven port...
Feed efficiency project secures grant funding
The East Yorkshire-based Beef Improvement Group (BIG) has been awarded a '1.2 million grant from the Technology Strategy Board, for a project de...
Joint meeting results in formation of industry core group on CAP
Joint NBA Scotland and SBCA meeting results in formation of industry core group on CAP and unanimous strategy for a single body in the future. Str...
Conference to reflect on responsible cattle breeding
The farming conference season is in full-flow and the end of January sees beef and dairy specialists take centre stage at the British Cattle Conferenc...
Next generation meets with Paice to discuss future
The Minister of State for Agriculture and Food, Jim Paice, will meet with the NFU's Next Generation Policy Forum today to support the crucial ro...
Crisp trade wins CCM Stockperson of Year recognition
Yorkshire Dales cattle and sheep farmer Robert Crisp, of Nelson House, Calton, is Craven Cattle Marts' Stock Person of the Year for 2011. Th...
Separation is the answer to slurry storage, handling and utilisation issues on West Sussex dairy farm
Separating the constituents of slurry into liquid and solids has transformed management of cattle waste on a West Sussex dairy farm. It not only resol...
AIC calls for promotion of seed specialists
The seed trade needs to promote the role of the seed specialist and the benefits of Certified seed, says AIC Seed Sector Chairman Paul Taylor. Spe...
Gleadell Market Report - 02/12/2011
GRAIN MARKETS - David Sheppard, managing director WHEAT Argentina approves an additional 2.7mln/t of 2010/11 wheat for export, boosting the total ...
No.1 type bull now available
World Wide Sires UK (WWS UK) now has semen available from Regancrest S Braxton EX94, the US no.1 type bull in breed. The new graduate is from a pe...
Dairy cows, inside or out?
Researchers at Harper Adams University College are investigating whether the amount of grass dairy cows have access to affects their preference to be ...
Farmers See Fodder Solutions at Open Day
Farmers and livestock managers travelled from around the country to the Fodder Solutions seminar and workshop for the opportunity to see the system in...
NFU to launch integrated British Beef awareness campaign
The National Farmers Union (NFU) is launching a new campaign to promote British beef as an exceptionally versatile and nourishing meal option. The int...
NFU praises retailers for stocking British beef and lamb
Latest findings that show more British beef and lamb is being stocked by British supermarkets have been welcomed by the NFU livestock board. The la...
Calf pneumonia affects future yields
Calf pneumonia can have an impact on future milk yield according to research unveiled at a recent conference. The work, present by AFBI Heifer and She...
Master Kobe wins again
Australian Agricultural Company Limited's (AAco) flagship Wagyu brand Master Kobe has reaffirmed its claim as Australia's best beef, recei...
High ranking bulls confirm No.1 Jersey portfolio
Cogent Breeding and UK Jerseys have confirmed the strength of their joint portfolio in the latest August 2011 Jersey bull proofs with sires dominating...
No.1 bull now available sexed
UK No.1 bull, Ballycairn Tiergan, is now available sexed from Cogent Breeding. As the highest ranking bull in the world with no Oman in his pedigree,...
Frome's annual Cheese Show could well change its name to Frome Cattle Show!
Entries for this year's show, which takes place on Saturday, September 10th, has attracted a record number of entries and puts it among the lead...
Straws offered for leading Holstein sire
Leading distributor of elite bovine genetics, World Wide Sires (WWS) UK is for a limited time only offering world renowned proven bull, England-Ammon ...
Australia's best steak
Australian Agricultural Company Limited's (AAco) flagship Wagyu brand Master Kobe has been crowned 'Australia's Best Steak' an...
Countrywide Renewable Energy launches
Countrywide have announced the launch of a major new venture within their rural supply business that now gives the Company a prominent position in the...
Cows' stomachs could hold key to green fuels
Scottish scientists are investigating how tiny organisms found in the stomachs of cows could be used to create valuable industrial products including ...
Bauer appoints McCaskie Farm Supplies in central southern Scotland
Service and parts support for Bauer slurry handling equipment is available 'on the doorstep' of farmers across the central belt of Scotlan...
Bauer solutions to slurry storage pressures
When addressing slurry storage issues, minimising the volume of 'dirty' liquid is a good place to start. Drainage systems can be modified ...
Red Poll world tour visits Leicestershire
The Red Poll world conference 2011 has just taken place in the UK, with people travelling from around the world to be part of a 19 day tour learning a...
PhideliFarm Livestock Management Software launched by Phidelios
Phidelios has launched PhideliFarm - Livestock Management Software. PhideliFarm is designed to make management of sheep and/or cattle and their recor...
Rain after drought poses worm explosion threat to growing cattle
Many cattle in their first or second grazing season face a much higher than usual worm threat from a potential population explosion following recent r...
Action to eradicate cattle disease
Mandatory annual screening for Bovine Viral Diarrhoea starts in December Mandatory screening is being introduced in Scotland as the next step in er...
Fluke in cattle costs producers millions
The number of cases of liver fluke in cattle sent for slaughter continues to rise, according to figures released by the Food Standards Agency. Over a ...
Invest now or pay later
Beef and sheep producers are being urged to maximise cattle and lamb growth rates at grass this summer to avoid the consequences of another expensive ...
Gold Chip Holstein investment for show-winning potential
Holstein breeders who aspire to produce the next great show winner will be encouraged to learn of a young bull which has just hit the UK market and ha...
Countdown on to 68th Kenilworth Agricultural Show
One of the Midlands' most popular agricultural shows takes place in Warwickshire on Saturday, June 4. The Kenilworth Show attracts thousands...
NFU responds to Tesco decision to stock US beef
The NFU has responded to today's media coverage over the decision by Tesco to stock beef from the USA. NFU livestock board chairman Alistair...
Ladies in Beef encourage supermarket support
Sarah Fenwick from Calder Farm in Seascale, Cumbria, is one of a band of 25 ladies who have grouped together to form a new organisation – Ladies in Be...
Beef Open Day will highlight profitable production
Profitable, sustainable production will be the theme of a free-to-attend Open Day for existing and prospective beef farmers in the North of England on...
Farm rents continue to rise
Despite rising input costs, arable farming fortunes have improved following significant increases in commodity prices and farm rents. In recent mon...
Lancashire herd lifts yields by 900 litres despite cutting feed inputs
A big increase in silage dry matter intakes on a Lancashire dairy farm has lifted milk production by 900 litres a cow and enabled feed costs to be cut...
Bull proofs confirm strength in depth of Cogent's Visions Young Sires
This week's April bull proofs have confirmed the reliability and strength in depth of Cogent Breeding's Visions Young Sires Programme as t...
'Blueprint' holds the key to profitable beef production
Following a 'blueprint' which has delivered proven results for 10 years holds the key to profitable, sustainable beef production, farmers ...
Oman sons maintain iron grip on April proof run
As DairyCo publishes the new Holstein bull proofs this week [Tuesday, 5 April], high health and fitness sons of Oman continue to dominate the Profitab...
New red and white bloodline tops the Ayrshire list
A change at the top of the Ayrshire breed list provides new interest in the other breeds rankings, as G Edbo steps into the number one position. Havin...