Cereal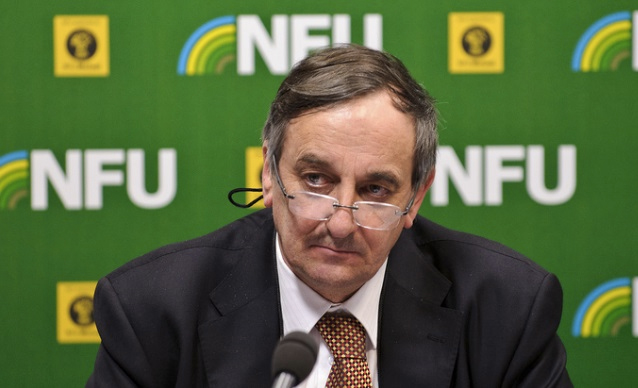 EU to recover €102m of CAP expenditure from member states
A total of €102 million of EU agricultural policy funds, unduly spent by Member States, is being claimed back by the European Commission from Greece, ...
Latest active farmer CAP rules will come as an 'enormous relief' to many
The latest rules covering the ability of genuine farmers and growers to claim payments under Basic Payment Scheme from 2015 will come as a 'big relief...
CAP definition of 'active farmer' causing distress
The RPA have published their last CAP reform countdown leaflet. This gives further detail on various issues of the forthcoming Basic Payment Scheme. ...
2014: A year of CAP reform preparations and volatile prices
2014 has been a year of learning and preparation for farmers ahead of the introduction of the new Common Agricultural Policy (CAP), which is now almos...
'Huge issues' with Russian grain export licences
EU grains closed mixed, but with wheat marching on to fresh highs for the move on the developing Russian situation. Paris wheat came within a whisker ...
Wheat market closes with strong gains amid Russia turmoil
Soycomplex Beans closed with small gains at the end of a two-sided session. A trade delegation of Chinese buyers in Chicago were reported to have s...
Be prepared for spring fertiliser applications, advises UK's leading supplier
Arable and grassland farmers should ensure that they have adequate supplies of fertiliser in store this winter to avoid being caught out in the event ...
Russian grain exports withdraw until rouble stabilises
EU grains were mixed, with wheat trading higher on further Russian jitters. Paris wheat closed at its highest levels since May. The day ended with ...
Gossip abound over Russia grain export restrictions
Soycomplex Beans closed lower on concerns about the Chinese economy and with a weaker Brazilian real heading bearish influences. The latter trigger...
Welsh beef producers under pressure from fragile market
The current fragile state of specialist beef production was highlighted at a recent NFU meeting when it was reported that the number of beef cattle, o...
US corn harvest report indicates record crop
The overall quality of the United States' 2014 corn crop was good, with 88 percent of samples rating at grade No. 2 or better, according to the U.S. G...
EU cereal yields above five-year average, says EU Commission
EU grains finished the day higher, with Jan 15 London wheat up GBP2.25/tonne to GBP132.25/tonne; Jan 15 Paris wheat was EUR1.25/tonne firmer at EUR190...
EU winter wheat conditions 'take turn for the worse'
Soycomplex Beans closed around 7 to 8 cents lower. Weekly export inspections were 1.82 MMT, down from 2.2 MMT a week ago, but still a decent volume...
Upsurge in pulse crop growing prompts further roadshows
An upsurge of interest for pulse crop growing in the spring has prompted the further spread of the popular PGRO Pulse Roadshows for 2015. An addit...
Simplification of CAP 'top priority for 2015'
Simplification of CAP is a 'top priority for 2015' according to farming union leaders who met recently with the new European Commissioner for Agricult...
Potato Council conference tackles key industry concerns
The recent Seed Industry Event held in Crieff on 25 November 2014 did not shy away from discussing some of the top concerns that our industry has. PCN...
UK farmer confidence falling, according to new survey
Falling farmgate prices and market price volatility have contributed to a drop in farmer confidence, a new survey by the NFU has revealed. After th...
USDA could lower projected wheat exports
Soycomplex Beans ended with fairly modest 5-6 cents gains ahead of the release tomorrow's USDA WASDE report. That is expected to reflect the curren...
EU wheat down as Russia declines to discuss grain restrictions
EU grains closed mostly lower, with wheat down after the Russian Deputy PM said that the subject of possible grain export restrictions hadn't even bee...
'Light at the end of the tunnel' for UK farming sector
Volatile markets will continue affecting many agricultural businesses in the short term, but with continued growth in both global population levels an...
Why are we using asphalt in silage clamps?
Why are they using Asphalt in Silage clamps for concrete protection? Asphalt contains Dioxins which is harmful to humans and should not be used in ...
Russia emerging as active grain sellers
EU grains finished a choppy two-sided start to the week mostly higher. At the close Jan 15 London wheat was up GBP1.10/tonne to GBP130.10/tonne, Ja...
RPA 'must stay focused' as it makes record payments
The Rural Payments Agency (RPA) has already surpassed last year's performance on Single Payment Single (SPS) by making more payments than ever before ...
Government CAP plans 'will fall short' of expectations
Many nations in Europe are toiling with implementing the new CAP arrangements, according to UK farming union officials. NFU Scotland's President Ni...
EU frameworks 'hindering agricultural productivity'
European agricultural productivity is being 'affected by the current EU regulatory framework', farming representatives were told as they gathered in B...
Autumn Statement: What it means for farmers
The freezing of fuel duty for a further year, exempting apprenticeships from national insurance, and a further extension to small business rate relief...
Farmers urged to respond to European crop consultation
The Crop Protection Association (CPA) has called on farmers and the wider agricultural industry to respond to an important European consultation which...
Potential problems with Russia fuelling latest grain rally
EU grains closed mostly higher again, with Jan 15 London wheat up GBP0.70/tonne at GBP132.50/tonne, Jan 15 Paris wheat jumped EUR4.00/tonne at EUR188....
Wheat market jumps to new highs
Soycomplex Beans ended barely changed. Weekly export inspections were large at 1.85 MMT, although figures like this are now almost becoming routine...
CAP advice available for livestock farmers at Smithsfield Festival
Vital Common Agricultural Policy (CAP) information on greening and how new and young farmers can receive payments will be available for livestock farm...
Falling prices rock farm stability as RPA promise early payments
The Rural Payments Agency (RPA) has announced the values of entitlements for the three English regions under the 2014 Single Payment Scheme (SPS). ...
Russia grain tariff 'raises eyebrows'
EU grains opened in the red, following a slump in crude oil values, which staged their own "Black Friday" by falling to to 4-year lows after OPEC's de...
CropTec wows visitors and exhibitors
CropTec 2014 had a positive reaction with visitors delighted by its mix of technical information and new technology on show and exhibitors impressed b...
'Unanswered questions' remain over Countryside Scheme
The Countryside Stewardship Scheme will contribute around £900 million to rural businesses to help them improve the countryside environment. Many infl...
Russia forecasting low grain crop, rouble weakness
EU grains closed mostly higher, with London wheat closing above GBP130/tonne and Paris wheat over EUR180/tonne for the first time on a front month sin...
Farmers 'should now know the rules' as Defra clarifies CAP issues
Further clarification of some of the more controversial elements of the new Common Agricultural Policy has been issued by Defra ahead of its introduct...
Germany bulk of wheat business, Friday trade likely to be thin
Soycomplex Beans and meal drifted lower, despite strong weekly export inspections (again) for the former of 2.784 MMT and the USDA announcing 235 T...
UK sowing conditions 'excellent', EU grains trade firmer
EU grains traded mostly firmer, doing their best to ignore weakness in the overnight US globex markets, possibly in the belief that European wheat pri...
Arable challenges discussed at NFU conference
Arable farmers in Wales had the opportunity to learn more about overcoming some of the challenges facing the sector earlier this week, thanks to a joi...
Corn market closes with double digit losses; not a good week for wheat
Soycomplex Beans and meal fell hard, closing more or less at session lows. "Market sentiment seems to be shifting to one of risk reduction with Dec...
Farmer survey highlights loss of azole fungicide fears
A new farmer survey demonstrates that farmers and growers have real concerns regarding the potential loss of azole fungicides. In a recent survey o...
EU grains close mostly mixed; Sterling falls to lowest level
EU grains closed mostly mixed amidst a general lack of fresh news. Sterling weakness was again a supportive factor for London wheat, not that there's ...
Sterling weakness helps UK wheat to be more competitive
EU grains were mostly higher on the day and all were higher for the week. At the close Nov 14 London wheat was up GBP0.80/tonne to GBP124.00/tonne,...
Wheat market closes higher and posts decent gains for the week
Soycomplex Beans and meal finished lower on the day, and lower for the week, Nov 14 beans went off the board the best part of 30 cents down. "It se...
Farmers welcome €4 million fund
NFU Cymru members in Meirionnydd welcomed the recent announcement by the Deputy Minister, Rebecca Evans, of a four million Euro fund to Hybu Cig Cymru...
More investment in agriculture needed to meet future demand
More investment is needed if the agricultural industry is to meet growing demand as increasing urbanisation within an expanding middle class are boost...
Sterling weakness helps London wheat
EU grains traded mostly higher, with wheat pressing on to new highs for the recent move. At the close Nov 14 London wheat was up GBP0.80/tonne to G...
You shouldn't have to inherit to get into farming
The agricultural industry needs new blood, and while the industry dates back many centuries, it can be vibrant in the modern era, with many exciting c...
EU grains close higher on US winter wheat worries
EU grains closed mostly higher, with the exception of rapeseed. Nov 14 London wheat settled at its highest close since August. At the finish Nov 1...
Cold spell could disrupt US corn harvest
Soycomplex Beans ended giving up around half of yesterday's gains at the end of a choppy session that saw trade both sides. "Meal was once again in...