Crops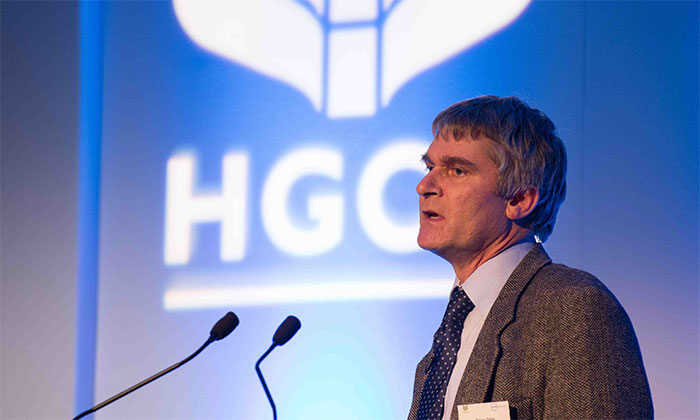 LFASS anomalies 'must be corrected under fairer CAP'
The drive for a fairer CAP is right, says NFU Scotland President Nigel Miller, but direct agricultural support cannot be truly equitable until anomaly...
South East Potato Day 2013
Potato growers, advisors and agronomists met at Quex Park in Kent at the end of June to get the latest technical information at a Potato Council's thi...
Fair deal on CAP a necessity, says industry
The CAP coalition, led by the NFU, the CLA and the TFA, met at the Great Yorkshire Show today to reinforce its message to the Government. There ar...
What has happened to this year's winter oilseed rape crop?
An recent survey of UK farmers conducted by the Kleffmann Group has revealed that 22% (155,000 ha's) of the originally planted winter oilseed rape cro...
Chicago grain market report - 9th July 2013
Soycomplex Front month July beans closed higher, but all other positions were lower on a combination of a strong dollar and a non threatening weath...
The science behind weed control
Formed in April 2011, the James Hutton Institute is a leading, multi-site scientific organisation encompassing a distinctive range of integrated stren...
CAP reform implementation 'must respect farm tenants'
Tenant Farmers Association National Chairman, Jeremy Walker, will use a speech to a high level seminar on CAP Reform in London on Thursday to say that...
Cider consumption continues to soar
Consumption of cider has increased by 50% in the past decade. In addition to courting emerging cider markets such as the US, there remains significant...
Strong hybrids gaining in popularity research shows
Two thirds of UK crop producers now grow hybrid oilseed rape, according to latest research commissioned by seed breeders DSV UK Ltd. The survey of ...
Humphrey Feeds Commodity Report - 8th July 2013
Generally a quiet week as the US markets took a July 4th holiday, but next week could be different as their traders all come back to work refreshed to...
Slow growing beet needs green leaf protection
Sugar beet crops are still around three weeks behind normal this year, after the late and slow start to the growing season. Many crops are also extrem...
Feed producers Vivergo to open new plant
Bioethanol refinery and animal feed producers Vivergo will today open a new plant in the Humber Estuary. The National Farmers' Union said the plant...
US corn planting acres 'highest level since 1936'
David Sheppard, Gleadell's Managing Director, comments on the wheat market. WHEAT - USDA reports corn planting at 97.379mln acres, defying forec...
Barley buyback contracts urged as brewing demand slows
Winter malting barley growers are advised to secure a good buyback contract to protect their margins when purchasing seed for the new season. Malts...
MP questions Ministers over upland farm support
During Defra Questions in the House of Commons, Brecon and Radnorshire MP Roger Williams raised his concerns regarding the reform of the Common Agricu...
Despite weather extremes, EU cereal production 'expected to be higher'
This year total cereal production in the EU-27 is forecast to be well above 2012 levels and above the average of the past five years. This agricultura...
Chicago grain market report - 4th July 2013
Soycomplex For soybeans and meal it was the same old story of tight US old crop stocks and strong world demand pushing prices higher. As ever, the ...
Spring barley's Odyssey and Overture gain distilling recognition
The high yielding variety Odyssey, has been awarded the prestigious accolade of full approval for malt distilling use, and has been granted Provisiona...
RPA opens bid to promote EU agricultural produce
Trade organisations representing agricultural sectors in the UK have a fresh chance to apply for EU funding towards promotion and information programm...
Spring wheat is at risk from Wheat Blossom midge too
With much less winter wheat and much more spring wheat in the ground, growers, particularly those new to growing spring wheat, need to know that this ...
Agco names new senior Vice President
AGCO, a manufacturer and distributor of agricultural equipment, today named Eric Hansotia Senior Vice President, Global Harvesting and Advanced Techno...
Smethwick fire 'shows how dangerous Chinese lanterns are'
Farming group are urging the public to 'think twice' about releasing Chinese lanterns because of the significant risk they pose in causing fires in cr...
Ceredigion farmers meet local AM
CAP Reform and Bovine Tb were the main topics of discussion during a Ceredigion NFU Cymru on-farm meeting with local Assembly Member Elin Jones held a...
Live working machinery at UK's largest potato event
This year's Potatoes in Practice maintains high relevance for growers and the potato industry who will see increased technical content at the event on...
Politicians 'must secure competitive future for agriculture', urge farmers
The future of the agricultural industry in Pembrokeshire was at the forefront of discussions during a recent meeting of Pembrokeshire NFU Cymru office...
CAP Reform and Crop Diversity Can be Springboard for Growth
Linking CAP payments to crop diversity represents a growth opportunity for farmers, according to anaerobic digestion (AD) specialist EnviTec Biogas UK...
Protect your valuable grain this difficult season
Following a very difficult growing year, cereal and rape crops are looking a lot better, but yields are most likely to be compromised to some degree o...
Continuous high blight risk demands action
Potato growers are facing a weekend of very high blight pressure, at a time when new growth is expanding rapidly and the protective capability of blig...
Alternaria in potatoes – it's all about timing
Alternaria is already a regular and significant disease in potatoes in mainland Europe and its incidence has recently shown a marked increase in the U...
Dog attacks on livestock reach record levels
With the number of dog attacks on livestock at record levels, farm groups are urging the public to be more responsible when visiting the countryside. ...
Crop Update - 28th June 2013
Becky Ward, PGRO principal technical officer, gives the latest update on pests and diseases for peas and beans. Pests Bruchid beetles in beans ...
Grain Market Report - 28th June 2013
David Sheppard, Gleadell's Managing Director, comments on the wheat markets. Wheat - Harvest continues to move north in the US with reports of b...
Maize growth on the move
"After a slow start due to lower than average temperatures, maize growth is finally on the move. Compared to last year, sowing and establishment are m...
CAP Reform: MEPs, Council and Commission strike deal
More emphasis on environmental protection, mandatory top-ups for young farmers in all member states, stronger farmers' organisations and less red tape...
Tesco accused of 'breaking promises' on GM feed
Anti-GM group GM Freeze have accused Tesco of breaking a promise to phase out GM animal feed, thereby 'breaking commitments made in the company's soci...
CAP Reform: Implementation is the key
NFU Cymru President, Ed Bailey believes that yesterday's political agreement on CAP gives the UK the framework to allow for the implementation of a sc...
Farming unions reject 'more CAP money' calls for Scotland
The NFU has joined NFU Cymru and the Ulster Farmers Union in rejecting calls from the Scottish Government to redistribute UK CAP funds north of the bo...
Chief Scientist to present crop genetics report to EU
A report calling on the European Union (EU) to lead the world in using science to improve agricultural productivity and enhance the environment is to ...
Growers needed for Rothamsted take-all trial
Growers have the chance to work closely with experts from Rothamsted Research on how variety choice affects the disease take-all. Volunteers are n...
New CAP reform 'will penalise English farmers', says group
A new CAP negotiating position agreed late last night by the Agriculture Council will penalise English farmers and make it harder for them to produce ...
CAP Reform: Direct payments explained
The Commission, the Council and the European Parliament (EP) have today reached a political agreement on the reform of the Common Agriculture Policy –...
New herbicide kills difficult grassland weeds
Dow AgroSciences has launched a new formulation of its popular knapsack-applied herbicide Grazon 90, used against a wide range of problem weeds growin...
NFU criticise Defra as UK votes on CAP reform
With a final deal yet to be struck, the UK has supported a mandate for the Irish Presidency to take the revised CAP proposals to Brussels to be passed...
Krone baler shows biomass benefits
A trial on a Scottish farm as part of the commissioning process for a new biomass boiler has shown the benefits of creating high density bales using a...
Supermarkets not doing enough for farmers, group says
Supermarkets should do a lot better to support farmers who have been troubled by this year's cold spring coupled with last year's wet seasons, accordi...
Make the most of slow growing grass
Grass quality may have caught up after months of less-than-ideal growing conditions, but slow growth is keeping optimal feed conversion at the forefro...
Spread risk to resist Club Root
Club Root continues to spread across the UK, aided by the wet conditions that exacerbate the disease and shorter rotations practiced by many growers t...
Coveney in Luxembourg as CAP talks enter final stage
Irish Minister for Agriculture Simon Coveney arrived in Luxembourg ahead of talks between EU member states and the European Commission as CAP reform e...
Match up cereal stages and wheat blossom midge pupation
Despite generally low levels of Wheat Blossom midge this year, some crops will be at the vulnerable stage (GS 53 to 59) when the Wheat Blossom midges ...
Flies offer 'highly nutritious' replacement for soya
A biotechnology company is offering what it says is a highly nutritious replacement for soya in animal feed by farming flies. AgriProtein Technologies...