Dairy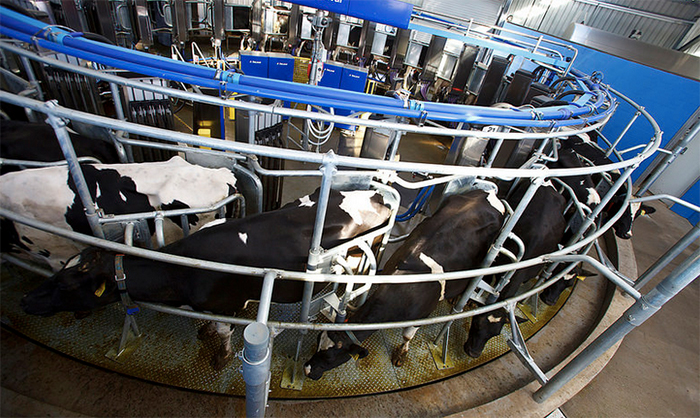 Finland's largest dairy farm opens doors to the public
Finland's largest dairy farm Finnmilk, with 600 cows, has opened its doors to the public as it starts milk production with the DeLaval AMR (Automated ...
Suffering dairy market shows signs of recovery
Though the dairy market continues to suffer from low prices, the rate of decline is slowing and could even show a price recovery predicted in the next...
Farmers 'disgusted' by Grocery Adjudicator's lack of teeth
Sharp decreases in the price of commodities, such as milk, lamb and beef, have highlighted the limitations of the Grocery Code Adjudicator. The Ten...
UK farmer confidence falling, according to new survey
Falling farmgate prices and market price volatility have contributed to a drop in farmer confidence, a new survey by the NFU has revealed. After th...
Muller announce cut in milk price paid to farmers
Müller UK & Ireland Group has given dairy farmers who supply the business a month's notice that its standard farm-gate milk price from January 10, 201...
I want to help dairy farmers, new DairyCo chairman tells delegates
I want to all all I can to help the dairy industry react more quickly to good ideas, Gwyn Jones, the new chairman of DairyCo told attendees at the Nor...
UK dairy industry honours industry star at Dairy Expo 2015
The John Dennison Lifetime Achievement Award is returning to Borderway UK Dairy Expo, held in Carlisle, for the third year running. This award is in m...
Dairy producers urged to cut feed costs
There may be little festive cheer around for dairy farmers operating in a falling milk price environment, but many producers could cut feed costs by b...
Manage dairy price volatility by 'promoting home produced products'
Current difficulties being faced by dairy farmers were discussed when Sian Davies, NFU Chief Dairy Adviser met with milk producers in Glamorgan recent...
Autumn Statement: What it means for farmers
The freezing of fuel duty for a further year, exempting apprenticeships from national insurance, and a further extension to small business rate relief...
Dairy price slash a 'kick in the teeth' for farmers
The chairman of the NFU dairy board has expressed disappointment following the latest round of milk price cuts. Dairy companies First Milk and Dair...
First Milk and Dairy Crest announce milk price cut
Dairy companies First Milk and Dairy Crest will be cutting the price paid to farmers by January, a reduction of 1 pence per litre and 1.25 pence per l...
Government must stop 'ruthless milk discounting'
Ruthless retail milk discounting is not sustainable, and ultimately will damage the sustainability of the UK dairy industry, NFU dairy board chairman ...
Arla Foods announce further milk price cut
Arla Foods have announced they will cut their milk prices paid to farmers by 1.63ppl from December. This is the second cut the company have announc...
UK dairy farmers need to build new markets overseas
Concerns with recent drops in farmgate milk prices and the volatility of global dairy markets came to the fore at a recent meeting of dairy farmers in...
Significant environmental strides for the UK dairy industry
New research shows that the UK Dairy industry has made significant environmental strides over the last six years. Preliminary results from the 201...
NZ dairy farm prices 'soaring'
New Zealand dairy farm prices have soared recently despite the significant drop in milk prices over the past months. The REINZ Dairy Farm Price Ind...
Dairy industry needs to find ways of coping with market volatility
Pembrokeshire dairy farmers voiced their concerns regarding severe farmgate milk price cuts during a well-attended Pembrokeshire NFU Cymru on-farm mee...
Is this the smallest commercial dairy herd?
Milk buyers like big collections, and dairy farmers are getting larger every year. The average British cowman looked after 75 cows in 1996 and tod...
Mansel Raymond re-elected European milk chairman
Welsh dairy farmer Mansel Raymond has been re-elected to lead dairy discussions in Brussels for the next two years. Re-elected Copa Dairy Chairman...
Dairy farmers voice market volatility concerns
Falling milk prices and the volatility in global dairy markets were put under the spotlight during a recent meeting of dairy farmers in Carmarthenshir...
Ceredigion NFU Cymru on-farm milk meeting
Aled Jones, NFU Cymru Milk Board Chairman, will be guest speaker at the next Ceredigion NFU Cymru on-farm milk meeting on Thursday, 20 November, 2014....
Make most of milk quota, dairy producers urged
Dairy producers should plan ahead to make the most of capital or trading losses before milk quota is abolished in April 2015, according to rural accou...
Farmers take dairy concerns to Defra minister
Ways of easing volatility in the milk sector were discussed by Secretary of State Liz Truss and the NFU in a meeting with President Meurig Raymond and...
Dairy Crest CEO interviewed on proposed sale of Dairy and HY results
Dairy Crest – Interim results 2014 Proposed disposal of Dairies Q: You've made a significant announcement today. Take us through it. A: ...
Dairy Crest to sell operations to Muller for £80m
Dairy Crest has today announced that it will sell its dairy operations to Müller for £80 million. The company had been plagued with problems in the...
Long-term outlook for UK dairy 'remains positive'
The UK dairy industry is facing formidable short term challenges due to global market volatility, which is set to continue, but the long-term outlook ...
Cream of dairy genetics on offer in December
An all-star line-up of high-class dairy cattle from the UK will be going under the hammer in Carlisle in Britain's Premier Elite Holstein auction in D...
Further price falls announced by dairies
Consecutive months of high domestic milk production, combined with the ban on dairy imports to Russia and falling returns from global commodity market...
NFU members plan milk meeting
Aled Jones, NFU Cymru Milk Board Chairman, will be guest speaker at the next Carmarthenshire NFU Cymru on-farm milk meeting on Wednesday, 12 November,...
First Milk to reduce milk prices from December
With effect from 1st December 2014, First Milk will reduce the price for its liquid pool by 1.4 pence per litre and for its manufacturing pool by 1.8 ...
Dairy Crest recalls milk on contamination fears
Dairy Crest Ltd has recalled certain date codes of Morrisons and Supervalu from Budgens Whole British Milk on a precautionary basis, because the produ...
Caution urged over Swedish milk study
A diet rich in milk is promoted to reduce the likelihood of bone fractures but a high intake may have undesirable effects, according to new research. ...
Future of Scottish dairy to be debated at AgriScot
The future direction of the Scottish dairy sector will be debated at next month's AgriScot event, being staged on Wednesday 19 November at Ingliston, ...
NFU sends out plea to retailers over falling milk prices
With mounting concern over the falling milk prices on global markets, NFU Cymru Milk Board Chairman, Aled Jones, sent out a plea to processors, retail...
Dairy farmers will pay for the price of milk, warns NFU
With mounting concern over the falling milk prices on global markets, the NFU have issued a call to retailers and processors to safeguard the future o...
'Extremely worrying times' ahead for farmers, says NFU
With farmers facing significant challenges heading into the winter, the Government is being urged to come forward with proposals for how they intend t...
Farmers threaten further protests as meetings held in Westminster
Further protests on falling milk prices have been announced today as the President of Farmers for Action attends a meeting with MPs in the House of Co...
NFU urges retailers over falling milk prices
With mounting concern over the falling milk price on global markets, NFU dairy board chairman Rob Harrison has issued a call to retailers both in the ...
Dairy Council attacks Daily Express article on cancer
An article by the Daily Express linking dairy consumption to cancer have been branded as 'unfounded and inaccurate' by the Dairy Council today. Dr ...
Farmers have their say on dairy crisis as prices show slight rise
"We need to keep it up and we need to intensify the protests, if we are to stop any further price cuts and start to get farmgate prices up as fast as ...
'Exciting opportunities' for Turkey's developing dairy market
Turkey's developing dairy market offers exciting opportunities in its emerging export industry with access to markets that western players have previo...
Dairy Crest signs collaboration contract with Harper Adams
Dairy Crest and Harper Adams University have signed a collaboration contract which will see 'Food Innovation Centre's' being built on campus. Dairy...
Dairy Association to meet with MPs over price crisis
The Royal Association of British Dairy Farmers is entering talks with leading MPs to express its concern over the current farmgate milk price cuts. ...
Why is the price of milk falling?
British consumers say they want to back dairy farmers after learning that the price they are paid has dropped significantly in the past few months. Bu...
Winner of NFU Dairy Stockperson of the Year announced
Carl Poole, from Meifod, Powys, has been announced as the winner of the 2014 NFU Cymru / NFU Mutual Welsh Dairy Stockperson of the Year Award during t...
Retailers 'taking advantage of dairy volatility' - NFU
Dairy farming businesses are feeling the pain following a downturn in global dairy commodity prices being translated into damaging farmgate price cuts...
Farmers plan further milk protests
"Further protests are planned for the coming week, members and press will be notified," Farmers for Action said after over 500 people attended the pro...
Retailers urged to support British dairy farmers
Support for British dairy farmers from retailers and the government is 'vital' after farmgate milk prices have plummeted following the trend on world ...
Dairy Code of Practice: 'Risks creating a division within the industry'
The Dairy Industry Code of Practice for Contractual Relations (VCOP) was agreed and introduced in 2012 to replace conflict and divisiveness between pr...