Dairy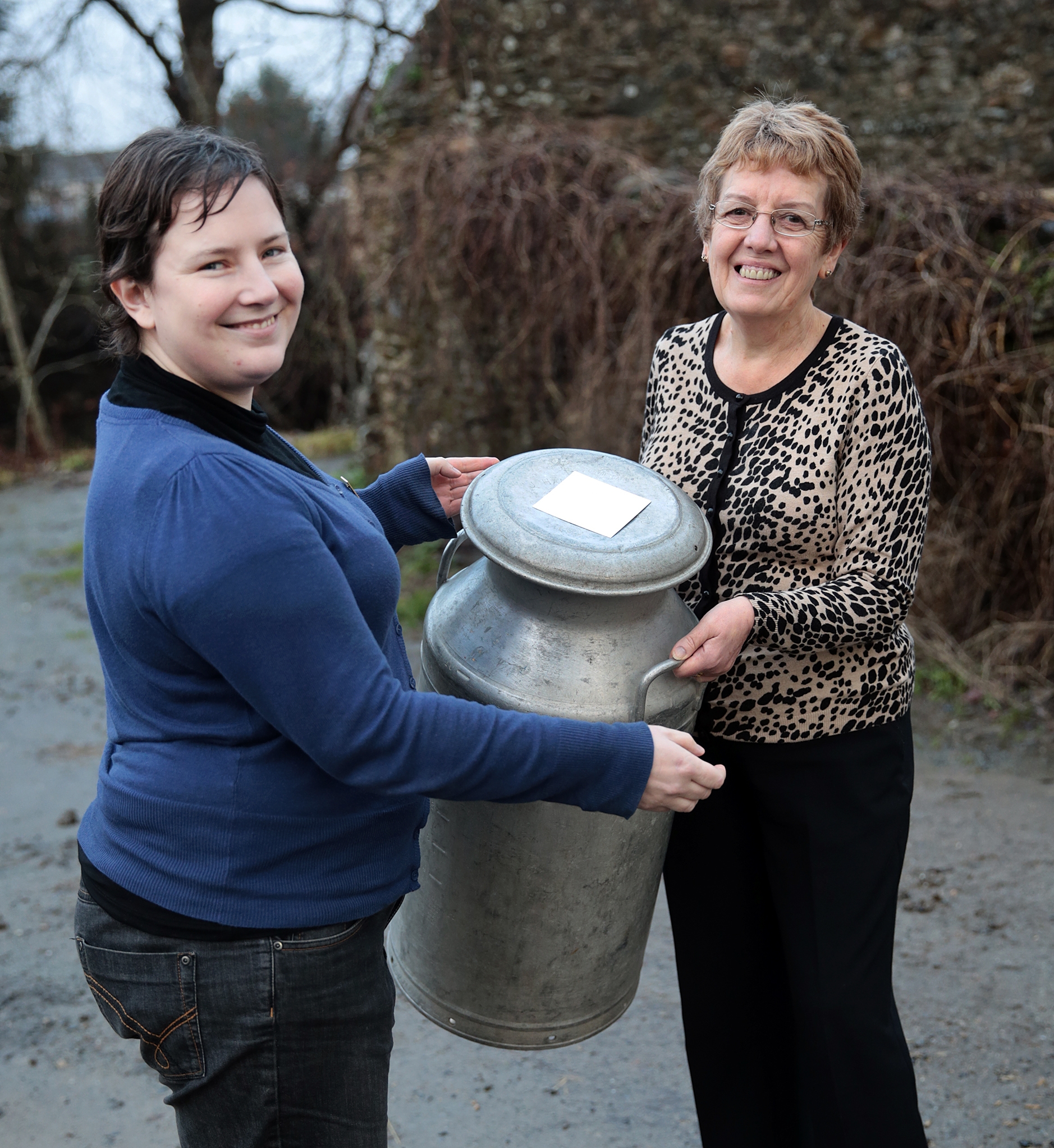 Efra report into DFB collapse offers sound recommendations to strengthen dairy sector
The NFU has described the Efra Select Committee Report on the collapse of Dairy Farmers of Britain as offering sound, sensible and balanced recommenda...
Mycosorb linked to eliminating mycrotoxins
Dairy farmers are being urged to look out for symptoms of mycotoxins following an outbreak at a farm in Dorset. A herd of 320 high-yielding Holste...
FUW opts for two-tier dairy fund distribution
Farmers' Union of Wales members have given their overwhelming support for an EU dairy fund distribution that favours smaller dairy producers. ...
Have confidence in dairy lab test results
British dairy farmers can have confidence in their milk test results says DairyCo, after laboratories taking part in the latest round of ring trials t...
Make sure you know what you're getting when buying stock
Make sure you have the most up-to-date information to avoid taking unnecessary risks with biosecurity when buying in new stock or borrowing bulls, adv...
British Cheese makers committed to lower salt levels
British cheese makers have successfully hit government targets to reduce salt in their products, a straw poll conducted by Dairy UK in the run-up to N...
EU Dairy Fund Consultation launched
Dairy farmers are being asked for their views on how best to distribute England's £16m (€18m) share of the EU Dairy Fund in a consultation launc...
Dairy industry welcomes FSA focus on milk
Dairy UK said today the Food Standards Agency's latest consumer campaign underlines the nutritional value of milk in the diet. Phase two of the ...
Consumers set for another milk revolution?
A new survey published today by the Agency, to coincide with the launch of phase 2 of the saturated fat campaign, found that people who regularly use ...
RABDF welcomes OFC keynote messages
The Royal Association of British Dairy Farmers has welcomed support for the industry expressed both by Defra Minister, Hilary Benn and his shadow, Nic...
New butter processing investment at Lockerbie Creamery
Milk Link has announced plans to upgrade its butter processing capabilities at its award winning Lockerbie Creamery. The investment of over £350,000 ...
Dairy energy savings disappointed at increase in government carbon tax
The dairy sector is disappointed about government plans to cut the rate of relief from the Climate Change Levy from 80% to 65%. The announcement appea...
National All Breeds Show to replace National Holstein Show
Holstein UK has rebranded its national show and invited all dairy breeds to take part in what will now be called the National All Breeds Show. The ...
Ensuring good welfare around calving in dairy cattle
The calving process and the days around the event are stressful for the high-yielding dairy cow. Scientists are investigating how to get the cow and t...
New feed supplement formulation boosts cows' energy levels
A new formulation of the feed supplement, Dynalac, has been launched by Newmarket-based Ufac-UK to meet the increasing demands for energy by high-yiel...
Arla Foods UK to invest in world's largest fresh milk dairy
Arla Foods UK have confirmed it is to invest in building a new one billion litre liquid milk processing facility on the outskirts of London. Today&...
Milk Link reports satisfactory first half performance
Milk Link have published its 2009 half year trading update, which reported that the business performed satisfactorily in the first six months of the f...
EU High Level Milk Group offers unique opportunity for dairy sector says NFU
NFU dairy board chairman Gwyn Jones has said that contracts are fundamental to ensuring fairness in the dairy supply chain after the European Commissi...
Milk Link's Speciality Cheese Packing Unit Opens for Business
Milk Link, the UK's largest cheese manufacturer and leading dairy co-operative, has opened its brand new, £1.4 million speciality cheese packing...
New solutions to farm staff recruitment
The challenges associated with sourcing and retaining good staff on farms throughout the UK should be reduced by the arrival of Irish based farm labou...
New vertical milk tanks save space and money
A new range of external milk cooling silos which can save space and reduce electricity bills has been launched by Fullwood under its Packo brand. ...
NFU Cymru urges retailers to choose Welsh cheese
NFU Cymru has called on retailers to make long term commitments to sourcing their cheese lines from Wales to help secure a sustainable future for the ...
EU high level group on dairy must target price volatility
Excessive price volatility, which can damage confidence, should be the main focus of the new EU High Level Group on the dairy sector, Dairy UK said to...
Industry urged to continue the fight against mastitis in cows
Mastitis control is still a big issue in the dairying world, and the industry must remain vigilant about tackling it, Dairy UK said today. Speaking...
Young British Friesian sire offered sexed to meet growing demand for robust and sustainable dairy cows
Growing demand for British Friesian genetics has prompted breeding company, Cogent, to take the unusual step of sexing semen from an unproven young si...
Feeding a moist ration to dairy cows may be a false economy
Dairy farmers can increase milk production simply by challenging the current trend of using moist feeds in their cows' diet. That is according ...
Donna Air brings a cup full of glamour to organic milk campaign
Dedicated Mum, TV presenter, actress and organic food lover Donna Air has given her support to a new campaign from the Organic Milk Supplier's C...
Balance feed to avoid acidosis
As many as half – if not more – of UK dairy cows are thought to be suffering from Sub-Acute Ruminal Acidosis, which is eroding farm profitability. ...
NFU dairy Board asks 'Where's the Money?'
The NFU's national dairy board has issued a strong message to dairy farmers that they should be challenging their buyers and representatives for...
Milk: high level group to look at long-term future of dairy sector
A high level expert group on milk will begin work next week to discuss medium and long-term arrangements for the dairy sector, Mariann Fischer Boel, E...
Cheshire dairy farmer seeks new ideas at global gathering
Cheshire dairy farmer Paul Billington will be seeking new ideas and inspiration to underpin the recent expansion of his family's Holstein milkin...
World Cheese 2009
Gran Canaria, 1st – 3rd October 2009 The World Cheese Awards, which has been bringing key cheese producers and buyers together for over two decades...
Milk Link success at British Cheese Awards and Frome Cheese Show
Milk Link, the UK's largest cheese manufacturer and leading dairy cooperative, achieved an exceptional set of results at last Friday's Bri...
Leading production and type bull ousts his full brother… then dies!
Cattle breeding company Dairy Daughters has reported a bitter-sweet success story for one of its top type and milk production bulls, Jenny-Lou Marshal...
Milk production gap still growing
Analysis of milk production data for the year 2008/9 shows that the larger British farmers have increased their share of the nation's milk suppl...
RABDF calls for accurate cheese labelling
The Royal Association of British Dairy Farmers is calling for Government to revise labelling legislation to ensure retailers declare the full source o...
Usdaw slams Milk Link for unexpected redundancies
Usdaw officials have slammed Milk Link over the surprise announcement last night of 93 redundancies at its site in Llandyrnog. The company only took ...
New route into pedigree for dairy herds closed through TB
Dairy herds which have been shut down under movement restrictions because of TB have been thrown a lifeline by Holstein UK. They will now be able t...
Dairy farmers must capitalise improving milk market forecast to grow operations
Dairy farmers need to take advantage of a predicted period of stability in the milk market to prepare for more volatility when EU quotas are removed i...
NVZ's represent crunch point for dairy sector
The Tenant Farmers Association is warning that urgent action is needed to avoid the already alarming decline in the number of dairy farms in the count...
Next generation of dairy farmers show interest dependent on profitability
The dairy sector has a future with 60% of agriculture students expressing an interest in a dairy farming career, according to succession survey conduc...
Recruitment and people management made easy
Dairy producers can get access to the latest in labour management resources, free of charge on the DairyCo website. DairyCo has developed a whole...
Inputs purchasing critical to dairy farmers' profitability, warns AtlasFram Group
Purchasing inputs at the most opportune time holds the key to farming profitability in the current financial environment, according the AtlasFram Grou...
New £7.5 million 'Make milk mine' campaign unveiled
Dairy UK is delighted to announce an exciting new advertising campaign for liquid milk, worth £7.5m over three years. The "Make Mine Milk" campaign...
New evapoature cooling brochure from Hydor
Agricultural ventilation expert, Hydor Limited, has produced a new publication on evaporative cooling. The sixteen page brochure, like all current Hyd...
Door long closed on rent increases for dairy farmers
The NFU is concerned at the requests from some landlord agents for significant rent increases at a time when returns from farming are in decline. ...
Defra minister to open the Dairy Event and Livestock Show
Defra minister, Jim Fitzpatrick will officially open the Dairy Event and Livestock Show on Wednesday 16 September, the first day of the two day event ...
RABDF calls for action to avert dairy shortages
The Royal Association of British Dairy Farmers has appealed to processors and retailers to work together in order to secure future milk supplies and a...
Applied weather information for farmers and growers
WeatherOnline has recently developed an online agricultural weather service, as part of the WeatherOnline's general weather web site (http://www...
\lessons must be learnt fom Dairy farmers of Britain collapse
The NFU have described the receiver's report on Dairy Farmers of Britain as an extremely sad story, but acknowledged that the report brings a d...