Dairy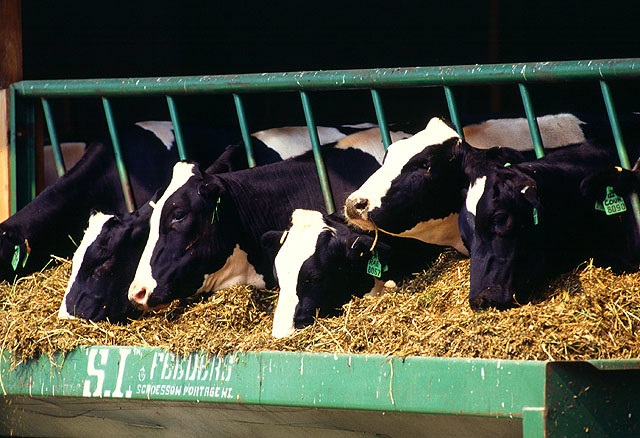 Industry bodies unite to help remaining farmers affected by dairy company collapse
The NFU has joined forces with English Farming and Food Partnerships (EFFP) and Dairy UK to offer a range of support services for dairy farmers who ha...
Dairy Farmers confidence still falling
The 2009 DairyCo Farmer Intentions Survey highlights a fall in farmer confidence from last year with the lowest level of dairy farmers intending to in...
Two more divisions of Dairy Farmers of Britain sold saving 172 jobs
Four of the depots in the liquids division of Dairy Farmers of Britain to The Capital Dairy Company Limited and the Cheshunt depot to Braeforge Limite...
Twenty years of bitter rivalry in 'Dairy wars' case
20 years of bitter rivalry has culminated in a High Court judgement laid down in London earlier today by His Honour Judge David Cooke in favour of J.N...
Minimum milk base price announced
Dairy Farmers of Britain are announcing an estimated headline price of 20p, but after estimated costs of collection delivery and overheads this nets d...
RABDF urges MPs to lobby food sector to buy British
The Royal Association of British Dairy Farmers has appealed to MPs to urge the retail and food service sector to buy British dairy products in an atte...
Receivers in talks over dairy Farmers of Britain's Blaydon site
The joint receivers and managers of Dairy Farmers of Britain are having urgent discussions with an interested party over a rescue bid for the Blaydon ...
Price Waterhouse Coopers sell part of Dairy Farmers of Britain
Stephen Oldfield, David Kelly and Ian Green, the joint receivers and managers of Dairy Farmers of Britain Limited, have sold as a going concern Dairy ...
Milk Link completes aquisition of Llandyrnog Creamery
Milk Link is pleased to be able to announce that it has completed its acquisition of the Llandyrnog cheese creamery in North Wales. The acquisition w...
Banks should give free overdrafts to support dairy farmers
The Tenant Farmers Association is calling on all major banks to support dairy farmers affected by the collapse of Dairy Farmers of Britain by granting...
Dairy Farmers of Britain (in receivership) update on Lincoln dairy
Following their appointment on 3 June 2009, the joint receivers and managers of Dairy Farmers of Britain (DFOB) are announcing the closure of the Linc...
Lloyds TSB pledge support to customers affected by Dairy Farmers of Britain collapse
Lloyds TSB Agriculture has acted quickly to offer practical support to its dairy farmer customers who hold supply contracts with Dairy Farmers of Brit...
1000 dairy farmers affected as NFU meets with milk co-op receivers
The NFU has today met with Dairy Farmers of Britain and receivers PricewaterhouseCoopers to see what can be done to help its dairy members affected by...
OMSCo to take on Dairy Farmers of Britain organic members and operations
The Organic Milk Suppliers Co-operative Limited ("OMSCo") and Dairy Farmers of Britain Limited (DFB) entered into an agreement whereby OMSCo would col...
Dairy UK briefs Brussels on dairy's falling environmental impact
On the eve of World Environment Day, Dairy UK travelled to Brussels to help present new research that puts dairy's environmental impact in conte...
RABDF urges banks to be lenient with dairy farmers
The Royal Association of British Dairy Farmers has expressed full sympathy to Dairy Farmers of Britain's 1,800 producers following the co-op&rsq...
Battle to protect farmers as milk co-op calls in receivers
The NFU has expressed its bitter anger and dismay on behalf of its dairy members who supply Dairy Farmers of Britain after it was announced receivers ...
Dairy farmers of Britain - in receivership
Stephen Oldfield, David Kelly and Ian Green were appointed joint receivers and managers of Dairy Farmers of Britain (DFOB) on 3 June 2009. DFOB is...
Farmers warn 'Stop gambling with the future of the British milk supply'
Farming leaders from across the dairy industry have issued a call on retailers and the food service sector to take steps to secure the future of Briti...
Summit discusses viable future for dairy industry
Promoting sustainability and economic stability was the focus today of Scotland's first ever Dairy Summit. Called and hosted by Cabinet Secr...
Global dairy industry experts to speak at 2009 Large Herd Seminar
Leading experts in dairy herd management, research, nutrition and health will deliver a range of fascinating presentations covering a wide range of to...
Dairy industry makes sweeping emissions reductions
Dairy processors in the UK have cut energy use for the eighth year in a row to meet their targets under the Climate Change Agreement. In fact, dai...
A new IDF report highlights how dairy contributes to sustainable development
Sustainable development strategies are now a major issue for many forward-looking organizations around the world. Challenged to adopt a balanced appro...
Beware the butterfat dip with cows at grass
With cows out to grass, it is important for dairy farmers on both compositional and liquid milk supply contracts to have a nutritional strategy to sup...
FUW tells tories scrapping milk quota will be devastating
Welsh dairy farmers have told Conservative politicians the EU's decision to scrap milk quotas by 2015 will have a destabilising effect on their ...
Less is more in new approach to animal rearing
Restricted feeding strategies for dairy heifers offer UK dairy farmers opportunities to increase the overall efficiency of their businesses, according...
Large Herd Seminar moves to the South West
The South West has been chosen to host this year's Large Herd Seminar, the annual event which provides forward-thinking dairy farmers, herd mana...
Many reasons to be positive about the future of dairy farming
NFU Dairy Board Chairman, Gwyn Jones, has today presented a survival plan to help secure long-term future milk supplies for Britain to the members of ...
Dairy farming bodies unite to take action
Industry representatives from across Great Britain have met to discuss the critical situation for British dairy farmers and the united message from al...
Processors condemned over milk price cuts
NFU dairy board chairman Gwyn Jones today (Tuesday) condemned milk processors following what he fears is the start of another round of milk price cuts...
FUW calls for national debate on milk quotas
Farmers' Union of Wales president Gareth Vaughan today called for a national debate on the impact abolishing milk quotas will have on the Welsh ...
Fertiliser wastage
Fertiliser wastage Did you know that nine farmers out of ten waste fertiliser by failing to mount the spreader on the tractor accurately? That th...
Milk Link to maintain it's milk price for April 2009
Milk Link can confirm that it will be maintaining its Member milk price for April 2009. Commenting on the decision, Will Sanderson, Corporate Affai...
Green issues still a priority
Sustainability is still a key issue for the dairy sector, Dairy UK told a conference of industry leaders in Dublin yesterday. Tough economic times ...
New procurement manager appointed by Shropshire based milking equipment manufacturer
Specialist milking equipment manufacturer Fullwood Limited has announced the appointment of a new procurement manager at its production site in Ellesm...
DairyCo report encourages supply chain to work together to improve farmer confidence
With concerns over the long term sustainability of the domestic dairy industry, DairyCo's new report issued today (30 March 2009) sets out all t...
Milk Link announces 'special' investment
Milk Link has announced a major new investment at its Reece's crumbly cheese creamery, in Malpas, Cheshire. The £1 million project will see the ...
Paraguay - The dairy industry
Beer consumption in Paraguay is eight times that of milk according to the Paraguayan Chamber of Dairy Industries based on information from the Pan-ame...
ASDA takes further steps to boost calf potential
ASDA's DairyLink and BeefLink farmers will now find it cheaper and easier to rear new born calves, thanks to a series of discounts negotiated by...
Lake District Cheese Company moves into re-closable packs
The award-winning Lake District Cheese Company range has moved into convenient zip re-closable packaging. The new packs will hit the shelves in Tes...
Moo enters the vending market
Milk Link partner with the Clever Little Drinks Company to produce Mini Moo milk drinks for the vending and convenience markets Milk Link, the UK&r...
Exhibition of Animal and Landscape Paintings
"On To Pastures New" An Exhibition and Sale of Paintings by Mike Jory at The University of Exeter IAIS Gallery Stocker Road Universit...
Energy – the key to reversing plummeting dairy fertility?
by Dr Donald Lawson, Ufac (UK) Ltd, Newmarket, Suffolk Poor fertility represents one of the largest losses to the UK dairy herd. These are incurred...
NFU congratulates Sainsburys relationship with dairy farmers
NFU President Peter Kendall has congratulated Sainsbury's and the farmers in its Dairy Development Group (SDDG) on their progress and achievemen...
RABDF calls for Ofmilk
The Royal Association of British Dairy Farmers is urging Government to reconsider introducing an Ofmilk, a voluntary milk regulator, in an attempt to ...
Diet of cows can reduce saturated fat intake without sacrificing benefits of milk
Supplementing the diet of cows could bring considerable benefits to human health without a need to reduce the intake of milk products, University of R...
Farm schemes boost hare numbers
Farms with wildlife-friendly schemes have helped numbers of brown hares increase by more than a third, the Wildlife Trusts have said. The hares ha...
Reaseheath College appointed for Eden project
A multimillion pound dairy training project is to go ahead at Reaseheath College, Cheshire, with the aim of producing world-class staff for tomorrow&r...
Dairy survival plan launched to secure British milk supply
The NFU dairy team has launched a survival plan to help secure long-term future milk supplies for Britain. Dairy farmers were given their first gli...
Milk Link launch Red Leicester
Milk Link, the UK's leading integrated dairy business, has launched The Red One, a russet coloured, open textured Red Leicester cheese with a me...