Dairy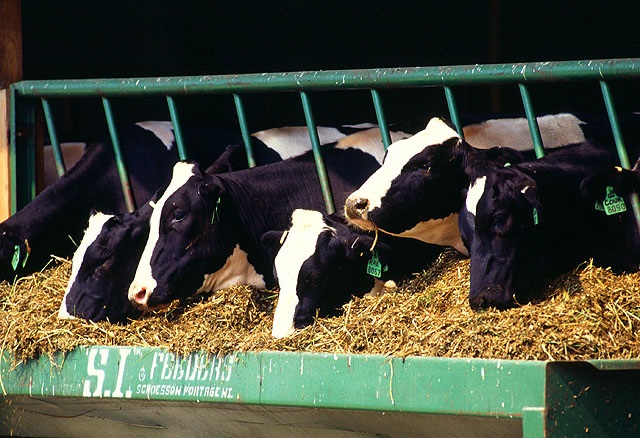 Milk Link announces appointment of Carl Ravenhall
Milk Link is pleased to announce that Carl Ravenhall, currently the Managing Director of Adams Foods, is to take up a senior executive position with t...
The co-operative awards milk contract to Robert Wiseman Dairies
The Co-operative Group has today (16 March 2011) announced that it has awarded its own-brand milk contract to Robert Wiseman Dairies under a new two-y...
Follow up to successful dairy farmer summit announced
A second summit for dairy farmer representatives to discuss the latest developments in the industry has been announced by the NFU today. This follo...
Everyone's a winner at Royal Cornwall Show thanks to Hydor fans
Hydor Limited, UK specialist in the design, manufacture and supply of fans, controls and systems to the agricultural, horticultural and other industri...
UK No.1 Shottle son now available sexed
The UK's No.1 PLI Shottle son, Cogent Twist, is now available sexed and joins Cogent Breeding's high profile portfolio of leading sexed bu...
New calf milk for computerised feeders
Bonanza Calf Nutrition has launched the first calf milk specifically developed for calves being reared on computerised feeders. As well as deliveri...
Dairy farmers set for water inspections changes
Dairy farmers are set to be exempt from costly inspections on their water supplies. New regulations are due to come into force in April this year a...
Dairy Farmers of Britain receivers final report
Stephen Oldfield, David Kelly and Ian Green of PwC, joint receivers and managers of Dairy Farmers of Britain Limited (DFB) have announced today a fina...
Dragon breathes new life into cheese
South Caernarfon Creameries has unveiled a brand new dairy range; and in keeping with the companies' Welsh roots, have appropriately named it &r...
Improving dairy trade see heifer prices rise
Dairy cattle trade at Shrewsbury Auction Centre continues to improve well ahead of the spring turn out, with prices peaking at £2,180 during February....
Hot chilli cheese!
Wensleydale Dairy Products is launching Chantico – 'the cheese all others fear' – after identifying a gap in a market currently worth over...
Dairy export deal with Eilers and Wheeler
First Milk has set up a strategic alliance with Eilers and Wheeler, one of Europe's most established suppliers of quality dairy products. Under ...
Welsh dairy industry opportunity
Dysfunctions in the dairy supply chain could be addressed if the devolved administrations and the UK Government give the European Commission's D...
FCE improvements can help dairy farmers
Achieving even small improvements in Feed Conversion Efficiency (FCE) can help UK dairy farmers to lessen the impact of declining milk prices and incr...
British cow first to moo on Twitter
A dairy cow from Lancashire is thought to be the first in Britain to have her own Twitter page, using the social media site to spread gossip from the ...
South Caernarfon Creameries new supply agreement
South Caernarfon Creameries has announced phased changes to its farmer supply agreements following a review of their current payment schedules. Having...
New feed appointment
Matthew Noble has been appointed area business manager for the North of England and Scotland by Newmarket-based feed supplements manufacturer, Ufac-UK...
Act now to secure future milk supply
NFU Cymru is urging Governments at all levels to act now to address the dysfunctions in the dairy supply chain in an attempt to redress current milk p...
First Milk makes further price moves
From 1 March 2011, First Milk will increase the price they pay to producers in their liquid and balancing pools by 1.12ppl and 0.25ppl respectively. T...
Dairy farmers face £330 million deficit
A staggering £330 million gap between the price paid for milk and the costs of producing it have been revealed in a report published by the NFU today....
Jersey sires now available sexed
Griffens Governor the No.1 UK type sire and Sunset Canyon Anthems Allstar the No.1 UK PLI sire are now available sexed from Cogent Breeding Ltd. G...
Tackling BVD and Johne's disease
Farmers in North Wales are set to benefit from hands on practical advice on how to deal with BVD and Johne's disease within the dairy herd. T...
Conference recognises progressive dairy sector
The dairy industry is the most attentive to the issues of sustainability of all agricultural sectors. The rate of progress of the industry in addressi...
NFU responds to First Milk price increases
First Milk is to raise the price for each of its three main milk pools. The cheese pool price increases by 1.25ppl, balancing pool by 1ppl and the liq...
Milk Link buys award winning Cornish cheese busine
Milk Link has announced the acquisition of the award winning Cornish Country Larder cheese business (CCL) for an undisclosed sum in a deal that streng...
Assured dairy farm lobbying reduction proposal
NFU lobbying could secure one in ten year inspection on assured dairy farms Over five years of relentless lobbying efforts by the NFU look set to c...
Dairy and the environment: saints or sinners?
Global environmental and nutrition experts will meet in London this week (27th January) to look at the impact of the dairy industry on sustainability,...
NFU Cymru fighting for fair dairy contracts
A letter sent by NFU Cymru to Welsh Members of the European Parliament (MEPs) calls for their support to end the dysfunctions of the dairy supply chai...
The Search is on for the Milk Float of the Year
In celebration of more than 100 hundred years of tradition, the hunt is now on to find the best milk float in the land. Since the 1900s milkmen ha...
NFU and FFA commit to joint dairy lobby tactics
Milk prices were top of the agenda when the NFU met with the FFA last night. Common ground was found with both organisations agreeing to join forces i...
Tesco's commitment to British cheddar welcomed
Dairy UK welcomes Tesco's commitment to British cheddar cheese Dairy UK has welcomed Tesco's announcement that it is to increase the vol...
Organic milk helps offset climate change
Wetter, cooler summers can have a detrimental effect on the milk we drink, according to new research published by Newcastle University. Researchers...
NFU applauds Milk Link price rise
The NFU has today applauded Milk Link's move to increase its member milk price for February by 1ppl. The price rise, which sees the farmer-ow...
Milk Link increases February member milk price
- Member manufacturing price up 1.0ppl - Member liquid price up 0.78ppl Milk Link has announced that it is to increase its Member milk price f...
First Milk members receive return on investment
Over the course of this financial year, First Milk has made significant progress and the business continues to improve its trading performance. Whilst...
Dairy company milk it in Europe
A Bristol based dairy wholesale company is successfully distributing its 10ml milk portions across Spain thanks to help from the Enterprise Europe Net...
NFU praises milk price pressure
The NFU has today praised Dairy Crest Direct's (DCD) milk price target of 27ppl for the New Year. NFU dairy board chairman Mansel Raymond sai...
Keep air moving over calves in the cold weather
Even in cold weather, air temperature is less important than air quality, particularly for young calves, so farmers should be very wary about making a...
Wasting 'waste' - survey shows slurry losses mount
Dairy farmers could be losing up to £55 per cow a year by not maximising the fertiliser value of their slurry. Figures compiled from a survey carried ...
Good for the pasture – good for the cow
Clover is important for organic cows and pastures which is why a series of organic research projects have focused on the grass-clover pasture. In ...
Locally grown fodder for organic cows
With the right mix of herbs in roughage for cattle, many organic farmers can satisfy the vitamin and mineral requirements of their animals with home g...
EU Talks on Dairy Contracts
The challenging conditions facing dairy farmers have been on the agenda at the Agriculture Council in Brussels today. Cabinet Secretary for Rural ...
Milk Link and Volac undertake investment
Leading dairy businesses Milk Link and Volac have entered into a strategic partnership to jointly undertake a major investment at Milk Link's Ta...
The market will shape dairy industry future
Commenting on the European Commission's proposals to improve future stability in the dairy sector, Dairy UK Director General Jim Begg said "This...
EU proposes measures to strengthen dairy industry
The EU Commission's proposed package of measures to address dairy farmers' weak position in the supply chain, eliminate unfair commercial ...
EU proposes new measures for dairy stability
The European Commission has today adopted a proposal on "contractual relations in the milk sector". The proposal aims to boost the position ...
Handling supply of Bauer irrigation and slurry kit
Crop irrigation and slurry handling equipment specialist Bauer has appointed Adrian Tindall as Sales Manager for the UK and Ireland. Adrian now loo...
Britain's dairy industry continues to deliver
Britain's dairy industry is going that extra mile to make sure that there continues to be plenty of fresh milk in shops and supermarkets and on ...
Nairn Glen to retire as Milk Link finance director
The Milk Link Governing Board has announced that Nairn Glen is to retire as Milk Link's Group Finance Director at the end of the current financi...
Milk Link unveils christmas mature cheddar tickler
Milk Link has unveiled a new limited edition 500g Christmas pack of its award winning Tickler fabulous extra mature Cheddar. The new pack, ideal for a...