Dairy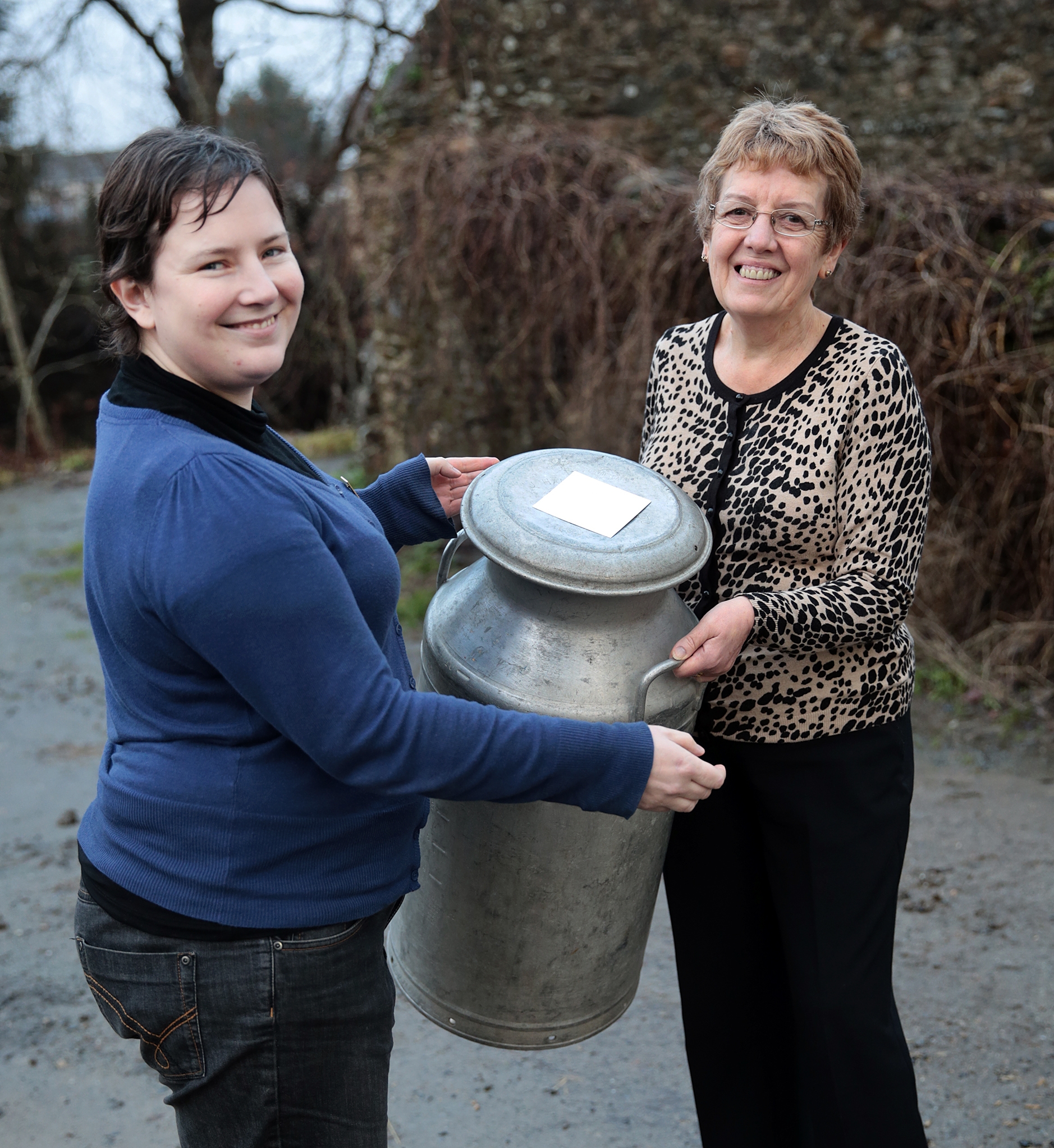 Separation is the answer to slurry storage, handling and utilisation issues on West Sussex dairy farm
Separating the constituents of slurry into liquid and solids has transformed management of cattle waste on a West Sussex dairy farm. It not only resol...
Arla Foods plans expansion in Scotland
Arla Foods is to grow its business in Scotland, and plans to create a new depot in Bellshill, Glasgow, to handle additional milk and product volumes. ...
World-leading outcross bull by newsire of sons
A world-leading Holstein bull – which ranks number eight on the USA's prestigious TPI (Total Performance Index) list and is being used as a sire...
Welsh Dairy farmers told they could offer part of the solution to Climate Change problem
Anaerobic Digestion is a rural economic diversification opportunity for farmers as well as part of the solution to the world's climate change pr...
Ron 'Chopper' Harris helps Chelsea Pensioners ring in the festive season
The nation's favourite veterans began their Christmas celebrations yesterday with a tradition that dates back more than three hundred years, thi...
UK dairy industry must seek to benefit from the EU dairy package agreement
Commenting on the informal agreement reached earlier today between the European Council and Parliament on new rules for the milk sector, Dairy UK Dire...
Just like his sire, Dakota will deliver the greatest profits!
Dairy Daughters has taken the number one slot on the Profitable Lifetime Index ranking released by DairyCo today, with ALH-Dakota who officially becom...
EU misses golden opportunity on dairy contracts
A golden opportunity has been missed to strengthen dairy contracts across the European Union, according to the NFU. The European Commission, Euro...
High production and long daughter lifespans from new number one Holstein bull
There's been change at the top of the Holstein bull proof rankings published this week (6 December 2011) by DairyCo Breeding+, with the high pro...
South Caernarfon Creameries scoops top prizes at World Cheese Awards
South Caernarfon Creameries have scooped two top awards at the prestigious World Cheese Awards. A gold award was bestowed upon the Creameries' E...
Cheshire farmers crowned Wiseman champions
Cheshire farmers Stephen and Isobel Moore of Byley Hall Farm, Middlewich, Cheshire, are celebrating having been crowned champions at the annual Robert...
No.1 type bull now available
World Wide Sires UK (WWS UK) now has semen available from Regancrest S Braxton EX94, the US no.1 type bull in breed. The new graduate is from a pe...
Price rise needed as UK dairy farmers languish in bottom quarter of EU milk league table
The NFU dairy board has called for milk buyers to come forward with a milk price rise before the New Year. Speaking after a meeting of the national...
Farmers See Fodder Solutions at Open Day
Farmers and livestock managers travelled from around the country to the Fodder Solutions seminar and workshop for the opportunity to see the system in...
Milk link announces further member milk price increase
Milk Link is to increase its Member milk price from 1st November by 0.50 pence per litre (ppl) for both manufacturing and liquid schedules. The latest...
Welsh processing sector under the spotlight
A new scoping study of the Welsh dairy processing sector has revealed that 51 per cent of the milk produced in Wales is processed in Wales. This i...
Carmarthenshire dairy farmers demand fairer dealings with milk buyers
Carmarthenshire NFU Cymru dairy farmer members questioned the total discretion that milk buyers currently have to make fundamental changes to the term...
Arla farmers to benefit as production of retail packet butter begins at Westbury Dairies
Arla Foods Milk Partnership farmers are to benefit from a new fat incentive, as Arla begins production of own label retail packet butter at Westbury D...
The Dairy Show provides opportunity to review strategic investment
A properly funded investment programme focused on areas of the dairy business that improve technical performance has the potential to pay immediate di...
UK farm-gate milk prices still lagging behind Europe
Despite growing worldwide demand for milk and dairy products, UK milk producers are still seeing prices that are three to four pence per litre (ppl) d...
New wave of genomic bulls offers chance to make genetic leap
A new wave of high calibre Holstein bulls has just hit the UK market as breeding company, Dairy Daughters, launches its strongest and most modern offe...
High ranking bulls confirm No.1 Jersey portfolio
Cogent Breeding and UK Jerseys have confirmed the strength of their joint portfolio in the latest August 2011 Jersey bull proofs with sires dominating...
No.1 bull now available sexed
UK No.1 bull, Ballycairn Tiergan, is now available sexed from Cogent Breeding. As the highest ranking bull in the world with no Oman in his pedigree,...
Dairy farmers make their mark at the Dairy Event
DairyCo and Dairy UK have teamed up with partners across the dairy industry to put the Proud of Dairy campaign at the forefront of people's mind...
New finance option for Robotic milkers
Dairy farmers looking to invest in robotic milking equipment can now access asset finance through Lloyds TSB Agriculture which could help to spread th...
Over one in three dairy farmers planning to invest in renewable energy
Research conducted by Barclays reveals that more than one in three (37 per cent) dairy farmers in England and Wales are planning to invest in renewabl...
Teamwork is key to solving dairy sector contract and price issues
The NFU is committed to working with the rest of the supply chain to achieve fair and equitable contracts for dairy farmers but says it will not shy a...
Tim Bennett receives 2011 Dairy UK Award
The 2011 Dairy UK Award has been awarded to Tim Bennett in recognition of his important contribution to the development of the UK dairy industry. M...
Frome's annual Cheese Show could well change its name to Frome Cattle Show!
Entries for this year's show, which takes place on Saturday, September 10th, has attracted a record number of entries and puts it among the lead...
Milk Link boosts member milk price
Milk Link is to increase its Member milk price from 1st September by 1.0 pence per litre (ppl) for both manufacturing and liquid schedules. The latest...
Dairy UK and DairyCo join forces to promote 'proud of dairy' campaign
The 'Proud of Dairy' campaign launched by Dairy UK two years ago is to be developed into a wide-ranging industry facing initiative support...
Cogent Breeding adds colour to dairy herds
Milk Producers using dairy breeds other than Holstein can now take advantage of a strong line-up of breed-leading alternatives from Cogent Breeding. ...
Wiseman increase milk price
Competition for raw milk between liquid milk processors and cheese manufacturers has brought an October price increase of 1.85ppl from Robert Wiseman ...
Exceptional type bulls and new outcross bloodlines
Two exceptionally high type bulls have become available to UK dairy farmers, which both have the backing of deep pedigrees and the further benefit tha...
Easy-to-handle glycerine supplement offers big benefits in dairy diets
A new easy-to-use glycerine supplement for dairy cows is being launched by Ufac-UK ahead of the Dairy Event (NEC, Birmingham 6 & 7th September 2011). ...
New Goldwyn sons take run-away lead on type
Sons of Goldwyn have taken a run-away lead in the August type proofs published by Holstein UK today. Now accounting for five newcomers and eight in to...
Spotlight on climate change as Minister goes on-farm
Steps Scottish farmers can take to improve efficiency and reduce agriculture's impact on climate change were under the spotlight when Stewart St...
Cogent graduates demonstrate high calibre of UK-tested bulls in August proofs
Cogent Breeding continues to fly the flag for British genetics in this week's August bull proofs as three graduates of its Visions Young Sire Br...
High rising Jersey bull tops 200GBP PLI
Milk producers using dairy breeds other than Holstein see little change in proofs published this month by DairyCo Breeding+, with the exception of the...
Growing challenge to Oman sons in new top 20 Holstein bulls
The challenge to Oman bloodlines – which have dominated the Profitable Lifetime Index (PLI) ranking for as long as many Holstein breeders can remember...
International cheese success for South Caernarfon Creameries
South Caernarfon Creameries recently traded Chwilog for Cheshire having attended this year's Nantwich International Cheese Festival. The farmer-...
Countrywide Renewable Energy launches
Countrywide have announced the launch of a major new venture within their rural supply business that now gives the Company a prominent position in the...
Dalevalle OT1 J Lulu crowned finest Dairy Cow in Ireland
A father and son team, Eugene and Sean Murphy from Waterfall in Co. Cork was selected as the 2011 Baileys® Irish Champion Competition by Iwan Morgan a...
Price movements in supply chains investigated in new DairyCo report
A new DairyCo report issued today concludes that some of the issues that arise from price movements along supply chains could, in part, be addressed w...
Bauer appoints McCaskie Farm Supplies in central southern Scotland
Service and parts support for Bauer slurry handling equipment is available 'on the doorstep' of farmers across the central belt of Scotlan...
Bauer solutions to slurry storage pressures
When addressing slurry storage issues, minimising the volume of 'dirty' liquid is a good place to start. Drainage systems can be modified ...
Awards success for Milk Link at Great Yorkshire Show
Milk Link, the UK's leading farmer-owned dairy co-operative and largest cheese manufacturer, collected 15 awards at this year's Great York...
Good genetics are worth 24,000GBP in extra margin per 100 cows
The economic value of Profitable Lifetime Index (PLI) has been confirmed by a new study which puts its value at £4.21 per PLI point at today's m...
Award winning friendly bacteria
Bio-science specialist Ecosyl Products recently received Royal honours for development of friendly bacteria that increase food production, save water,...
National All Breeds Show schedules out
Entry forms are out this week for the National All Breeds Show (NABS) offering the biggest ever prize money, an expanded format and new location - the...