Education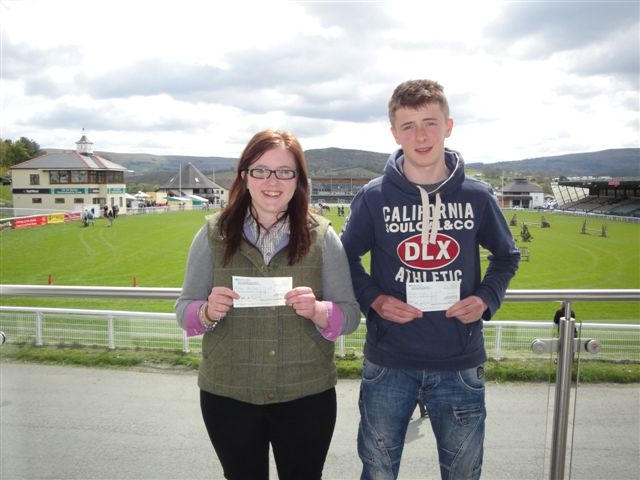 Top FUW bursary students plan sheep breeding careers
Two 16-year-olds studying at the same North Wales agricultural college who both run their own sheep flock have been chosen as the first winners of the...
Environmental groups 'alarmed' at curriculum changes
Climate change is expected to be dropped from the English curriculum for under 14-year olds which has been described by environmental groups as 'alarm...
University of East Anglia to deliver £1.5 million agricultural training programme
Farmers will be able to develop vital new skills in marketing and sustainable land management - thanks to a £1.5 million Defra-funded training program...
Midlands rural business experts launch first book
Julie White and Nick Platt of Growing Rural Enterprise have worked together assisting rural businesses in the UK and overseas for over 14 years, from ...
Congratulations to graduating New Holland technicians
There were celebrations as a fresh group of apprentices graduated this month from New Holland's special three-year course to equip its dedicated team ...
Applications open for 2012 OFC/RASE applied science award
Applications are now open for the Oxford Farming Conference (OFC) and Royal Agricultural Society of England (RASE) 'Practice with Science' Award spons...
John Deere launch new training prospectus
John Deere highlighted its award-winning engineering apprenticeship programme at Cereals 2012 with the publication of a new training prospectus, as pa...
Nuffield launches arable award
A new arable award has been launched by Nuffield Farming Scholarships backed by thje HGCA. It will be open to candidates in the arable sector or relat...
Deadline looms for farming scholarship applications
Nuffield Farming Scholarships have implemented a major date change to their application calendar, bringing the closing date for applications significa...
University of Reading 'best for agriculture'
The Complete University Guide 2013 has voted Reading as the best university in the United Kingdom for agriculture. Reading has featured among the t...
Get on the right track with The UK Pesticide Guide 2012
The latest edition of The UK Pesticide Guide is now in stock and is a "must-have" reference book for anyone using, or advising on, pesticide produ...
University lecturer to address NFU conference
Prysor Williams, a Lecturer in Environmental Management at Bangor University, will be guest speaker at Glamorgan NFU Cymru Annual Conference on Wednes...
Adopting Smartphones and social networking by European farmers
A survey of farmers conducted by the Kleffmann Group has indicated that one in ten European farmers own a Smartphone and a similar percentage (9%) use...
Start a new life journey with a Nuffield Farming Scholarship
APPLICATIONS INVITED UP UNTIL 15TH NOVEMBER 2011 With a passion for their subject and the enthusiasm to inspire others, individuals in the fields ...
Training course helps egg producers increase production and profitability
A training programme to help commercial egg producers increase their production and profitability is being held in Cheshire for the first time. The...
Rural apprenticeship scheme 'clears first hurdle'
Ambitious plans to teach rural land management skills to Lake District youngsters via modern apprenticeship schemes have moved a step nearer and could...
SAC to lead rural training programme in Cumbria
SAC is to lead a two year rural training programme for the farming, food and forestry sectors in Cumbria. The signing of the contract, for a £1.7m pro...
New opportunity for postgraduate students at CropWorld Global 2011
CropWorld Global 2011, to be held at ExCel, London from 31 October to 2 November, is an internationally focused, three-day conference and exhibition p...
Agriculture spin-out wins business competition
Students behind a biotech spin-out company that aims to provide the agriculture world with an alternative to pesticides have won a business competitio...
Devon landowners offered free course in grassland management
Staff from Devon Wildlife Trust's (DWT) Working Wetlands project, are planning a free training event this month to help local landowners in the ...
Potato seed suppliers back schools project
'Grow Your Own Potatoes' from Potato Council is flourishing. The educational project for primary school pupils continues to expand, with 1...
Agricultural degree helps dispel frankenfood myth
A groundbreaking new course at the University of East Anglia (UEA) will explore the cutting edge agricultural techniques needed to feed a rocketing gl...
Sparsholt College unveil Game and Wildlife Centre
Sparsholt College is to officially unveil their new Game and Wildlife Centre to leading industry figures at an event which will celebrate Agriculture,...
Nuffield farming scholarships awarded
Challenged to raise the farming bar and succeed in the age of a 'perfect storm', 19 new applicants have been announced winners of a 2011 N...
Scrapping EMA will hit rural students hardest
The CLA in the North has expressed concern over the proposed scrapping of the Education Maintenance Allowance (EMA) from next September. The allowance...
University of Reading gets AACSB accreditation
Agricultural and food business programmes at the University of Reading have been awarded the prestigious AACSB International (The Association to Advan...
Agricultural college prosecuted by HSE
A Writtle agricultural college has been prosecuted today for potentially endangering a teenage student. Chelmsford Magistrates Court heard how John...
Wet weather brings increased parasite risk
Livestock producers are being urged to keep an eye on the weather, because wet conditions are ideal for fluke to thrive and pose real challenges to ca...
Increase welfare for greater profits
Increased welfare and better pain management can lead to economic, as well as herd health benefits for farmers, according to Merial Animal Health. ...
Train to manage pigs and people
Leadership training improves both pig production and staff morale. Now pig unit supervisors in the north have two course options and are signing up to...
Farm fatalities rise amid calls for training
The alarming rise in the number of fatalities in the agricultural sector is further evidence of the urgent need for employers to invest more in traini...
Cargill sets out plan to reduce its carbon footprint in Manchester
Cargill has recently launched a new environmental initiative for the 300 employees based at its starches and sweeteners processing plant in Mancheste...
BCPC opposes arbitrary pesticide reduction targets
BCPC has issued a comprehensive response to Defra's recent Consultation on the implementation of EU pesticides legislation, highlighting some 40...
Gamekeeping students shoot for success at clay challenge
Game and wildlife management students from across England and Wales competed at the first clay shoot challenge for students of gamekeeping organised b...
Cotswold Farm Park lecture at Wittle College
The Essex Agricultural Society welcomed celebrity TV presenter, Adam Henson for a guest lecture hosted at Writtle College near Chelmsford on Wednesday...
Bayer CropScience and Farming & Countryside Education (FACE) are looking for the best in Farming Education
The hunt is on for the best farmers in the UK when it comes to educating children and young adults about where their food comes from. Bill Graham,...
Last call for agricultural star apprentices and their employers
Outstanding Agricultural apprentices and their employers are being urged to enter the Apprenticeship Awards, as the deadline for nominations is fast a...
Why farming matters teaching packs flying off the shelves
The NFU's Why Farming Matters teaching packs have gone to the top of the class after proving extremely popular with the country's primary ...
Event planned to help landowners manage difficult sites
Wet Culm Grassland habitats can be difficult to maintain, especially tussocky, scrubby areas which are often dominated by purple moor-grass. Devon Far...
Outstanding agricultural education at Hartpury College
Gloucestershire based Hartpury College has been recognised as one of the best in the country for providing agricultural and land-based qualifications....
Students benefit from farms restructure
Writtle College has restructured its farming operation in partnership with large local farming company Essex Farms in a move that will give students a...
Letter to the editor
As a third-generation dairy farmer of more than 20 years, during which time we have either erected ourselves or employed people to erect more than a d...
Potato council calls for greater support of its schools growing project
Potato growers are being urged to get behind the largest educational project for primary schools; 'Grow Your Own Potatoes'. The program...
Ag students use the Internet in their studies. Do they know how?
Intute's free subject based Virtual Training Suite tutorials are designed to help students make discerning use of the Internet to find informati...
Bumper Crop of Apprentices
Kingston Maurward College is helping to fill the skills black hole in the farming industry after taking on a record number of agricultural apprentices...
Independent Business Resource Ltd launches new Contract Field Trials Service
Independent Business Resource Limited (IBR) has launched a new contract field trials service, offering pre-registration research efficacy and selectiv...
New dairy unit open day at Harper Adams University College
Dairy farmers have the opportunity to see the latest innovations in action at the official opening of the new £2.3 million dairy unit at Harper Adams ...
Tons of praise for soil course
PhD students from Denmark and abroad got their fingers dirty in a good way at a PhD course that they showered with praise. Professor Ty Ferre from...
Primary school pupils to learn more about food and farming
Once again a Crown Estate-owned farm is opening its doors to teach primary school pupils from across Taunton in Somerset, more about the modern dairy ...
Come along to the Harper Adams open day
People are invited to have a nose around Harper Adams University College at its public open day on May 9. Visitors, who can drop in at any time bet...