Feed and Forage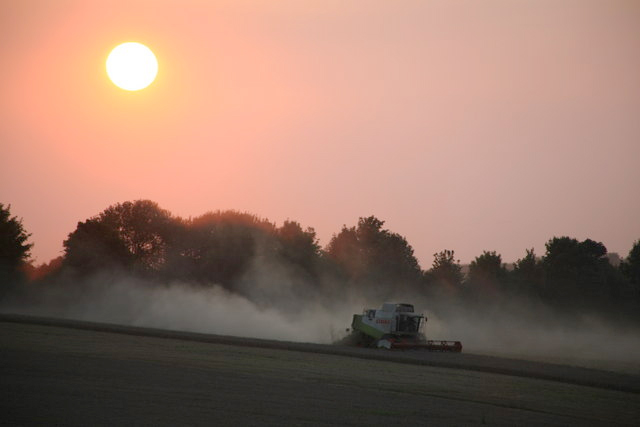 UK farmer confidence falling, according to new survey
Falling farmgate prices and market price volatility have contributed to a drop in farmer confidence, a new survey by the NFU has revealed. After th...
Calf coats reduce feed costs, study finds
Using calf coats on calves born in the winter months can improve growth and reduce feed costs, according to researchers at Harper Adams University. ...
Soil threat undermining our current way of life
The world's soils face a wide range of threats that could undermine the very basis to our current way of life. Recently Europe has seen flooding that...
Dairy producers urged to cut feed costs
There may be little festive cheer around for dairy farmers operating in a falling milk price environment, but many producers could cut feed costs by b...
The total feed business is central theme in ForFarmers refocused strategy
ForFarmers wants to contribute to better returns for customers by offering optimal animal nutrition solutions. This remains the basis for ForFarmers s...
Move to ban pesticides 'a threat to UK food security'
Scientists have cast doubt on the European Union's aim to restrict the use of a range of pesticides. They have voiced this view in response to a r...
Businesses to receive funding to solve food security challenges
Businesses will receive £5 million of funding to develop innovations to solve some of the world's greatest agriculture challenges such as food securit...
Bird control decision will help farmers and growers, says NFU
Natural England's decision not to complicate rules for farmers and growers who need to protect their crops from certain bird species is a sensible dec...
A health check for your soil
Soil is the basic raw material of farming and fundamental to agricultural productivity. Traditionally soil health has been seen largely as a function ...
Win £1000 off your next fertiliser order
Quality fertiliser is the key to yield and that holds true whether it's applied to grass, other forage or arable crops so this great prize of £1000 to...
Spy in the bag - Laying hen nutrition
Ever wondered what's in your hens feed but were too afraid to ask? In this article Zoe Kay helps producers understand what their birds are eating and ...
Cameron announces £400m food procurement plans
From 2017, central government will commit to buying fresh, locally sourced, seasonal food, through a new, simplified food and drink buying standard. ...
Seven steps for forage success
Poor optimisation of forage yields through simple losses in field, clamp and at feeding out could be causing dry matter (DM) declines upwards of 40%, ...
UK farming policy needs overhaul to tackle future problems, report says
Major changes are needed to the UK's food and farming policy if it is to combat food poverty, obesity and environmental problems of the future, accord...
Post-em herbicide option for forage maize
The area of maize in the UK is expected to rise again this year and early weed control is essential to get the crop off to a good start. Last year in ...
Feed Law Code of Practice for England published
A new Feed Law Code of Practice for England has been published. The changes include a greater use of competence-based criteria for the authorisation o...
Conference told that supplies of GM soya are vital to egg producers
Former European Union agriculture commissioner Franz Fischler says that stopping imports of genetically modified soya would be catastrophic for Europe...
Global feed enzyme market now $1bn
According to recent analysis carried out by AB Vista, the global market for non-starch polysaccharide (NSP) and protease enzymes is considerably large...
Ukraine crisis threatens feed prices
The political crisis in Ukraine is threatening to reverse recent falls in the cost of feed, with wheat prices spiking following the annexation of Crim...
Boost for maize
John Jackson, Farms Manager for Severn Trent Water Ltd in Nottinghamshire, Derbyshire and Warwickshire, grows continuous maize on some parts of the fa...
Revise feed programmes for free range hens this winter, farmers warned
With cold weather conditions threatening to inhibit the ability of free range hens to self-regulate their body temperature, nutritional experts at ABN...
First containerised Indian Non-GM Soymeal available to UK feed sector
The first, fully sealed 20Mt containers of Cert ID Non GM certified Indian soymeal for the UK feed sector are now available through London based impor...
Most popular year yet for Natural England grant scheme
From Northumberland to Cornwall, farmers in 79 priority catchment areas of England have submitted more applications than ever before for funding from ...
Soya supplies tight as importers run out of stocks
In Spain & Italy the wheat harvest is about 75% complete, although rain delayed proceedings in Italy, and the combines have started to roll in France,...
Irish beef partnership avoids the feeding crisis
Dr Steve Collins, a beef farmer from West Cork has found an innovative way to avoid the Irish feeding crisis. Steve, a founder of the Dingle Dexter B...
Hydor extends poultry range following BFC purchase
Agricultural ventilation specialists Hydor will be featuring a range of products from BFC Parts at this years Livestock Event (Stand LE-365). The rang...
Pressure group accuses Tesco of breaking promise on GM Feed
A pressure group has accused supermarket giant Tesco of breaking a promise to customers by abandoning its requirement that egg producers use only non-...
NZ poultry processor invests in MTech software
MTech Systems — the global supplier of software for poultry, pig and animal feed industries — has reached agreement to supply Van Den Brink Poultry, o...
Flies offer 'highly nutritious' replacement for soya
A biotechnology company is offering what it says is a highly nutritious replacement for soya in animal feed by farming flies. AgriProtein Technologies...
GM will revolutionise UK agriculture, says Paterson
GM crops offer a 'wonderful opportunity' to benefit human health as they are a safer alternative to conventional plants, according to the Environment ...
GM feed harming pig health, says new research
A new study claims that pigs were harmed by the consumption of feed containing genetically modified (GM) crops. GM-fed females had on average a 25%...
Sainsbury's test egg producers for GM feed
Free range egg producers supplying eggs for Sainsbury's supermarkets have been subjected to tests for the presence of GM content in feed. Sainsbury...
Flies: from nuisance to nutrition
A new €3 million, EU-funded project, PROteINSECT, is investigating how flies can contribute to the growing demand for protein in animal feed. With ...
Fallen stock red tape 'unnecessary gold plating', says FUW
The Farmers' Union of Wales today branded the Welsh Government's failure to heed its warnings to make a fallen stock burial derogation more workable -...
Bird flu could reduce domestic demand for feed
David Sheppard, Gleadell's Managing Director, comments on the wheat market. Wheat - Chinese import demand has been hit by a new bird flu outbrea...
Donated animal feed arrives for snow-hit farmers
Fifty-five bales of donated fodder were delivered to the hill farmers of south Cumbria who lost thousands of sheep in snow blizzards and are seriously...
Mega farm fears threatening UK livestock production
Growing urbanisation of the British countryside is threatening national food production, says the National Pig Association. There are concerns tha...
Arable and livestock co-operation 'needed this spring'
Arable producers struggling to get crops drilled should take advantage of the forage shortage in the livestock sector and grow maize, suggests James T...
A breath of fresh air
Diane Symes, Chair of the AHDB Education Group, shares her passion for teaching children about food, farming and health eating. It's my passion - ...
Control weeds to maximise silage yields and quality
Farmers desperate to replenish empty forage stocks in the next few weeks can increase silage yields and quality by getting rid of broad-leaved weeds l...
Driving hours relaxed for animal feed deliveries
The Government has brought in a temporary and limited emergency relaxation in driver hour regulations to deliver feed supplies to livestock farms to m...
Proterra Foundation's 2013 conference to be held in Netherlands
The ProTerra Foundation, the not for profit organisation set up to support the European food and feed industries in sourcing sustainably produced, non...
Pig farm incomes fall 50% in past year
A new report from the Department for Environment, Food and Rural Affairs has estimated that pig farm incomes have fallen by around 50%, a third succes...
Feed is contributing to climate change, says crop expert
European agriculture's reliance on imported protein for use in livestock feeds is environmentally detrimental, not to mention expensive. The EU imp...
Cert ID's 'Ohne Gentechnik' opens doors for UK food and feed
Non-GM certification body Cert ID Europe has been approved as the first UK group for VLOG, the German government-backed programme which advocates the ...
Ufac appoints Egyptian distributor
Ufac-UK has appointed Unitrade Egypt Company as a new distributor for their dairy and poultry supplements for the whole of Egypt. This was marked ...
New era of phytase debated at IPS 2
Incomplete destruction of phytate is compromising the profitability and sustainability of the animal feed industry, according to information presented...
Running an agri business 'becoming increasingly complex'
The operating environment for food and agriculture companies is becoming increasingly complex as new external influences compound rising commodity pri...
Maize 'still the most cost effective feed'
Maize is still the most economic forage, according to a new analysis of Maize Growers Association (MGA) data carried out by Grainseed Ltd. Despite ...
Environmental Stewardship derogations continue due to bad weather
Natural England will be continuing to make its Environmental Stewardship scheme derogations available due to recent wet weather and snowfall. They ...