Feed and Forage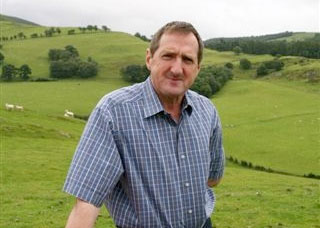 '15m to transform food manufacturing in the UK
From using sound waves to cook, to foods that fill you up faster - up to '15 million is on offer to anyone who can come up with ways to transfor...
Grower competition is 'good news' for consumers
Every grower and marketing desk understands the importance of how improved top fruit storage technology has extended the availability of fruit in the ...
Private water supplies forgotten in drought discussions - CLA
The CLA today said up to one million water users have not been accounted for in government plans for dealing with drought. The Association welcome...
Renewable technology demand remains high
Farmers are showing greater interest than ever before in renewable energy technologies, according to one of the leading companies in the sector. Ec...
Conserving water is now vital - NFU
New measures designed to minimise the impacts of potential water shortages this summer have been met with approval by the NFU. The Environment Agen...
Scrutiny leads to fine for UK salad importer
A Kent-based fresh produce importer has been fined '2,700 after marketing two separate consignments of Spanish tomatoes and cucumbers which were...
Act now in response to drought, warns Environment Agency
New report warns drought could spread to more areas of the country if dry weather continues Water companies and farmers, as well as businesses and...
Sire selection drives Stabiliser breed forward
Access to an elite team of Stabiliser sires has had a major impact on the Stabiliser breed, according to Richard Fuller, technical director of the Sta...
GM law reform fails to find favour
Proposals from the Danish Presidency to reform the EU legislation on approving GM crops for cultivation failed to reach a qualified majority at Friday...
High energy maize drives AD power output
Feeding in high energy maize will deliver the greatest power output from anaerobic digestion systems. And for the most efficient methane gas productio...
TFA warns against damaging NVZ proposals
The Tenant Farmers Association has warned both the English and Welsh Governments that proposals for changes to their Nitrate Vulnerable Zone (NVZ) act...
New beef line considered on Anglesey
Anglesey farmers have been told that a new beef line could be opened at the Vion plant on the island. Members of NFU Cymru Anglesey branch welcomed Mr...
Market Report - 9/3/2012
GRAIN MARKETS - Jonathan Lane, Trading Manager WHEAT Russian 2012/13 grain crop seen only 6-8% in poor condition and indicates country could have ...
Mansion tax proposals concern rural advisors
With the prospect of a new 'mansion tax' being widely reported as a possible measure in the forthcoming Budget on the 21st March, leading ...
Fendt launches new 300 Vario range
With its quality, reliability and ease of operation, the 300 Vario range from Fendt has found many enthusiastic users since 2006. In light of the emis...
New arrival saved at Hall Hill Farm
Mothers Day has an extra special meaning this year at Hall Hill Farm as a newborn calf is reunited with its mother after being found in a ditch shortl...
Farmers meet with police over theft worries
'I fully recognise and appreciate the devastating effect that theft has on the rural, isolated communities of Brecon and Radnor. I do however wa...
Welsh milk production under the spotlight
DairyCo will hold their first Welsh conference on Friday, 23 March 2012 at the Parc y Scarlets Stadium, Llanelli. Milk production will be the key ...
Farmers face fine for lack of broadband
Government plans to push for more online farming registration will penalise farmers in rural Wales, according to Annette Burgess of eXwavia. Farmer...
Welsh egg producer serves up 'Glamping' prize
A couple who run a multi-award winning Welsh free range egg company have come up with a cracking competition to celebrate 30 happy years of selling eg...
British Science Association GM poll criticised
GM Freeze says the questions in the British Association for Science (BAS) GM opinion poll are 'inaccurate' and 'fail to provide resp...
What you need to know about the Government's planning reforms
The Govt will shortly finalise its National Planning Policy Framework, the most important shake-up of the planning system for almost 30 years. This me...
Market Update - 8/03/2012
Summary Pulses internationally are in demand, and supply is struggling to keep up for several reasons. UK (bean) and French (pea and bean) acreages a...
Scottish Food Advisory Committee appoints new members
Lord Rooker, Chair of the Food Standards Agency, today announced the appointment of three new members of the independent Scottish Food Advisory Commit...
CLA welcome for drought relief measures
News that Natural England is ready to provide derogations to agri-environment scheme rules to farmers affected by drought conditions has been welcomed...
ASA Celebrates National Agriculture Day
The American Soybean Association (ASA) is proud to join its colleagues and counterparts in the agriculture industry as it celebrates National Agricult...
Tell me what you think on Glastir, says Deputy Minister
Following the statement yesterday by Alun Davies, Deputy Minister for Agriculture that he plans to carry out a stocktake of the implementation and app...
Why do plant roots grow down and not up?
It is essential for roots to grow down so they can explore the soil and maximise their water uptake. But how they know that is a question that has fas...
RSPCA launching new advertising campaign
The RSPCA's Freedom Food labelling scheme is launching a new online advertising campaign this month in a bid to increase awareness of of farm an...
Two charities benefit from farmers' fundraising
One thousand pounds has been split and donated to two Welsh charities thanks to NFU Cymru members in Glamorgan. During the recent Glamorgan NFU Cym...
Free range market must respond to 'seismic shift' - NFU
Free range egg producers need to see a significant and immediate increase in the price they receive to maintain supplies in the long-term, the NFU sai...
Morrisons to highlight provenance of Scottish food
Morrisons will highlight the Scottish provenance of meat, fruit and vegetables through displays in store from this week. The display notices in Mo...
Dairy demand puts farmers on front foot
The NFU is calling on its dairy farmers to make the most of the current seller's market conditions for liquid milk sales. Following on from ...
Minister bans movement of battery eggs
Minister of State for Agriculture and Food, James Paice MP, has confirmed that eggs being produced in barren battery cages across the EU, and egg prod...
Drought still affecting rural England
To help farmers and growers cope with the drought conditions that continues to affect some parts of the country despite the recent rainfall, Natural E...
Morrisons join campaign for farmer safety
Morrisons is to run workshops on farm safety to help reduce accidents in the most dangerous industry in the UK. Workshops on farm safety and farme...
Exhibitors flock to Kent for Agri-Expo 2012
Agri-Expo (SE) 2012, one of the South East's biggest agricultural machinery shows, has seen a 40% increase in exhibitors on last year. More ...
Co-operative Farms increase lone worker safety
Argyll Lone Worker Solutions today announced it has secured a two-year contract with Co-operative Farms. The contract win comes on the back of the...
Blackgrass plants are stronger than usual this spring
This spring winter wheat growers with blackgrass must tackle both established and newly-emerging weeds, according to Stuart Jackson, cereals specialis...
DEFRA announces new rural economy grant
DEFRA have announced the new Rural Economy Grant (REG) which provides funding to enable significant "game changing" transformational performance in fa...
Florette goes green with LEAF
The UK's leading salad brand, Florette, will soon be displaying the LEAF Marque logo on over 60 million salad bags, demonstrating to its custome...
Price not key factor in organic decline
Falling organic food sales in the UK reflect a growing recognition among British shoppers that benefits for the environment, healthy eating and animal...
Rural Development to fund diversification projects
Rural Development funding for farmers in the Vale of Glamorgan, aimed at farm diversification projects, is being promoted by NFU Cymru for those seeki...
Spelman urged to reject Danish GM reforms
The Defra Secretary of State Caroline Spelman has been asked to reject the latest draft from the Danish Presidency proposing reform of the EU legislat...
Organic produce shows growth in Q4
Overall fresh produce retail prices were higher this quarter compared to Q4 2010, spurring dollar growth, but declining volume sales for some commodit...
Humphrey Feeds Commodity Report - 5/03/2012
In April 1941 Germany invaded Greece, and subsequently 100,000 Greeks died of starvation because the government and Germans were unable to restore the...
Agricultural expert questions new funding proposals
An expert from the University of Reading this week addressed the European Parliament's Committee on Agriculture and Rural Development on new pro...
Market Report - 02/03/2012
GRAIN MARKETS - Jonathan Lane, Trading Manager WHEAT The Ukraine sees sharp rise in corn sowing area (4.5-5.0mln ha from 3.6mln last year), to com...
House of Commons launch for Precision Farming Centre
More than 140 guests, including MPs, engineering and farming experts, and research staff, attended the launch of the National Centre for Precision Far...
Welsh hill farmers lament ending of Tir Mynydd support
'The Tir Mynydd support payment, which farmers in Less Favoured Areas of Wales have started to receive today, will come as a timely boost to hil...