Finance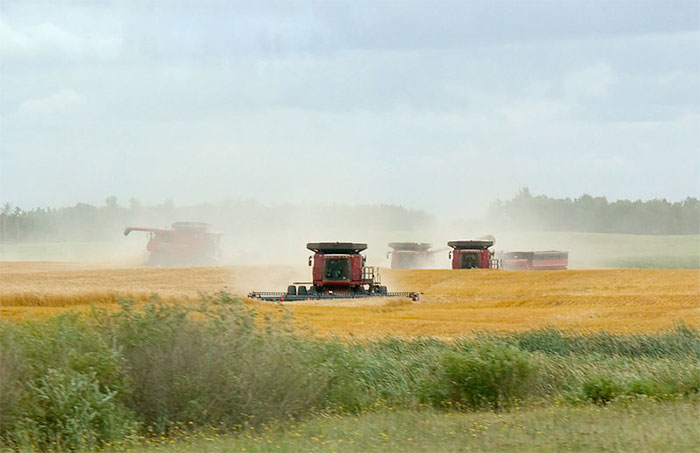 Financial pressures growing on farmers
The UK farming sector is coming under financial pressures on multiple fronts, an agricultural expert has warned. Farm gate milk prices have been cu...
English sheep exports to China hold 'huge benefits' for industry
Gaining access to the Chinese market for lamb produced in England would be a 'game-changer' for the industry and help manage price volatility, accordi...
Realise ram investment post sale
Farmers who have purchased rams at this year's Cydectin Kelso Ram Sale are reminded to manage their performance post sale to maximise returns from the...
Europe backs UK dairy but 'more to do'
NFU dairy board chairman Rob Harrison, working with European farmer colleagues, has convinced the European Commission to include the UK's cheese secto...
Arla scheme aims to help farmers' efficiency
A new three-year sustainable dairy farming initiative, involving up to 3,000 British farmers has been launched by Arla Foods. It is part of the com...
Grass roots approach helps boost milk yields
A seed mixture designed to maximise the grazing period for cows has contributed to an increase in profitability for Andrew and Margaret Smith, who far...
Plaid demands action on milk prices
Shadow Agriculture Minister Llyr Gruffydd AM has called on the Welsh Government to act in response to deepening difficulties in the milk sector. Sp...
Loss of Scottish free range contracts a 'devastating blow'
The Scottish chicken industry has been dealt another damaging blow as all four free range producers contracted to Hook 2 Sisters, the dominant process...
What will be the impact of the Russian ban?
On August 7, 2014, Russia announced the introduction of an import ban, applicable from August 8, on certain meat, dairy, fruit, vegetable and processe...
Smallholders urged to plan for important CAP changes
The Rural Payments Agency (RPA) is contacting smallholders throughout England this week to help give them plenty of time to decide what to do next abo...
EU to boost promotion of agricultural products after Russian ban
The EU has confirmed it will fund a €30 million CAP promotion aimed at alleviating the impact of the Russian trade ban against agricultural products. ...
Farming unions take milk price fight to Brussels
The NFU has taken the battle to protect the UK's dairy farmers to Europe as further price cuts and market volatility risk threatening the industry. ...
Farm incomes fall by 30%, new figures show
Farm business incomes fell by 30% in 2012/13, according to latest government figures. Dogged by the wettest summer in 100 years, it is hardly surp...
FUW 'frustrated' at latest milk price cuts
A former chairman of the Farmers' Union of Wales milk and dairy produce committee has expressed frustration at the significant cuts in the price farme...
FUW reveals speakers for autumn conference
The Farmers' Union of Wales has today revealed its speakers for its upcoming autumn conference themed 'Joint ventures in farming – myth breaking and m...
Livestock rustling boosts rise in cost of rural crime
The cost of rural theft rose in the UK in 2013, according to NFU Mutual. The results of the insurer's 2014 Rural Crime Survey show the value of items ...
Dairy companies cut price paid to farmers
Leading dairy companies Dairy Crest and Müller have announced a cut of 1.75ppl and 29.00ppl respectively for farmers on their milk contracts from the ...
EU announces emergency support after Russian ban
The European Commission has announced today that it will open Private Storage Aid for butter, Skimmed Milk Powder (SMP) and certain cheeses in order t...
English farmers 'losing millions' in EU payments
Farmers in England are missing out on millions of pounds in EU payments because they are not keeping adequate records, according to the government. ...
Very gloomy times for UK dairy, Farmers for Action predicts
This week could be 'very gloomy times' for UK dairy farmers, according to Farmers for Action as they expect prices to fall by as much as 2ppl for Octo...
Store cattle prices up, prime beef set to follow
The price store cattle are attracting at auction marts has improved by around £50 per animal over the last two weeks, according to reports from the Li...
Smallridge Bros expands John Deere dealership
Devon and Cornwall based dealership Smallridge Bros Ltd has taken over the John Deere business previously managed by Robert Cole Agricultural Engineer...
EU dairy industry to focus on handling Russian ban
A series of key meetings involving European dairy industries, government bodies and the European Commission will be held in the next month to address ...
Dairy controls needed in wake of Russian ban, milk board says
The ban on imports declared by Russia last week has made the European Milk Board President Romauld Schaber to stress the importance of a supply manage...
Demand for arable land driving up farmland prices
Strong demand for arable land is fuelling the increase in farmland prices across the UK, according to estate agents Halls. Peter Willcock made the ...
Cost of rural crime revealed as Yorkshire sees most theft
The cost of rural crime in the UK was revealed today as Yorkshire, Kent and Lincoln saw the most theft in England according to the Rural Crime Survey ...
Improved confidence in the dairy sector
Increased confidence in the dairy sector is helping more producers to invest in their businesses for the future, according to rural accountant Old Mil...
AMC eases lending to diversified businesses
A change in the way the Agricultural Mortgage Corporation (AMC) considers loan proposals from landed estates is set to significantly improve the abili...
September milk prices confirmed
Volatile dairy markets lead to 1st September milk price adjustments. Chairman Sir Jim Paice MP commented: "As a result of falling commodity pric...
Co-op offloads farms business to Wellcome Trust for £249m
The health charity Wellcome Trust has today gained the Co-operative Group's farm business for a reported £249m. The troubled Co-operative Group sai...
Profitability of beef to be focus of EBLEX conference
Efficiency and profitability of producing high quality beef and lamb for domestic and export markets will come under the spotlight at this year's EBLE...
£50k funding awarded to help North Yorkshire farmers
SAC Consulting has won £50,000 of funding from the Prince's Countryside Fund for a two-year project to help Yorkshire Dales farmers get the most from ...
Investment in rural economy to rise as UK sees positive growth
Employment and investment will rise next year as the rural economy continues to benefit from a more positive UK economy, according to a survey by the ...
JCB secures machine deal as UK market grows
JCB has secured an order for more than 1,000 machines from one of the UK's plant hire companies in a deal worth £35 million. A-Plant has bought a f...
Lib Dems warn over collapsing beef prices
The Welsh Liberal Democrats have warned that the recent collapse in beef and lamb prices could leave the industry in Wales unsustainable. Ahead of...
Dairy Crest announces price cut from September
Dairy Crest has announced a price reduction of 1.1ppl to farmers on standard Liquid and Davidstow contracts from 1 September. Both price changes have ...
Claydon appoints its first dealers
Claydon Drills has announced its first dealer appointments in the UK as part of an ongoing programme of expansion for the Suffolk-based manufacturing ...
Wales 'could become best business destination in UK'
Plaid Cymru Shadow Business Minister Rhun ap Iorwerth has warned that only through supporting Wales' business community can we put the Welsh economy b...
Cameron announces £400m food procurement plans
From 2017, central government will commit to buying fresh, locally sourced, seasonal food, through a new, simplified food and drink buying standard. ...
Farmers clash with Farage over CAP payments
UKIP's plans for taking UK farming out of Common Agricultural Policy (CAP) and the European Union are "unrealistic and uncosted" – according to CLA De...
Upward forecast for UK farmland this year
Capital growth during the first half of the year has been strong for farmland, especially for the best quality and has exceeded our expectations. The ...
The importance of land supply - does the public understand the crisis?
The importance of residential land supply is a subject that divides opinion. There is clear evidence that demand is outstripping supply but at grass r...
Global poultry prices are taking off in Q2
Global poultry prices are taking off in Q2, according to Rabobank's Poultry Quarterly Q2: Prices Taking Off report. This bullishness is driven by rela...
Dairy Crest sales grow compared to first quarter
Dairy Crest is issuing the following Interim Management Statement for the 3 months ended 30 June 2014 at its Annual General Meeting later today. ...
NFU concerned over fall in lamb prices
Farmers have vowed to use the Royal Welsh Show to reiterate to retailers and processors to back sheep farmers after the recent fall in prices. With...
Commission to recover €57m of CAP expenditure
A total of €57 million of EU agricultural policy funds, unduly spent by Member States, is being claimed back by the European Commission today under th...
Growth deal announcement 'must benefit rural economy', says CLA
Government allocations from the national growth pot 'must benefit all sections of the economy', the Country Land and Business Association have said. ...
Farmers to protest 'threatening' US-EU trade deal
Farmers and growers will protest in London calling for the free trade negotiations between the EU and the US to be scrapped. The Transatlantic Trad...
Put money where your mouth is on farmer funding, goverment warned
Ahead of the Welsh Government's statement on a new Rural Development Programme, the Plaid Cymru Shadow Minister for Sustainable Communities, Energy an...
Beef promotion key to improved farm-gate price
On the back of ongoing farm-gate beef price cuts, Clwyd NFU Cymru members were reassured by Hybu Cig Cymru (Meat Promotion Wales) that it will continu...