Finance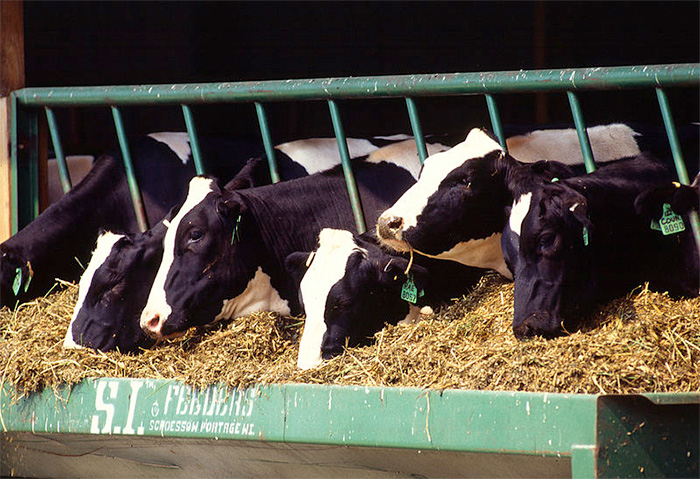 Bursaries scheme to bring new talent into rural professions
A new scheme to give future rural professionals a financial boost has been announced by Harper Adams University. Twenty students starting at the un...
Lilly to acquire Novartis Animal Health
Eli Lilly and Company today announced an agreement to acquire Novartis Animal Health for approximately $5.4 billion. Upon completion of the acquis...
New grant aims to support declining bee population
The Duchy of Lancaster has announced a new Beekeeping Grant to encourage its farm tenants to support the country's rapidly declining bee population. ...
Booming milk production 'could trigger cash flow problems' for dairy farmers
Booming UK milk production could trigger cash flow issues for dairy farmers, an agricultural expert has said. Figures just released show that provi...
Farmers urged to take advantage of increased investment allowance
Farmers are being urged to take advantage of the increased rate of Annual Investment Allowance (AIA), which allows businesses to invest in new plant a...
Defra flood fund 'welcome news for farmers'
Farmers hit by recent flooding are being offered grants of up to £35,000, the Department for Environment and Rural Affairs have announced. This fun...
Farmers face substantial tax bills over TB slaughter
Beef and dairy farmers whose cattle were slaughtered due to TB could face substantial tax bills, according to agricultural accountants. Last year,...
Australian dairy 'offers best risk returns in global agriculture'
Australian dairy currently offers the highest risk-adjusted return of any sector in global agriculture, according to Aquila Capital. Surging global...
Farmland prices hit new heights
The value of English farmland continued to strengthen at the beginning of 2014, rising by almost 6.5% in the first three months, the first time prices...
£90m for centres of innovation: do pigs & poultry want their share?
The Government has made £90 million available for UK centres for innovation as part of its strategy to make UK farming more competitive, productive, r...
Scottish beef payments to arrive from 17th April
The Scottish government has said payments under the Scottish Beef Scheme are to start arriving in beef farmers' bank accounts from Thursday 17 April. ...
Students become farm business consultants for 45th year
Agriculture students from the University of Reading have had the chance to put their business skills to the test by acting as consultants to a real fa...
Income from contract farming falls 10%
Income from contract farming fell 10 per cent last year, but the results could have been worse after an extended period of cold and wet weather. Co...
Bradford company invests £250,000 in its first wind turbine
A UK recycling and green energy company, the Leo Group, has invested £250,000 into its first wind turbine to help power its Bradford plant. Erected...
Losses for big four supermarkets, latest figures show
Latest grocery share figures have shown what appears to be a dramatic market slowdown, with growth of only 0.6%. Kantar Worldpanel estimates that E...
European vote paves the way for Government decisions on CAP
A positive vote by MEPs means the Government is a step closer in making key decisions on implementing the next CAP reform in England and Wales. Th...
NFU calls on Commission to deliver CAP clarity
The NFU has set up meetings in Brussels after last week's decision on additional coupled support. A letter from EU Commissioner Ciolos last week in...
Farmers still being targeted in bank fraud scams
Farmers in the UK are continuing to be targeted in bank fraud scams, according to the National Farmers' Union. Over the weekend, members in the Bor...
China to lead beef demand
Beef demand growth will continue to come mainly from China as farmers take little interest in expanding production despite strong profits and increasi...
Commission to recover CAP expenditure from member states
A total of €318 million of EU agricultural policy funds, unduly spent by Member States, is being claimed back by the European Commission today under t...
Glastir Scheme 'should be open to any farmer', says NFU
The Glastir scheme should be open to any farmer in Wales irrespective of locality or farm enterprise type. This message comes as part of NFU Cymru's r...
Farmers angered over coupling announcement
Statements from Europe indicating that Scottish farmers will be denied greater coupling options under new CAP arrangements have left them 'angered and...
Tesco increases milk price paid to farmers
Tesco announced the new price it will pay British dairy farmers for their milk. Tesco Sustainable Dairy Group (TSDG) members will receive the new p...
Collaboration is key to take advantage of dairy growth, says Raymond
The agriculture industry needs to work together to take full advantage of the growth in demand in the dairy sector, NFU President Meurig Raymond has u...
Dairy industry shows improvement in energy efficiency
The UK dairy industry has shown a significant improvement in its energy efficiency performance. Data collected by Dairy Energy Savings (DES), which...
Budget 'good for farmers' retirement planning'
Agricultural experts at the UK200Group of independent chartered accountants and lawyers say that measures announced in the 2014 Budget could encourage...
Farmers 'fooled' by banking scam
Farmers are being urged to be alert to a banking scam after the National Farmers' Union said a small number of farmers have been defrauded of money. ...
SAF Online option available this year
Online application for Single Farm Payments in Wales is available from this year and has several advantages, however it is important to continue offer...
Buyers compete for store cattle at Bishops Castle
Buyers from as far away as Leicester and Suffolk competed for the 250 store cattle on offer at Bishops Castle Auction on March 20. The entry was up...
Banking fraudsters target south Lancashire farmers
The National Farmers' Union has urged its members to be cautious after fraudsters scammed farmers out of half a million pounds in South Lancashire. ...
HMRC to focus on landlords in latest tax crackdown
HMRC is ratcheting up its ongoing crackdown on tax evasion with its latest focus on landlords who let out residential property, whether at home or ove...
New 'real time' tax relaxation could help farmers
A new 'real time tax' reporting relaxation aimed at micro employers will help many farm businesses struggling to report on, or before, paying employee...
Uralchem increased investments to $174 million in 2013
In 2013 Uralchem's investments in development reached $174 million, an increase of 5.5% compared to the previous year. $84 million was spent on the im...
Global sawlog prices rose in the 4Q/13
Higher demand for lumber and increased global trade of logs pushed sawlog prices upward in many markets during 2013, according to the Wood Resource Qu...
Doubling of investment allowance good news for farmers
The Chancellor's announcement to double the rate of the Annual Investment Allowance (AIA) is welcome news for agriculture, according to agricultural a...
International dairy pricing 'to ease through 2014'
Global milk pricing is expected to ease from mid to late Q2 2013, according to the Q2 Dairy Quarterly report. Exportable supply rose strongly in Q4...
Impacts of CAP reform on typical family farm
The effects of the Common Agriculture Policy (CAP) Reforms on productive livestock farms in the Orkney region have been highlighted by NFU Scotland. ...
Beef prices - Time for review of abattoir charges?
Concerns over inconsistent and unnecessary charges levied on farmers sending cattle to slaughter were voiced at the recent Anglesey NFU Cymru meeting....
Beef industry should take heart and invest
The latest sets of 2013 farm accounts suggest that an increase in variable costs was one of the factors which pushed the beef industry into a downturn...
Muller to offer 33.60ppl from April
Dairy farmer suppliers to Müller UK & Ireland Group are to receive a milk price of 33.60ppl in the new milk year. The move benefits all Müller Wise...
Budget will disappoint Welsh farmers, says FUW
Welsh farmers will be extremely disappointed that the Chancellor ignored mounting pressure to cut fuel duty in this week's Budget, Farmers' Union of W...
North East land prices quietly creeping up
Land prices in the North East are 'gaining momentum' as opinion based prices of bare land are at approximately £7,000 with Knight Frank reporting an a...
Budget: Key points for the farming sector
Mike Harrison, Partner in the Landed Estates and Rural Business Group of UK top 20 Chartered Accountant, Saffery Champness, comments: The doubling ...
First Milk confirms the payment of its year-end returns
First Milk confirms the payment of its year-end, return on investment, to members. A strong performance over the last six months of the financial ...
Voluntary code review evidence timetable extended
The review of the Dairy Industry Code of Best Practice on Contractual Relationships (Voluntary Code) has extended the deadline for evidence. Eviden...
New network aims to revolutionise local food production
The UK community supported agriculture (CSA) movement has launched a crowd funding campaign to raise £19,140 to support its work encouraging farmers a...
Budget fails to benefit farms, says CLA
The Chancellor's budget speech fails to benefit unincorporated rural businesses such as farms, according to the Country Land and Business Association....
Corn market slumps lower on fund selling
Soycomplex Beans closed with small gains, as the market brushed off talk that China had resold a few cargoes of Brazilian beans to the US. Weekly e...
Optimism in dairy industry despite 'unfair returns'
Dairy farmers are still not getting fair returns from the market – but the expansion of Arla could finally provide transparency, according to agricult...
Property bond scheme 'will help landowners' with HS2
The CLA have responded to HS2 Ltd Chairman David Higgins' report by saying that extending the train route should be considered alongside the introduct...