Finance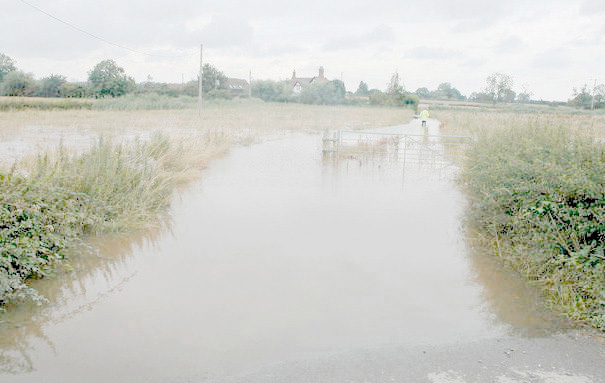 Speculative money 'flooding' into grains sector
EU grains finished mostly higher on the day, with the exception of rapeseed, and sharply higher for the week across all commodities on Ukraine uncerta...
Shrewsbury collective machinery auction draws large crowd
Auctioneers Halls reported one of the largest ever crowds for its bi-monthly collective plant and agricultural machinery auction in Shrewsbury last mo...
Land-based engineering industry at the forefront of apprenticeship reform
The Institution of Agricultural Engineers (IAgrE) has joined forces with a number of top UK companies and industry associations to collectively develo...
Flooding insurance claims 'to run into hundreds of millions'
As the flooding covering huge areas of farmland in the south of England and elsewhere caused by the record rainfall over the winter months recedes, fa...
Survey shows farmers are cautiously optimistic about investing
Despite the recent extreme weather, farmers remain cautiously optimistic about the future according to a recent survey carried out by Lloyds Bank Comm...
Exceptional dairy trade at Shrewsbury Auction Centre
An exceptionally strong trade from start to finish was reported by auctioneers Halls as 145 dairy cattle went under the hammer in front of a good comp...
NFU raises 'three crop rule' concerns at county meeting
Concerns over the three crop rule, which will be a requirement of the next Common Agricultural Policy regime, were raised at a recent NFU Cymru Monmou...
No evidence of grain disruptions out of Ukraine region
Soycomplex Beans closed with generally modest losses, consolidating from the recent rally, as the USDA announced China had cancelled 245,000 MT of ...
Muller Wiseman formula price set at 3ppl
Müller UK & Ireland Group has confirmed that its opening 'Müller Wiseman Formula Price' from April 1st 2014 will be 33.00ppl. In a letter to all no...
Supermarkets urged not to 'devalue food' with price wars
Supermarkets have been urged not to 'devalue food' by entering into price wars which have the potential to undermine British farmers, according to agr...
Fund money coming 'back into agriculture'
EU grains finished mostly steadier, but off the day's highs, with Mar 14 London wheat ending GBP0.70/tonne firmer at GBP162.20/tonne, and with new cro...
Government must invest to close food gap, says NFU
Consistent and long-term investment allowances, and better taxation tools are just some of the key areas the NFU is urging the Chancellor of the Exche...
Openfield Group turnover decreases
Openfield Group, the farmer-owned grain marketing and farm inputs business, has reported an 8% decrease in turnover on the back of higher than average...
Banking crisis may still impact farmland prices
The banking crisis may still have a further and unforeseen impact on the UK's farming industry, according to accountants. With news that the Co-ope...
Threat of halt to Ukraine corn exports gets market nervous
EU grains closed sharply higher as tensions between Ukraine (and the West) and Russia scaled up a level or two over the weekend. This is the biggest c...
Price increase for farmers on Dairy Crest formula contract
Dairy Crest and Dairy Crest Direct (DCD) have jointly announced the launch of two new contract options for the start of the milk year. Delivering on D...
Plumpton College Open Day
Plumpton College has an Open Day on Saturday 10th May 2014. There will be courses and careers advice, apprenticeships information, business trainin...
Farmland prices reach new highs
Farmland is proving more attractive to investors as prices rise almost 15% in the past year, according to new figures. The RICS Rural Land Market S...
Figures reveal steadying farm costs
Results for the last six months of the Anglia Farmers Agricultural Inflation Index have shown that farm inputs costs have remained steady. Represen...
MP urges level playing field for farmers in US-EU trade deal
On Tuesday the 25th of February the House of Commons held a debate on the Transatlantic Trade and Investment Partnership, which is a trade agreement b...
Push for rise in moorland payments 'back by Defra analysis'
The CLA has said it was right to push for more money to be moved to moorland areas, after a Defra analysis confirmed its benefits. The organisation...
£10m Farming Flood Recovery Fund to open on Friday
Farmers whose businesses have been directly affected by flooding will be able access £10 million of government support from Friday, Farming Minister G...
Massey Ferguson farm equipment now available in Russia
AGCO-RM, the joint venture between AGCO, a worldwide manufacturer and distributor of agricultural equipment, and Russian Machines, one of the leaders ...
Welsh beef farmers voice price concerns
Welsh Beef producers are voicing concern over the beef price difficulties with farmers calling on the meat trade to recognise how current negative sho...
Farmers express 'despair' at Welsh government TB proposals
Clwyd farmers have expressed their despair and anger at a Welsh Government decision to change the way farmers are compensated for cattle slaughtered a...
Agricultural accountants concerned over EC organic rules
The European Commission could be taking 'financial risks' over farmers and growers with their new organic proposals, say agricultural accountants. ...
230,000 bird poultry unit for sale for first time in 30 years
Leaze Farm, a 230,000 bird-poultry unit with 16 acres in Bulkington, Wiltshire, has been launched to market by Chesterton Humberts for the first time ...
Plaid Cymru issues CAP challenge to Welsh government
The Welsh government must change course on CAP reform by transferring some of the money it has taken from single farm payments back 'into the pockets ...
Views sought on £1bn investment plans for Welsh rural communities
Minister for Natural Resources and Food, Alun Davies, has today set out his views on how nearly £1bn of funding should be spent to strengthen Welsh fa...
Successful second cattle auction at Bishops Castle
A highly successful second store cattle sale of the year was reported by auctioneers Halls at Bishops Castle Auction on February 13. A catalogue en...
Lower farm incomes contributing to 'unprecedented pressures'
Plummeting farm incomes coupled with extreme weather events and structural change through CAP reform are contributing to 'unprecedented pressures on f...
Chesterton Humberts to split into two companies
Chesterton Global Ltd, the owner of international property consultancy and estate agency Chesterton Humberts has announced that it will be de-merging ...
Halls sell North Shropshire farm with £1.75m price guide
The sale of a versatile 165-acre livestock and arable farm in rural North Shropshire, which had a guide price of £1.75 million, has been completed by ...
Emergency fund set up for flood-stricken farmers
An emergency fund has been set up by Hitachi Capital to support flood stricken farmers in meeting unforeseen costs. "The feedback from our approved...
Beware tax burden on planning uplift
Landowners are increasingly benefiting from development uplift in land values – but must plan carefully to avoid hefty tax bills. "The past 18 mont...
Service and Support for AD Under The Spotlight At Energy Now Expo
The importance of an established service and support network in the renewable energy sector will be under the spotlight at the Energy Now Expo, accord...
Record weather provides welcome 'windfall' for farmers with turbines
Record breaking winds are providing much needed additional revenues to hundreds of UK farmers who have installed power generating turbines on their la...
Erich Stallkamp steps down as a shareholder of WELTEC Group
With effect of January, 20th 2014 Erich Stallkamp sold his stake in WELTEC, a manufacturer and operator of biogas plants based in Vechta, Germany. ...
Seminar tackles taxation challenges
With new taxation challenges emerging for agricultural businesses, NFU Scotland has teamed up with two top Scottish firms to help guide its members as...
Uralchem sets record for the production of ammonia
Uralchem set an absolute record in 2013 for the highest output of ammonia in Russia, with the total output of 2.819 million tonnes. Compared with 2012...
Organic investment fund launched
The investment division of sustainable bank Triodos has launched a new investment fund, investing in leading, privately owned organic food and sustain...
Over 200 lamb farmers sign contracts with Tesco
More than 200 British lamb farmers have entered into direct, two year contracts with Tesco. The contracts represent the first time a major UK retailer...
Small turbine manufacturers Ampair completes Westwind acquision
Ampair, the Dorset-based wind turbine manufacturer, has completed its acquisition of Westwind, the Belfast-based wind turbine manufacturer. Ampair, wi...
Kuhn Group to acquire Montana
Kuhn has announced that it has signed a principal understanding for the acquisition of Montana Indústria de Máquinas, headquartered in São José dos Pi...
Pork industry positive as declining feed costs lift farmers' margins
The global pork industry had a generally good 2013 with the Rabobank five-nation finished hog price index averaging 151, an increase of 10% on 2012 an...
Weather continues to have significant impact on farm incomes
Weather conditions have again had a significant impact on farm incomes, according to new figures. Average Farm Business Income fell across most far...
Queen's agricultural investment reaches £19m
The Duchy of Lancaster, which manages the monarch's portfolio of land investments, has announced the purchase of 560 acres of land comprising Quadring...
Huge turnout for CAP discussion
"If we say we will do nothing, and simply rely on diminishing resource, we cannot take care of the future or invest in the future," said Alun Davies, ...
Welsh farming report 'fails to address cash flow issues'
Farmers in Wales will be disappointed by the Review into the Resilience of Welsh Farming Report launched today and the Minister's accompanying stateme...
Farm payment letter highlights impact of 15% Pillar transfer
The full implications of the Welsh Government's decision to transfer the maximum 15 per cent of Pillar 1 funds to Pillar 2 hit home this week as thous...