Machinery and Spares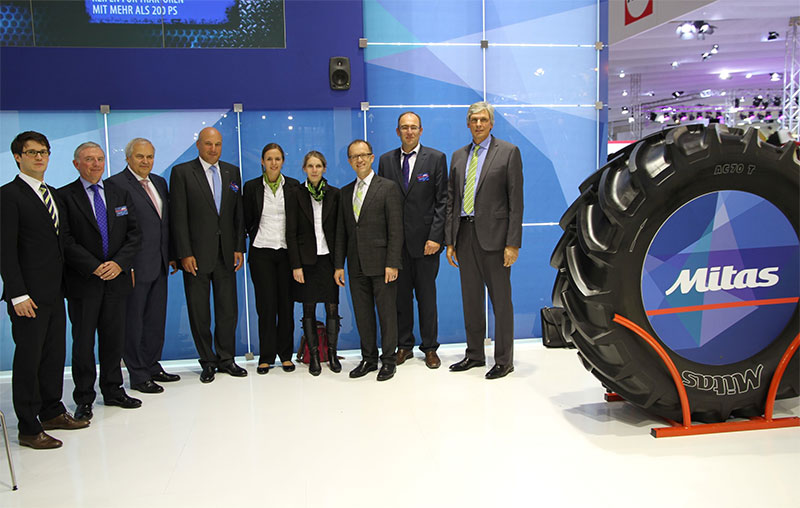 Is it a forklift, dumper, lifter or loader? The new Tuchel-Trac Quattro is all of these and more
Seen for the first time in the UK this is a totally new machine launched at Lamma by Microplant in association with AFT Trenchers Ltd. The Tuchel T...
John Deere sprayer developments for 2010
John Deere's technology leadership in the sprayer business has once again been recognised, with the award of a DLG silver medal at the Agritechn...
New Holland joins forces with the Beekeepers to save the bees
New Holland, one of the UK's leading agricultural manufacturers, has announced that it has joined the fight to find solutions to the problems wh...
LAMMA debut for Massey Ferguson MF 7400 tractors
Massey Ferguson's new MF 7400 Series flagship model, the 240hp MF 7499, makes its UK debut at the LAMMA show in January. At the same time the co...
Challenger at LAMMA 2010
Challenger comes to the LAMMA Show, to be held at the Newark and Nottingham Showground on 20th and 21st January, buoyed by strong demand for its track...
DLC Equipment moves into new tractor sales and service support with Landini
Who better understands the maintenance, repairs and parts service needs of farmers and other tractor owners than someone who operates a fleet of these...
New Landini tractor dealer in south-east Wales
Lanes Agricultural – established dealership based in Abergavenny Landini tractor dealer providing sales, parts and service support Family business w...
New Holland's new head of 'Goodwill'
New Holland has appointed a highly experienced new Aftersales Business Manager whose job it will be to oversee the essential area of aftersales custom...
A tough trencher for tough digging conditions - the AFT 100 Tractor Mounted Trencher LAMMA 2010
AFT Trenchers Ltd has built a solid reputation as the foremost manufacturer of specialist drainage equipment, primarily for the sportsturf sector, but...
Scarecrow Launches COMPACT – the First UK Bio-Acoustic Bird Dispersal Product Powered by Renewable Energy
Scarecrow Launches COMPACT – the First UK Bio-Acoustic Bird Dispersal Product Powered by Renewable Energy Leading the Way in Energy Efficient Bio-A...
Tong Peal agricultural sales manager retires
Well known to growers throughout the country, Jerry Gill has retired as agricultural sales manager after 26 years with leading potato machinery manufa...
New three-model compact SCORPION
CLAAS has introduced a new compact version of the SCORPION telescopic materials handler, which is lower, narrower and shorter than current models. ...
Range topping MF 7400 Series offer more power and economy
Massey Ferguson is extending its highly successful MF 7400 Series with the addition of the 225hp, MF 7497 and 240hp, MF 7499 models. Both are equipped...
Johnsons of Cheadle expand team
Farm equipment dealer Johnsons of Cheadle has expanded its Landini tractor sales team with the appointment of David Parsons to work alongside sales an...
Standen Pearson announce working demonstation day for their all new potato harvester
Tuesday 27th October - 9.30am-2.30pm Wednesday 28th October - 9.30am-2.30pm AL Legge & Son, Plains Lane, Littleport, Ely Cambridgeshire CB6 1RJ ...
Standen Pearson launch new two row potato harvester at British Potato 2009
STANDEN-PEARSON will launch its all new T2, 2-row trailed potato harvester in Harrogate, at British Potato 2009. T2 is a "clean sheet" design an...
Fendt 200 Vario – the compact all-rounder
With the new 200 Vario range, Fendt sets completely new accents for compact standard tractors in the 70 to 110 hp power segment. The 200 Vario unites ...
Herefords agricultural engineer realises ambition with new McCormick tractor franchise
A passion for fast cars and the thrill of blasting along forest tracks at high speeds has driven the business ambitions of a young agricultural engine...
Shropshire McCormick dealer HJR Agri wins top award for new business
• New dealership established by experienced sales, service personnel • Quickly gains leading farm machinery and McCormick tractor franchises ...
The Dammann DT2000H Self-propelled Crop Sprayer in Action
Having now completed over 1000 Ha of spraying, North Lincolnshire contractor Mike Chantry gives an appraisal of his Dammann DT 2000H: The word that...
ECU Remapping
GCL can tune nearly all commercial vehicles, this includes HGV tuning, Truck tuning, Lorry tuning, 7.5 tone and Van tuning and well as most Tractors, ...
John Deere adds two new W Series combines
John Deere has added two new combines to its W Series range. The five-walker W550 and six-walker W660 models offer the same basic specification as the...
Landini's newest tractor – the PowerMondial – features in 48hr charity ploughing marathon
Norfolk farm machinery supplier Alan Brewster is supporting the charity fund-raising efforts of local farmers by supplying a new Landini PowerMondial ...
New McCormick CX telescopic pick-up hitch for quicker and easier trailer coupling
• Dromone CX11 pushback hitch purpose-built for McCormick CX tractors • Heavy-duty but compact design leaves 4wd drop-box service acces...
Case IH wins award at the National Show of Livestock and Agricultural Equipment
At the show opening of the National Show of Livestock and Agricultural Equipment in Brno, the best exhibits were awarded by a Jury of Assessment. The ...
Insurance scheme provides peace of mind for Landini tractor owners
Break-down insurance complements manufacturer warranty Choice of cover – Powertrain and Powertrain Plus No excess charges to pay, just the premium ...
Landia's pumps solve excess water problem for egg producer
Adjacent to a Site of Special Scientific Interest (SSSI) in Shropshire, pumps made by Landia are ensuring that a farm can cope with huge volumes of ex...
Dairy Farm's decade of Slurry Separation success with Carier
A Carier Separator from Linton Solutions is set to achieve a decade of virtually uninterrupted slurry treatment at Goligher's Dairy Farm near Om...
Modern tractor investment for poultry enterprise brings performance and reliability
Investment in better equipment is always on the agenda for farm-based businesses but there has to be an economic argument to justify them. For Jeff...
Puma CVX adds to Case IH awards at the Royal Show
Case IH has won three awards at the final Royal Show. In addition to the two awards won by the Case IH's flagship Axial-Flow combine range, a Si...
New value line compact tractor from John Deere
John Deere's 3036E compact tractor is the first of a new value line of machines to be made available in Europe, and will be on display for the f...
Collaborating to improve potato weighing and bagging
A new option for automation of the weighing and bagging of potatoes is being provided through a joint initiative by Tong Peal and Pacepacker Services....
LSM provides perfect baling solution to Kelshall Plastics
Royston based firm Kelshall Plastics recently took delivery of its new Kerrush WRH600H Baler from Irish manufacturer LSM Engineering. With the busiest...
Massey Ferguson MF 8690 tractor strikes gold again
The MF 8690 tractor has been awarded a Gold Medal at the Innovations Awards at Germany's Demopark show. This latest accolade continues Massey Fe...
New cabs raise comfort and convenience levels for McCormick CX and MTX drivers
• McCormick CX 'T3' gets new Deluxe four-post cabin with roof window • McCormick MTX 'T3' has new-design bodywo...
XERION is awarded an RASE Silver Medal
The versatility and practicality of the unique CLAAS XERION tractor has been recognised by the Royal Agricultural Society of England (RASE), who have ...
Shooting school on target with Kubota RTV900
Two Kubota RTV900 four-wheel drive all-terrain utility vehicles have been voted 'top of the class' at the West London Shooting School, one...
New liquid applicator for seed tubers
A new potato seed treatment roller table applicator from Team Sprayers promises to give more accurate and even coverage of liquid seed treatments, to ...
Riverlea Xtra top McCormick dealer for sales and market share in 2008
West Wales machinery dealer Riverlea Xtra based at Whitland was the most successful supplier of McCormick tractors in Britain last year. It delivered ...
Dairy farm operations rely on effective tractor fleet
A good choice of tractors and first-class support from the local dealer – that's what dairy farmer John Sollis says he needs to keep the large d...
Challenger 'C Series makes UK working debut at Cereals 09
The Challenger 'C' Series of tracked tractors will be making its working debut at the Cereals Event 09. These latest models provide unriva...
Tractor of the Year heads Massey Ferguson arable tractor range at Cereals 09
Headed by the award-winning 'Tractor of the Year', MF 8600 Series, Massey Ferguson will be exhibiting its best ever range for the arable s...
RABDF launches machinery and equipment award at Dairy Event and Livestock Show
Machinery and equipment exhibitors at the Dairy Event and Livestock Show are invited to enter a new award presented by the Royal Association of Britis...
New Hollands T7000 Auto Command makes its debut at Grassland UK
New Holland's latest and most advanced evolution of the award-winning T7000 series will make its first national public appearance at the Grassla...
More sowing complexes for RAD farm in the Kamensky District
Proclaiming yield enhancement as a key point of the project, Russian Agricultural Division continues to equip its enterprises with up-to-date farming ...
Fertiliser wastage
Fertiliser wastage Did you know that nine farmers out of ten waste fertiliser by failing to mount the spreader on the tractor accurately? That th...
Baler Belt Fasteners
Benson Beltings have addressed the long standing confusion regarding the particular brand/style of fastener used in baler belts by placing a simple ph...
New Holland Auto Command transmission enhances T7000 tractor range
• New Continuously Variable Transmission manufactured in New Holland's Antwerp Transmission Plant in Belgium • New CVT control system developed...
Agricultural manufacturer McConnels introduces new dimension to mid-range hedge and verge cutters
Agricultural manufacturer McConnel has introduced a new dimension to its mid-range hedge and verge cutting power arm technology. The award-winning ...
Hedge and verge mowing from McConnel
Hedge and verge mowing contractors can now look forward to work thanks to another development from agricultural machinery manufacturer McConnel. Th...