Meat Processing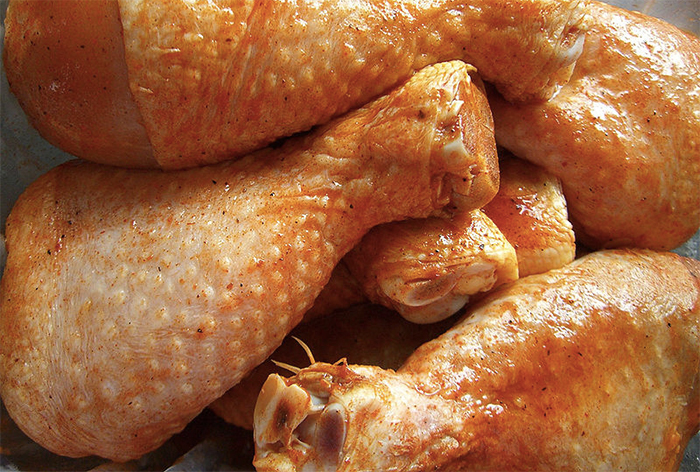 MEPs call for moratorium on cloned meat labelling
Draft plans to encourage food innovation via a new, authorisation procedure for novel foods have been approved by the Environment Committee. The d...
70% of chicken tests positive for campylobacter, FSA announces
70% of chickens tested positive for the presence of campylobacter, the Food Standards Agency has today announced. The cumulative results from the f...
Parents say schools should serve more British food
Parents want to see more British food served up in schools and more lessons on food and farming, according to a new NFU survey. A YouGov poll comm...
Scottish farmers disappointed over EU calf scheme
The European Union has ruled out Scotland front-loading payments made under the new Beef Calf Scheme that would have supported smaller beef producers,...
Irish beef farmers 'have had enough' as they begin protests
Irish beef farmers are set to protest the prices they are being paid for their cattle, arguing that they are well below the UK and EU averages. IFA...
Who are the biggest meat consumers in the world?
Across the globe, meat is a staple food enjoyed by an array of countries and cultures. From tender chicken in traditional Spanish paellas to juicy sau...
Morrisons search for more Beef Shorthorn
The search is on for more Beef Shorthorn sired cattle with a 30p/kg premium at stake to meet with demand from Morrisons for its Traditional Beef Schem...
Meat consumption growing, opportunities for British farmers 'enormous'
Since the global media picked up on the EU horsemeat scandal, the British meat market suffered quite a severe blow. Despite the fact that the majo...
FUW Caernarfon meets new meat plant manager
Farmers' Union of Wales members have met with the manager of Menai Meats Wales Ltd, which has taken over the former Sher Foods abattoir in Caernarfon....
Vets prefer to buy British meat
Vets across Britain really care about where their meat, fish, dairy products and eggs come from, with an overwhelmingly majority buying British. To...
Russian ban won't derail bullish poultry market, report says
The global outlook for the poultry industry is bullish for the remainder of 2014 and poultry meat prices will not be derailed by the Russian ban on ag...
Minister's back Food Crime Unit after horsemeat scandal
The UK is to have a Food Crime Unit to fight fraudulent food trade after the recommendations in the Elliott report, commissioned after the horse meat ...
16-year high for UK sheep meat exports
UK export volumes of sheep meat in the first six months of 2014 hit their highest half-year level since 1998, according to EBLEX. Global shipments ...
Livestock farmers' 'confidence in jeopardy'
An excellent turnout of Monmouthshire livestock farmers attended an on-farm meeting held in Llansoy to raise their concerns on the future of the beef ...
HCC boosts demand for Welsh Lamb
Hybu Cig Cymru - Meat Promotion Wales (HCC) - launches a new trade and consumer marketing campaign this September. The new catchline for the market...
Scottish lamb 'filling up shop shelves' ahead of campaign
With a major Scotch Lamb promotion due to be launched this month, NFU Scotland's latest look at supermarket shelves has shown that they are finally st...
No horse meat found in latest industry and EU testing
The latest round of industry and European Union (EU) testing published today found no horse meat DNA in meat products at or above the 1% reporting thr...
Gap between beef retail and farmgate prices 'cannot continue'
NFU Cymru Livestock Board members have called on the rest of the supply chain to restore confidence and stability to the beef price following the dram...
Gloucestershire farmers launch meat traceability scheme
Two Gloucestershire farmers, Clifford Freeman and Matthew Rymer, have ignited a growing 'Happerley Farmed' movement among producers, butchers and chef...
Halal meat labelling 'could fuel prejudice', says veterinary association
Calls to label meat products with information about animal welfare at slaughter could be hijacked by prejudice, according to the British Veterinary As...
Dairy-produced beef under the spotlight
Beef production from the dairy herd to benefit the industry as a whole will come under the spotlight at this year's NBA Beef Expo. Beef Expo's the...
Beef industry 'needs long term investment', says NFU
The National Farmers' Union is calling on more people to eat British beef as production falls around four percent in recent times. The union is callin...
Association expresses 'disappointment' over lamb meat substitution
The Food Standards Agency has announced additional testing of lamb dishes from takeaway restaurants across the UK following evidence of substitution f...
FSA confirms new European horse meat tests
The Food Standards Agency (FSA) has confirmed details of a new round of tests of beef products for horse meat contamination. The tests have been reque...
Mis-stunning 'extremely rare' in British abbatoirs
The British Veterinary Association (BVA) has been calling for an end to the practice of non-stun slaughter on the grounds of animal welfare. The assoc...
'Buy from local butchers', as National Butcher's Week begins
People are being encouraged to buy from their local butcher as part of National Butchers' Week. This year's awareness-raising campaign focuses on e...
Meat consumption 'in decline' following rising costs and horsemeat scandal
Rising prices and the exposure of the horsemeat scandal in early 2013 have contributed to a declining demand for meat in the UK, according to a new ma...
Supermarkets under pressure to sell more British food
Retailers should show more support to British farming by stocking more British food, National Farmers' Union President Peter Kendall said today. A ...
MEPs call for stronger measures to boost food safety
New legislation to tackle outbreaks of animal diseases, such as African swine fever, more effectively, restrict the introduction of dangerous new pest...
Figures show 'very little' increase in Polish beef imports
With weakening cattle prices of late, many have been quick to point the finger at Polish beef imports. The evidence does not however, back up the s...
UK cattle slaughter at 'lowest level since 1970'
The total number of prime cattle slaughtered at UK abattoirs during 2013 fell two per cent on the year to 1.93 million head according to EBLEX. Thi...
FSA seeks spotters to help meat inspection
The Food Standards Agency has said it is seeking a contractor to carry out research on the use of spotters to help official meat inspection in slaught...
What's changed since the horse meat scandal broke?
One year ago consumers were shocked to find out that what they thought was beef – was actually horse. The horse meat scandal gave charities a chanc...
Yorkshire company sees 20% sales increase after horsemeat scandal
Yorkshire Dales Meat Company has seen a 20% rise in sales of its products in ASDA stores across the North of England since the beginning of the Horsem...
Union builds on consumer demand for Scottish food
NFU Scotland is building on its ShelfWatch campaign to specifically look at the availability of Scottish meat on Scottish retailer shelves. One yea...
MEPs call for measures to stop food fraud
Recent food fraud cases, including the sale of horse meat as beef, should prompt the EU to review the functioning of the food production chain, step u...
FUW promotes Welsh breakfasts in farmhouse kitchens, village halls and to politicians
Farmhouse kitchens will be filled with mouth-watering smells as part of the annual Farmers' Union of Wales campaign of support for locally-produced We...
Meat labelling rules will confuse shoppers, farming groups warn
The NFU and NPA say that new European Commission rules on food labelling may lead to massive confusion for British shoppers keen to buy meat produced ...
Look after UK suppliers as imported lamb drops, NSA urges
Retailers in the UK are being urged to create stronger trading relationships with domestic lamb suppliers to prevent reliance on New Zealand imports. ...
Retailers stocking more British beef but 'more needs to be done'
Latest figures released by EBLEX have revealed the average percentage of British beef and lamb on supermarket shelves has shown a 'marked improvement'...
Mid Wales farmers tuck in to a banquet of bangers
Mid Wales farmers enjoyed a banquet of bangers in a special celebration of British Sausage Week laid on by Farmers' Union of Wales members Ithel and L...
New US meat labelling rules take effect Saturday
This Saturday, new regulations are scheduled to take effect that will require meat producers to list many details on their packaging, such as the coun...
Farm group 'disappointed' over level of lamb imports to Tesco and Asda
The lamb season needs more retailer support according to the National Farmers' Union who found 'disappointing' levels of imports in Tesco and Asda sto...
Foundations for next food scandal being laid as retailers move away from shorter supply chains
The foundations for the next food scandal are already being laid by some retailers as they edge away from shorter supply chains that were promised fol...
EFSA calls for change to meat inspections
The European Food Safety Authority (EFSA) has made a number of recommendations for improving meat inspection procedures to better protect consumers, a...
More results of beef product testing published
The Food Standards Agency is today confirming it has received a further 19,050 industry results from testing beef products for horse DNA. The Agency h...
Shoppers duped by misleading labelling
Shoppers looking to support local farmers are being misled into buying imported produce as a result of ineffective rules around product labelling. ...
Intelligence sharing needed as FSA review horse meat scandal
At the Food Standards Agency open Board meeting, Professor Pat Troop presented the key findings of her review of the Agency's handling of the adultera...
Flies: from nuisance to nutrition
A new €3 million, EU-funded project, PROteINSECT, is investigating how flies can contribute to the growing demand for protein in animal feed. With ...
EU votes to 'modernise' pig inspection laws
European member states have voted for new legislation to modernise the inspection system in pig slaughterhouses. The new legislation aims to improv...