NFU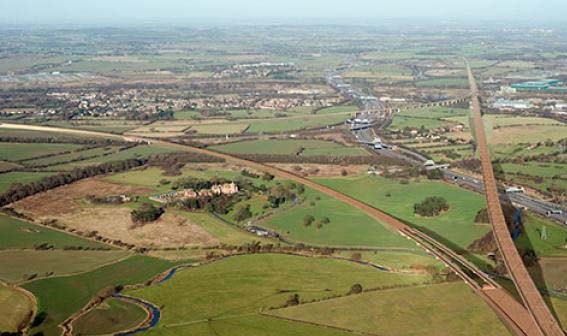 NFU to support Bayer neonicotinoid legal challenge
The NFU is to support Bayer's legal challenge on the restrictions of the use of neonicotinoids, it has been announced. NFU Director General Andy R...
HS2 compensation package fails to address blight on farming, says NFU
The NFU have submitted its evidence as part of the latest consultation into property compensation for those affected by the proposed HS2 high-speed ra...
MPs urge government not to disadvantage English farmers
MPs are urging the government not to disadvantage English farmers by new CAP rules. The headline recommendation is that if Government is to transf...
Minimise disruption to farming businesses, NFU urge
Minimising disruption to farming businesses the length and breadth of Wales and ensuring Welsh farmers remain competitive in UK, EU and global markets...
Farmwatch scheme attracts a lot of interest
Police officers working in rural areas of north Powys have linked with colleagues at NFU Cymru to bring a Farmwatch service to local farmers. Set ...
NFU Vice President to address Clwyd County Conference
Adam Quinney, NFU Vice President, will be guest speaker at Clwyd NFU Cymru Annual Conference on Tuesday, 10 December 2013. Starting at 7.30pm the m...
Political pressure mounts for fairer CAP deal
A high level delegation from NFU Scotland has been meeting politicians from all parties and both Houses at Westminster following Defra Secretary of St...
Lamb tagging changes could cost producers £1.8million, says NFU
Defra's decision to outlaw non-electronic batch tags for slaughter lambs is disappointing and could cost primary producers up to £1.8 million, the NFU...
Farming unions issue joint statement to welcome CAP allocation
The Presidents of the NFU, NFU Cymru and the Ulster Farmers' Union have welcomed the decision on the allocation of the CAP budget between England, Wal...
Flood alleviation tops agenda at county meeting
NFU members used a meeting this week in Montgokmeryshire to discuss numerous environmental issues including flood alleviation with Tim Jones, who is t...
Huge potential for poultry industry, NFU President says
The poultry industry has huge potential for the future with a number of exciting opportunities facing the sector, NFU President Peter Kendall said. ...
NFU urges better water management for farmers
The National Farmers' Union has called on the government to shape policy to enable farmers to capture water during 'times of plenty' to help the indus...
Union seeks clarification on LFASS
NFU Scotland has written to the European Commission, seeking clarification that the nation's Less Favoured Areas Support Scheme (LFASS) can be re-base...
NFU voices concerns over EID legal challenge
The National Farmers' Union has voiced disappointment that a legal challenge lodged by German shepherds regarding Europe's unpopular sheep identificat...
NFU begins process of electing new President
The National Farmers' Union has started the process of electing its office holder team in 2014 during NFU Council, after its President Peter Kendall c...
Farming unions back Paterson as cull extensions sought
The Country Land and Business Association has welcomed Environment Secretary Owen Paterson's commitment to the badger cull extension as the pilot prog...
NFU warn farmers over bank scam
The National Farmers' Union are urging its members to be alert to a banking scam in which fraudsters appear to be targeting the farming community. ...
Never underestimate the impact of weather on supply chains - NFU
"Many farmers are still working under the shadow of 2012's appalling weather and the knock-on impact this has had," said Phil Bicknell, NFU Chief Econ...
Reverse decline in agriculture spending, NFU warns government
Farmers who battled against the elements to ensure the English wheat crop survived the torrid weather conditions of 2012 have seen high quality from t...
EU must help producers selling milk below production costs, says NFU
The NFU has called on European policy makers to help make the sector more market focused and to provide dairy farmers with the right tools to supply a...
European vote highlights 'deep divisions' over biofuel policy
The biofuels debate is set to continue in Europe after a European Parliament vote highlighted the deep divisions between MEPs and member states over t...
Chief economist to address Monmouthshire NFU Cymru members
NFU Chief Economist, Phil Bicknell will be addressing the next Monmouthshire NFU Cymru meeting, on Thursday, 19 September 2013, at Beaufort Arms, Ragl...
EU regulations 'threatening crop yields', says NFU
The NFU has warned that tightening EU regulations on crop protection, plant breeding and genetic technology is threatening European crop yields and qu...
Top chefs encouraged to back British farming
Some of the country's most influential chefs are being urged to source and serve up more British food and back British farming, the NFU have said. ...
RSPCA says badger cull farmers will not be named after NFU complaint
Farmers involved in the badger cull will not be named and shamed by the RSPCA as a result of an investigation by the Charity Commission. The NFU r...
NFU calls for Scottish CAP deal as figures show decline in beef herd
NFU Scotland has repeated its call for Scotland's beef sector to secure a meaningful deal from CAP reform after figures showed another alarming declin...
NFU outlines concerns about changes to SOAs
NFU Cymru is using Pembrokeshire County Show to highlight its concerns with the recent Welsh Government decision that from 1 November 2013 no new Sole...
NFU's Raymond speaks to Welsh dairy farmers at Pembrokeshire
"Given the right support from the supply chain Welsh farmers have a genuine opportunity to capitalise on growing domestic and global demand for dairy ...
NFU Cymru will consult on CAP
Following the launch today at the Royal Welsh Show of a further Welsh Government consultation on CAP, the Union will now use the consultation period t...
More dairies commit to fair contracts as code reaches anniversary
One year on from the historic signing of the 'heads of terms' agreement for what became the Dairy Industry Code of Best Practice for Contractual Relat...
Farmers and growers urged to shape NFU CAP talks
NFU members who want to learn more about the outcome of CAP reform talks and help shape NFU policy are being invited to a series of meetings across th...
New MP report on flood management backed by NFU
Farmers and growers will see the benefits to farmland at risk of flooding if the recommendations of a new report on flood management are implemented b...
Tesco appoints new agricultural director
Tesco has today announced the appointment of Tom Hind as its new Agriculture Director. Hind, who has more than 15 years of experience working for the ...
Politicians 'must secure competitive future for agriculture', urge farmers
The future of the agricultural industry in Pembrokeshire was at the forefront of discussions during a recent meeting of Pembrokeshire NFU Cymru office...
NFU criticise Defra as UK votes on CAP reform
With a final deal yet to be struck, the UK has supported a mandate for the Irish Presidency to take the revised CAP proposals to Brussels to be passed...
Farm leaders meet with ministers as CAP reform enters final stage
Farm group members have met with Defra Farming Minister David Heath and Scottish Secretary of State Michael Moore at the Highland Show as the CAP refo...
Land agents must help British farming, Kendall tells conference
Rural land agents must help champion the tools farmers need to be able to put more British food on more British plates, NFU President Peter Kendall sa...
Farming leaders in talks with Ministers ahead of CAP 'crunch time'
Ahead of CAP talks reaching their climax in the next few weeks, NFU Scotland's President, Nigel Miller and staff have met with Defra minister, Owen Pa...
Arable farmer confidence 'at new low' says NFU
A new snapshot member poll has revealed this year's wheat harvest is likely to be smaller than last year, while short-term confidence among arable far...
UK agri-tech strategy must be effective on-farm if it is to succeed
The government's agri-tech strategy needs sustained action and investment to ensure science and technology can be used to drive up productivity, NFU D...
Pollinators are an important part of our industry - NFU
It is in the agricultural industry's interest to help pollinators as their decline is a complex issue, the NFU have said. The message comes as part...
Badger cull 'vital to avoid needless slaughter of cattle,' says CLA
The Country Land and Business Association has given its backing to government policy on bovine TB ahead of today's Opposition Day Debate, saying a bad...
Scottish farmers urged to take up winter weather aid
Scottish farmers affected by the poor winter weather are being urged to apply to the Scottish Government's aid scheme, which opened for applications t...
Dairy farmers suffered the lows for too long, says Jones
"The time has passed for excuses and we should now be at the stage where all milk buyers have properly implemented the voluntary code," said Aled Jone...
Sercombe elected chairman of sheep and goat advisory group
NFU livestock board chairman Charles Sercombe has been elected chairman of the European Commission Advisory Group for sheep and goat meat. Sercombe...
Challenge your MPs on CAP says NFU
The NFU is urging its members to use the agricultural show season to challenge their MPs on how they want to see the Common Agriculture Policy working...
Replacement to SAWS will help horticulture thrive
The NFU strongly supports a warning issued to Government that British horticulture could suffer immeasurably without access to a reliable, flexible an...
Profitability and welfare essential for pig and poultry sectors
The pig and poultry sectors have invested millions of pounds into new higher welfare systems but it is essential that these farmers can run their busi...
Reject EU dairy proposals that shackle milk supplies, urges NFU
The NFU is calling on CAP reform negotiators to reject proposals from the European Parliament that would see a return to supply controls in the dairy ...
Kelly Watson to quit NFU post
Kelly Watson is leaving her job as chief poultry advisor with the National Farmers' Union (NFU) to take up a position with the supermarket chain Sains...