NFU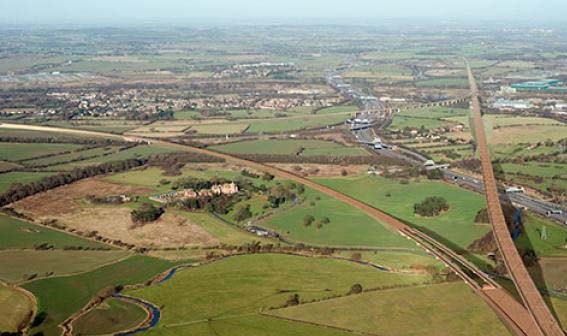 Farming must learn from horticulture's experience
NFU President Peter Kendall will today warn that farmers face serious challenges in maintaining their record of growth and success through 2012. Sp...
Nominees announced for NFU officeholder elections
The nominees have been confirmed for the NFU officeholder elections 2012 to 2014. The nominees are (in alphabetical order): President: • Peter ...
Call to action on future of farming in Wales
Farmers have received an insight into the shape of things to come for their industry if Welsh Government adopts recommendations by a new review panel....
Agriculture Deputy Minister to Speak at Brecon & Radnor Conference
Alun Davies AM, Deputy Minister for Agriculture, Food, Fisheries and European Programmes, will be guest speaker at the Brecon and Radnor NFU Cymru Ann...
Farmers to be consulted on Chernobyl restrictions
NFU Cymru is inviting farmers within the Chernobyl-restricted area of north-west Wales to an open meeting to have their say on a regulatory agency&rsq...
New environmental protection powers need monitoring
Regular reviews must take place to monitor Natural England's new enforcement sanctions due to come into force today, the NFU has said. These ...
New Year message from NFU President Peter Kendall
NFU President Peter Kendall has issued his New Year message saying that despite the short-term hurdles that lie ahead he remains optimistic for the fu...
Farmers to hear about future food production challenges
Guest speaker at the annual meeting of NFU Cymru Anglesey will be Dr Haydn E Edwards, Chairman of Welsh Government Food and Drink Advisory Partnership...
NFU urges Government to stick with plans to streamline planning policies
Changes to planning rules must ensure that the rural economy can be allowed to prosper alongside a healthy natural environment, the NFU said today aft...
NFU Cymru LFA office holders re-elected
John Owen, who farms at Rowen near Conwy, has been re-elected as the NFU Cymru Less Favoured Area (LFA) Board Chair and Denzil Jenkins, a hill farmer ...
Mixed response to HMRC review of policy on red diesel
The NFU is backing a proposed relaxation in the rules on the use of red diesel to allow farmers to grit roads during severe wintry weather. The Gov...
Jim Paice MP launches CFE Young Farmer competition
A new competition aimed at teaching young farmers more about the Campaign for the Farmed Environment (CFE) has been launched by farming minister Jim P...
Fly-tipping on private land still a major concern
Fly-tipping incidents on private land remain a serious issue for farming, said the NFU today, despite new government figures revealing a decline in fl...
NFU relieved after Defra announces two badger control areas to tackle TB
NFU President Peter Kendall has said today's decision from Defra to commit to two pilot areas for badger controls as part of its plan to tackle ...
Budding Artist wins top prize in NFU Cymru colouring contest
A budding artist from Pembrokeshire is now running their own miniature farm after scooping top prize in a colouring competition organised by NFU Cymru...
NFU responds to Government Water White Paper
The NFU has reacted to the publication of the Government's Water White Paper, welcoming it as an opportunity to work with farmers and growers an...
Churchill's wartime letter to NFU sells for £1650
A typed letter signed by Britain's wartime leader Sir Winston Churchill sold for £1,650 when it went under the hammer at a leading Shropshire fi...
NFU delight as UK secures vital extension on sheep EID
A key vote in Brussels on sheep EID that has delayed a requirement for individual movement recording of the 'historic flock' for three yea...
Kendall takes supermarket battle to Brussels
NFU president Peter Kendall has called on EU policy makers to tackle the power imbalance in supply chains to help farmers become more competitive. I...
EU misses golden opportunity on dairy contracts
A golden opportunity has been missed to strengthen dairy contracts across the European Union, according to the NFU. The European Commission, Euro...
NFU backs EU's first chief scientist
The NFU has backed the appointment of an EU chief scientist to assist the European Commission on vital decisions relating to food security and climate...
New venue for NFU Conference in 2012
The annual NFU Conference is on the move to a brand new venue – Birmingham's International Convention Centre (ICC). Staged on February 21 an...
Brecon and Radnor farmers' views on CAP proposals
The need to increase global food production by at least 70 per cent in the next 40 years has become widely accepted, but Brecon and Radnor NFU Cymru m...
Figures reveal farming value to economy
New figures confirm that the UK farming industry is playing a crucial role in stabilising the economy the NFU said today, as it emerged that the indus...
Farm business income figures decrease
Significant rises in farm input costs have cancelled out firmer livestock prices - NFU Cymru has said today following the publication of annual farm i...
Mari Evans is Wales' Top Woman Farmer
Mari Evans from Cwmmaethlon, Tywyn, Gwynedd, has been crowned NFU Cymru / NatWest Wales Woman Farmer of the Year at the Royal Welsh Winter Fair. No...
NFU responds to today's Autumn Statement
Farming can and will play its part in leading the country back to sustainable economic growth, said the NFU today, in response to the Chancellor Georg...
Farming futures on the agenda as NFU kicks off its next generation policy forum
Key issues facing the future of farming will be on the agenda when the newly formed NFU Next Generation Policy Forum meets for the first time today. ...
CAP Reform discussion at next Glamorgan NFU Cymru meeting
NFU Cymru Deputy Director, Dylan Morgan, will discuss the Common Agricultural Policy reform proposals at the next Glamorgan NFU Cymru county meeting, ...
NFU to push for responsible antibiotic use across Europe
NFU Vice President Gwyn Jones has pledged to help Europe's livestock industry tackle antimicrobial resistance after being elected to one of the ...
NFU Deputy President at home on the Polaris Ranger
Deputy President of the NFU, Meurig Raymond MBE, farms 3000 acres in Pembrokeshire, in partnership with his twin brother and with the help of his elde...
NFU Cymru Welcomes Deputy Minister?s promise
NFU Cymru has welcomed the promise made by the Deputy Minister for Agriculture that the Welsh Government will provide a fully flexible approach to far...
NFU Cymru expresses concern over mandatory online VAT returns
NFU Cymru has expressed its concern over mandatory online VAT returns in its submission to Her Majesty's Revenue and Customs (HMRC) consultation...
A 'dog's breakfast' of CAP reforms will undermine agri-environment schemes
The NFU has called on the EU Commission to give a clear commitment that farmers in agri-environment schemes will be able to withdraw, without penalty,...
Latest grain storage guide published
A new, essential guide for grain storage management is released today. The Home Grown Cereals Authority (HGCA) grain storage guide contains new, clear...
NFU hits the road to talk CAP with farmers
Proposals to change the way farmers receive financial support from Europe will be discussed at a series of NFU meetings across the country. The NFU...
Learn our lessons on supermarket abuse, Kendall tells international farming conference
NFU President Peter Kendall has drawn on experience in the UK to encourage farming organisations across the EU and North America to campaign for tough...
Future of tenant farming in the spotlight at national conference
The future of tenant farming will be highlighted next month at a conference organised by the NFU. The National Tenant Farmers' Conference 20...
NFU submits response to National Planning Policy consultation
Draft government proposals to allow a more streamlined planning process for rural developments have been met with approval from the NFU. In its su...
NFU Cymru sponsors Brecknock YFC stockjudging
NFU Cymru Brecon and Radnor County Chairman, Gwyn Price, presented a £200 cheque to Brecknock Federation of Young Farmers Clubs recently at the youth ...
Farmers unaware of latest Environment Agency Requirement
Farmers in Brecon and Radnor were reminded about the new Environment Agency requirement to register septic tanks in Wales at the latest county meeting...
Health and safety advocate scoops Farming Champion award
A farmer who promotes health and safety after suffering a life threatening accident at work has been crowned the NFU Farming Champion of the Year at t...
NFU commends retailer on labelling change
NFU has commended Asda after 'misleading' labels were changed on packets of fresh beef. The supermarket had originally stocked 'B...
NFU praises retailers for stocking British beef and lamb
Latest findings that show more British beef and lamb is being stocked by British supermarkets have been welcomed by the NFU livestock board. The la...
Single Farm Payment Exchange Rate Shows Small Increase
The 2011 exchange rate to be used for the 2011 Single Farm Payment (SFP) Scheme has been provisionally set at €1= £0.86665. This represents a small in...
Two month delay to renewables scheme is disappointing, says NFU
A two month delay to the planned launch of the Government's Renewable Heat Incentive (RHI) scheme is extremely disappointing, the NFU said today...
NFU lobbying secures important changes for organic poultry sector
Proposed regulation changes which would have had a devastating effect for organic poultry farmers have been averted, following extensive lobbying by t...
Domestic production a cornerstone of future policy, Kendall tells Labour
NFU President Peter Kendall will tell Labour conference delegates that domestic food production must be a policy cornerstone as the party seeks to reb...
Turkey marketing meeting
NFU Cymru members producing turkeys for the festive season are invited to attend the Union's annual autumn marketing meeting on Wednesday, 12 Oc...
Focus on BVD 'eradication dividend', not difficulties
NFU Scotland president Nigel Miller has urged cattle breeders and feeders to focus on the dividends of BVDv eradication rather than its difficulties. ...