NFU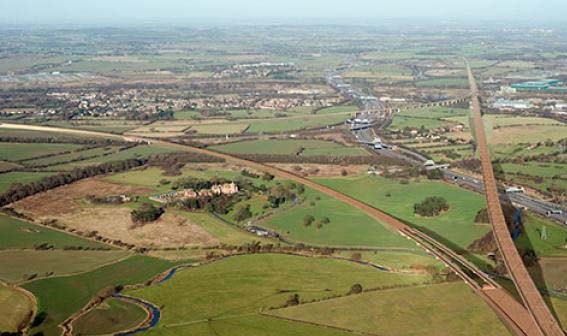 Study to estimate livestock emissions published
A major study to estimate the emissions from livestock across the EU has been published. 'Evaluation of the livestock sector's contri...
Time is right for raising of BSE testing age rules
The NFU has said the time is right to raise the age of testing for BSE with just a handful of cases now across the EU. The European Commission&rsqu...
NFU Cymru Supporting Gwent Young Farmers Clubs
NFU Cymru is continuing with its commitment to Gwent YFC with a donation for £200 which, the same as last year will go towards the building project be...
Calls for government to reverse import dependancy
NFU President Peter Kendall will ask Defra Secretary of State Caroline Spelman what the Government is doing to reverse the country's growing dep...
Joint venture farmer is new Notts NFU chairman
Robert Shaw from Caunton, Newark is Nottinghamshire's new county chairman; he takes over from current chairman, Simon Bust, this week. Rob, w...
Farm planning decision dissapointment
The NFU has expressed its deep disappointment after a farm and abattoir looking to meet strict animal welfare and food hygiene regulations lost its pl...
Act now to secure future milk supply
NFU Cymru is urging Governments at all levels to act now to address the dysfunctions in the dairy supply chain in an attempt to redress current milk p...
Countdown to NFU Conference 2011
Farming at the heart of the economy will be the key theme when farmers and growers meet at the annual NFU Conference for two days in Birmingham next w...
Government must intervene on inspection charges
The NFU has completed its formal response to the Food Standard Agency's consultation on full cost recovery for official controls in meat plants ...
Supermarkets shun Scottish pork and chicken
An investigation of supermarket shelves carried out by NFU Scotland has shown the major retailers Tesco and Asda shunning home produced pork and chick...
New NFU Lancashire County Chairman
Father of three Graham Young of Greenhurst Farm in Samlesbury near Blackburn is the NFU's new Lancashire county chairman – a position he'l...
Different signals are confusing farmers
"Farmers need consistent and clear messages from politicians and Government, too many of the signals we receive at present are contradictory, we are t...
NFU responds to First Milk price increases
First Milk is to raise the price for each of its three main milk pools. The cheese pool price increases by 1.25ppl, balancing pool by 1ppl and the liq...
No supermarket adjudicator in 2011
Brecon & Radnor farmers were disappointed to learn from NFU President, Peter Kendall, that the proposal for a supermarket adjudicator, which could hel...
Opposition to selling off council farms
NFU Cymru has today expressed its disappointment to the Leaders of Flintshire County Council following news that the Council has proposed to sell off ...
One chicken makes three meals
As consumers start to feel the pinch with rising food prices impacting on groceries across the board, the NFU has launched a new campaign to help peop...
North West livestock board election success
Following a closely fought election campaign, Trevor Wilson of Low Bankside in Grange-Over-Sands, has retained his position as the Cumbrian representa...
Glastir's independent review panel welcomed
Details announced by the Rural Affairs Minister, Elin Jones, of the new independent review group into the All-Wales Element of the Glastir Scheme have...
NFU Cymru welcomes CAP reform proposals
Rural Affairs Minister's initial Views on the European Commission proposals for reform of the Common Agricultural Policy (CAP) have been welcome...
Survey offers ray of hope for Glastir Scheme
A staggering 86% of Welsh farmers, surveyed by NFU Cymru, who have not applied for the All Wales element of Glastir, would consider applying next year...
MP told not to take his foot off the pedal
During the recent Anglesey NFU Cymru Annual General Meeting farmers congratulated Albert Owen, Anglesey's Member of Parliament, for his work in ...
NFU applauds Milk Link price rise
The NFU has today applauded Milk Link's move to increase its member milk price for February by 1ppl. The price rise, which sees the farmer-ow...
NFU meets with EU Farm Commissioners
The future of the Common Agricultural Policy (CAP) was high on the agenda when NFU President Peter Kendall met EU Farm Commissioner Dacian Cioloş...
Understanding contract obligations important
With the current marketing year experiencing price movements of the magnitude seen during 2007/8, AIC and the NFU are keen to stress the importance of...
Wales CVO to address NFU Cymru conference
The Chief Veterinary Officer for Wales, Dr Christianne Glossop, will be guest speaker at the NFU Cymru Carmarthenshire County Conference on Monday, 10...
NFU Cymru office is on the move
After nearly ten years of being based at Severn Square in the town centre the Newtown NFU Cymru office is relocating, out of town, to St Giles' ...
Don't let history repeat itself, says NFU Cymru
The Welsh Assembly Government's new framework for managing the Welsh environment, countryside and seas, 'A Living Wales', launched i...
NFU wants fair deal from peat policy changes
UK growers should not be put at a competitive disadvantage by plans to phase out the use of peat in horticulture, the NFU has warned. The NFU will ...
Welsh farmers welcome Minister's Tir Mynydd decision
Welsh farmers have welcomed the Minister's announcement that farmers who receive a Tir Mynydd payment in 2011 will be eligible to apply for a fu...
Oilseed rape decisions have implications to 2013
Oilseed rape variety decisions will have knock-on to 2013, says NFU Oilseed rape growers who wish to farm save seed are being told that only certai...
NFU Cymru supports proposed draft Badger Order
NFU Cymru has today fully backed the Welsh Assembly Government's proposed draft Badger (Control Area) (Wales) Order 2010, describing it as a str...
Glastir must be fit for purpose
NFU Cymru's concerns about the new agri-environment scheme Glastir have been clearly confirmed and substantiated by interim results of the Union...
NFU remains committed to working with ministers
Following a report by the Government's Responsibility and Cost Sharing (RCS) Advisory Group, the NFU has said it remains committed to working wi...
Chairman role for NFU representative in Europe
NFU combinable crops board chairman Ian Backhouse has been elected chairman of the Copa-Cogeca (European Farm Organisation) cereals working group. ...
NFU victory as feeding rules relaxed
As Wales suffers a blast of severe wintry weather, NFU Cymru has successfully lobbied for livestock feeding rules to be relaxed. NFU Cymru asked th...
New face at NFU Cymru's new knighton office
Mike Ewins has been appointed as the new NFU Cymru Group Secretary at the Knighton office which will be moving to new premises later this month. Bo...
Red diesel cleared to fight cold spell
A change in rules to allow farmers to use red diesel in their tractors to help grit and clear snow from public roads makes complete sense the NFU said...
Launch of interactive audit pack
Electronic versions of the NFU Audit Pack are now available online to help farmers and growers with their Red Tractor Farm Assurance Fresh Produce Sch...
Economic sustainability key to food production
The message from the NFU came loud and clear at the Inside Government Food Security Forum; farmers can and will grow more food to feed a growing popul...
Pen power lands youngsters top prizes at contest
A budding storyteller from Powys is now running his own miniature farm after scooping the top prize in a writing competition organised by NFU Cymru. ...
Fair price needed for poultry industry say NFU
NFU Cymru is calling for poultry famers to be given a price that covers their increasing costs of production with soaring feed prices leaving some pro...
NFU's Glastir concerns completely vindicated
NFU Cymru's deep concerns about the proposed Glastir scheme being impractical and unworkable at farm level have today been completely vindicated...
HCC levy to be discussed at NFU Cymru AGM
Farmers are encouraged to attend and give their views on Hybu Cig Cymru's – Meat Promotion Wales' levy increase proposals at Ceredigion&rs...
HCC chairman to address NFU meeting
A presentation on the current and future work of Hybu Cig Cymru / Meat Promotion Wales (HCC) will be given by Chairman, Dai Davies, at the next Angles...
NFU responds to Welsh draft budget
"Whilst I understand that the Welsh Assembly Government and the Rural Affairs department in turn will have to look hard at how it manages cuts, the st...
Potential amendments to EU bluetongue directive
Farmers in the UK will potentially be able to protect their livestock from Bluetongue using preventive vaccination within a Bluetongue free area for t...
Minister opens NFU office
Aberystwyth NFU Cymru office has been officially opened by Wales' Rural Affairs Minister, Elin Jones, the local Assembly Member for Ceredigion. ...
Co-op to establish dedicated milk supply
A move by the Co-operative Group to establish its own dedicated milk supply is a significant and encouraging development, the NFU said today. It f...
Huge potential market for protein crops, says NFU
There is huge market potential for peas, beans and other grain legumes despite difficulties in increasing output, the NFU will tell a one-day seminar ...
Grower self-certification forms are not justified
The NFU says that UK growers should not be pressured into providing any additional information as part of new grain and oilseed schemes. The warnin...