NFU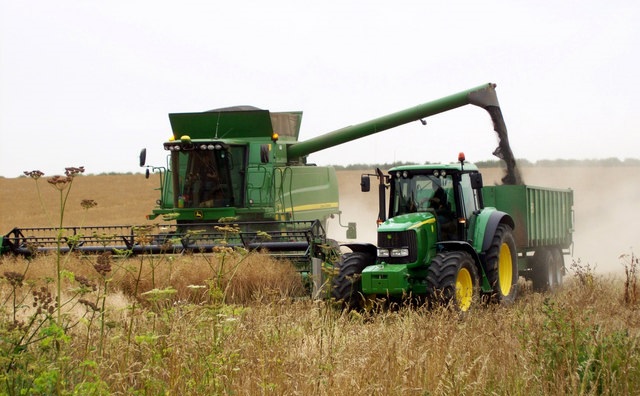 NFU outline opposition to Mercosur trade talks
The President of the NFU Peter Kendall and the President of the IFA John Bryan have outlined their strong reservations about the reopening of EU - Mer...
Defra faces fines for non-compliance
The NFU has called on Defra to challenge the EU Commission after it revealed that the department may face steep fines for alleged non-compliance for i...
Running up donations for RABI
NFU Cymru's Farm Policy Adviser, Dafydd Jarrett and Anglesey NFU Cymru Group Secretary, Emyr Davies, are preparing to take to the streets of Lon...
European EID talks success
Farming Minister Jim Paice has called for a review of regulatory burdens affecting farm businesses – including the Electronic Identification of Sheep ...
NFU calls for ban on Chinese lanterns
NFU Council, the organisation's governing body, has resolved to call for an outright ban on flying Chinese lanterns due to ongoing concerns abou...
NFU community champion award shortlist
Four farmers who make an incredible contribution to their local communities have been shortlisted for the NFU Cymru / NatWest Welsh Rural Community Ch...
NFU supports review of TB vaccine
The NFU has supported the government's decision to reassess its Badger Vaccine Deployment Project (BVDP) for England. Ministers have review...
Horticulture needs R&D to remain competitive
World class science from financially stable facilities is vital if the British horticulture industry is to remain competitive and able to rise to the ...
Welsh farmers could fall behind competitors - NFU
NFU Cymru has reacted with dismay to today's statement by the Minister for Rural Affairs, Elin Jones that she intends to press ahead with a GM c...
Industry cannot adapt to landfill restrictions - NFU
NFU Cymru has described proposals by the Welsh Assembly Government to introduce restrictions on the landfilling of certain waste as a blunt tool, whic...
Pembrokeshire NFU Milk farmers meeting
Mansel Raymond, Chairman of the NFU Dairy Board, will be the guest speaker at the next Pembrokeshire NFU Cymru milk meeting on Thursday, 1 July 2010. ...
NFU to address famers in Carmarthenshire
Alistair Mackintosh, the NFU Livestock Board Chairman, will address a meeting of NFU Cymru members in Carmarthenshire, on-farm, on Wednesday, 30 June ...
EU agrees with NFU over better contracts for dairy farmers
NFU calls for improved contracts for dairy farmers, specifically ones that offer greater clarity and transparency on milk price, have been echoed by t...
NFU intervenes over polytunnels
The NFU is intervening directly in a legal battle over the use of polytunnels on a farm in Herefordshire. The farm business was granted planning p...
NFU calls for clear planning guidance
Planning guidance which is clear, concise, robust and responsive to changes in political agendas is vital to the future direction of the agricultural ...
More could be done to reduce dairy inspections - NFU
NFU Cymru has described the Food Standards Agency's (FSA) consultation on the proposal to reduce the frequency of official inspections on Welsh ...
Sheep working party elects new vice chairman
NFU Cymru President, Ed Bailey, has been elected Vice Chairman of the European farmers' organisation COPA-COGEGA's sheep working party. Th...
Royal seal of approval for new NFU Roadshow
His Royal Highness The Prince of Wales gave the Royal seal of approval to the NFU's newly designed travelling farm today. The eye-catching roads...
NFU warns beef supply chain as prices fall
The NFU is warning the beef supply chain that the falling beef price is knocking producer confidence and undermining the long term sustainability of U...
Strong CAP for productive arable sector - NFU
UK arable farmers must play a leading role in driving the next reform of the CAP after 2013 the NFU said today. The organisation recently launched its...
Farmers will get protection from bluetongue - NFU
The decision to reclassify Great Britain's bluetongue status as a Lower Risk Zone will help keep the country free of the disease, says the NFU. ...
Clearer food labelling backed by NFU
The Women's Institute's call for clear country of origin food labeling to be introduced in the UK is being fully supported by the NFU. ...
Land use on agenda in Clwyd NFU
Bernard Llewellyn, NFU Cymru's Rural Affairs Board Chairman, will be the guest speaker at Clwyd NFU Cymru county meeting at the Brookhouse Mill,...
NFU Cymru start search for talented young reporters
NFU Cymru is looking for budding young journalists to visit a local farm and report on their experience as part of a national challenge this summer. ...
NFU Cymru meets new MPs
The first meeting between NFU Cymru and newly elected MPs has taken place during a packed reception in the House of Commons. NFU Cymru President, E...
NFU champions the best of British at Chelsea
A potential 14th consecutive gold medal would be the cherry on the cake for the NFU when it showcases the very best home-grown British produce, flower...
NFU gears up to put farming on the election map
In what has become an impossible-to-callgeneral election campaign, the NFU's government and parliamentary affairs team is preparing a"30 to watc...
NFU calls Glastir Announcement a 'step but not leap in the right direction'
NFU Cymru has described the Minister for Rural Affair's announcement this morning as a step but not a leap in the right direction and an acknowl...
Brecon and Radnor farmers to meet prospective MPs
Brecon and Radnor NFU Cymru County is to host a hustings meeting for local prospective MPs from Wales' main political parties ahead of the gener...
RPA must have contingency plan to deal with 2010 mapping fiasco
Farmers have expressed their anger and dismay over the Rural Payments Agency's mapping fiasco during the NFU Council meeting today. Unequivoc...
Chinese lanterns threat to farmers
Concerns have been raised by NFU Cymru members in Glamorgan following a recent spurt in the number of Chinese lanterns being released and landing on f...
Five a day the British way is good for you and British growers
Remember to get your five a day the British way and help improve your health and the nation's economy–this is the message from the NFU after a n...
The need for food ignored in new flooding Act
A new Act approved by Parliament aimed at reducing flood risks in homes and businesses fails to recognise the need to produce food in England and Wale...
Lobbying on IPPC Directive picks up pace with the NFU in Brussels
The NFU has met with MEPs and European farming unions in Brussels today to discuss proposals to extend the remit of the Integrated Pollution Preventio...
NFU Vice President sets out vision for a CAP post 2013
Newly elected NFU Vice President Gwyn Jones will speak alongside EU Agriculture Commissioner Dacian Cioloş, and UK Shadow Farming Minister Jim Pa...
Agriculture needs to elect farming champions to meet future challenges
Farmers and growers need strong political backing if they are to play their part in tackling the global challenges of increasing population, dwindling...
Red tape reduction thanks to new research by NFU and BPC on broiler emissions
How much ammonia does a chicken produce?A new review of research commissioned by the NFU and the British Poultry Council has shown it is about 32 per ...
Efra report into DFB collapse offers sound recommendations to strengthen dairy sector
The NFU has described the Efra Select Committee Report on the collapse of Dairy Farmers of Britain as offering sound, sensible and balanced recommenda...
Strong status quo retained in NFU poultry board elections
The NFU held its poultry board elections this week to elect the national board chairman and vice chairmen for eggs, turkeys and broilers. Charles...
CAP 2013 discussions must have future of productive agriculture at its heart
The NFU will set out its stall for the reform of the Common Agriculture Policy during a hearing of the European Parliament's Agriculture and Rur...
Chairman and vice-chairman re-elected to NFU Sugar Board
NFU Sugar Board chairman William Martin and vice chairman Nick Wells have both been re-elected to the board for a further three-year term. They wi...
Statutory plastic producer levy proposals are five years too late says NFU Cymru
NFU Cymru says that proposals by the Welsh Assembly Government, the Scottish Government and DEFRA on a manufacturer responsibility scheme for the coll...
NFU applauds less red tape and reduced costs in scheme for pig and poultry producers
The NFU and the Environment Agency have launched a new initiative to cut red tape and reduce costs for farmers. The farm assurance scheme for pig and ...
NFU Cymru Welcomes Farm Income Figures
NFU Cymru has today welcomed figures published by the Welsh Assembly Government which show an increase in Total Income from Farming in Wales from £106...
Top political line up will spark food and farming debate at NFU conference
Delivering Farming's Future will challenge the main political parties' long-term commitment to the industry when farmers and growers meet ...
Why farming matters teaching packs flying off the shelves
The NFU's Why Farming Matters teaching packs have gone to the top of the class after proving extremely popular with the country's primary ...
Extreme weather conditions cause havoc for farmers and rural communities
NFU Cymru has received phone calls from many concerned farmers across Wales following the recent snow and ice. The Union has received reports of live...
Planning policy must include economic value of farming
NFU lobbying has resulted in a win for farmers with new planning policy aimed at giving rural areas without access to public transport equal status. P...
Supermarket ombudsman should be priority for any Government
The creation of a supermarket ombudsman should be a priority for any Government which has consumers' best interests at heart, the NFU said today...
Food 2030: Balanced delivery will be the key to success
The NFU has said that Defra's new food policy'Food 2030'being launched at the Oxford Farming Conference offers a useful blueprint fo...