NFU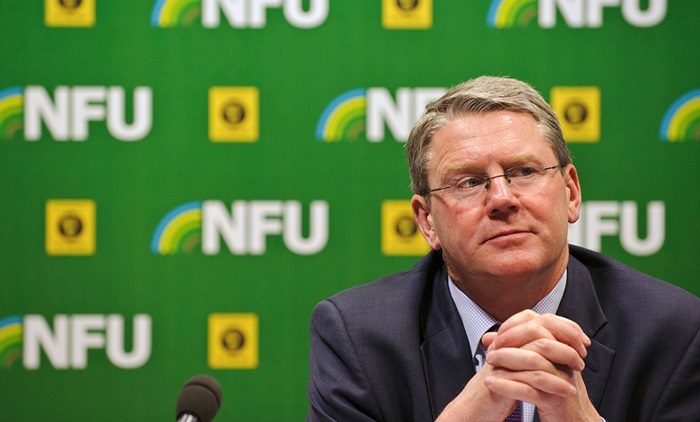 NFU lobbying secures coastal access rights of appeal success
Lobbying by the NFU has seen a welcome U-turn from Government on the right to appeal procedure for farmers affected by the proposed development of a c...
New BSE controls make sense says NFU
The Food Standards Agency's decision to move to a more proportionate and risk-based BSE control regime for cattle over 30 months old makes sense...
Produce more, but spend less on research
"At a time when government advisors are saying that farmers should produce more food to feed a growing population, it is spending less on research and...
Radical announcement requires full and active engagement with farming industry
'Radical' is how NFU Cymru has described the announcement by the Rural Affairs Minister on the principles of a successor scheme, Glastir, ...
NFU launches new membership category for YFC members
The NFU has launched a new category offering free membership to the Young Farmers' Club movement, for members aged between 16 and 21. On reachin...
Consumers and suppliers will benefit from Supermarket Ombusdman say NFU
The establishment of a supermarket ombudsman will benefit the whole supply chain – suppliers, retailers and most importantly consumers – and supermark...
Many reasons to be positive about the future of dairy farming
NFU Dairy Board Chairman, Gwyn Jones, has today presented a survival plan to help secure long-term future milk supplies for Britain to the members of ...
Nfu issues rallying call for disease cost roadshows
Farmers are being urged to join the NFU for a series of meetings being held across the region as part of its consultation on cost-sharing and responsi...
NFU responded to budget
The NFU has given a positive initial reaction to the budget announcement by the Chancellor Alistair Darling, claiming a number of lobbying successes. ...
NFU and CLA launch campaign for the farmed environment
The NFU and CLA today published an industry-led "Campaign for the Farmed Environment" to retain the environmental benefits provided by set-aside. T...
Elsoms sugar beet trials. first in last out!
The final plots of Sugar Beet were harvested last week by Elsoms at G.R. Wards farm at Caythorpe, Lincolnshire. The final part of an extensive 3 year ...
'Absolutely no justification'
The NFU has reiterated its strong opposition to proposals which could increase meat inspection charges at abattoirs across England and Wales by as muc...
Farmers to foot disease bill
The NFU has accused the government of seeking to pile on the agony for the farming industry by looking to burden those in the livestock sector with ad...
NFU 'entirely disagrees' with judgement in table valuations case
The Court of Appeal has handed down judgment today in the TB table values legal challenge, allowing Defra's appeal against the judgment of Lord ...
NFU backs EA report on securing future water supplies
The NFU has given its support to the Environment Agency's 40-year water resources strategy which sets out the challenges and pressures on securi...
NFU dismay as farmers face even more financial burden
The NFU has accused the Government of seeking to pile on the agony for the farming industry by looking to burden livestock farmers with additional cos...
NFU opposes increases in meat inspection charges
The NFU has slammed proposals for a rise in meat inspection charges at abattoirs across England and Wales and again reiterated its opposition to any p...
Birthday celebrations for Brecon and Radnor NFU
Brecon and Radnor NFU Cymru members are set to commemorate the centenary year of the county organisation at a centenary celebratory dinner. The NF...
NFU signs G8 declaration
NFU Deputy President, Meurig Raymond has joined farmers' leaders from the seven other member countries of the G8 in calling for the world'...
NFU Cymru gives evidence on EID to rural development sub committee
In the absence of EID and Individual Recording of sheep being made a voluntary rather than compulsory measure throughout the EU from 1 January 2009, N...
The fight on IPPC continues
The NFU and NPA remain confident they can build on support received from MEPs to continue the battle against proposed changes to the Integrated Pollut...
NFU urges industry to get behind voluntary approach to set-aside replacement
NFU President Peter Kendall today acknowledged Defra's willingness to work with the industry in developing a voluntary approach to set-aside rep...
Defra animal health data criticised
A National Audit Office report released today says Defra does not have sufficiently robust financial or performance information on controlling disease...
Deadline is looming over NVZ appeals
NFU Cymru is urging farmers from south Pembrokeshire to act now before 31 March, 2009, against the Nitrate Vulnerable Zone designations. The oppor...
BLUETONGUE VACCINATION – jab and go!
Sheep, beef and dairy farmers across the East Midlands need to vaccinate their sheep and cattle against Bluetongue (BTV8) again in 2009, before animal...
BPOA choose NFU Horticulture board member as new Chairman
The British Protected Ornamental Association has chosen an NFU horticulture board member as its new chairman. Sarah Fairhurst is the first woman to...
Common sense and proportionality should prevail
NFU Cymru has today given its support to the 'One Wales' commitment to seek a derogation from the regulation which prohibits the burying o...
NFU Director General to stand down
The NFU Director General, Richard Macdonald, has announced his intention to stand down from his post later this year. The announcement was made to the...
NFU Cymru welcomes backing for option 1B
NFU Cymru has welcomed the Rural Development Sub Committee's endorsement for option 1b in the consultation on the future structure of support fo...
Disappointment at BSE testing cost decision
The NFU has expressed disappointment at the decision by a number of large meat processors to inform producers they will be making a charge to cover th...
Lamb carcass splitting situation to be addressed at cross-industry meeting
NFU members are to meet with representatives from the Food Standards Agency, Defra's TSE division and processors to discuss the financial and pr...
New globetrotting Cheshire NFU Chairman to spearhead change
Jonny Hewitt of Redhouse Farm in Dunham Massey has been inaugurated as NFU Cheshire County Chairman – the youngest Cheshire chairman the organisation ...
Organic dairy farmer becomes NFU Lancashire County Chairman
NFU's new Lancashire County Chairman is organic dairy farmer Tom Rigby of Johnson's Farm in Warrington. Tom who is 54 years old, is mar...
Electronic tagging fight continues
The NFU will reiterate its total opposition to the proposed introduction of compulsory electronic identification (EID) and individual recording of she...
Sustainable farmgate price vital for beef sectors
NFU livestock board chairman Alistair Mackintosh has addressed over 200 beef finishers in Portlaoise, Republic of Ireland, about the current situation...
NFU looks to future with free membership for students
The farmers and growers of tomorrow can take advantage of the benefits of NFU membership for free today with the launch of the NFU's Student Mem...
Export refunds for milk products good news for sector
The reintroduction of export refunds for milk is good news for the sector and will help balance the EU dairy market, according to NFU Cymru's Da...
Long term food strategy
"There will undoubtedly be pressures on global food supply in the future. With six million additional people every month in the world, globally agricu...
Farming does matter
"The key to the future will be to ensure that farming has the capacity to produce the food and fuel the nation needs and of course the environment and...
Be prepared as candlemas rent reviews approach
Farmers facing a rent review this spring are being urged to make sure they are fully prepared and have taken any necessary professional advice to ensu...
NFU gives thumbs up to new government agency
The NFU is hoping the creation of a new national research centre for food and the environment will ensure all areas of Defra's policy are firmly...
Horticulture gets a new climate change levy target for 2010
The NFU and the Department for Energy and Climate Change (DECC) have agreed a new Climate Change Levy (CCL) target for the horticulture sector at the ...
Farming coping with the credit crisis but big risks loom
Access to affordable credit does not yet appear to be seen as a big risk to many farming businesses but the NFU today warned the farming industry not ...
Final EU pesticides decision could be devastating
The European Parliament has voted today (13 January) to impose severe restrictions on the use of pesticides which are used to produce fruit, vegetable...
Ruthless cuts to dairy
The NFU was extremely disappointed by the announcement of New Year milk price cuts and has described the surprise move by some processors as 'un...
Public give hardworking farmers thumbs up
Hardworking, down-to-earth, professional and enterprising. Just a few of reactions from Joe public when asked which words best describe farmers, accor...
Farm output could plummet in 2009
The NFU has warned that, at a time when farming is in a stronger position than many other businesses to withstand the impact of the looming recession,...
President of NFU Cymru issues new year wish list
Dai Davies, NFU Cymru President, delivers his 'wish list' for the New Year: CAP Reform – Now that the broad agreement has been reached...
NFU fights to get fair deal for hill farmers
Farmers in the uplands will be able to claim Hill Farm Allowance (HFA) for another year after the NFU persuaded Defra and Natural England that changi...
NFU Cymru responds to Axis Two measures review
NFU Cymru has today told the Welsh Assembly Government that in its view the best way forward for the future structure of support for environmentally s...