NFU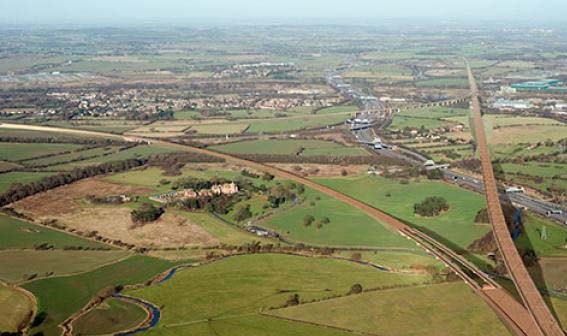 Food 2030: Balanced delivery will be the key to success
The NFU has said that Defra's new food policy'Food 2030'being launched at the Oxford Farming Conference offers a useful blueprint fo...
NFU members to have their say on future of CAP
The NFU has launched a survey of its members to gauge their thoughts on the future of the Common Agricultural Policy (CAP). The online questionna...
EU sugar stockpiling ridiculous - NFU
NFU Sugar board chairman William Martin today called on the European Union to alter its export policy rather than storing more than one million tonnes...
RPA must make payments to fruit and veg co-ops before Christmas
The NFU is calling on the Rural Payments Agency to take the decisions necessary to ensure it can release payments due to fruit and vegetable co-operat...
Farming associations urge farmers to respond to mapping exercise
The Rural Payments Agency has revealed that 86,500 English farmers and growers have already received their Single Payment Scheme payment for 2009. Thi...
Long service award for Wyn Jenkins
Wyn Jenkins, NFU Cymru's group secretary in Llanfair Caereinion, was presented with a long service award by David Jones, Montgomeryshire NFU Cym...
Consumers want clearer food labelling – so let them have it
The NFU is calling on the European Parliament to give UK consumers want they want - clear country of origin food labelling so they can be sure where i...
Supermarkets urged to show commitment to British livestock farmers
Supermarkets should show their support for livestock farmers by ensuring they do all they can to stock British beef and lamb on their shelves, the NFU...
Tenant farming: Securing its future at NFU conference
The importance of tenant farming, and what needs to be done to secure its future,will be top of the agenda when the NFU hosts the 2009 TenantFarmingCo...
NFU Challenges natural England's upland vision
The NFU is challenging Natural England's Upland Vision to ensure that agri-environment schemes and the market place are given equal recognition ...
EU High Level Milk Group offers unique opportunity for dairy sector says NFU
NFU dairy board chairman Gwyn Jones has said that contracts are fundamental to ensuring fairness in the dairy supply chain after the European Commissi...
Commission report backs NFU views over supply chain action
A new European Commission report on the operation of the grocery supply chain reinforces the need for a supermarket ombudsman and standard contracts, ...
NFU hosts major international sugar conference in 2010
The NFU is to be the official host of the 2010 World Association of Beet and Cane Growers Conference. The conference will take place in Cambridge ...
NFU announces Kevin Roberts as new Director General
The NFU is very pleased to announce that Kevin Roberts is to be the organisation's new Director General. Mr Roberts, who is currently CEO of th...
NFU president throws down the gauntlet to the supermarkets
NFU President Peter Kendall has challenged the supermarkets to grasp the nettle and back the introduction of an independent ombudsman before it'...
NFU response to Bovine TB Eradication Group for England's progress report
The following is the NFU's response to the Bovine TB Eradication Group for England's progress report which was published today: Meurig Ra...
NFU dairy Board asks 'Where's the Money?'
The NFU's national dairy board has issued a strong message to dairy farmers that they should be challenging their buyers and representatives for...
EBLEX report shows boost for Sheep sector
The NFU has said the Eblex business pointers report for sheep illustrates a step in the right direction after it showed improved production cost perfo...
NFU turns up pressure onTB at Dairy Event
The NFU will be keeping up the pressure for action on bovine TB during this year's national Dairy and Livestock Event. An NFU update on TB incl...
Government ditch waste exemption charges
Lobbying by the NFU has seen the Government abandon plans to charge farmers for registering exemptions for agricultural waste. When waste controls...
NFU launches new milk contracts campaign
The NFU has today unveiled plans for a new campaign to drive lasting change in milk contracts. The campaign, launched at the start of the Dairy Event,...
Reducing bureaucracy a high priority for Welsh Assembly
News that reducing the amount of bureaucracy was a high priority for the Welsh Assembly Government's Permanent Secretary was welcomed by members...
Evidence on pesticides does not support ban to protect bees
The NFU has today called for an independent and comprehensive assessment of the impact of neonicotinoids after Buglife issued a report implicating the...
\lessons must be learnt fom Dairy farmers of Britain collapse
The NFU have described the receiver's report on Dairy Farmers of Britain as an extremely sad story, but acknowledged that the report brings a d...
Imports - consider the risks
The NFU has urged all farmers to help reduce the possibility of bluetongue circulating in the UK by seriously considering if it's worth importin...
UK poultry producers must have same rules as Europe
The NFU has today responded to calls from the RSPCA and other welfare organisations for Defra not to allow UK producers to use the same legal stocking...
Brazilian beef controls still cause for concern
The NFU remains concerned about the systems and controls in place for Brazilian beef despite the improvements highlighted in a recent report from the ...
Action rather than words needed from flood and water management bill
The Government's draft Flood and Water Management Bill must ensure there is action rather than endless consultation regarding the provision of a...
NFU Cymru welcomes young entrants support scheme
NFU Cymru has welcomed today's announcement by the Minister for Rural Affairs, Elin Jones, of a £2m package of measures to support young entrant...
Four Young Farmers Receive Travel Scholarship Awards
Four young farmers from across Wales have financially benefited from this year's Gareth Raw Rees Memorial Travel Scholarship. This year has seen...
NFU on the case of rlr mapping issues
Defra agriculture minister Jim Fitzpatrick's assertion that the problems farmers are experiencing with the re-issue of their Rural Land Register...
NFU praises investment by First Milk in securing dairy jobs
The NFU has praised the move by First Milk to open a new creamery in Scotland The investment will secure the future of 40 dairy farms and around 100 j...
Lobbying pays off on VAT and rent legislation
A proposed amendment to the Government's Finance Bill has clarified the situation regarding VAT and rent reviews following intensive industry lo...
Supply chain must work together to secure long-term future of British lamb
All parts of the supply chain must work together to secure the long-term future of British lamb by ensuring producers are paid a stable and sustainabl...
NFU secures IPPC victory for pig and poultry farmers
The NFU has won a significant victory on plans to review the Integrated Pollution Prevention and Control Directive. More than 18 months-worth of lobby...
Industry bodies unite to help remaining farmers affected by dairy company collapse
The NFU has joined forces with English Farming and Food Partnerships (EFFP) and Dairy UK to offer a range of support services for dairy farmers who ha...
UK farming can adapt to the challenges of climate change
UK agriculture and horticulture can adapt to make a valuable contribution in mitigating the effects of climate change according to the NFU. The UK ...
NFU Cymru welcomes non introduction of national envelope
NFU Cymru has welcomed today's announcement by the Rural Affairs Minister that the Welsh Assembly Government will not be introducing a National ...
Anti-dumping duties detrimental for UK Farming
The NFU has told a European Commission review of anti-dumping duties imposed on fertiliser from the Ukraine that such measures act as artificial trade...
1000 dairy farmers affected as NFU meets with milk co-op receivers
The NFU has today met with Dairy Farmers of Britain and receivers PricewaterhouseCoopers to see what can be done to help its dairy members affected by...
Battle to protect farmers as milk co-op calls in receivers
The NFU has expressed its bitter anger and dismay on behalf of its dairy members who supply Dairy Farmers of Britain after it was announced receivers ...
NFU Cymru battles to protect farmers as milk co-op call in receivers
NFU Cymru has expressed its bitter anger and dismay on behalf of its dairy members who supply Dairy Farmers of Britain after it was announced that the...
No gold plating of cross compliance says NFU
The NFU has said there should be no gold-plating of regulations in its response to Defra's consultation on the proposed changes to the cross-com...
NFU lobbying secures coastal access rights of appeal success
Lobbying by the NFU has seen a welcome U-turn from Government on the right to appeal procedure for farmers affected by the proposed development of a c...
New BSE controls make sense says NFU
The Food Standards Agency's decision to move to a more proportionate and risk-based BSE control regime for cattle over 30 months old makes sense...
Produce more, but spend less on research
"At a time when government advisors are saying that farmers should produce more food to feed a growing population, it is spending less on research and...
Radical announcement requires full and active engagement with farming industry
'Radical' is how NFU Cymru has described the announcement by the Rural Affairs Minister on the principles of a successor scheme, Glastir, ...
NFU launches new membership category for YFC members
The NFU has launched a new category offering free membership to the Young Farmers' Club movement, for members aged between 16 and 21. On reachin...
Consumers and suppliers will benefit from Supermarket Ombusdman say NFU
The establishment of a supermarket ombudsman will benefit the whole supply chain – suppliers, retailers and most importantly consumers – and supermark...
Many reasons to be positive about the future of dairy farming
NFU Dairy Board Chairman, Gwyn Jones, has today presented a survival plan to help secure long-term future milk supplies for Britain to the members of ...